Move over Pixar. There's a new animated short that's taking over the Internet for all the right reasons.
In a Heartbeat is a thesis project made by Beth David and Esteban Bravo, senior Animation students at Ringling College of Art and Design.
In their Kickstarter, they describe the film as "not only a culmination of our four years of education and hard work at the college, but also an expression of a subject that has not been explored in computer animation."
It's true that In a Heartbeat breaks all sorts of boundaries all while being ridiculously adorable. It's the best four minutes and five seconds you'll spend today. Guaranteed.
In a Heartbeat is the endlessly sweet story of a boy pining over a crush from afar.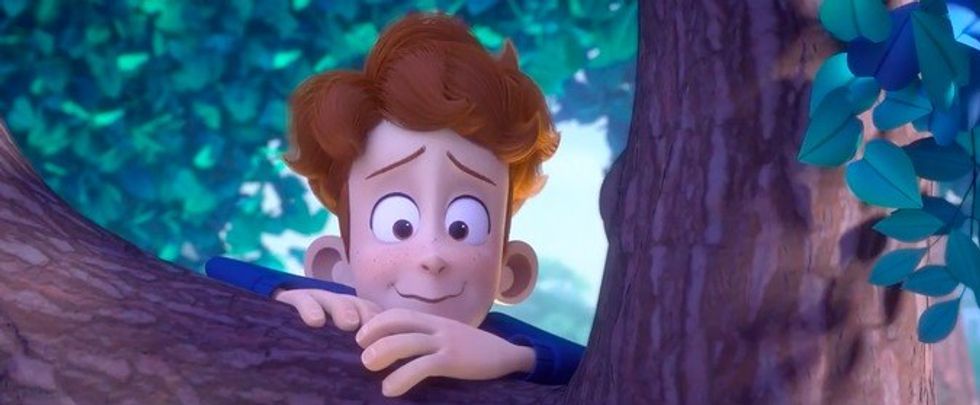 via: YouTube
And that crush happens to be...another boy. Animated movies and TV shows have always been sorely lacking in LGBTQ+ representation.
Bustle
points out that it wasn't until 2013 — four measly years ago — that 
Steven Universe
became "
the first mainstream American children's cartoon
on a broadcast network to feature a recurring, openly gay character."
Luckily, In a Heartbeat came along.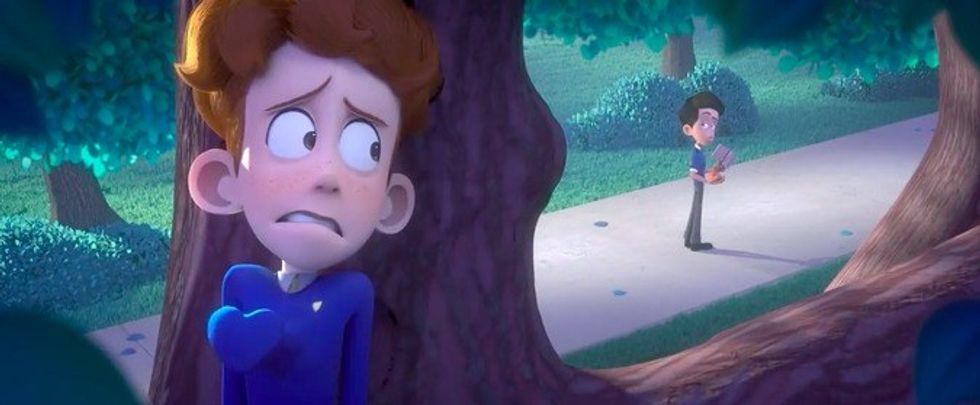 via: YouTube
The film is stupidly cute. Like almost rage-inducing because of how cute it is. Look up
cute aggression
. It's a thing.
And the Internet agrees.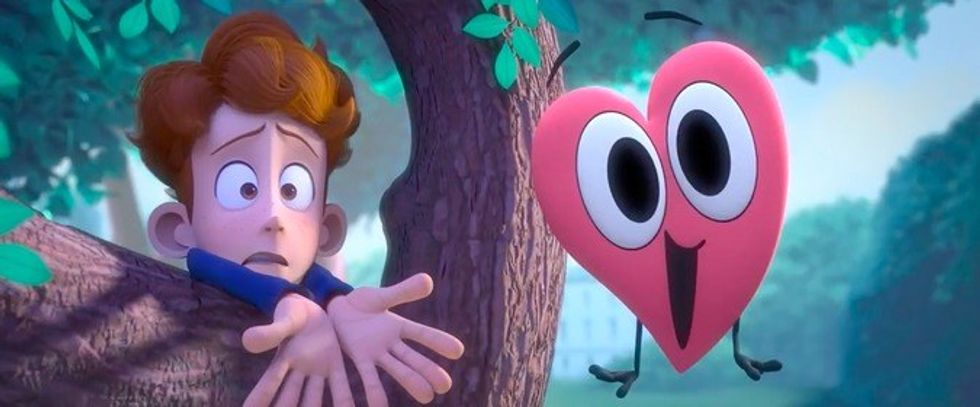 via: YouTube
The filmmakers' Kickstarter campaign originally had a goal of $3,000 to cover important parts of production, like the score.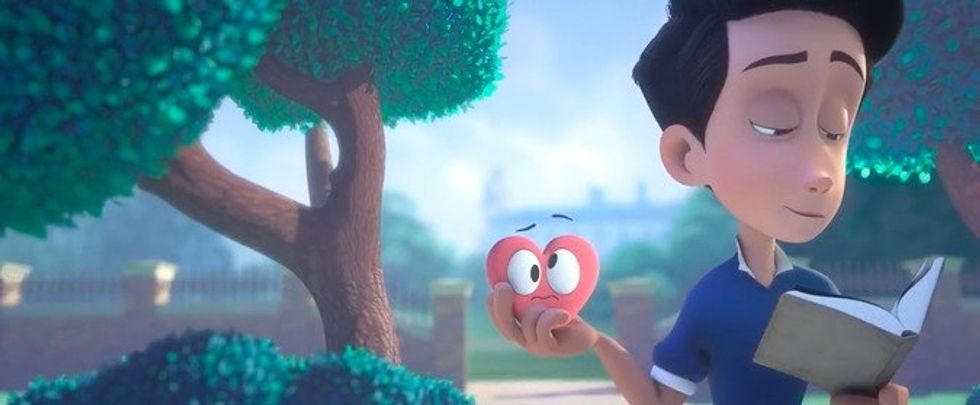 via: YouTube
Probably partly because of that adorable little heart, which, if you're following the story, you'll realize by now has flown out of the main character's chest and gone straight after the boy of his dreams.
When he tries to retrieve his heart, things get a little...awkward.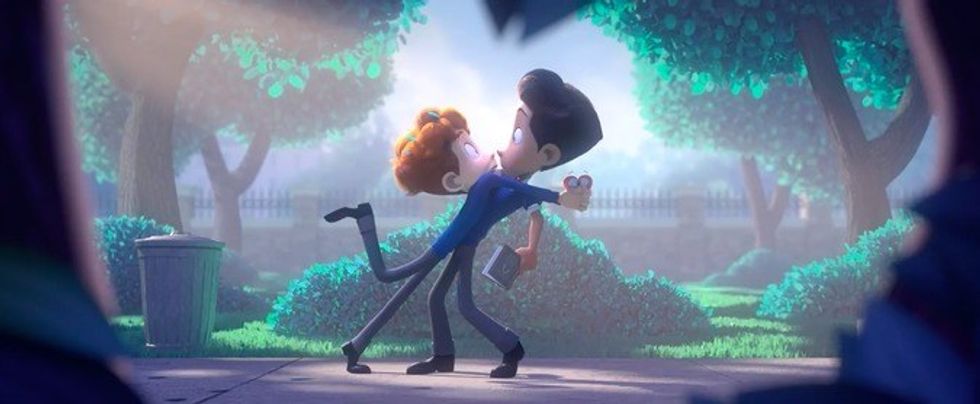 via: YouTube
At this point, it's not quite clear how this tale will end. Is the crush mutual?
Is the heart, who's trying everything to bring these two together, going to succeed?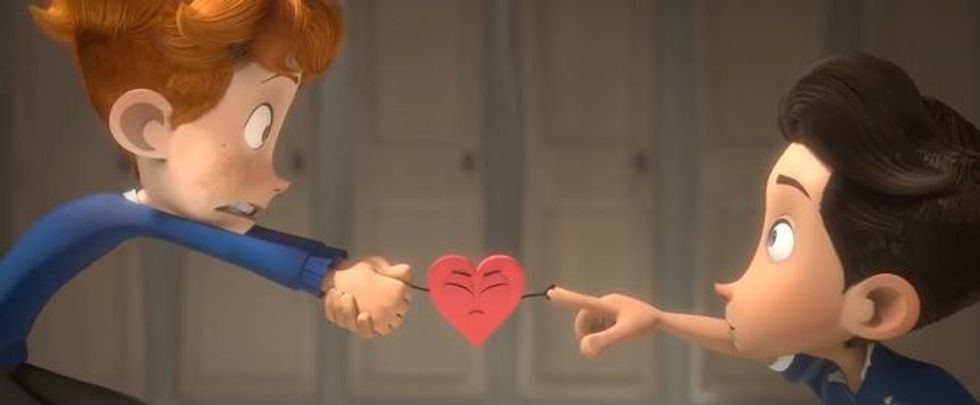 via: YouTube
It may only be four minutes long, but it's a true roller coaster of emotion. Not to mention it's beautifully animated with a perfect score.
And that's all thanks to the immense support the filmmakers garnered on Kickstarter.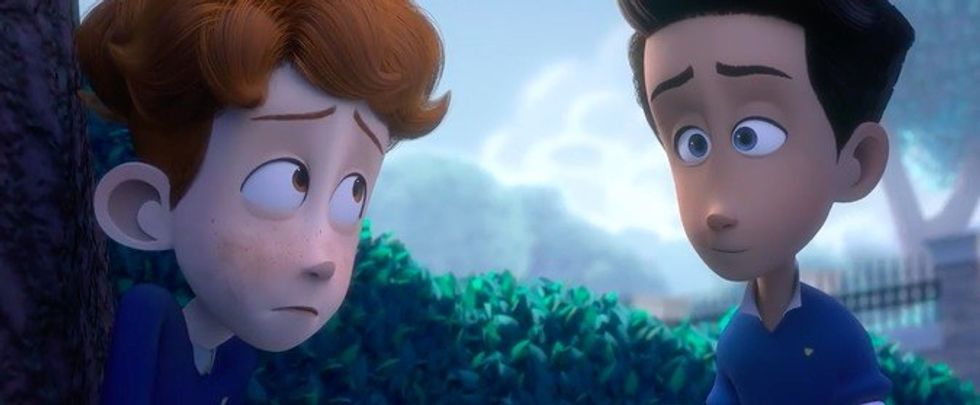 via: YouTube
When their campaign ended in December 2016, they wrote this note to backers: "With the funds we've raised, we are more than well equipped to produce a unique, high quality musical score for the film, and we couldn't have done it without you! Our next steps are to finalize the film with fully rendered animation and high quality music and sound design, begin assembling rewards for the backers of this project, create social media pages for the film as we get closer to the release date, and finally share the final product online for everyone to see!"
Well, it's finally here, and it's wonderful.
The importance of a film like this cannot be overstated. It does so much for the representation of LGBTQ+ characters, for breaking down traditional ideals of masculinity, and for spreading love and acceptance.
With the release of the film came an outpouring of love and support on Twitter.
Less than 24 hours after In a Heartbeat was released, fan art galore is sweeping the Twitterscape. This one thanks Beth and Esteban, the filmmakers.
Cutest short film of all time, indeed.
One day, stories like this one won't be considered extraordinary. Until then, keep the praise and exposure coming.
Seriously, it's so good.
Aside from the social good this film is doing, it's also just really great animation. The filmmakers have bright futures ahead of them in the realm of animation, for sure.
Doodle for love.
The way In a Heartbeat is already resonating with people demonstrates just how significant stories like this one are.
The film already has over two million views.
And it also has its very own hashtag.
#InaHeartbeat
Uh oh.
That cute aggression is coming on again. The fan art the film has spawned is so creative and inspiring!
We all cried.
With everything that's happening in the world lately, it feels so good to be able to share something positive with others.
Many have been waiting months for the opportunity to watch the film.
Those who backed the Kickstarter over six months ago are finally able to see the finished product.
Take the advice of this person.
"GO WATCH IT!!!!" pretty much sums it up. You won't regret it.
In a Heartbeat is adorable, important, and such a ray of sunshine.
Take four minutes to watch the film. Share it with someone you love. And spread joy. It's that simple.