You cannot tell how healthy a person is by looking at a picture of them. In an age of body positivity and wide acceptance of all types of men and women, people still face constant criticism from strangers on the Internet who believe it's their business to comment on the way they look. But the truth is that you have no idea what's going on in that person's life beyond the camera.
One blogger made that point very clear in an Instagram post in which she admits that "becoming fat" literally saved her life.
This is Danica Marjanović.
@lovefromdanica
is full of heartfelt and hilarious encouraging photos and words about accepting and loving yourself.
In her Instagram bio, she describes herself as a "fat activist" and an advocate for "mental health awareness."
"#Bodypositivity is accepting yourself at this very moment without having to make changes like society says we have to," she wrote in the caption for this photo.
She has no qualms about sharing her own experiences with food and learning to love herself.
With wit and emotion, she willingly shares images like this one from a darker time in her life:
"Becoming fat saved my life," Marjanović wrote in big block letters on this side-by-side Instagram post.
The criticisms Marjanović faces are ones that are constantly shoved at people who don't seem to fit society's standard of beauty.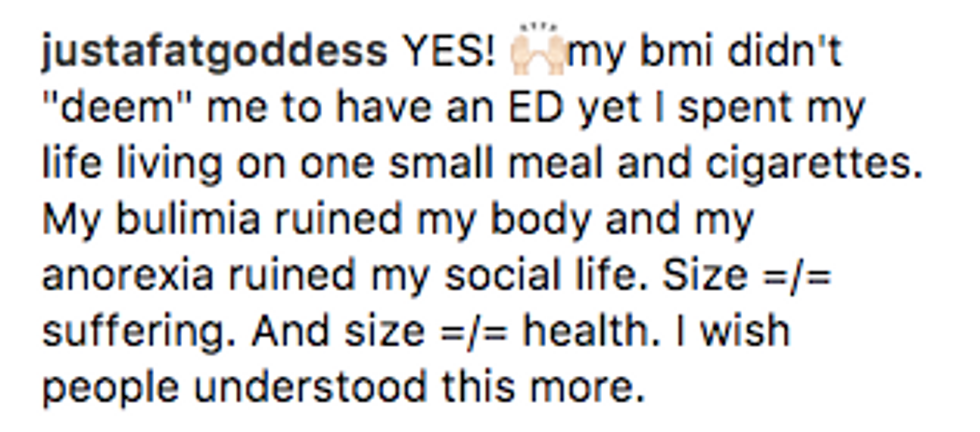 But her post proves without a doubt that size is not an indicator of health or happiness. Everyone deserves to love themselves inside and out.
What you don't see in a photo like Marjanović's is her intense anxiety and eating disorder and crippling depression.

For Marjanović, the fact that she was able to give up that control and love her body for what it is makes her so much healthier in the photo on the right, even though that's the photo for which she garners such criticism.
Her powerful words resonated with so many in the comments who related to her struggle and have been inspired by her journey.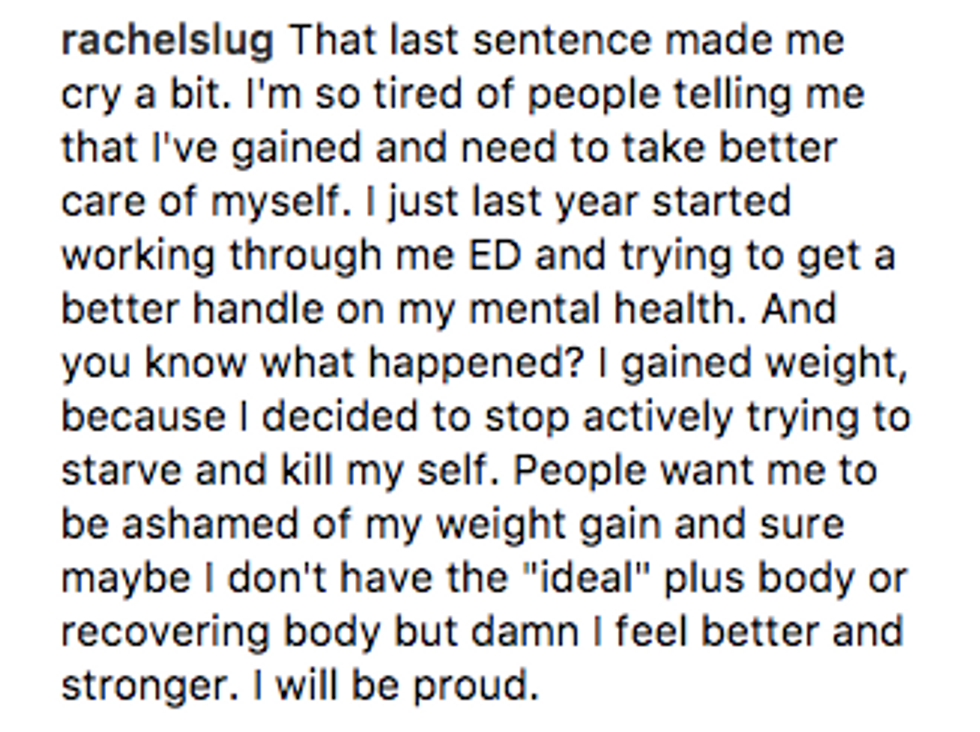 The standard of what "healthy" looks like can be so dangerous because if someone adheres to that standard, they may be less likely to seek help for their disorder.
We must destigmatize mental illness. We must accept all bodies as beautiful.

Thanks to inspirational people like Danica Marjanović sharing their stories, these conversations are happening.