Yet another high-profile celebrity has been accused of sexual misconduct. This time, it's a famous chef that you probably recognize from Iron Chef or his most recent role as a co-host on ABC's The Chew. It's Mario Batali, and the details do not look good.
Starting yesterday, rumors started going around that a famous chef was going to be accused of sexual misconduct.
According to three sources, a famous chef will be the subject of a story about allegations of sexual misconduct...likely out tomorrow.

— Yashar Ali 🐘 (@Yashar Ali 🐘)1512962135.0
Most of the people we've seen accused of sexual misconduct have been in the entertainment industry or politics. This newest accusation may be the first big-time famous chef.
Few people were surprised that sexual predators could be lurking in the food industry.
@EaterNY What happens to women in the restaurant industry is unbelievable and unspeakable. I have worked in industry since 1974.

— Chef Chipmunk-5 Zappa (@Chef Chipmunk-5 Zappa)1512999208.0
We've seen people (mostly men) from the entertainment industry fall gracelessly from their pedestals, and we've seen politicians accused of inappropriate behavior. Some of them have resigned from their positions while others appear to be going on to enjoy even more success.

But the food industry has, until this point, appeared to remain untouched by rumors of sexual misconduct. If you know anyone who works in the food industry, though, you would have known that this behavior is by no means absent at restaurants.

Perhaps we'll now start learning about the true behaviors of famous chefs and restaurateurs. After this most recent reveal, the food industry may never be the same, much as the entertainment industry appears to be changing forever.
Anthony Bourdain hinted at the news yesterday before finally revealing the man at the center of the allegations:
It's Batali. And it's bad .

— Anthony Bourdain (@Anthony Bourdain)1512997966.0
Mario Batali has straddled the line between the entertainment and food industries for years. And according to several accusers, he's crossed the line into solidly predatory behavior for more than 20 years. Now, some of his victims have started coming forward. The details they've shared are awful.
Batali has been officially accused of misconduct by four women.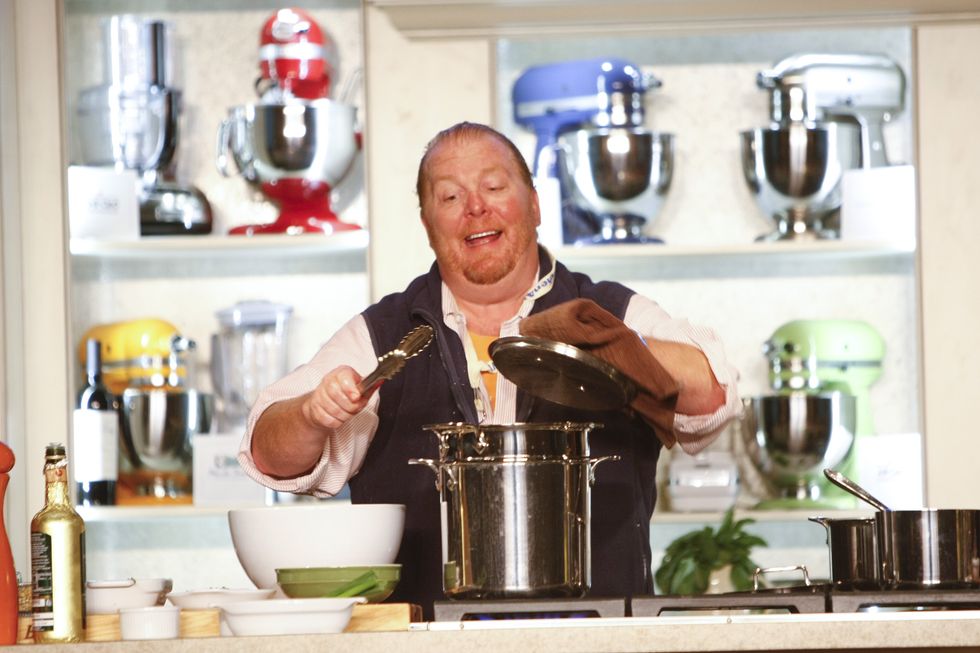 via: Getty
The news was first broken by
Eater New York
. Their report features information gathered from four of Batali's victims and dozens of interviews. One woman says she went up to Batali at a party in New Orleans that took place about 10 years ago. She was a chef in her 20s and was therefore excited to meet someone with a reputation like Batali's. She says that she realized upon talking to Batali had been drinking and that he gave her an "icky, provocative" feeling.

Moments after she began speaking with Batali, someone accidentally bumped into her, spilling her wine down the front of her shirt. The woman alleges that at this point, Batali began rubbing her breasts with his bare hands, saying, "Let me help you with that." "He just went to town, and I was so shocked," the chef says. "Jaw on the ground, I just stepped back from him in utter disgust and walked away."
Three of the women bringing allegations against Batali have worked for him in some capacity.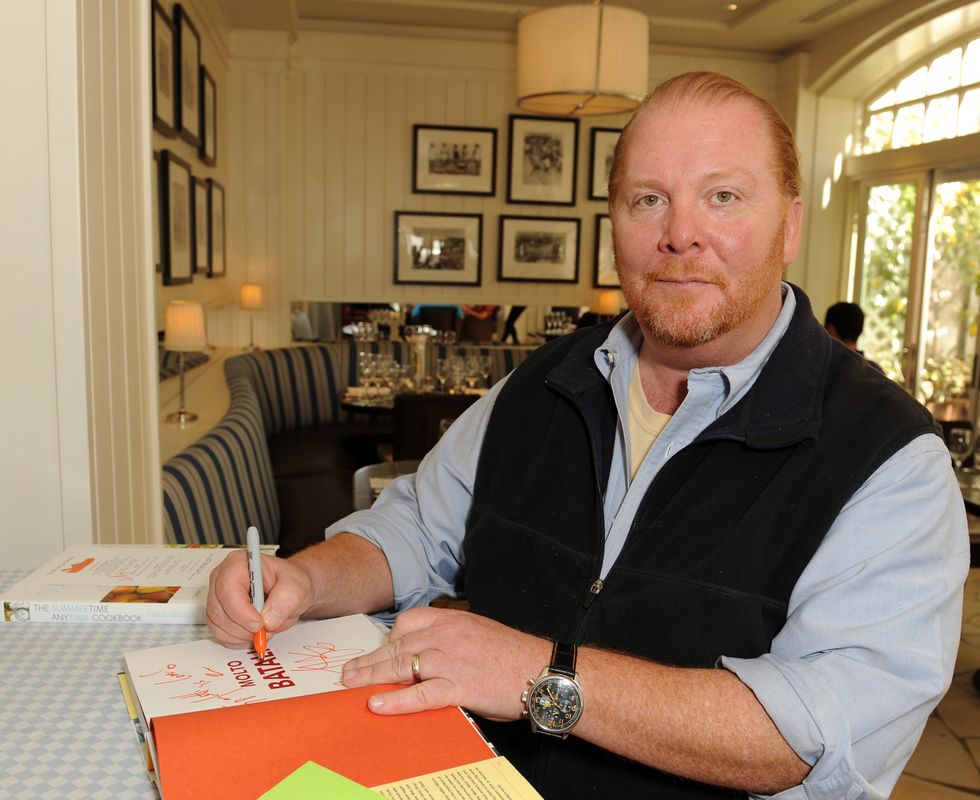 via: Getty
One of Batali's former employees claims that over the course of two years, he repeatedly grabbed her from behind "like a linebacker, like a disgusting bear hug," and held her tightly against his body. "He would breathe on me," she says, "and sometimes take a deep inhale, like he was smelling me."

Another former employee says that Batali once put his hand on her behind and squeezed it. When she confronted him about his behavior, he responded, "What are you, a lesbian?" The same former employee also alleges that she was once working in a small space with him seated in such a way that blocked her exit from the space. When she tried to leave, he said "If you want to get up, you're going to have to climb over me," forcing her to effectively straddle him. Yet another former employee says that Batali grabbed her breasts at a party — a separate incident from the New Orleans party we've already described.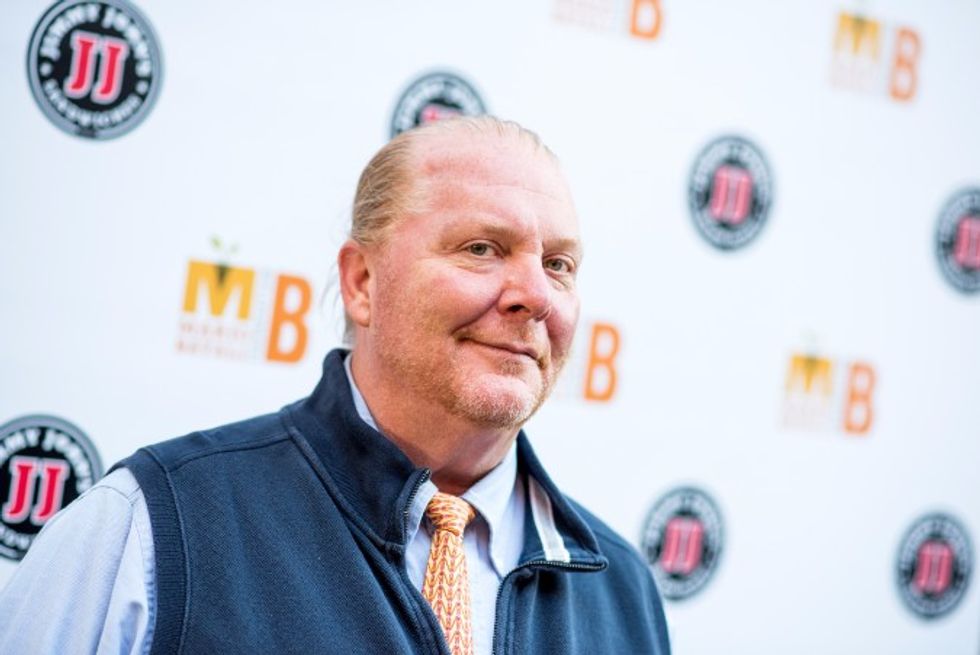 via: Getty
Apparently, Batali was reprimanded in October of this year when a restaurant employee reported his inappropriate behavior to the company he co-owns. This appears to have been the first formal complaint against Batali. Eater's report also included Batali's response to the allegations...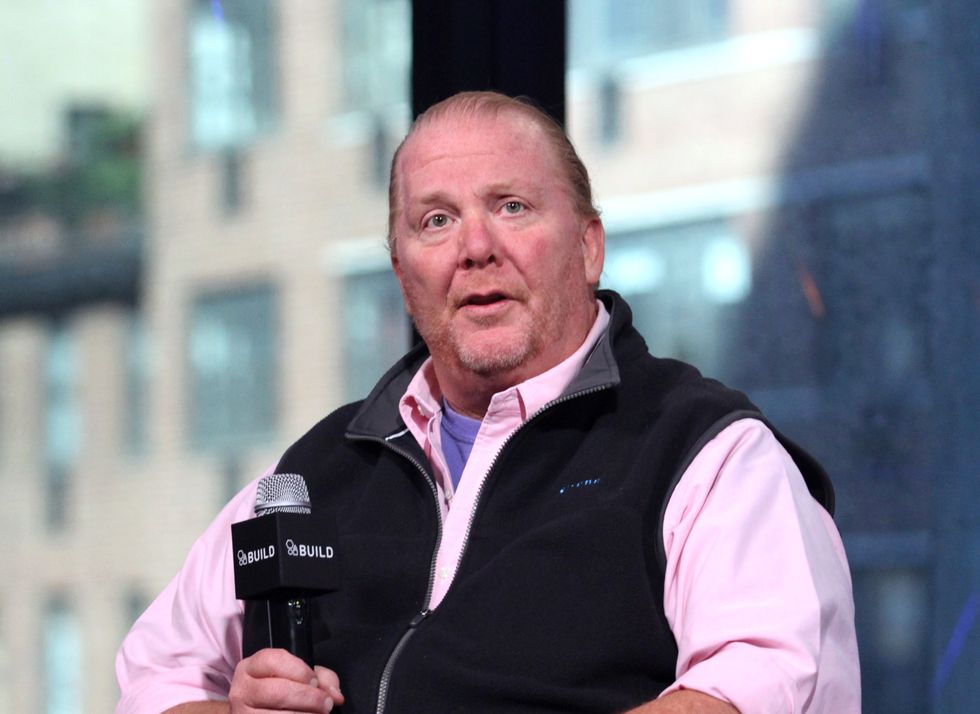 Batali does not deny the allegations. In fact, he says that they "match up" with ways he has behaved. "We built these restaurants so that our guests could have fun and indulge, but I took that too far in my own behavior," says Batali, who apparently considers sexually assaulting people to be a fun indulgence. "I know my actions have disappointed many people. The successes I have enjoyed are owned by everyone on my team. The failures are mine alone. To the people who have been at my side during this time — my family, my partners, my employees, my friends, my fans — I am grateful for your support and hopeful that I can regain your respect and trust. I will spend the next period of time trying to do that."

Batali has stepped away from his businesses in light of the allegations. 
The Chew
has also asked him to leave the show, which he has co-hosted since 2011. At this time, he remains an owner of his individual restaurants.
Anthony Bourdain has responded to the news about Batali:
It's where you stand when the people you care about and admire do awful things that matters. Keeping head down and hoping it goes away? No.

— Anthony Bourdain (@Anthony Bourdain)1512960250.0
He makes it clear that keeping your head down and ignoring news like this is the completely wrong way to handle things. Earlier this year,
Bourdain skewered Quentin Tarantino for his complicity in the Harvey Weinstein scandal.
 Bourdain clearly has no interest in letting predators walk free.
Several people are wondering whether Batali may be the first domino to fall in the food industry.
I'm not surprised to see chefs starting to go down. The macho, sexist bullshit in the restaurant industry is on ano… https://t.co/1MYNFmAh3K

— Louisa 🌈👭 (@Louisa 🌈👭)1513000841.0
Perhaps the stories of Batali's behavior will encourage other victims in the food industry to come forward with their own stories, much like
the allegations against Harvey Weinstein sparked the #MeToo movement
.
And, of course, no report on someone's predatory behavior would be complete without mentioning Donald Trump:
The man has been accused of sexually harassing and assaulting dozens of women, yet he remains in the Oval Office. All we can hope is that people continue to take allegations like the ones against Batali (and Trump) seriously and that all sexual predators receive the comeuppance they deserve.