Everything old is new again. The '90s are making a comeback in fashion, movie remakes, music stylings, and now toys too. While parents everywhere may be rolling their eyes at their daughters' sudden need for a choker necklace and platform flip flops, the return of this toy might be met with more parental excitement, even if the kids don't get it.
What kids need today, more than anything else, is some kind of digital device to keep their focus off the real world.
If only there was some small device that randomly beeped and dinged.
Good news for '90s fans, and parents and teachers everywhere: they're ba-ack!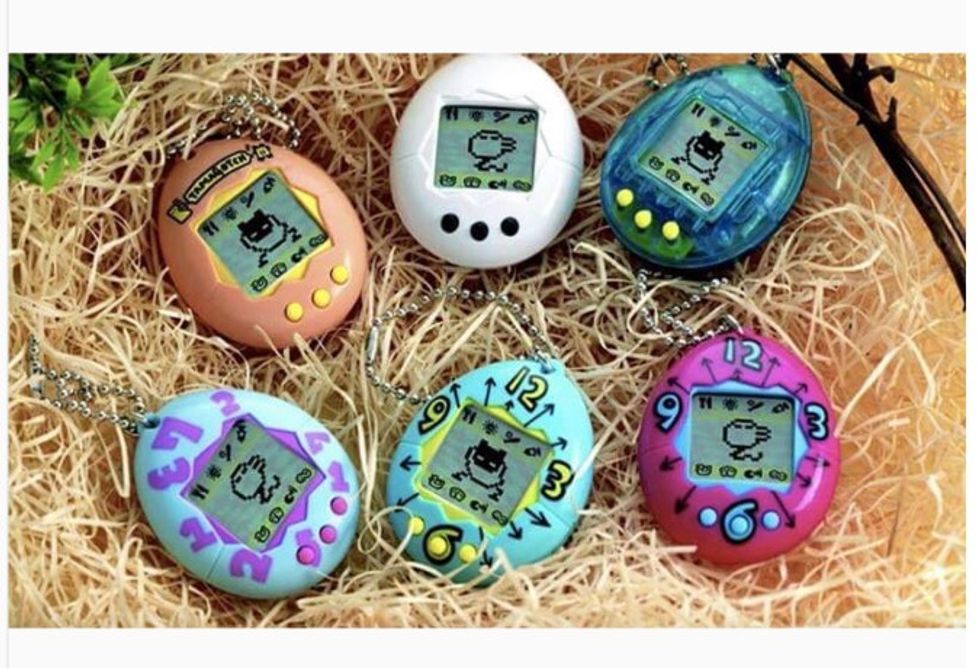 That's right! Tiny digital pets with recurring needs are back, and tinier than ever. Newer, smaller, and just as addicting as the first set.
Gone are the days of a parent at home with nothing to do all day!
@EntertainerToys I remember always coming home from school to find mine dead, mum never feed the thing when I told her too 😢#winitwednesday

— DANTHEBOSSMAN (@DANTHEBOSSMAN)1507743274.0
Now parents everywhere can add "feed my kid's dumb digital pet" to their daily list of chores. Isn't this great?! Sure, the digi-pets are a commitment, but you get so much back from them! All that love and affection. Oh, right. No, there's none of that.
Oh good, a new way to not interact with the real world or actual people.
@IGN Yay something to do on work breaks instead of unnecessary uncomfortable socializing!

— Heather Holliday (@Heather Holliday)1507740355.0
And people are LOVING it...
People are feeling nostalgic at the news that Tamagotchi is making a comeback.
@IGN My school banned these and the Nano ones after awhile. One time I had it on silent, but the pet chimmed me anyway and I got detention.

— Ginny ⛄️ (@Ginny ⛄️)1507726820.0
Teachers everywhere can rejoice. Whenever a hot new toy comes out, teachers are some of the first to enjoy it. They especially love things that make noise periodically.
The new version is called Tamagotchi Friends.
#winitwednesday. RT/Follow this post by midnight Thurs for your chance to win 1 of 4 Tamagotchi virtual pets!… https://t.co/qDyzZUKCCd

— The Entertainer (@The Entertainer)1507743021.0
It comes in six colors and promises to be just as "exciting" as the old version. The thing is, kids today aren't quite the same as kids back in the '90s. Are they going to go nuts for a digi-pet?
Some things are better left in the past.
It's possible that Tamagotchi was such a hit because '90s kids didn't have a whole lot going on.
Kids now are spoiled for digital choice.
Whether today's kids love them or not, these things will sell.
Nostalgia is a powerful thing and whether these were ever a good idea, millions of '90s kids loved them. Those kids are now grown and have kids of their own, who are gonna need some Christmas presents.