When it comes to American pet owners, there seems to be a pretty clear line drawn between two camps: dog and cat. Both animals are adorable and have standout traits. Sometimes it does seem like dog owners tend to dominate — think dog parks, and that little saying that implies they're "man's best friend."
But in other parts of the world, cats may just have the edge.
As it turns out, one country that seems to admire the feline set is Turkey. A very chubby cat stole the hearts of everyone in Istanbul's Ziverbey neighborhood, and sadly, he passed away recently. But what locals did to honor their deceased friend is totally heartwarming — and hilarious.
It's hard to find a more enthusiastic crowd that pet lovers.
But that doesn't mean we don't have our favorites.
Sometimes it seems like dogs really are man's best friend.
The one thing a dog can't do is be a cat.
Still, cats mystify some of us.
And while Americans love their cats, Turkey may just take first prize in that arena.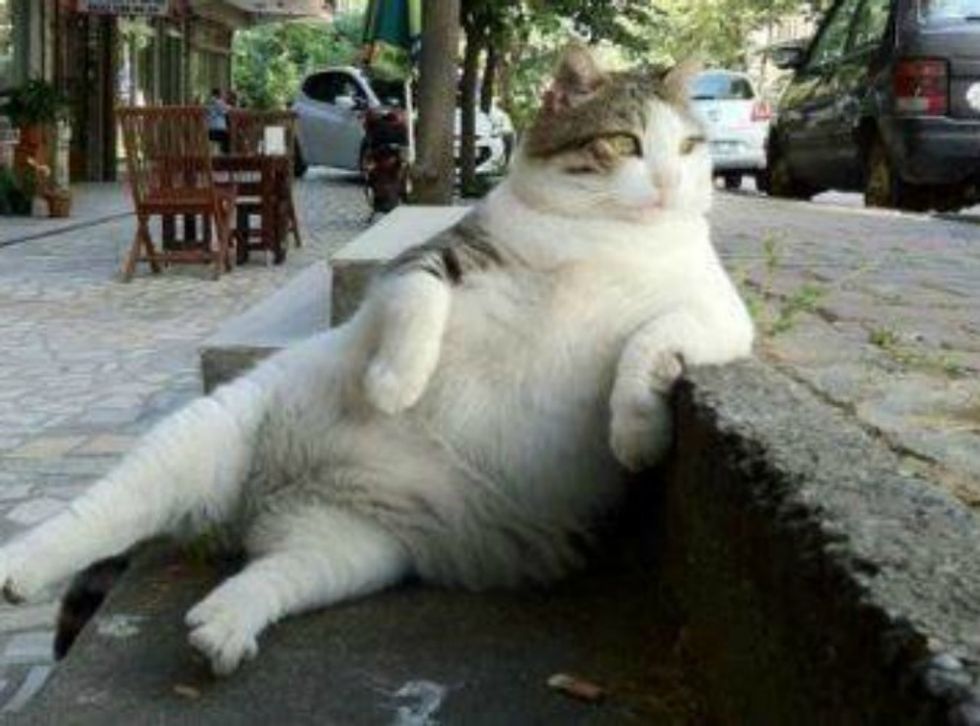 via: Twitter
There's cat love, and then there's cat
devotion
. A neighborhood in Istanbul, Ziverbey, has recently shown that it indulges in the latter. This is a photo of Tombili, a local cat who Ziverbey residents thought of as one of their own. Cats are highly respected in Turkey, and Tombili's easygoing attitude gained him love and affection from everyone who met him.
Unfortunately, the beloved cat recently passed away.
The statue did not disappoint.
Tombili: https://t.co/LRIjICok4w https://t.co/yrwZpAQC0T

— petsandanimalsweb (@petsandanimalsweb)1510343161.0
The residents of Ziverbey who loved Tombili were not let down by whoever commissioned the amazing, little cat memorial. "Tombili" is a Turkish word used for chubby animals, and — as you can see here — Tombili fit that description in life and death. His casual "lounge" pose is still endearing, even if it's not the real deal anymore.
But, sometimes, people can't leave a good thing alone.
Thankfully, someone did the right thing.
Welcome back home Tombili!: The stolen sculpture of famous Istanbul cat is re-erected in its rightful place https://t.co/yypVXZwi3B

— DAILY SABAH (@DAILY SABAH)1478967096.0
And yet, all was not lost. The anguish of the people wasn't ignored, with even the Russian embassy in Turkey making it known that they were highly concerned about the situation. Whoever took the fat-cat statue must've had a crisis of conscience, because "Tombili" was returned and promptly reinstalled at his usual haunt on the stone steps.
It's good news for locals and the rest of us.
With the return of the famous cat statue comes the opportunity for Ziverbey to have the comfort of their chubby "friend" back, and for travelers to visit the landmark as well. But we do echo the sentiment of this Twitter user. Hopefully, from here on out, Tombili will rest in peace and keep hanging out on his steps for many years to come.