Organizations trying to raise awareness for a cause are always on the lookout for a new captivating idea that will generate interest, buzz, and much needed donations.
Recently, an animal welfare advocacy group in Japan knocked it out of the park with their newest campaign to raise awareness for Japan's stray cat problem.
And their solution might be the cutest thing you've ever seen.
Kitten Café Sanctuary hopes to bring awareness to the number of stray cats that are culled in Japan each year.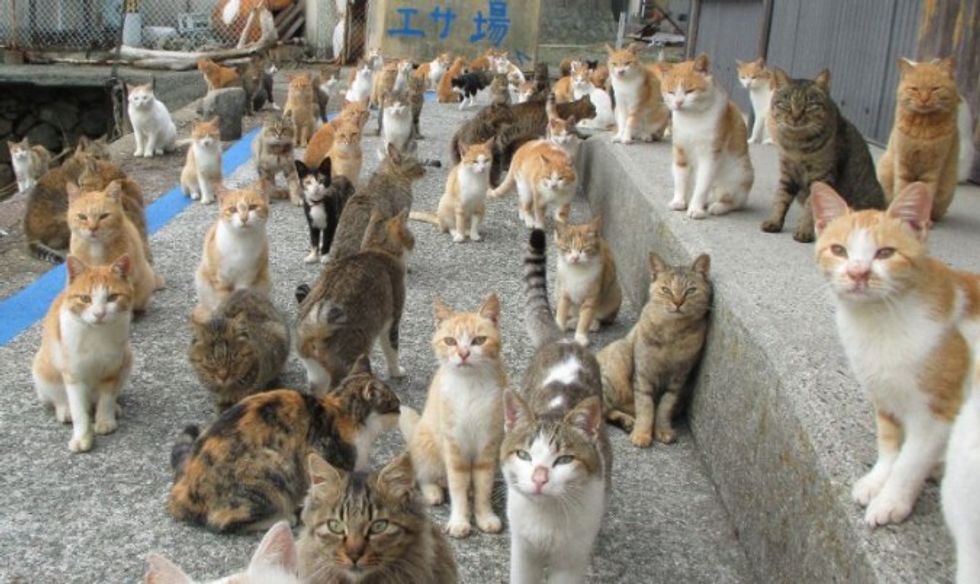 via: Yahoo! News
Japan has a large population of stray cats. Through innovative awareness campaigns, the number of cats that are turned into shelters and ultimately killed has dropped from 238,929 in 2004 to 45,574 in 2016. Kitten Café Sanctuary, an animal advocacy NGO, hopes to bring that number down even more with its latest feline-themed idea.
Who doesn't love the idea of animals in new and interesting situations?
via: IMDb
Somehow, instead of the idea of stray cats on public transit making our skin crawl, we are overcome with the impulse to snuggle and speak in baby voices.
OMG IT'S FREAKING CATS ON A FREAKING TRAIN!
During a special one day event, passengers were treated to the company of 30 fluffy kitties, and lunch, in a collaboration between Kitten Café Sanctuary and Yoro Railway Co Ltd.
Tickets for the one day event sold for 3,000 yen (approximately $27 USD) and sold out within a day.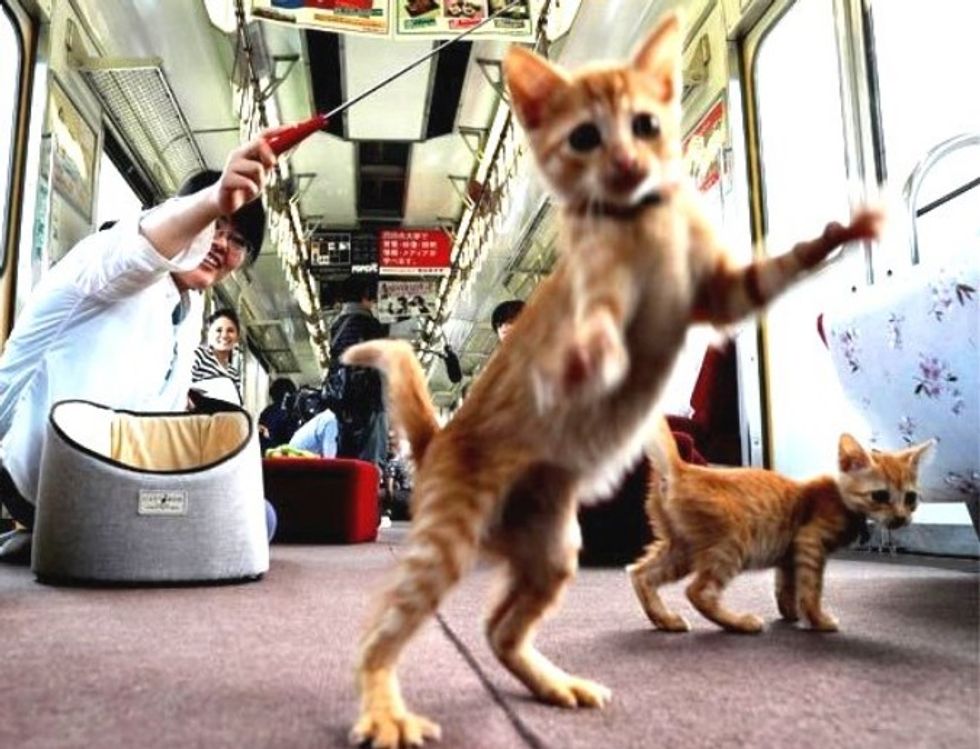 via: Twitter
A portion of the ticket fee will go towards Kitten Café Sanctuary's operating costs.
The feline passengers were all rescued from shelters where they would have been put to sleep.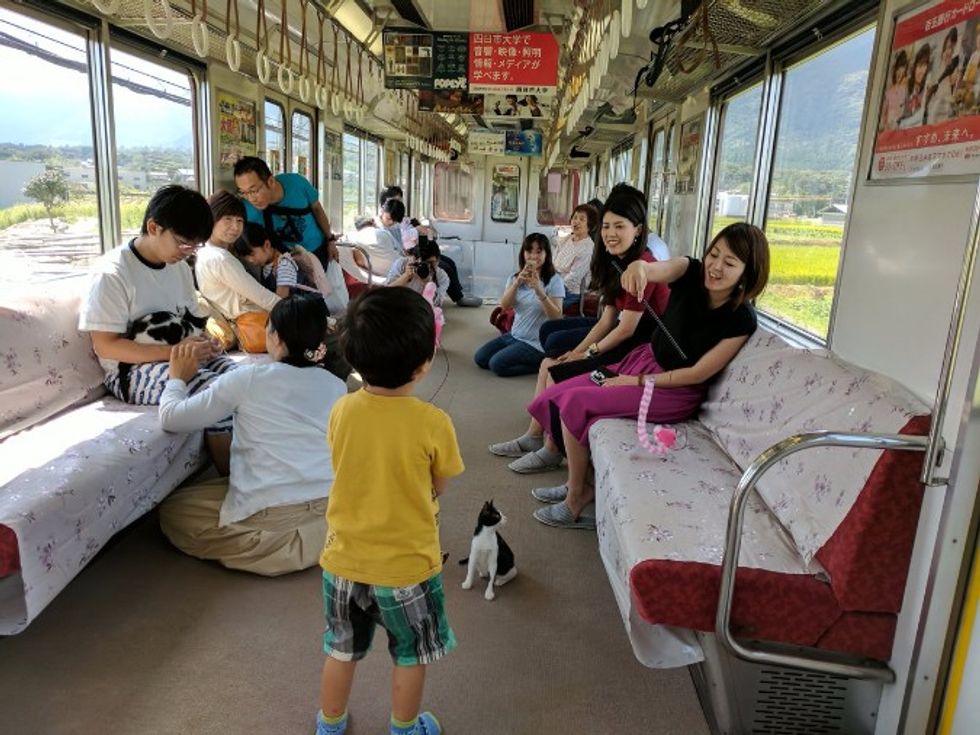 via: Twitter
Now under the protection of the sanctuary, they are available for adoption, train rides, and cuddles. Which is so much better! So how have people reacted to this moving cat café?
Who doesn't love the view from a window of a moving train?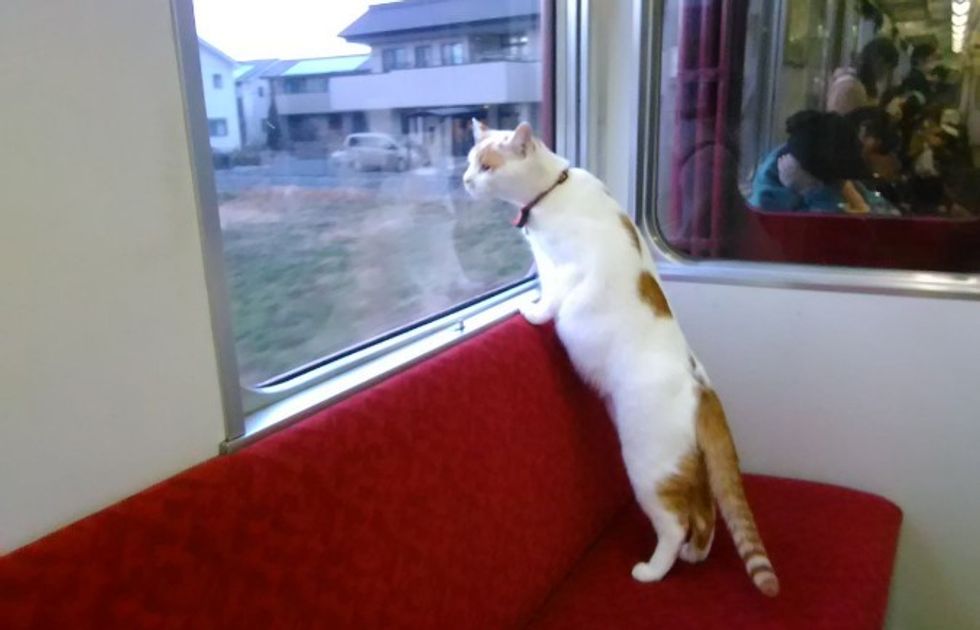 via: Twitter
The cat café concept is fairly common in Japan, where rescue and advocacy groups regularly set up in restaurants and cafés to allow people to mingle with feline companions while enjoying a meal. This is the first time that Japan's love for kittens has been combined with its love for train travel.
Reactions to the cat cafe train have been overwhelmingly positive, as one might expect.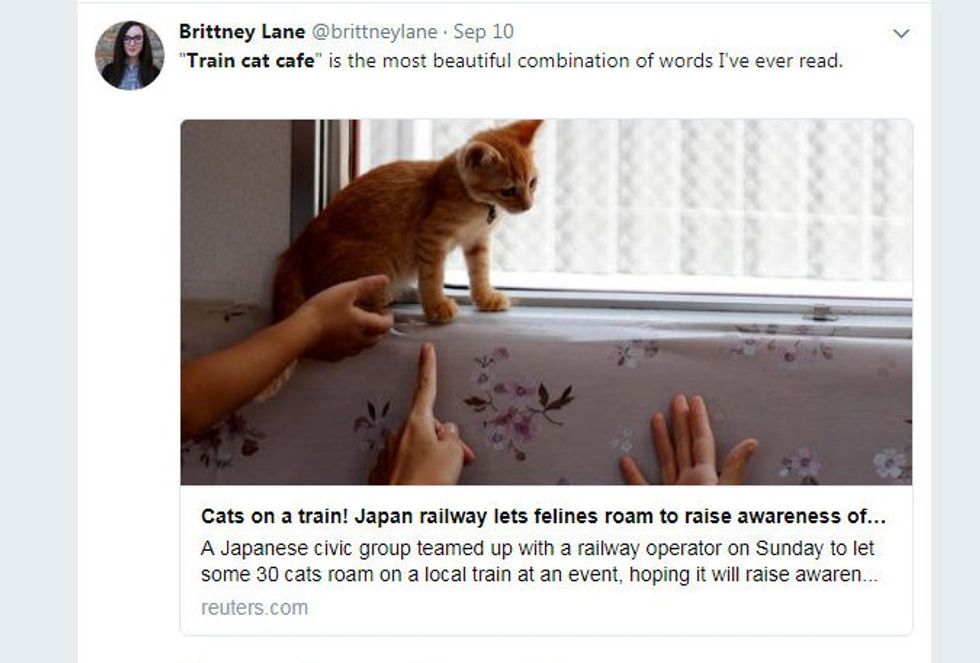 via: Twitter
Passengers not only enjoyed their few hours of relaxation and kitten play, they also felt like it was a great way to raise awareness for the plight of stray cats in Japan.
The internet is in love with the cat train too. And why not?

via: Twitter
I don't consider myself a crazy cat lady, but I'd like to ride this train maybe forever too. Regardless if you're a cat lover or not, how can you not love the idea of rescued cats getting a full day of love and attention from doting train passengers? It's a win for everyone!
No matter who you are, the idea of rescue kitties on a train is bound to move you.
Just like the internet is a richer, better, more fun place because of cats...
I don't know where they came up with the concept of a train of cats.