For a lot of us, coffee is basically lifeblood. It wakes us up and gets even the most hectic mornings off to a semi-manageable start. Thankfully, it seems like there are more places to get coffee than there are birds in the sky. The varieties available are also seemingly endless.
Well, here's one more option to add the list.
A Japanese man has been brewing something amazing for adventurous sippers. By harnessing the power of a pungent vegetable and a little ingenuity, he's made an alternative to morning joe that we can't wait to try out.
Oh, coffee, how we love thee. Let us count the ways.
People on the coffee train are proud of it.
 But first, coffee cross-stitched across the front. Whether it's a plaque proclaiming Everything is better with coffee in the kitchen or an Instagram of an artful latte, we want to tell the rest of humanity about our obsession.
One of the greatest things about our BFF is that it's not in short supply.
Coffee went high-tech and we followed right along.
Don't own a coffee maker? No problem.
Along with the numerous places to get it, the boundless varieties of coffee are like a siren song.
Coffee enthusiasts now have one more thing to smile about. Options keep expanding.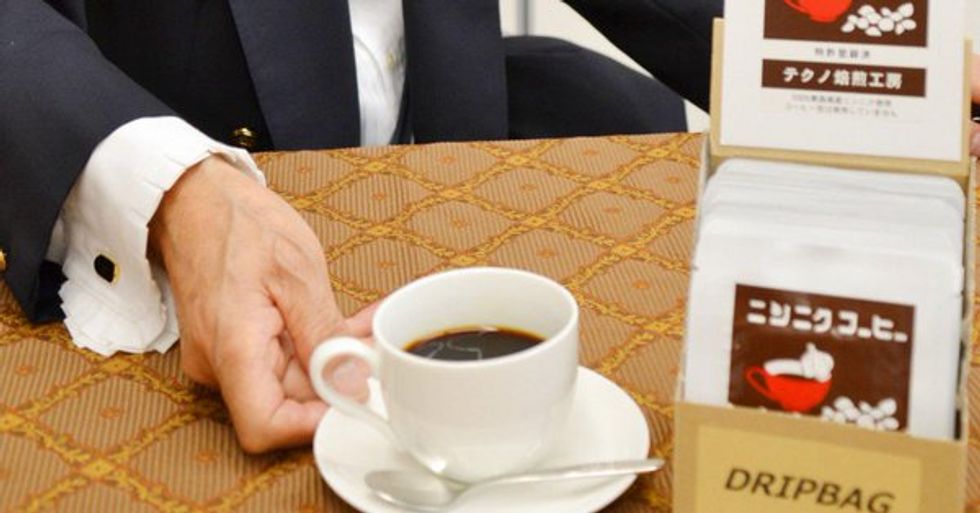 Coffee variety is one thing, but pioneering an entirely different way to make it is another. Hailing from Japan, a 74-year-old man named Yokitomo Shimotai has invented a brand new system to make an alternative to the hot, delicious drink we all know and love. That's right, he didn't just drink coffee, revolutionized it. And how he does it is amazing.
Need new ideas? Sometimes all it takes is looking no further than your pantry.
A small accident led to a big idea.
Now a patented process, it took a little trial and error to get the drink where it is today. Good news for caffeine-free folks.
Our curiosity is totally piqued.