The groundswell of allegations against Hollywood sexual abusers continues, and now, sickening patterns are coming to light. Earlier this month, director and producer Brett Ratner was accused of sexually assaulting six women, a claim he stringently denied. He even went so far as to sue one of his accusers for libel.
Now, the Los Angeles Times has published a horrifying report alleging that Ratner not only assaulted women, he helped others do the same, especially Def Jam Recordings mogul, Russell Simmons.
Ratner met Simmons in the late 1980s when he was a film student at New York University.
Brett Ratner and Russell Simmons in St. Barts, 1998. Both are now accused by multiple women of sexual misconduct.… https://t.co/Yn9CGecExl

— Lauren Greenfield (@Lauren Greenfield)1511197706.0
Noticing Simmons' (well-documented) appetite for young models, Ratner set about procuring them for Simmons. In his book
Do You!: 12 Laws to Access the Power in You to Achieve Happiness and Success
, Simmons said this of Ratner: "He was willing to do anything to be of use... After he hung around a bit and figured out that I liked models, then he made it his business to take me to every model's apartment he could find."
In fact, Ratner and Simmons became so close, Simmons once told "Vanity Fair," "He's my son, all right."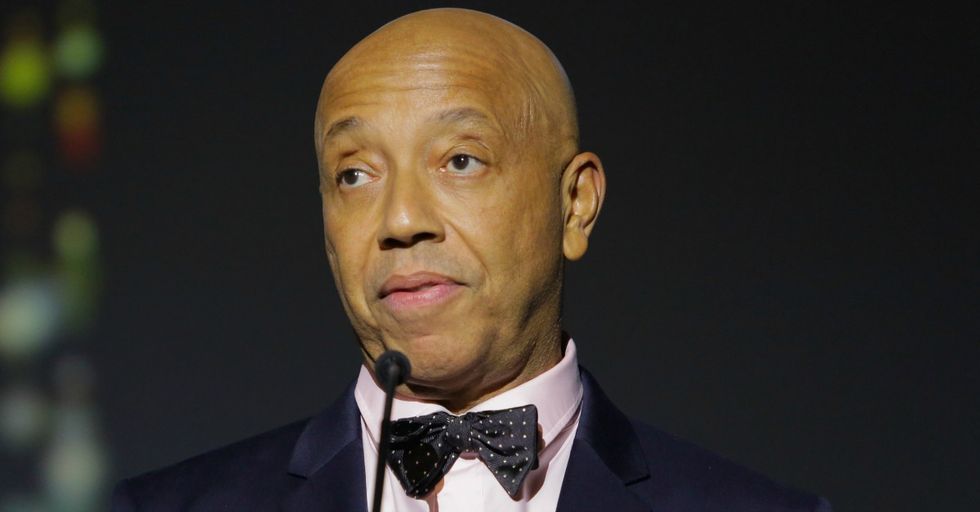 Simmons is not the only iffy Hollywood figure to say this of Ratner.
Robert Evans
, the legendary producer who greenlit 
Chinatown, The Godfather,
and 
Rosemary's Baby
, but was convicted of cocaine trafficking and was a person of interest in the notorious Cotton Club murder also acknowledged a special relationship with the director. "I was his Hollywood father," Evans said to
Vanity Fair
. "I don't know whether I should be proud of that or not."
In fact, it seems Ratner had a pattern of aligning himself with predatory older, powerful men.
A Model Alleges Russell Simmons Sexually Assaulted Her While Brett Ratner Watched https://t.co/jTvjUBfFTk https://t.co/bg9KSTu2rP

— Dlisted (@Dlisted)1511220725.0
James Toback
. Robert Evans.
Roman Polanski
. Russell Simmons. All men with scandalous pasts – all men who had strong relationships with Ratner and partied with him at his Hollywood mansion, Hilhaven lodge (which Toback once referred to as his "second home").
But Rather was especially close with Simmons, and now, it seems, he had a pattern of sharing extremely-young women with him.
Model claims Russell Simmons raped her in shower while filmmaker Brett Ratner 'sat there and watched'… https://t.co/jotbg7bfIA

— Conservative News (@Conservative News)1511152083.0
Model Keri Claussen Khalighi met Ratner and Simmons in 1991 at a casting call. She says the men took her to Mr. Chow in New York, and then to Simmons' apartment, purportedly to show her a music video they'd been working on. At that time, Ratner was still an up-and-coming music video director.
Once they got in the apartment, Khalighi alleges that Simmons immediately started ripping her clothes off. Frightened, she looked over to Ratner.
Remember when Brett Ratner and Russell Simmons almost started a modeling agency just to pick up women https://t.co/cMheCr07no

— Davin Kolderup (@Davin Kolderup)1509575867.0
"I looked over at Brett and said 'help me' and I'll never forget the look on his face," she said. "In that moment, the realization fell on me that they were in it together." That wasn't the worst of it, however.
Simmons tried to rape the young model, but she fought fiercely.
Afterwards, she took shower to wash off her disgust, and that was when Simmons pounced again.
He penetrated her until she jerked away. "It hurt so much," she said. Again, she was only 17 at the time, and Simmons was in his early 30s at the time – twice her age.
Simmons put out a statement via his lawyer disputing the claim.
Example #3 of what a piece of sh!t @UncleRUSH is. #hollywoodperverts Quote from this sexual predator "Everything t… https://t.co/IjS97oZpcK

— NotJudd Apatow (@NotJudd Apatow)1511196226.0
"Everything that occurred between Keri and me occurred with her full consent and participation," he said.
Again, she was 17 years old.
He continued by saying that he was mostly with other people while he was with her. Ratner denied seeing Khalighi ask for help or struggle, again, via attorney Martin Singer, who represents both men.
Many people aren't buying Simmons' denials. He has, after all, had a long history of modelizing – primarily dating only models.
Even more telling, he has had a pattern of going after very young models. In fact, his former wife, Kimora Lee, was "16 or 17" – this is
according to a Vanity Fair article
– when he first started
stalking
pursuing her. According to Lee, her close friend, Tyra Banks tried to warn him off. As she explains, "Tyra was like, 'Leave her alone. She's a good girl. She's not like those floozies that you know." Again, she was "16 or 17" at the time.
Vanity Fair is not the only publication to document Simmons' predations. Playboy also documented some of it.
When Terry Crews began a sexual assault case against his groper, Simmons sent him an email asking him to let it go.
Message Russell Simmons sent to me regarding my sexual assault case against Adam Venit of @WME: Dear @UncleRUSH——… https://t.co/Gpd3NU3SVm

— terry crews (@terry crews)1511106902.0
Crews had the perfect reply to this inappropriate ask. "Dear @UncleRush. NO ONE GETS A PASS."