Whether it's knitting you a cozy pair of socks for Christmas or shipping you a box of homemade cookies during exam week, you can always count on grandmas to know exactly what you need. Some grandmothers like to buy books for their grandkids in the hopes of helping them grow up to be voracious readers.
However, we recommend flipping through the pages of any books you may be sending to little kids. Otherwise, this might happen.
If you came across a book called If Animals Could Talk you'd probably assume it's completely appropriate for children, right?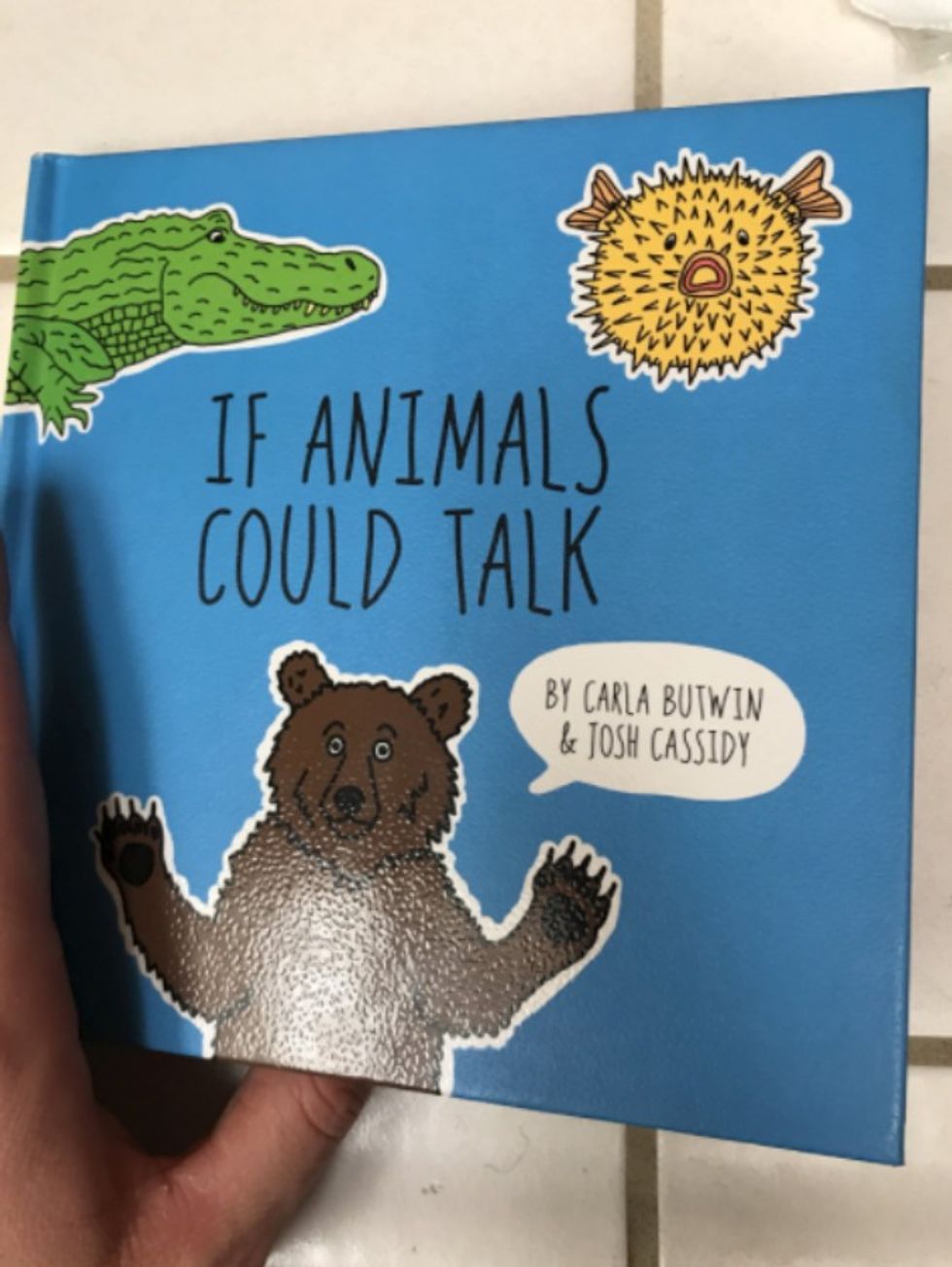 via: Twitter
The concept of talking animals is nothing new. There are approximately one million children's television shows featuring talking critters on Netflix at this very moment.
This book
must be totally safe, right?
However, if you open the book and take a look at its pages, you might find some less than savory language.
That's what Twitter user Tiffany discovered when she took a closer look at the book her mother had bought for her 6-year-old daughter.
Tiffany called her mom to tell her about the hilarious mixup. But grandma had a solid excuse for why she picked it up for her granddaughter.
Either there's a prankster on the loose at Barnes and Noble, or children are way edgier than we remember being.
The book definitely isn't appropriate for little kids, but you have to admit the illustrations and captions are pretty incredible.
Clearly, the author of the book dug very deep into the psyche of the animals they were writing about. Or maybe it's more of a Doctor Doolittle situation and the animals spoke directly to them. We can totally see a little chick saying this.
Twitter has had an absolute field day about the amusing mistake. Tiffany's original tweet currently has more than 60,000 retweets.
@Tiffany1985B @shumad1 😂😂😂😂😂 good thing you took a gander before busting it out with the kids!!!

— ReneeHart 🤷‍♀️💅🏻 (@ReneeHart 🤷‍♀️💅🏻)1507084440.0
And as this person pointed out, Tiffany is lucky that she flipped through the book prior to giving it to her child. Yeah, about that...
It seems as though Tiffany may have made the same mistake as her mother by not looking through the book before handing it off to her daughter.
Whoops! Well, now we've all learned a very important lesson. Read the books before you hand 'em over to the kiddos.
Otherwise, your small, innocent 6-year-old will be puzzled by pages like this:
If your kid reads this, they're gonna have questions. Do you wanna answer those questions? Probably not.
There are a few pages of the book that are a bit tamer.
For those, Twitter was kind enough to provide alternative captions. Thank goodness for Twitter.
Eventually, the co-author of the book chimed in with his own suggestion of how to handle the mishap.
@Tiffany1985B 🙈 haha. I appreciate Granny's taste. Maybe you can regift on your 6 yr old's 18th? 😉 Glad it gave you… https://t.co/JJwYmMaWIK

— Josh Cassidy (@Josh Cassidy)1507094772.0
We love the idea of holding onto this particular tome for the kid's eighteenth birthday. If you want to get your own copy of the book, you can do so by clicking
HERE
.