Well, this is certainly not typical news.
An American couple has been arrested in Thailand for displaying their bare butts at a sacred temple in Thailand. The married couple run an Instagram account with 14,000 followers called "The Traveling Butts" where they post photos of themselves all over the world, their bums proudly on display.  Since their arrest, the account has been deleted. The damage, however, has already been done.
The men exposed their buttocks at the famous Temple of Dawn or Wat Arun in Bangkok.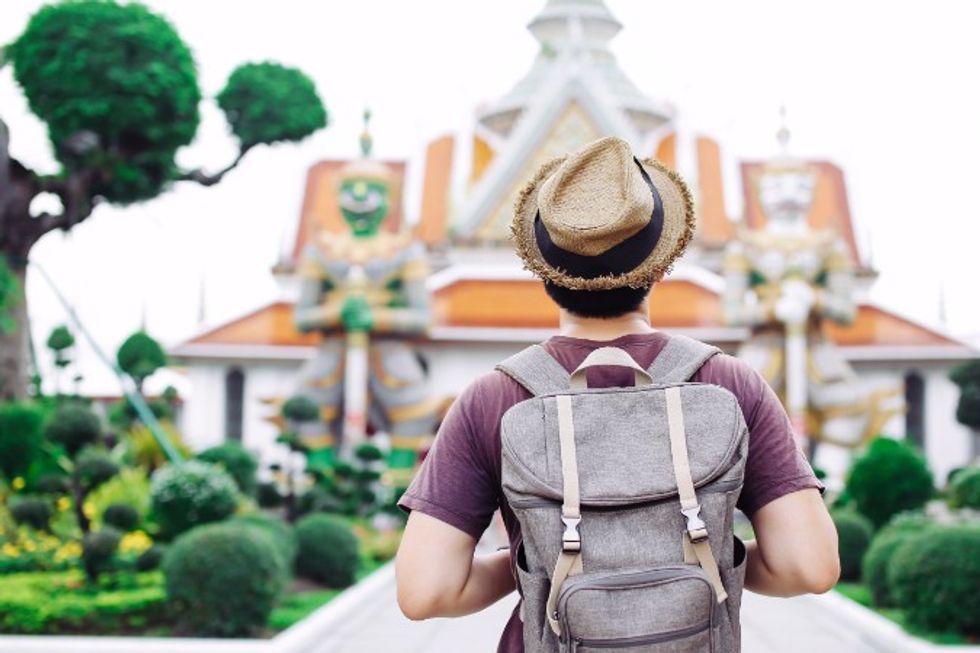 via: Shutterstock
Regarded as one of the
most stunning temples in Bangkok
, it's situated on the west of the Chao Phraya River. It's a major tourist attraction in the capital of Thailand.
There are over 31,200 Buddhist temples spread throughout Thailand, but Wat Arun is one of the most majestic.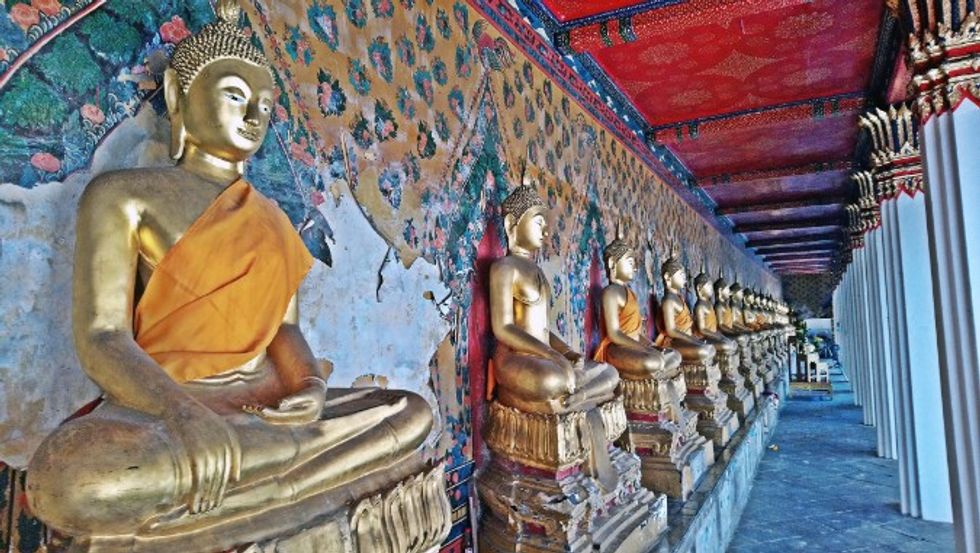 via: Shutterstock
The temple is
named after Aruna
, the Indian God of Dawn. The main feature of the temple is the 
prang, 
which is encrusted with gorgeous porcelain. Wat Arun is a really big deal, and extremely sacred.
It's not a place where you decide to take an Instagram pic of your bare behind and post it for the entire world to see.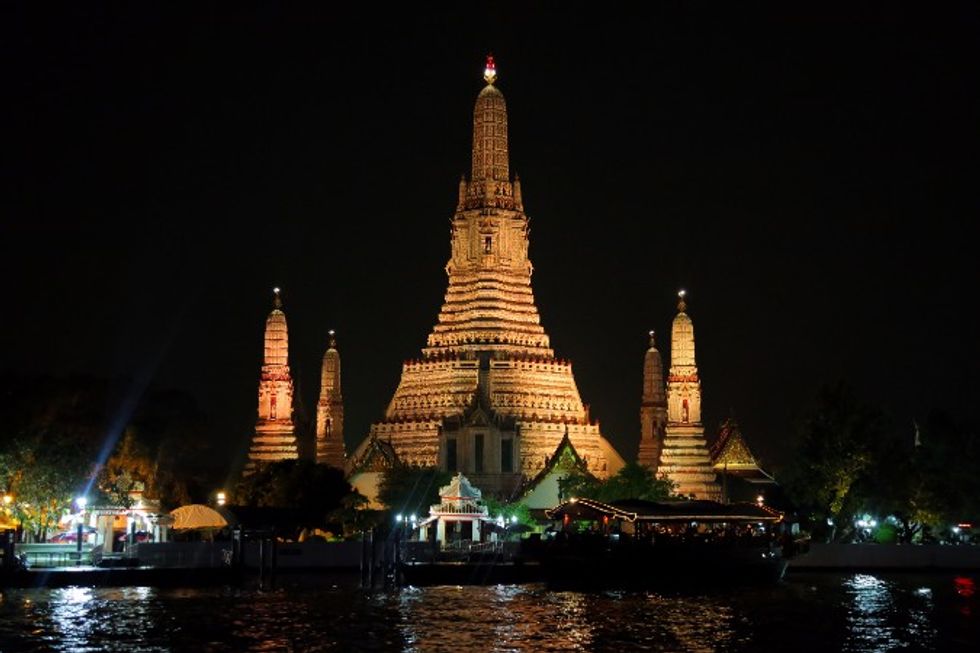 via: Shutterstock
Which is exactly what Joseph Dasilva, 38, and Travis Dasilva, 36, did. The couple is from San Diego and
were arrested by immigration officials
at Bangkok's Don Mueang International Airport.
The Dasilvas were charged with public indecency.
This is me not feeling bad for you. https://t.co/3yHW9hNiRO #travelingbutts

— Coco (@Coco)1512070534.0
According to the Bangkok Post
, a spokesman for immigration police explained that the men admitted to posting the photos at Wat Arun with their pants pulled down. Ummm....guys, listen. This was 
so 
easily avoidable.
Don't pull your pants down in sacred Buddhist temples!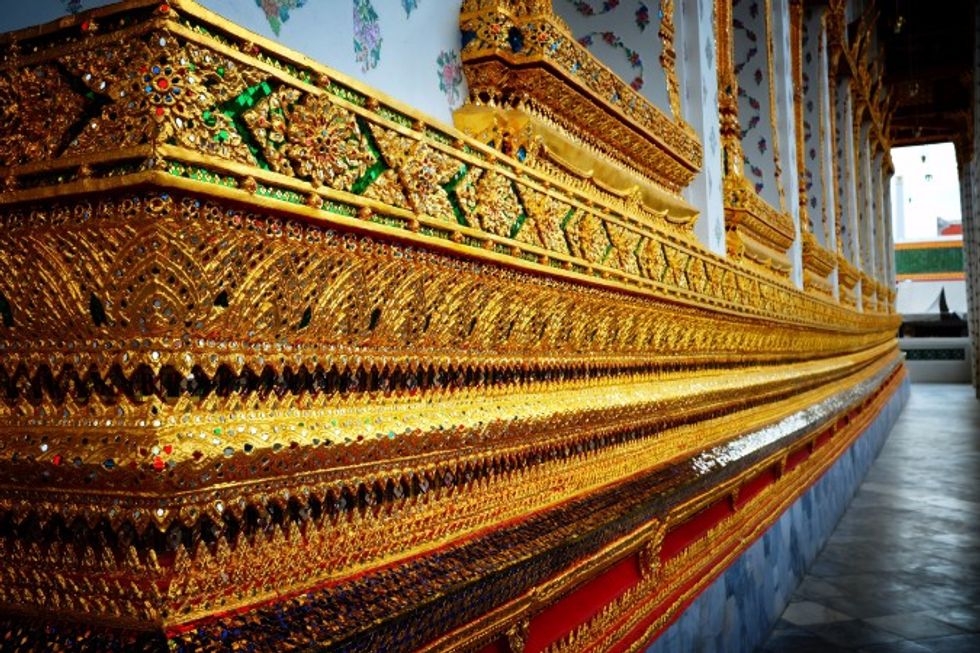 via: Shutterstock
It shouldn't seem like that hard of a thing to do, but you'd be surprised. Both men had to pay a fine of 5,000 baht which comes out to around $150. They remain in custody, however. Keep reading to find out what's going to happen to them...
This is not something that will easily blow over for the couple.
The
Thai government has said
that the couple could potentially face jail time. The statement says, "The charge would not be a normal public indecency charge. Instead, they would be charged with committing indecency in a place of worship, which carries a long jail term."
The entire ordeal serves as a grave reminder that everyone should have respect for cultures and religion.
It's best to stay dressed when visiting people's sacred spaces, no? 'Traveling Butts' Americans arrested over Thai… https://t.co/e4GAGNT4PX

— Gregory Holman 📲📰 (@Gregory Holman 📲📰)1511967955.0
In a statement to USA Today, the deputy chief of the Bangkok Yai police station said
that police might add additional charges under Thailand's computer crimes. 
With this combined with the other charges, the Dasilvas could face up to seven years in jail.
Seven years of jail time for one photo?
"Media reported they had a social media account called 'Traveling Butts' with similar pictures taken at various tou… https://t.co/JOH90ujtfv

— Erin dude gotta go Ryan (@Erin dude gotta go Ryan)1512050455.0
It's not worth it! Yes, we all know that we're social media obsessed but when it comes to breaking the law there needs to be a line drawn.
As you can imagine, the internet had a lot to say about it.
@washingtonpost We were in Thailand last year right after death of King Bhumibol Adulyadej. We made every effort to… https://t.co/uEi5NYze0o

— Patty Roem Brantley🌊 (@Patty Roem Brantley🌊)1512075954.0
And most people aren't taking the Dasilvas side. It seems pretty obvious that you shouldn't expose your butt at a historical and religious landmark.
The San Diego City Commissioner has been in touch with the Dasilvas.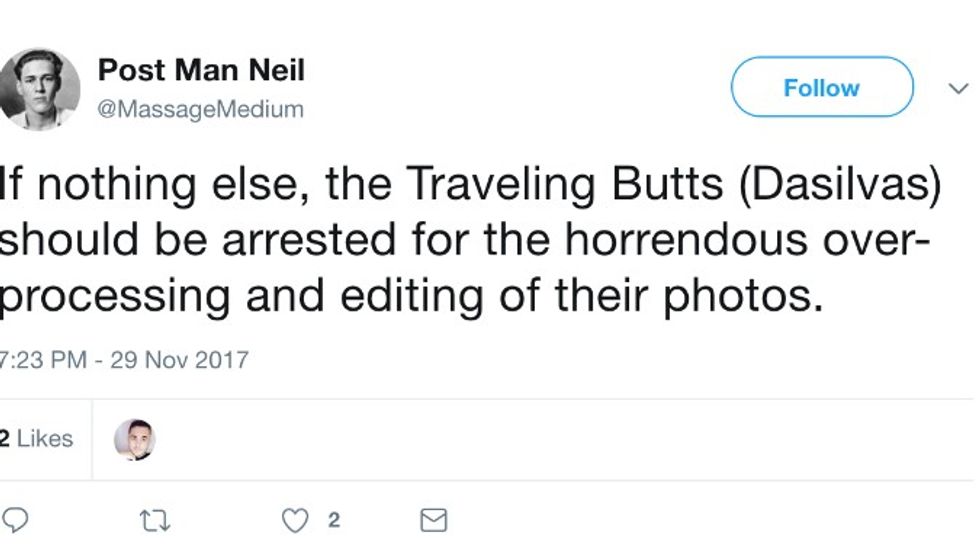 Nicole Murray-Ramirez said that he's talking to American authorities and trying to figure out what to do next. It's safe to say that no matter what happens, these two are probably not going to upload an Instagram photo for quite awhile.