Marvel is, without a doubt, more than just a comic book company. They're a titan of pop culture, churning out hit movie after movie, along with the top-selling comic books in the entire world. It doesn't even matter if you're into comic books. Everybody knows Marvel.
Well, our beloved company just hired a white dude as their Editor-in-Chief. Which, no surprises there. One major thing though: for years, this guy wrote under a Japanese pseudonym.
Meet the new Editor-in-Chief of Marvel: C.B. Cebulski.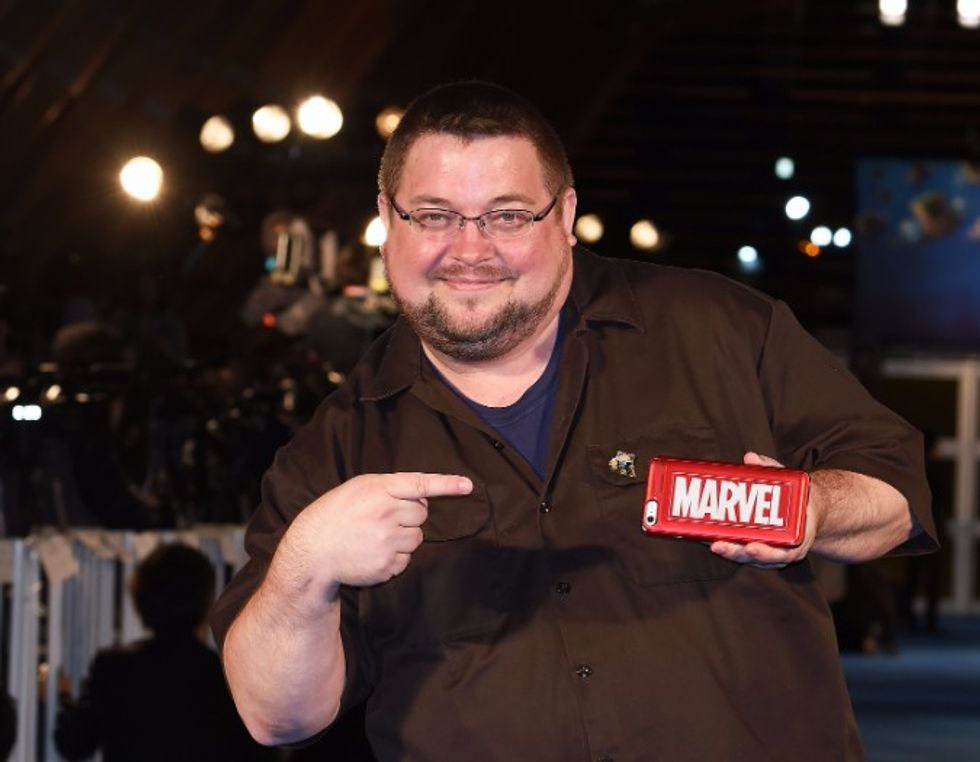 via: Getty
Cebulski is known for bringing to light unique and diverse voices. He's a writer and editor and pretty well known in the Marvel-sphere.
When news dropped that Cebulski had been promoted, it was really exciting.
Ummm, it's pretty obvious that Cebulski is not Japanese.
finally decided
to address the rumors that he wrote as "Akira Yoshida". Turns out that yes, this white man had a Japanese pen-name.
Cebulski explained his reasoning for adopting the name Akira Yoshida when writing.
So a white Marvel writer was a fake Japanese writer named Akira Yoshida? That's the name of the most popular Anime… https://t.co/FwbxRQczCH

— Seanbaby (@Seanbaby)1511796559.0
He
told Bleeding Cool
that the reason he decided to write under this name was so he could pivot away from his editing job. He wanted to transition into a full time writing position within the company, pursuing his true passion.
Which, yeah, we all have dreams we hope to achieve but most of us don't pretend to be another race while going after them?
said in a statement
. One has to wonder that if "it wasn't transparent" means that it simply wasn't...true. It doesn't stop there...
He went on to talk about how this is all "old news" now.
he explained. 
The odd thing about all of this is that there have been multiple people who claimed that Yoshida was a real person.
Cebulski himself has even said that he's seen Yoshida around the offices.
Here's the thing; since 2004, "Akira Yoshida" has been listed on Marvel's website as a writer.
His credits include Thor: Son of Asgard and X-Men: Kitty Pride-Shadow & Flame. "Yoshida" also gave interviews, talking about how he grew up in Japan and discussing his work and life.
"Yoshida" also explained that he learned English through the American comic books his father would bring home from business trips.
I am disappointed that Asian creators are defending C.B. Cebulski, but I am angry that he put them in a position th… https://t.co/7Wp4TfwJxR

— Jennifer de Guzman Strikes Again (@Jennifer de Guzman Strikes Again)1511991518.0
Except none of that is true, since Cebulski is... once again... a white man. He
explained 
that he created the idea for a pen-name because at the time, if you were in a different department you could not submit to write for Marvel. So, as an editor, he technically couldn't be a writer.
The only way one could do so was to get approval.
saying that
, "That man has lived in Japan, speaks Japanese, and has lived all over the world. He very much associates with Japanese culture. And I think that him writing, for whatever time it was, was him trying to be a writer more than anything else." Let's hope so.