Heartbreaking images have emerged today that show the sheer scale of the use of food banks here in the States…
America's food banks – charities across the country that provide donated food for the hungry – are being pressed into service more than they ever have before.

More and more families are finding themselves having to rely on these charities in order to survive.

Photos have emerged from Dallas this week that shows thousands of cars queuing for a foodbank – An image once believed to not be possible here in one of the richest countries in the world.

But it stands as a poignant reminder of the impact the pandemic has had on our country.

While food banks have been in high demand for years now, never before has this many people relied on their services in order to get by.

And supermarkets all across the country were rinsed clean of their products.

Never before had so many of us genuinely struggled to get our hands on basic groceries and supplies.

Thirty million Americans – around twelve percent – said in a census of 249 million respondents last month that at some point before July 21st, they didn't have enough money to eat.

Our food banks found themselves with an influx of people in need, as well as a drop in donations.

So they have been left with little choice but to appeal to those who haven't been affected by the pandemic to donate as much food, supplies, and money as they can.

It is the ones in Dallas, Texas, who have been impacted the hardest.

And now, footage has emerged from one of their food banks that puts this issue into a whole new, yet stark perspective.

Photos that showed thousands of cars queueing for over a mile for just one food bank was posted online…
And they were quick to circulate and go viral.

This is 2020 America.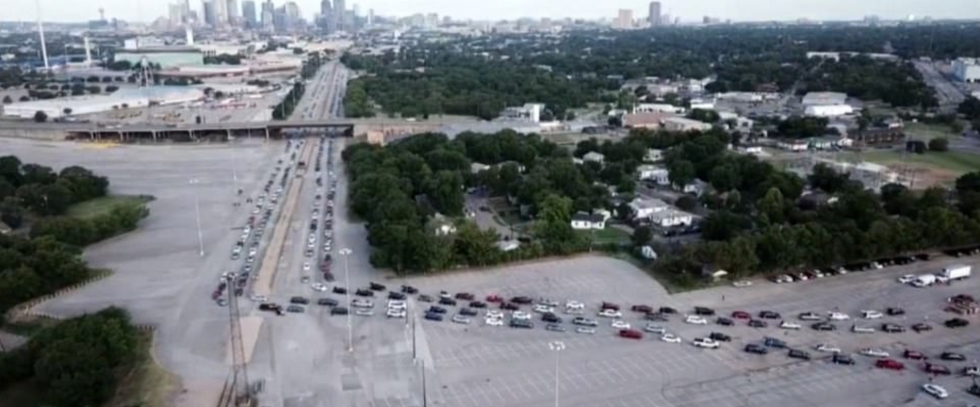 How did this happen? Fair Park in Dallas County held its fourth food drive since the pandemic was declared in March, but the event on Tuesday was the first distribution that offered an option for several hundred walk-up clients without transportation.

Including dairy products, canned goods, noodles, spaghetti sauce, peanut butter, rice, trail mix, and some recipe ideas.

And some even set off as early as 5 am to be the first in the queue.

But, by 9:30 am, it had completely run out of supplies, so many were turned away after hours of waiting.

And, ever since, people have been calling for President Trump – who tweeted about stock market success on the very same day as the photos went viral – to reevaluate his economic plan.

But, luckily, one YouTuber managed to raise a staggering $1 million dollars for his local bank. Keep scrolling for the full story…