Tiffany Trump is 24 years old and having the time of her life, apparently! She was recently a flower girl at her friends' wedding at a Las Vegas Chapel, and cool, great, she celebrated with them and it was wonderful.
But there's more to this story — the couple who got married has an unconventional relationship, to say the least, and Tiffany Trump throwing rose petals out of a Tiffany bag (yeah, you heard that right) on their big day at the Little White Wedding Chapel in Las Vegas is the least bizarre thing about the union.
Poor Tiffany.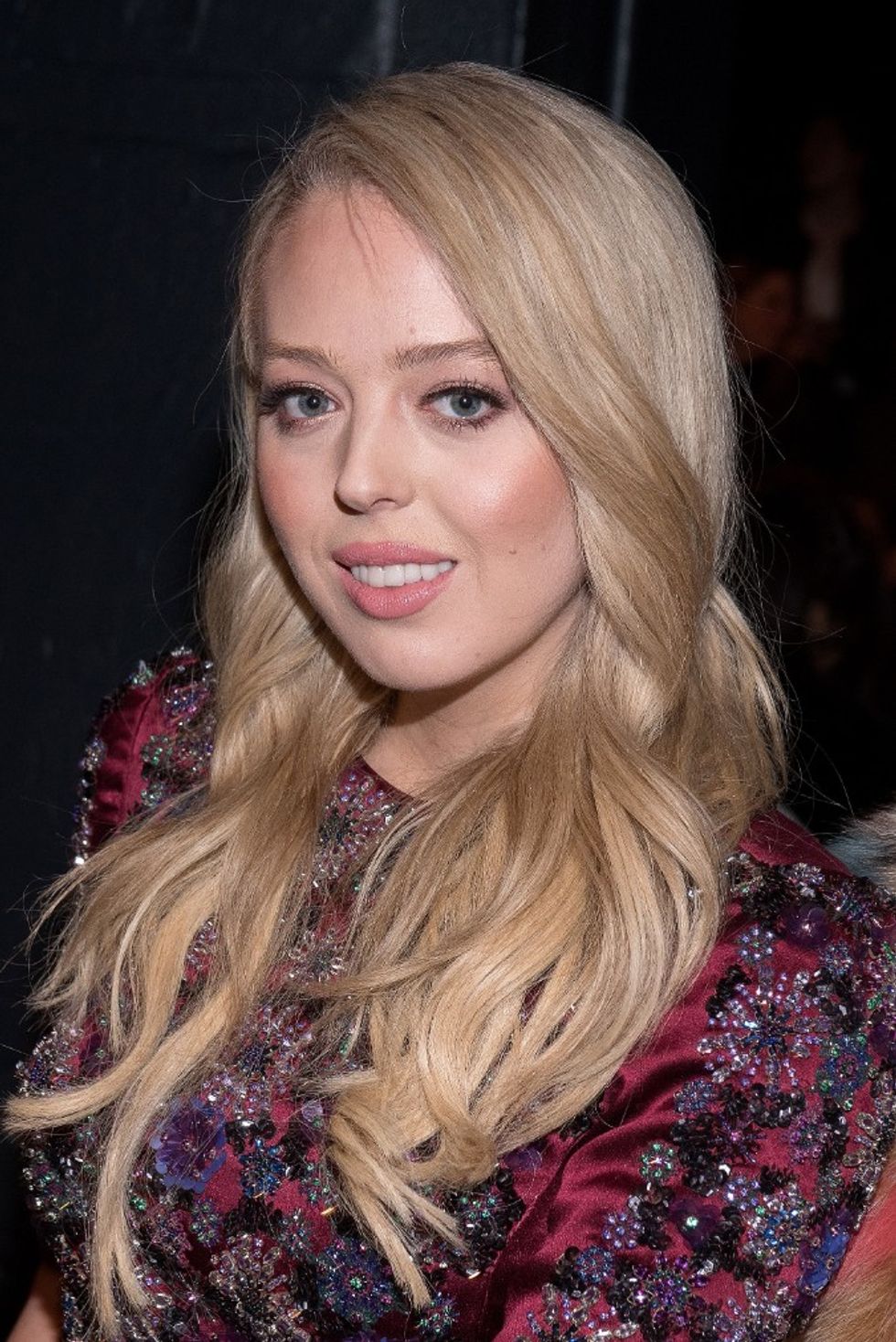 As the only child from Trump's second marriage to Marla Maples, she sure does get shafted. Although, maybe that's a good thing. Tiffany seems to be having a grand old time as a student at Georgetown Law School.
She was recently in Vegas for a fellow rich kid's birthday celebration, and it was there, then, that two of her friends decided to tie the knot. 
In case you missed it, here's flower girl Tiffany Trump.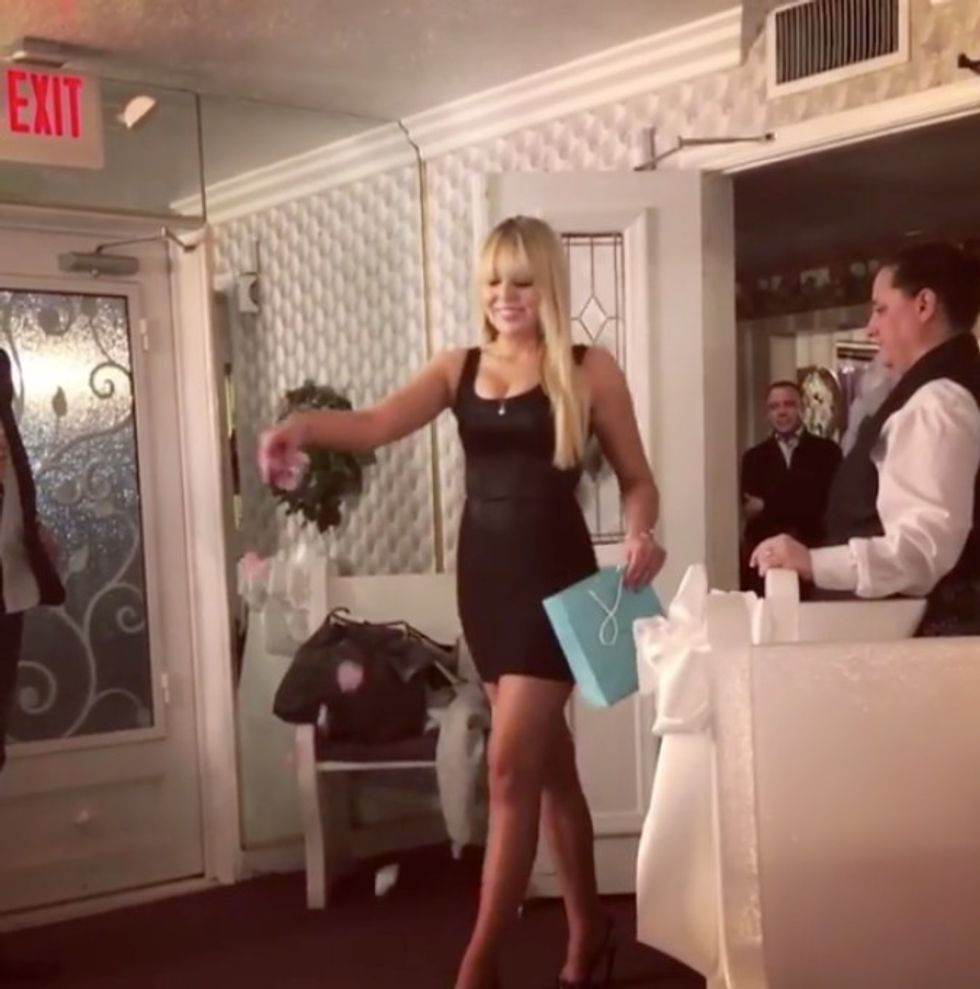 And yes, that's a blue Tiffany bag from which she's gingerly tossing rose petals. The lovely couple at the altar is Peter Cary Peterson, grandson of billionaire former U.S. Secretary of Commerce Pete Peterson and reality TV star (
NYC Prep
), and Quentin Esme Brown, daughter of Hamptons real estate developer Harry Joe Brown Jr.
The wedding happened at a place literally called A Little White Wedding Chapel in Las Vegas. This isn't a movie. This is real life.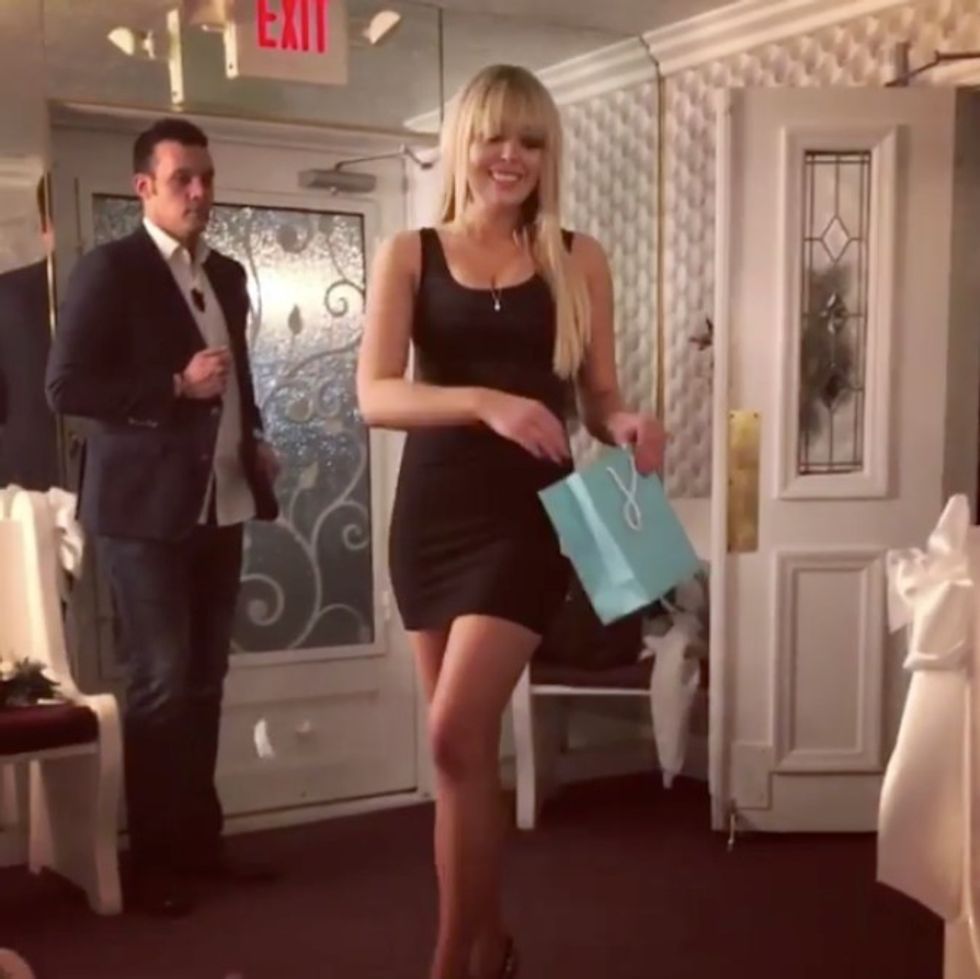 According to
Page Six
, while Tiffany took part in this "shotgun" wedding, "her dumbfounded Secret Service detail looked on." Can you even imagine?
But the craziest part of the story isn't that Tiffany was a flower girl at this Vegas wedding.
Peterson explained the couple's relationship in an honest Instagram post after the wedding:
These are two young kids, and they've already given up on marrying someone that they're interested in romantically? Man, maybe it's not so great to be a rich kid, after all. Brown posted her own note about the couple's decision on her Instagram: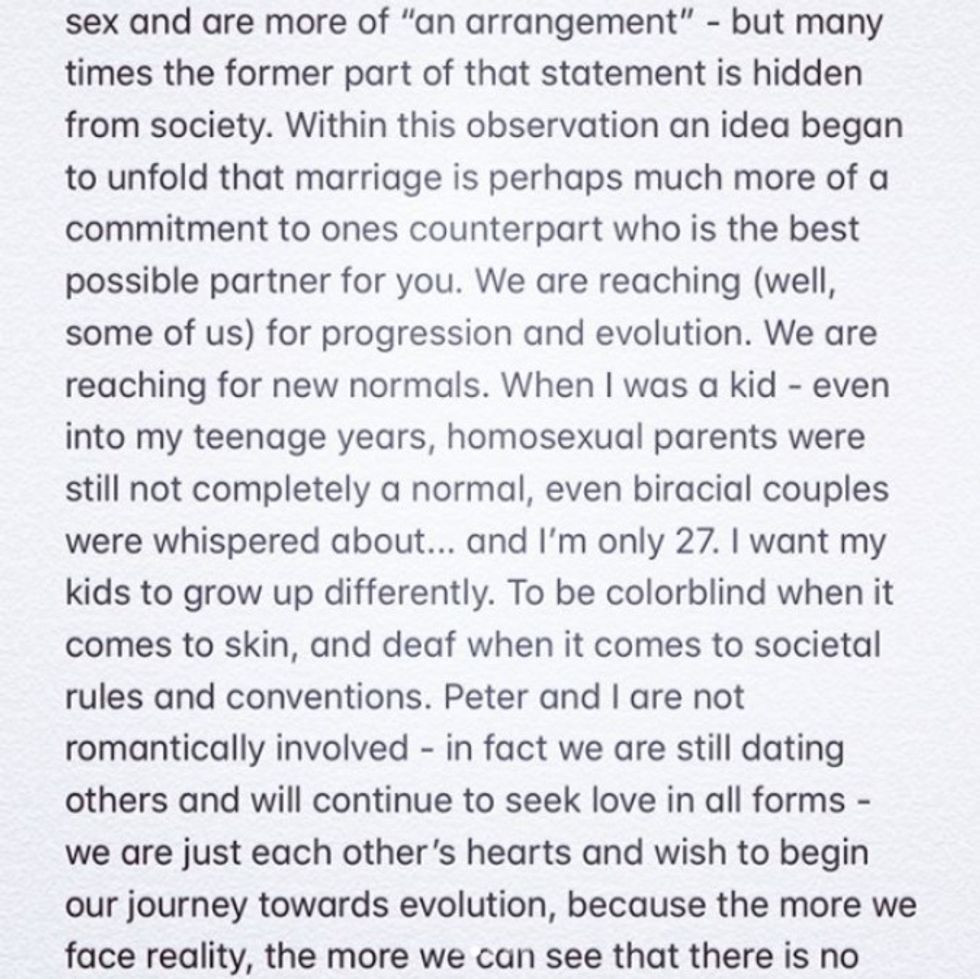 But she's only 27 years old! If this is what she and he truly want, more power to 'em! Maybe they'll live happily ever after dating other people! But if they think this is their only option, this could be really sad. Also, girl, marrying a rich guy because he's your BFF but not your BF isn't exactly the same as fighting for same-sex marriage or interracial marriage.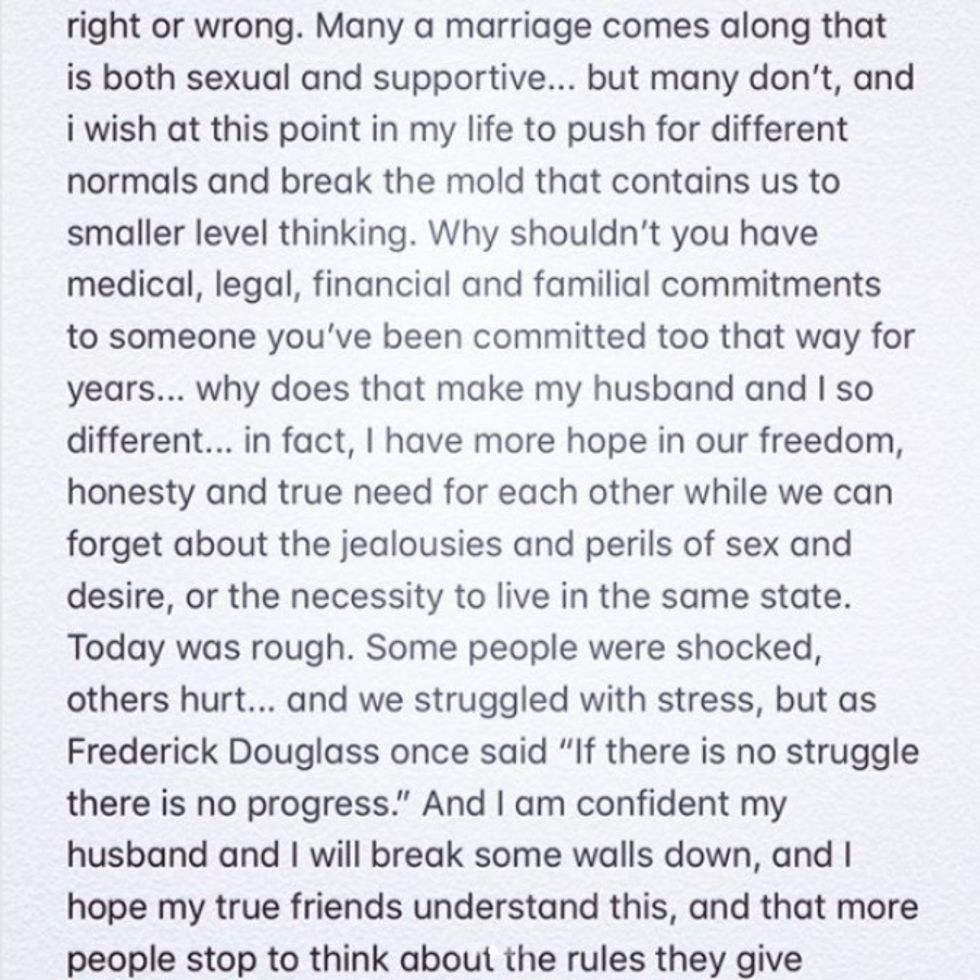 So many thoughts, so many judgments I'm trying to not make right now. Maybe an arrangement where they can merge their finances works for them and their gigantic inheritances. And maybe it'll actually be the relationship of both of their dreams! Who knows? I definitely do not.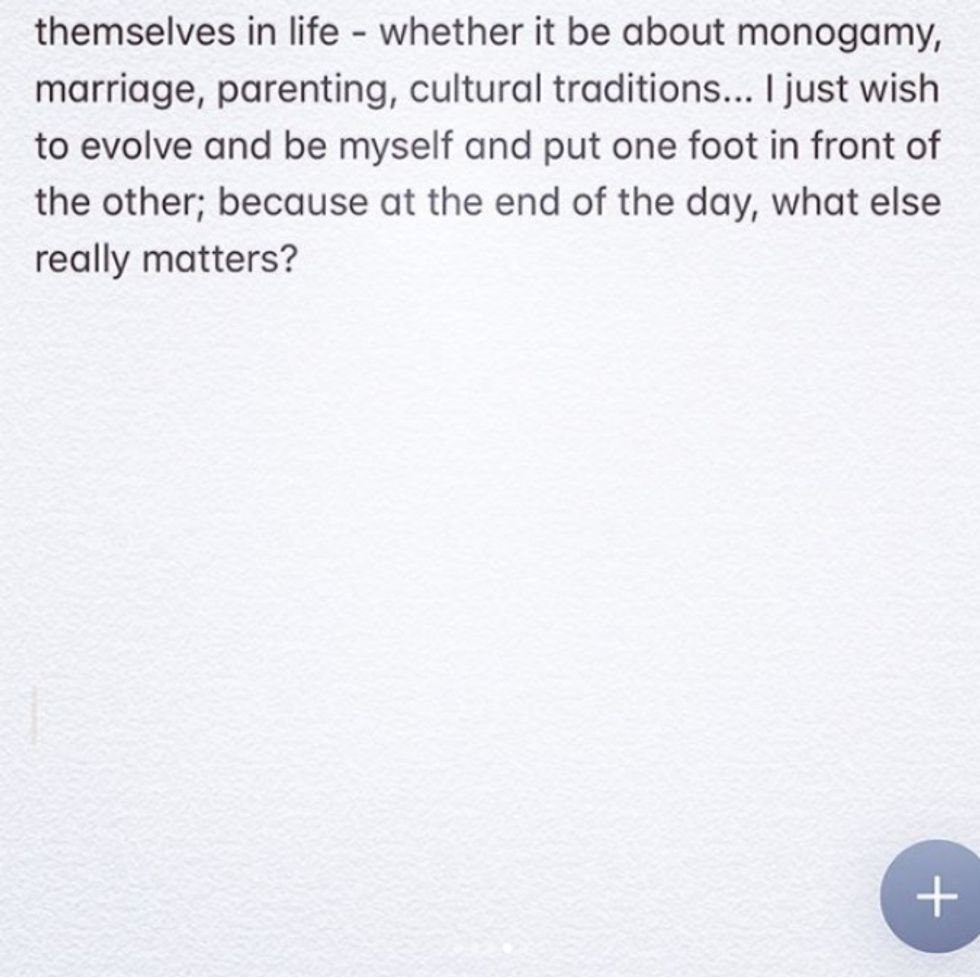 We're all just trying to figure it out, one foot in front of the other, one day at a time. All I can say is I hope 60 years from now, Peter Cary and Esme are sitting in their gold-plated rocking chairs, holding hands and reminiscing about the time Tiffany Trump was the flower girl at their Vegas chapel wedding that changed the rest of their lives for the better.