Another day, another celebrity being criticized for their parenting techniques. We just can't seem to stop, can we?
The newest public figure to come under the hellish fire of Instagram users for his reckless parenting move is the New England Patriots quarterback, Tom Brady.
Brady was recently vacationing in Costa Rica with his family when he shared a video of himself and his daughter, Vivian, jumping together from a small cliff edge into a waterfall pool below. Seemingly innocent, right? Not according to thousands of angry keyboard warriors out there.
Brady has been heavily criticized for seemingly "forcing" his daughter into the jump, and even endangering her life.
Keep reading to see the footage of the jump, which has even had other celebrities criticizing the famous quarterback...
Tom Brady is no stranger to controversy.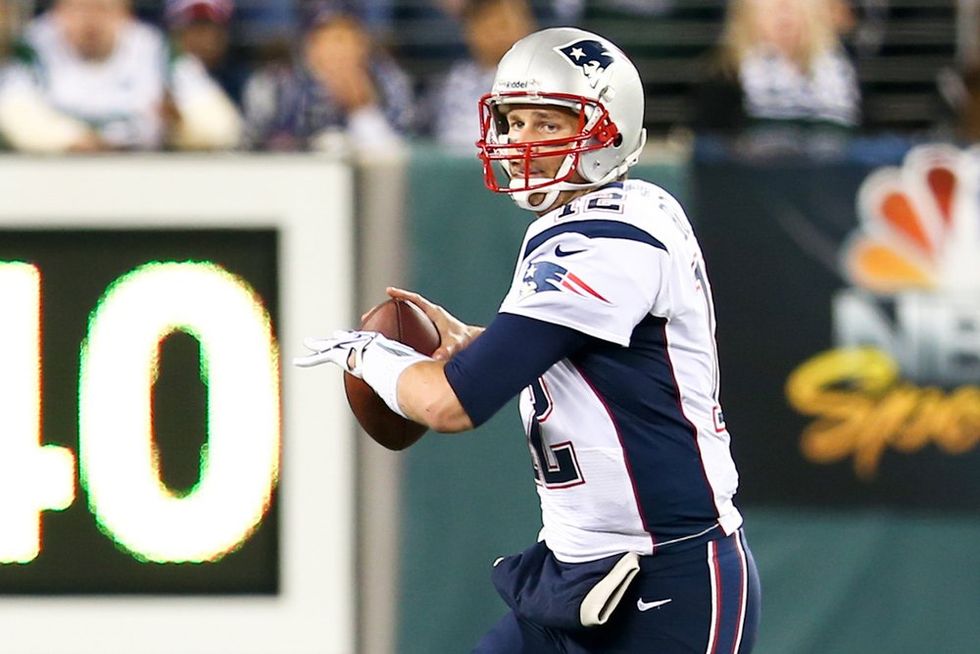 via: Shutterstock
But
come on
... what football player isn't? Brady rose to stardom after being drafted by the New England Patriots in the sixth round of the 2000 NFL draft.
He went on to make history.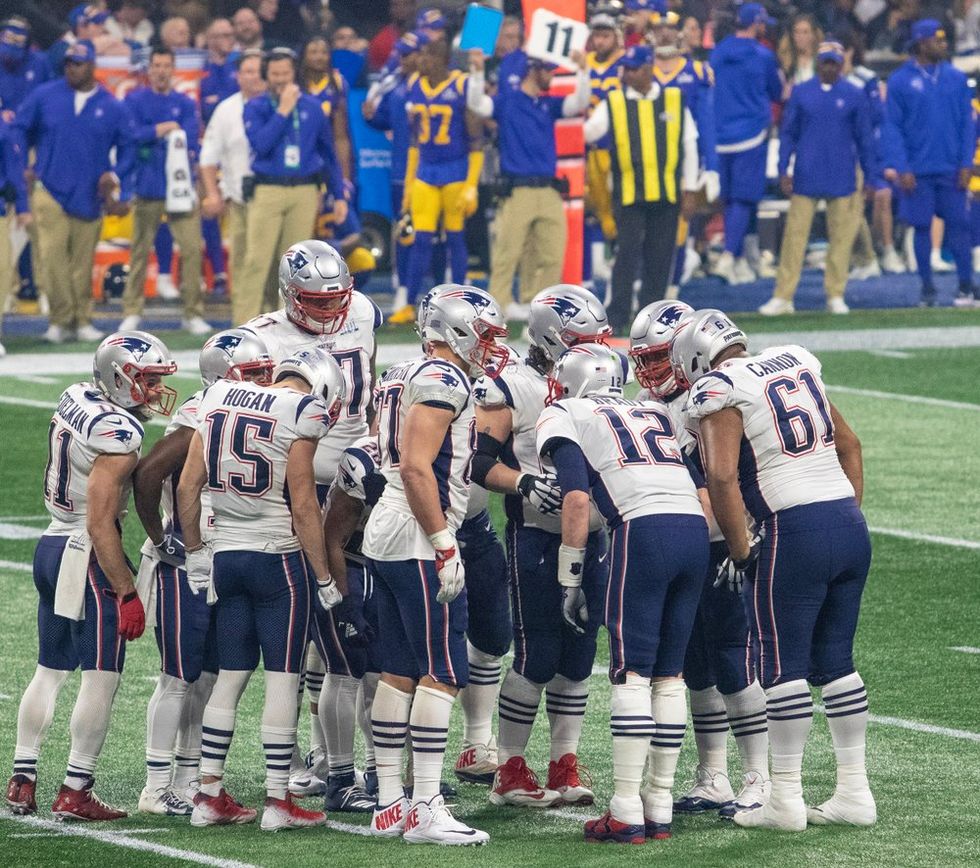 via: Shutterstock
With a historic Super Bowl win of thirty-four to twenty-eight against the Atlanta Falcons in 2017, Brady became the first quarterback in NFL history to take home five Super Bowl rings.
Yet, despite his success, he became wrapped up in a scandal.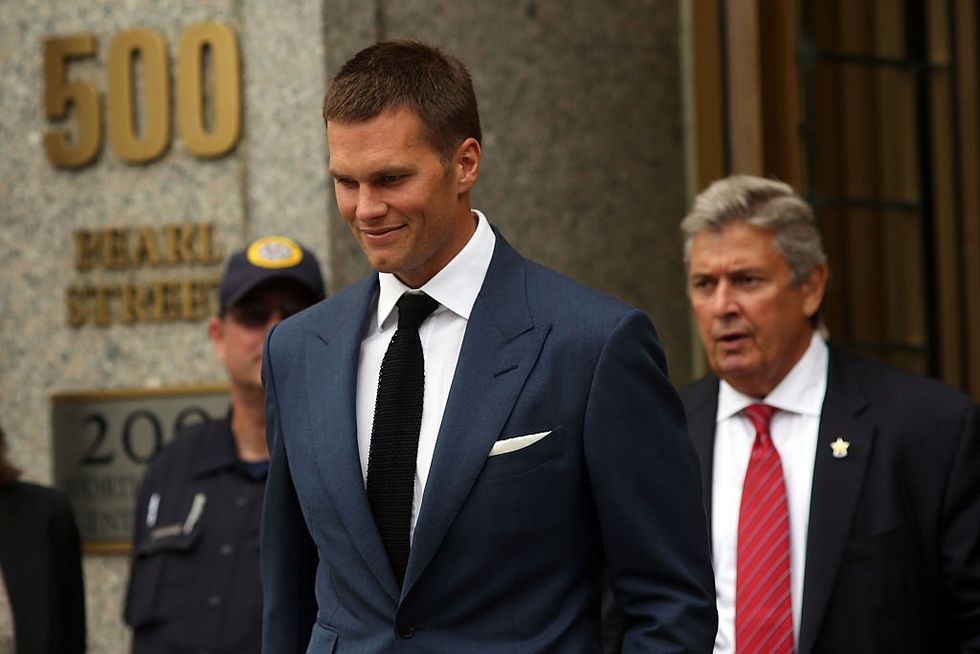 via: Getty
Remember "Deflategate?" If you don't, Deflategate is the term that was loosely used to describe the NFL's investigation into the New England Patriots - and, in particular, Brady - for their alleged tampering with the football inflation levels.
An investigation was opened.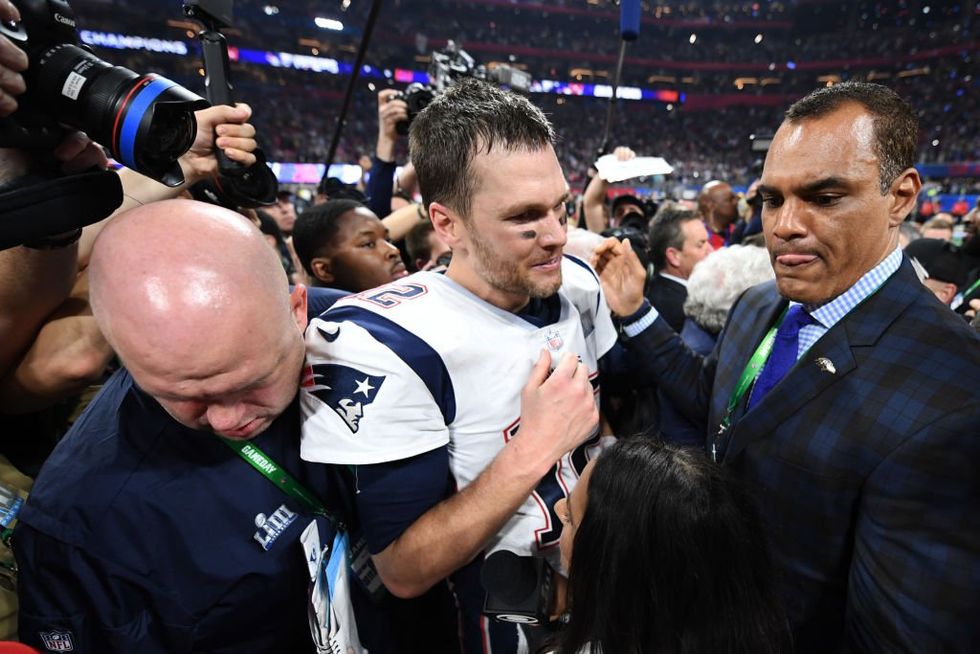 via: Getty
Ahead of their 2014-15 AFC Championship game against the Indianapolis Colts, the Patriots were accused of under-inflating the footballs and one of the longest and most contentious legal battles in NFL history commenced.
Brady was suspended by the NFL in May 2015.
In a Facebook post, Brady announced that he would not be continuing with the legal proceeds, and would ultimately be accepting his suspension. The quarterback went on to sit out the first four games of the 2016-17 regular season. However, he came back in true form at the end of the season, as he and the Patriots won another Super Bowl.
Though his latest scandal doesn't involve his football career...
As well as being one of the world's most famous NFL players, Brady is also a devoted father.
He's a big family man.
Though his daughter, Vivian, seems to hold a special place in his heart.
Entertainment Tonight
, Brady admitted that his little girl "owns his life." "I cannot say no to anything," Brady explained. "Whatever she tells her dad to do, that's what I do. That's just the way it goes."
Vivian loves to get involved in her dad's sport.
And his latest scandal involves his beloved daughter.
He has been heavily criticized.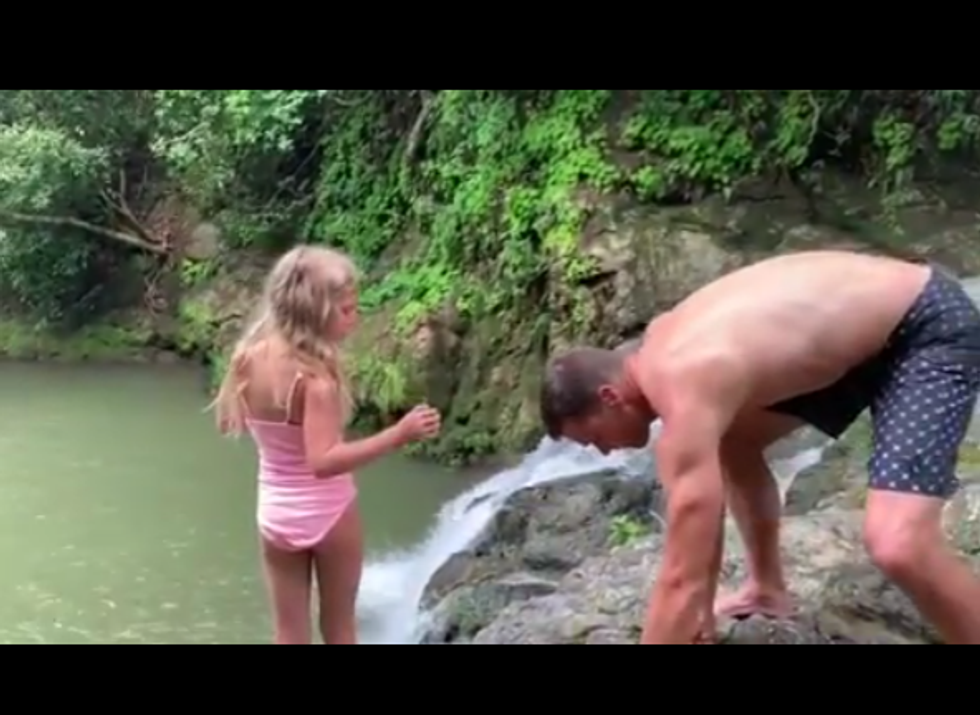 via: Instagram
The video, which was filmed while on a family vacation in Costa Rica, shows Brady and Vivian stood on the edge of a small cliff edge, overlooking a waterfall pool.
They were preparing to jump into the water.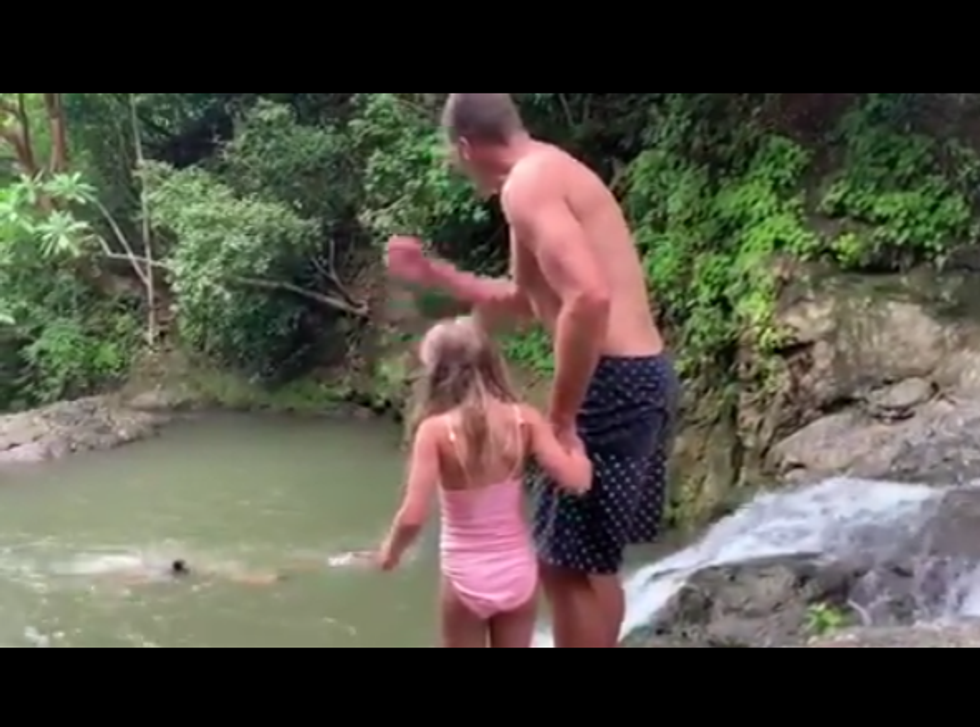 Brady can be heard asking Vivian whether she's ready to take the leap off the small ledge into a waterfall pool below; she quietly responds with a nod and a "yes."
The little girl seemed nervous.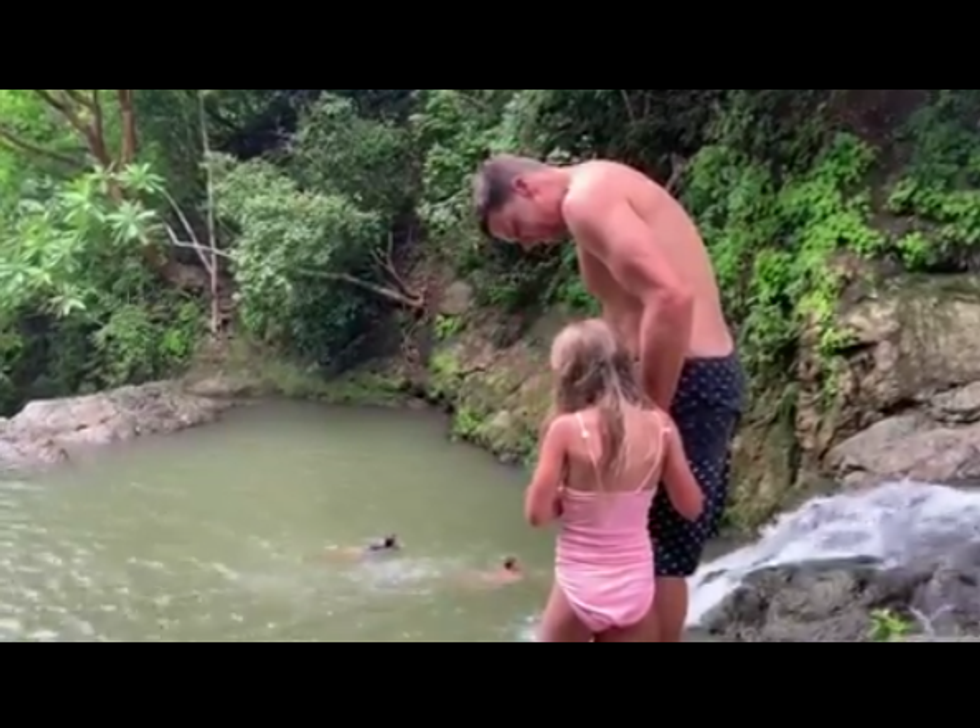 And she remained clutching onto her dad's hand as they counted down from 3, ready to leap from the edge.
But, as Brady jumped, Vivian hesitated...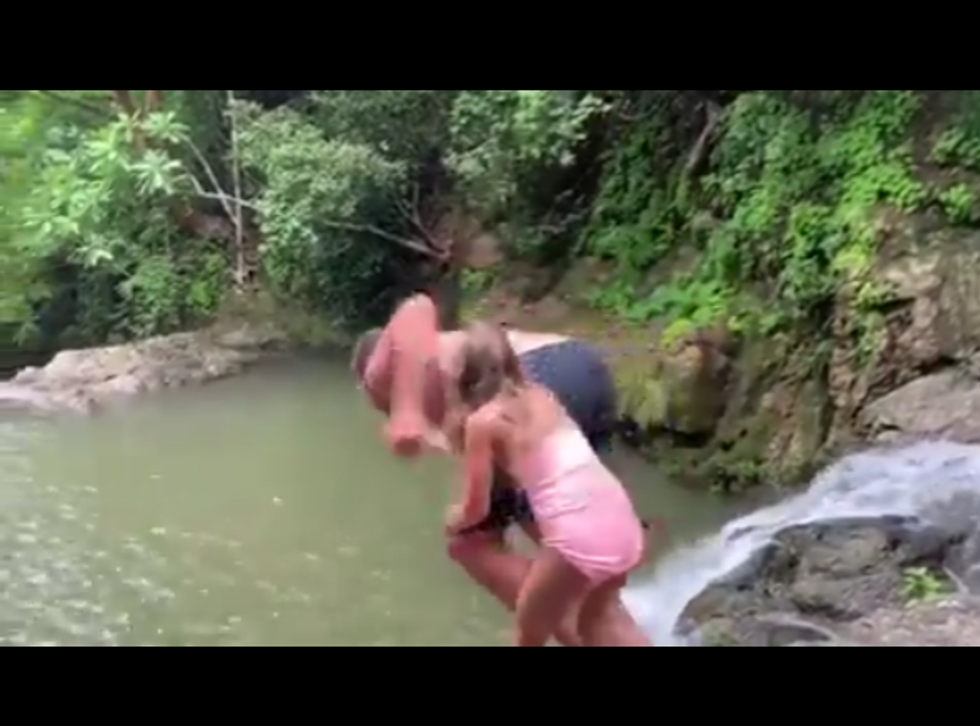 Causing the footballer to roughly drag her down into the pool with him. Brady saw the funny side of her fall, captioning the video: "If Vivi is going to be an Olympic champion one day, it probably won't be in synchronized diving. Daddy always gives her a 10 though!"
You can watch the video here.
The video was met with a lot of anger.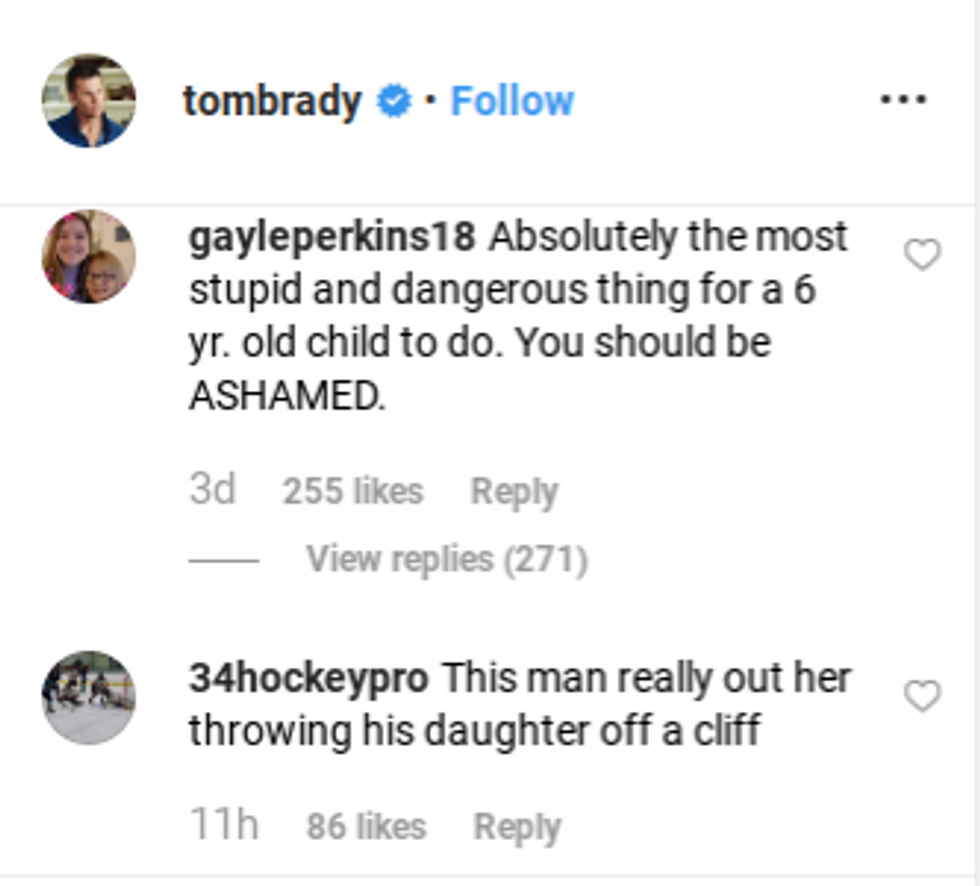 via: Instagram
Mainly for the fact that it looked like Brady had forced his daughter from the cliff, causing her to land heavily and clumsily into the water.
Even The Rock had his say...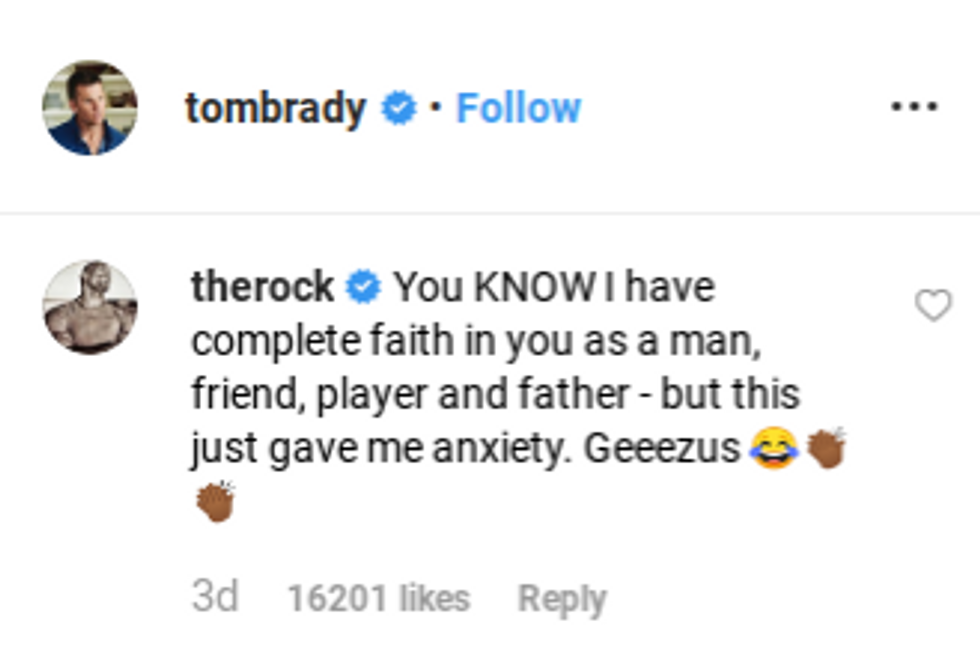 Yep, even Dwayne Johnson, who is perhaps one of the most adventurous and athletic guys out there, criticized the video, saying that watching it "gave him anxiety."
But some die-hard Brady fans were hearing none of it.
A lot of social media users were quick to praise the footballer, saying that he is an "All-American Dad" by taking his daughter on such great adventures.
And some simply think that we need to keep our noses out of other people's businesses.
To be fair, this guy kind of has a point. Keep being a legendary dad, Tom! Your daughter will thank you for it when she's killing it out on the football field.