Has Tom Hanks ever done anything to let us down? He most definitely has not!
The world-famous Hollywood actor has been on our screens for nearly forty years now, and he is recognized by many as one of the most iconic actors of all time. He's also known for his great sense of humor and kind nature, and his most recent appearance certainly tugs on the heartstrings.
Hanks is currently in the UK for the European premiere of Toy Story 4 and he's made the time to visit some very special fans of the world-famous Pixar franchise.
Read on to find out about the VIP screening that Hanks organized behind the scenes of his visit...
Who doesn't love Tom Hanks?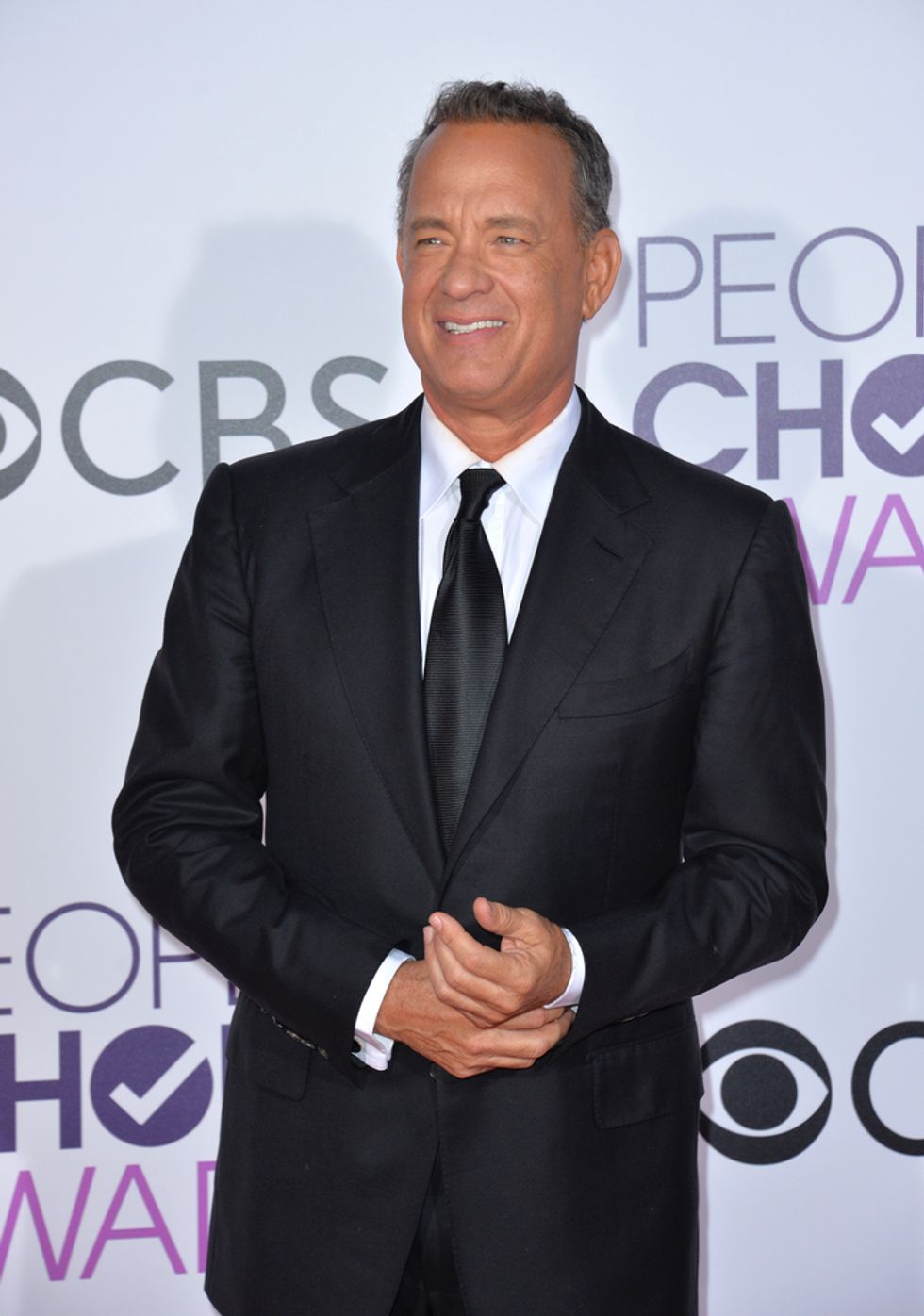 via: Shutterstock
The sixty-two-year-old 
Forrest Gump
actor is probably one of the most famous Hollywood stars of all time and he has a loyal following all around the world.
Hanks has appeared in a wide range of movies in his time.
He is mostly recognized for his star roles in movies such as Forrest Gump (1994), The Green Mile (1999), Cast Away (2000), and, of course, his leading role as Woody the Cowboy in all four of the Toy Story productions since the first movie in 1995.
The actor has been praised heavily for his work and his contribution to the world of cinema.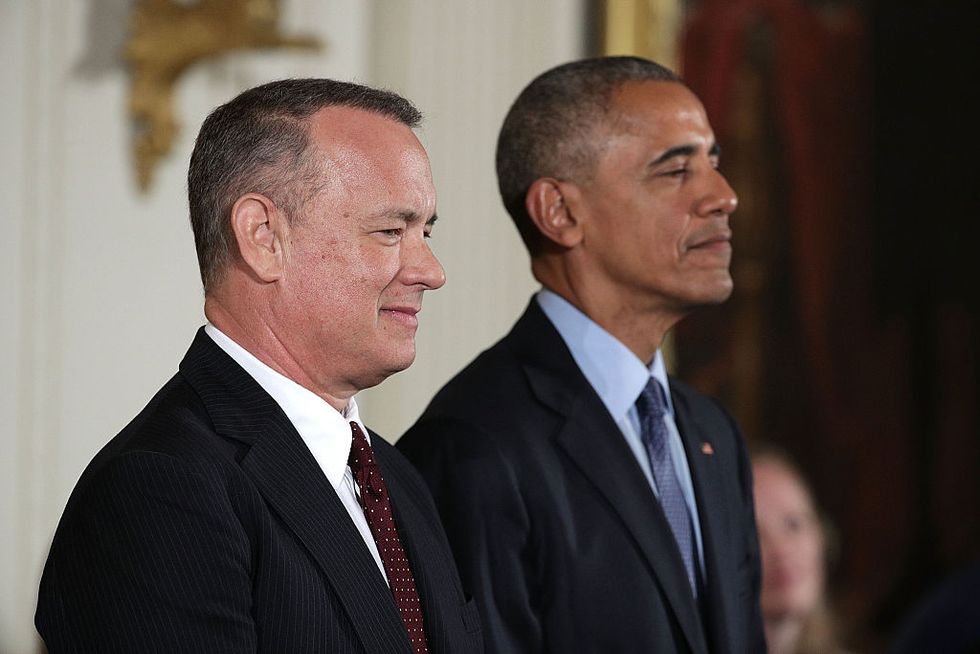 via: Getty Images
Tom is officially the fourth highest-grossing actor in North America, after having his films gross more than $9.2 billion worldwide. He's previously won Acadamy Awards, Golden Globes, Emmys, and BAFTA Awards, and, in 2016, he received the Presidential Medal of Freedom from President Barack Obama.
He's America's dad...
Tom has frequently been referred to as "America's Dad" due to his kind and warm nature, especially when interacting with his fans. I didn't think that it was possible to love Tom Hanks more, but it turns out that it is.
Toy Story 4 is days away.
The fourth and final part of the Toy Story franchise is due to be released in UK and US cinemas on June 21st. Fans (including myself) are eagerly anticipating the end of the adventures of Woody, Buzz, and their gang of toy friends, and it's guaranteed to be an emotional ride.
Even Tom spoke about the emotional goodbye to the movie...
Tom Hanks recently opened up at a press conference about recording the final few scenes of the fourth and final movie: "I didn't want to have any self-consciousness for what I knew was going to be the… last few hours I was spending with the movie," he recalled. "When it came to pass, I felt as though I was on the other side of the river waving to everybody I had left back in the old country. It was pretty profound."
Nobody wants Toy Story to be over...
But the actor has been celebrating the twenty-three years of the Pixar cartoon that has shaped the childhoods of millions of kids around the world. He is currently in the United Kingdom, and he's been doing more than just turning up to premieres...
Hanks has partnered up with Medi Cinema.
via: Daily Mail
Medi Cinema
builds and installs state-of-the-art cinemas in hospitals and places of care, giving patients and their families in the UK access to cinema entertainment. They believe that the magic of movies brings families together, and families who are constantly in and out of hospital are the ones that
need
to be brought together - a night at the movies is the
perfect
way to do this.
A children's hospital recently hosted a pre-release showing of Toy Story 4 for its patients...
via: Daily Mail
Evelina London Children's Hospital is a regular partner with Medi Cinema and they host cinema nights on a weekly basis. This cinema night was a very special one indeed, with Tom Hanks turning up to surprise the patients and their families!
There's nothing quite like the magic of Tom Hanks...
Like Toy Story couldn't get any more magical, having Woody himself turn up in the flesh must have been beyond amazing! I, for one, would be absolutely delighted to be surprised by the man himself...
Disney have worked with Medi Cinema to create the magic of their movies in real life...
via: Daily Mail
Disney has been known in the past to work with Medi Cinema to put together once in a lifetime events. Events such as these are truly special for the children and their families who spend the majority of their lives in hospitals.
Tom spent time with the patients and their families...
via: Daily Mail
He chatted with the families and posed for photographs before the screening of the fourth and final movie. He made sure that each individual was acknowledged and made the effort to get to know them and hear their stories.
What a guy...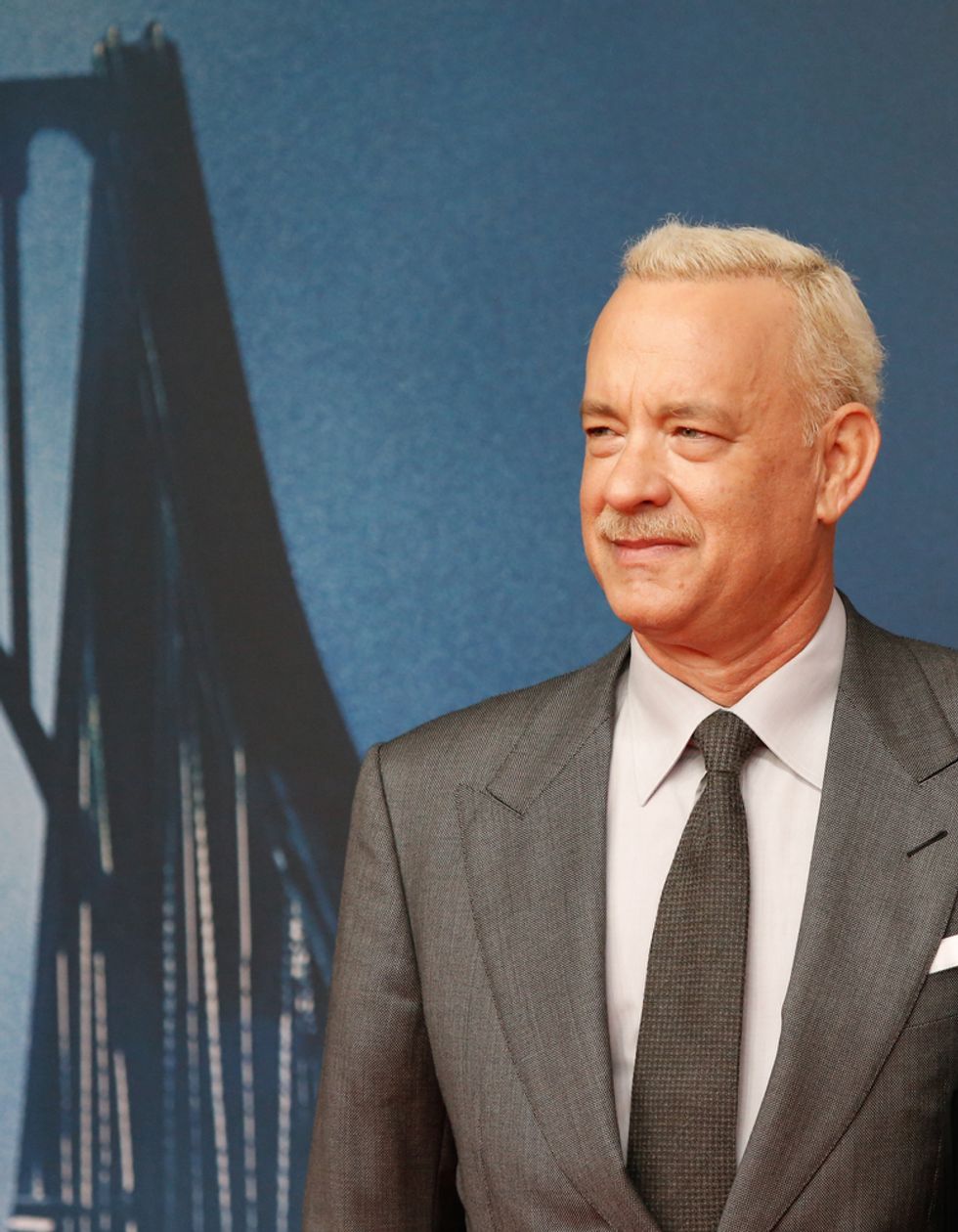 via: Shutterstock
Can Tom Hanks be faulted? He most certainly
can not
!
Toy Story has played a huge role in millions of childhoods...
via: Daily Mail
For millions of children around the world,
Toy Story
has played an important role in teaching the lessons of friendships and growing up.
And Toy Story 4 has come as a bit of a shock; the third movie was expected to be the last...
Pixar has had the challenge of living up to the emotionally devastating ending of the previous movie, and, one can only imagine, in classic Pixar fashion, this high expectation will be met.
Hanks' visit to the hospital came just days after the Leicester Square premiere...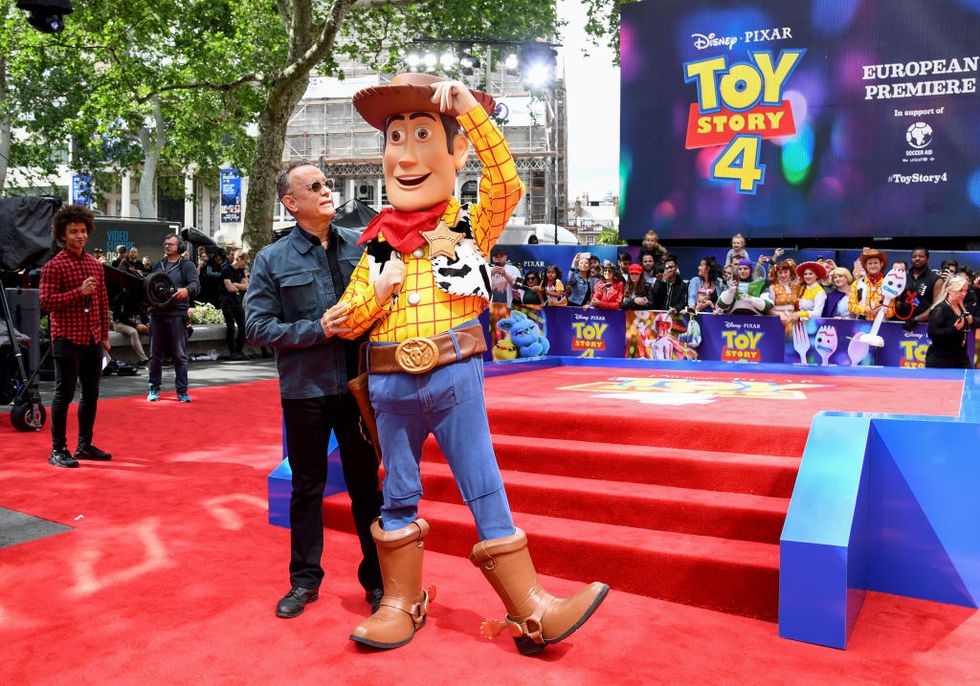 via: Getty Images
Speaking to the
MailOnline
, Tom spoke about the casting of Hollywood beau, Keanu Reeves: "We never get to see each other when we make these movies. The first time I was told Keanu was going to be in it, I was told there was this new character called Duke Caboom and I just thought, 'That's the greatest idea I've ever heard'."
Turns out, the movie's actors don't meet each other until the movie comes out!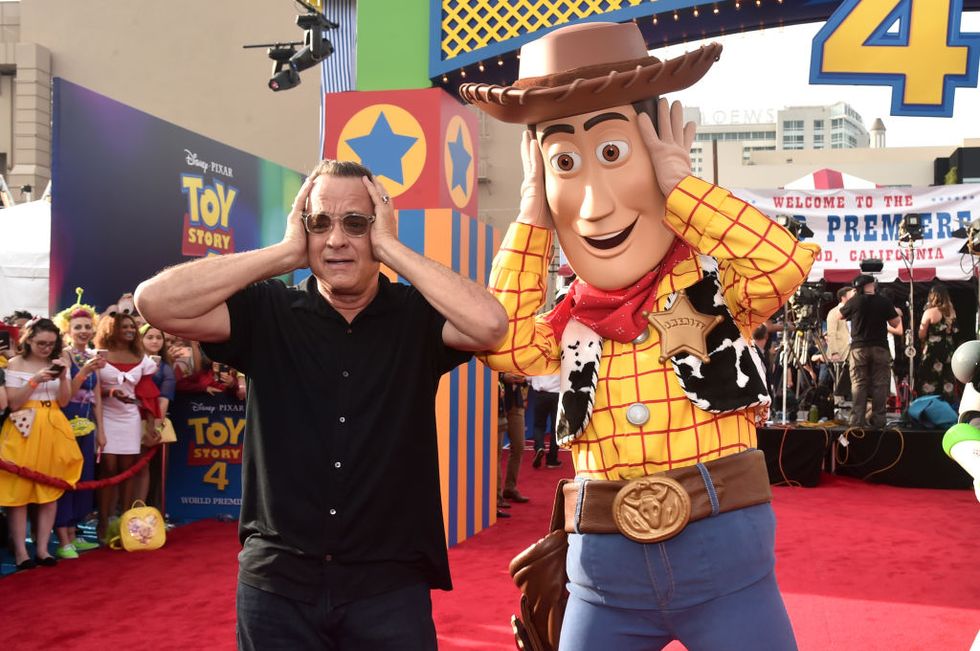 via: Getty Images
Hanks went on to say: "It's a lonely process. The recording process takes around 5 hours because you have to get to these emotional places on microphone." "Then when that's done you stumble out of the session, the next person coming into the session might be Tony Hale or Tim Allen and you have about five minutes of 'how's it going?'"
The isolating process of making animated movies...
Hanks explained that "you don't really get to see what they've done until the movie is finished." But the end result is always so damn good.
There's only a few more days to wait...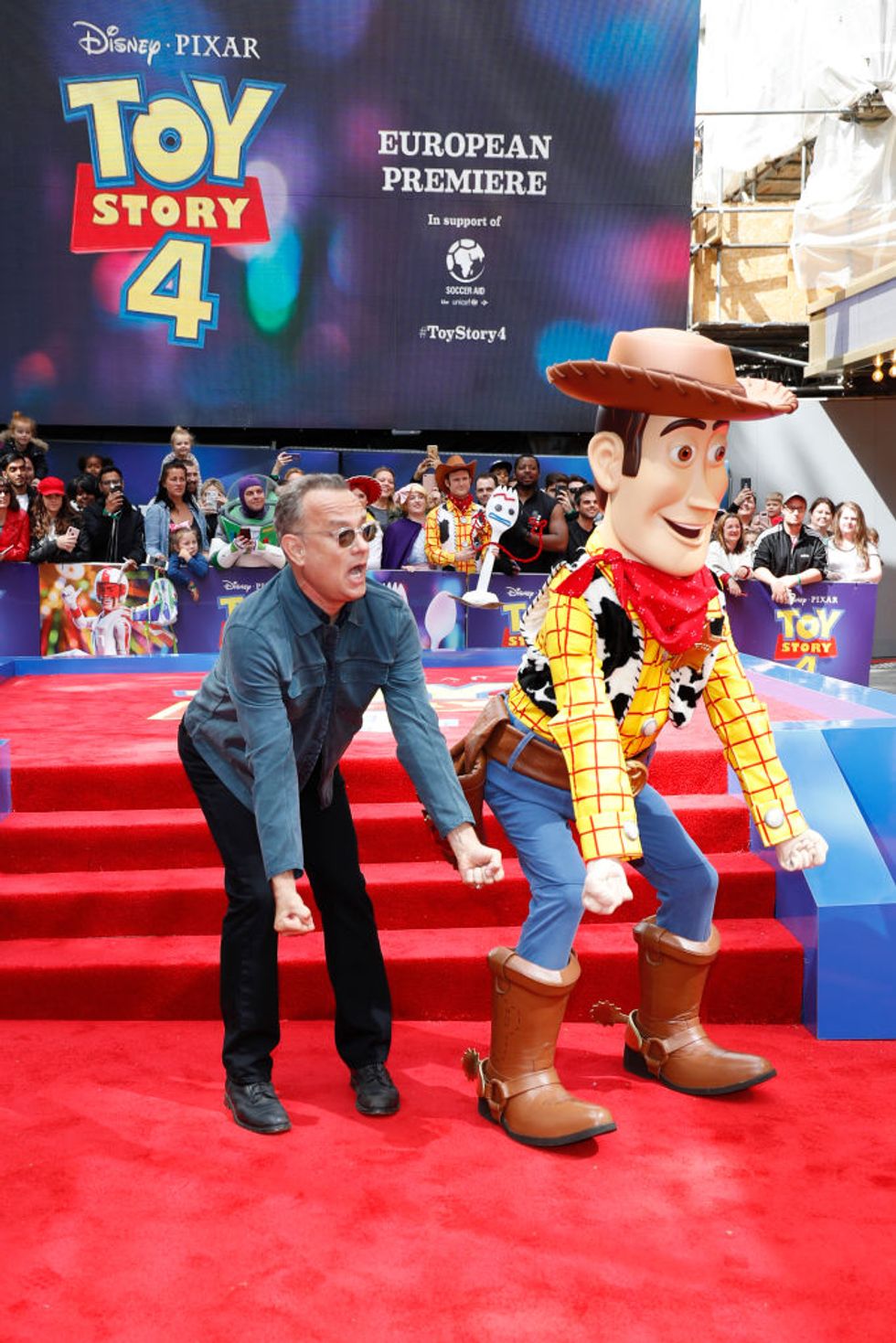 via: Getty Images
With only a few days to go, the anticipation of
Toy Story 4
is building and the world is getting more and more excited to see it... but how is Tom feeling after saying a final goodbye to Woody?
"He's always going to be there..."
Speaking at the European premiere, Tom admitted: "I'm not sure that I'm going to miss him! He's always going to be there, as long as all 4 of these movies live completely and all you have to do is start one and you're not going to move, you're gonna watch the whole thing." If you say so, Mr. Hanks! So it looks like Woody and his pals are here to stay and they'll continue to bring a little magic to the lives of us all for many more years to come.