Spider-Man fans were left devastated this week when it was revealed that Tom Holland's run in the role may be coming to a premature end. As Sony and Disney/Marvel seem unable to come to an agreement on their contract, it seems like Spider-Man will be removed from the Avengers franchise - leaving Holland out of a job. The internet was broken-hearted, having loved his performances in the role thus far.
But, now, Holland has hung out with another MCU fan-favorite (and departed hero), Robert Downey Junior. The pair have long cultivated an adorable friendship, and it seems like they're going strong. They shared their reunion with fans on social media, and the images are too cute for words.
When Spider-Man joined the Avengers, Marvel fans rejoiced.
The convergence of two classic elements of the Marvel Cinematic Universe was seen as an excellent move - plus, it gave more screen time to the adorable Tom Holland.
Spider-Man has been played by many actors over the years.
But it was young and relatively unknown Brit actor, Tom Holland, who truly brought the role to life. Fans loved his performance and were feeling excited to see more.
But, this week, Holland-fans received some unwelcome news.
It seemed like Holland's time in the role (and Spider-Man's place in the Avengers) was under threat - and may be coming to an end, forever.
The reason for this?
It all came down to contracts. Essentially, the character of Spider-Man was owned by Sony - and the Avengers was a Marvel vehicle.
But the two companies couldn't make a deal.
And if they can't come to a compromise? Well, that'll be the end for both Spider-Man and for Tom Holland.
People online were not happy.
The spiderman movies were literally a flop until Tom Holland came and made us love the character. Now you're going… https://t.co/m01X5sLO2N

— Anishma Joseph (@Anishma Joseph)1566379215.0
The fact that this character was being snatched away from fans simply because of contractual obligations seemed deeply unfair.
And many had this reaction.
#SaveSpiderMan *sony ends the spiderman deal with disney* tom holland, mcu fans, and literally the entire species… https://t.co/Hqc2sQYE2V

— `ʳᵃ` (@`ʳᵃ`)1566379338.0
It seemed like people wanted to boycott the MCU until they reconsidered their viewpoint.
And perhaps Holland agreed.
@IGN theres a reason tom holland unfollowed anything associated with sony on instagram🤷🏿‍♂️ https://t.co/jfOZQlDJyt

— caleb vee (@caleb vee)1566362606.0
Because eagle-eyed fans noticed that the star had unfollowed everything associated with Sony on social media - subtly voicing his displeasure with the situation.
Overall, things were looking pretty sad.
The idea of losing Spider-Man was too much for some fans to bear. Particularly after everything that Avengers fans have already been through this year.
Because fans had already suffered a tragic loss.
Arguably the father-figure of the Avengers universe, Iron Man, had his life cut short earlier this year in Avengers: Endgame. 
Iron Man and Spider-Man were a force to be reckoned with.
When these two superheroes came together, it seemed like there wasn't much that they couldn't do - and they saved the world together on multiple occasions.
And it seems like the actors are similarly close.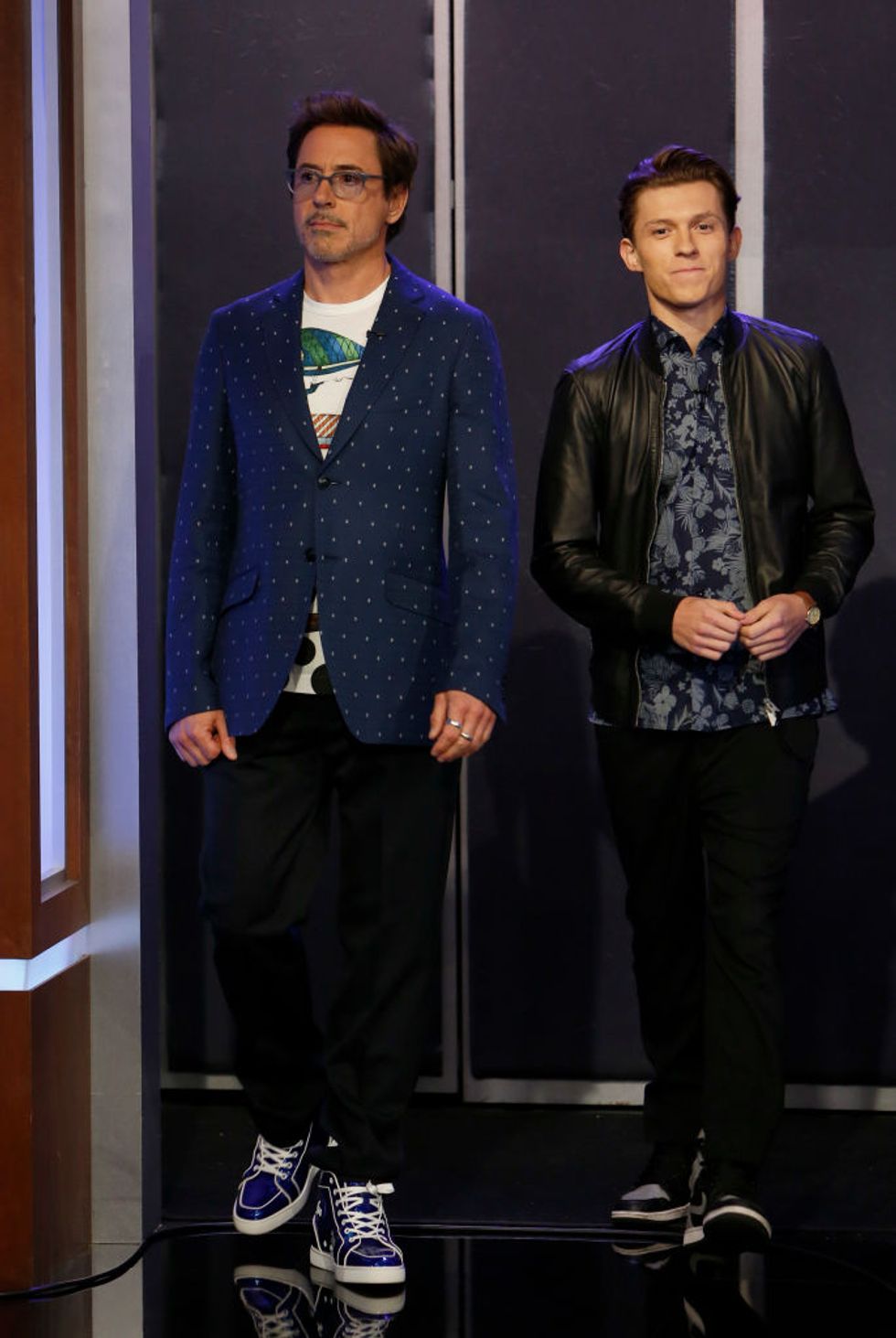 via: Getty Images
As the pair have spent many days promoting the film franchises together, allowing them to make quite the friendship.
It seems like Downy is charmed by Holland's quirky sense of humor.
The pair are often spotted laughing together at private jokes, and generally being incredibly cute.
Holland has really gained Downey Jr.'s respect.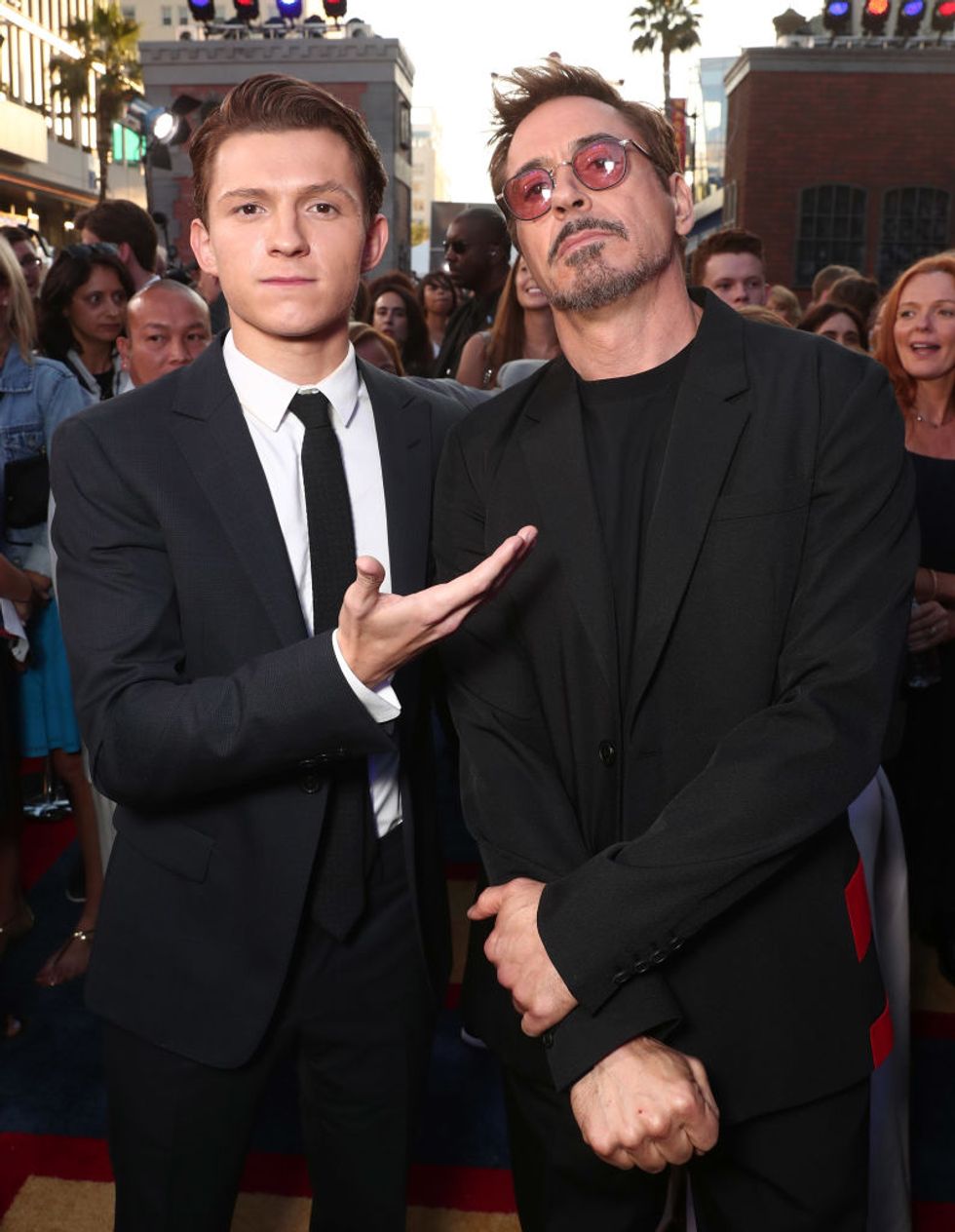 via: Getty Images
When they first met, Downey Jr. was a huge star, while Holland was basically unknown. But, over time, the pair have created more of a level playing field - and fans love them together.
And, this weekend, they really did some fan-service.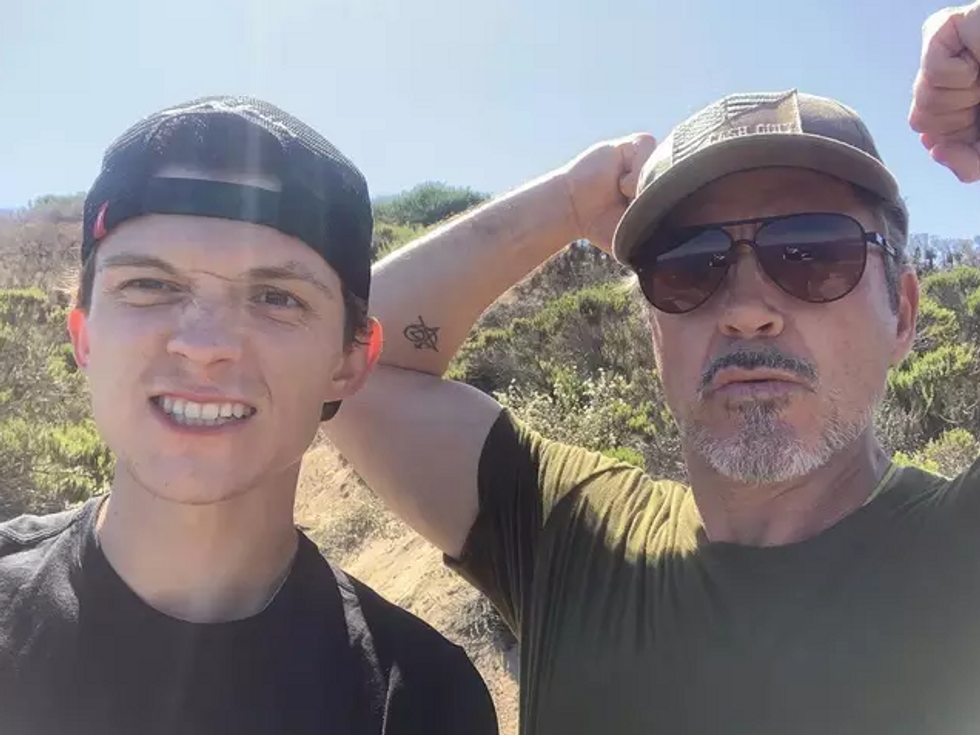 via: Instagram
The pair shared some adorable selfies together, proving to the world that their friendship runs deeper than any contractual obligations.
They even took this cheeky shot.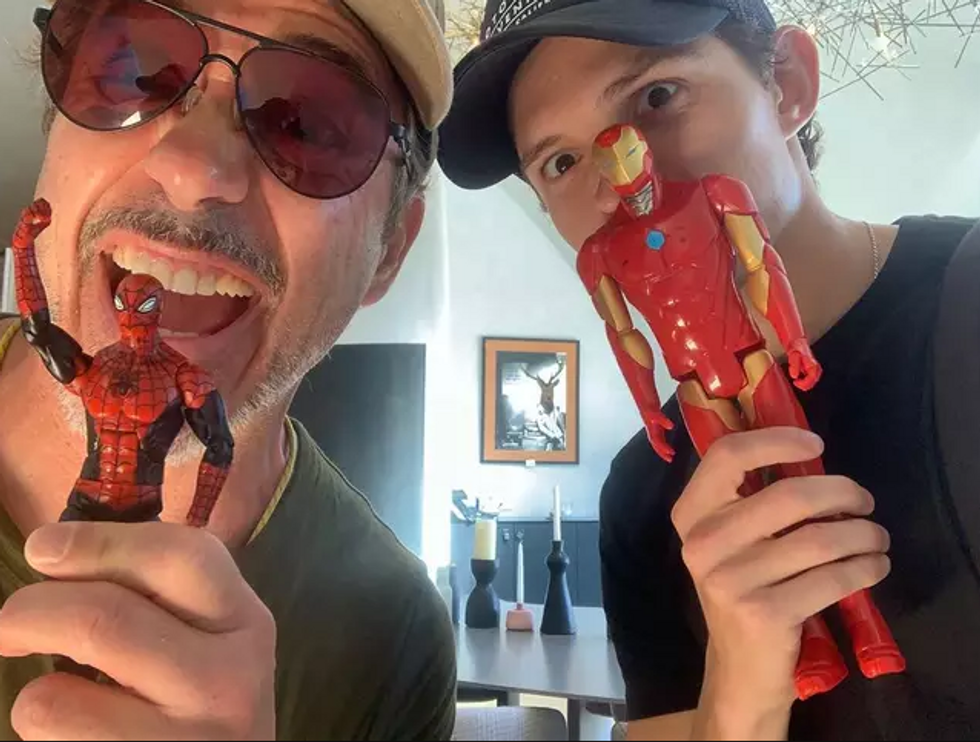 via: Instagram
The two actors posed with the other's superhero's action figure - showing to the world that Holland will
always 
be Spider-Man to some (including Downey Jr.).
And fans have gone crazy for the images.
How to kill me in three little steps: 1. Be Tom Holland 2. Be Robert Downey Jr. 3. Meet and take a selfie together https://t.co/bqgZD3IKf3

— Chip (@Chip)1566547237.0
After a week of such bleak Marvel-related news, it's such a relief to be handed some adorable, wholesome content. Thanks, guys.
Although others are reading into it more.
PLEASE BE TRUE I KNOW IT'S PROBABLY NOT BUT A LITTLE OPTIMISM NEVER HURT ANYONE https://t.co/ik7kzVQvJp #SpiderMan… https://t.co/PD0prh0AqE

— Patrick Vazquez (@Patrick Vazquez)1566550810.0
Perhaps the fact that the two are posing with these figurines means that the dream of Tom Holland continuing as Spider-Man is not yet over. Please?
And some have pointed this out.
The world: waiting for Tom Holland to comment on the Sony / Disney dispute over Spider-Man Tom Holland: Goes on a… https://t.co/ZAOWRZlkbH

— Lauren, as in LAR-EN not LOR-EN (@Lauren, as in LAR-EN not LOR-EN)1566556179.0
Although Holland has steadfastly refused to comment on the situation with Sony and Disney/Marvel, he
has 
created this post - which is a pretty badass move.
Here's the full post.
Sob. And, for more information on the Sony Disney/Marvel feud, keep on scrolling. Ryan Reynolds had something pretty emotional to say about it!