Fans of the Marvel Cinematic Universe have a wealth of films to enjoy. But, on top of that, there are the antics of the actors off-screen to keep them occupied. The films rely on an ensemble cast of famous faces, and, sometimes, their interactions off-screen are as interesting as they are on screen. And one such interaction that was revealed this week got the entire internet talking.
Speaking to Seth Myers on The Late Night Show, Tom Holland revealed a hilarious unknown twist in his relationship with Rober Downey Jr. In the movies, the pair play Spiderman and Iron Man respectively - but, off screen, it seems that their relationship got off to a problematic start. Confused? Read on.
The Avengers franchise is one of the most popular parts of the Marvel CInematic Universe.
And it makes sense as to why. The Avengers movies combine a ton of superhero favorites, joining forces and battling to save the planet, together.
There's one superhero who's arguably the main character.
Iron Man (real name: Tony Stark) is something of the glue that holds the rest of the Avengers together.
Iron Man is played by Robert Downey Jr.
And he takes on the role perfectly - with many unable to imagine the iconic role being played by anyone else.
There's been a more recent addition to the franchise.
While he's a staple of the Marvel Cinematic Universe, the introduction of Spider Man to the Avengers movies was a more recent move.
Spider Man has been played by several actors over the years.
But the latest incarnation of the mutant turned hero is played by Tom Holland, a twenty-three-year-old British actor.
Holland and Downey Jr. have had to spend a fair amount of time together.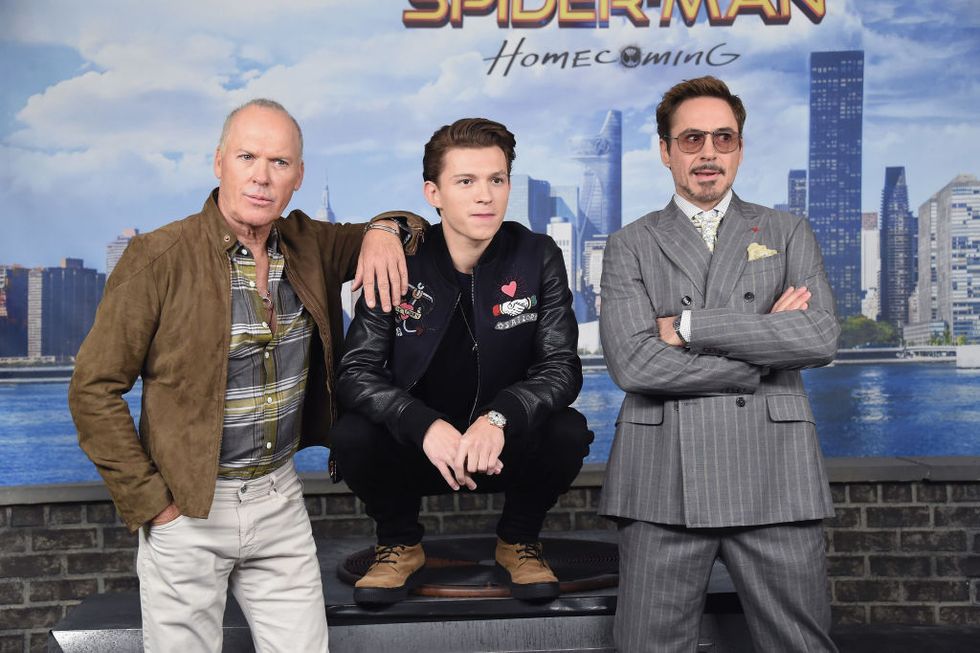 via: Getty Images
From acting together on set to doing the promotional tours and interviews together, the pair have built quite the working relationship.
But it seems to run deeper than that.
The two also have developed something of a bromance, seeming to genuinely enjoy one another's company.
Although we're learning that it wasn't always such plain sailing.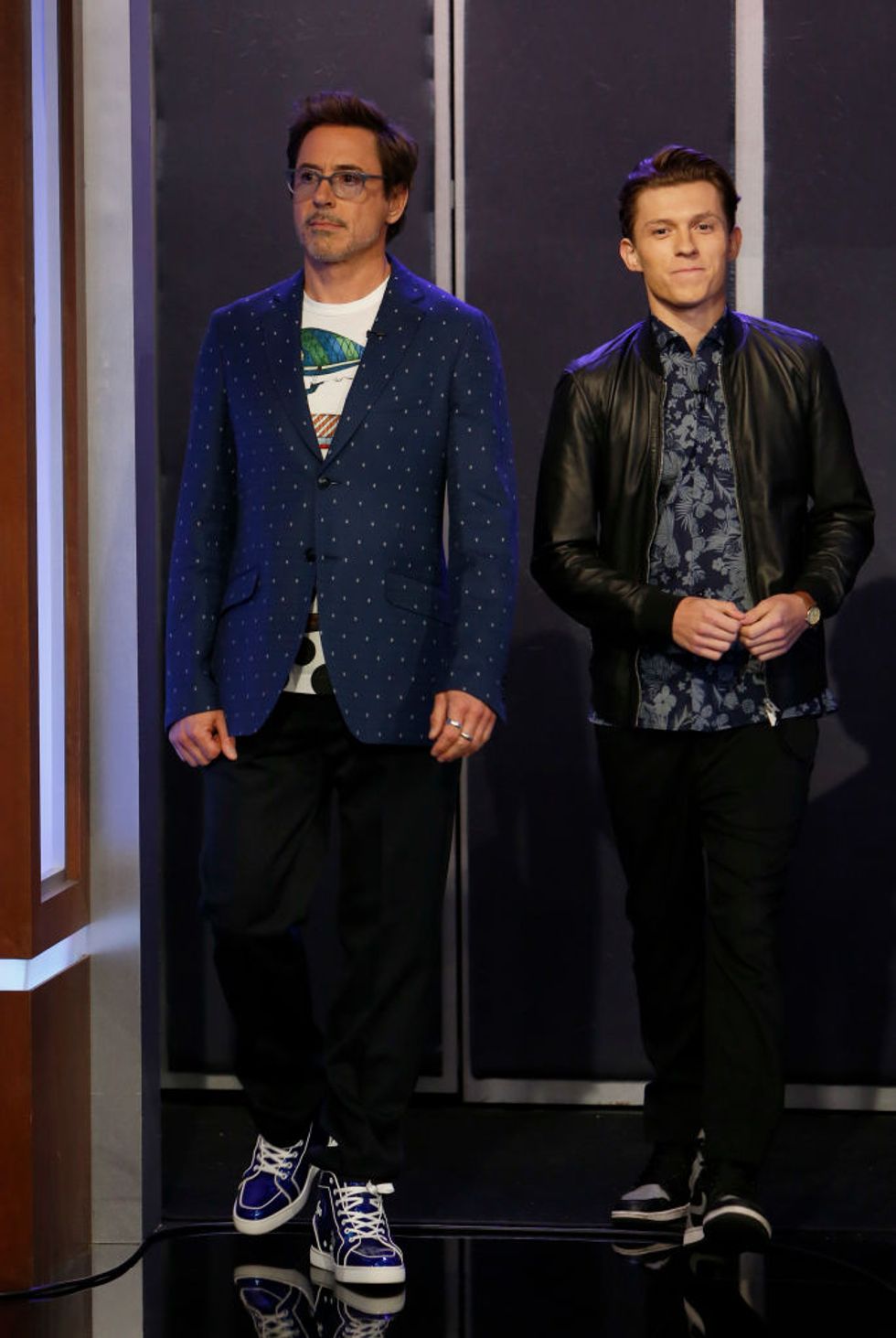 via: Getty Images
And this week, Holland revealed in an interview that, when the two were just beginning to get close, he almost managed to destroy the blossoming friendship.
There's likely a good reason for this.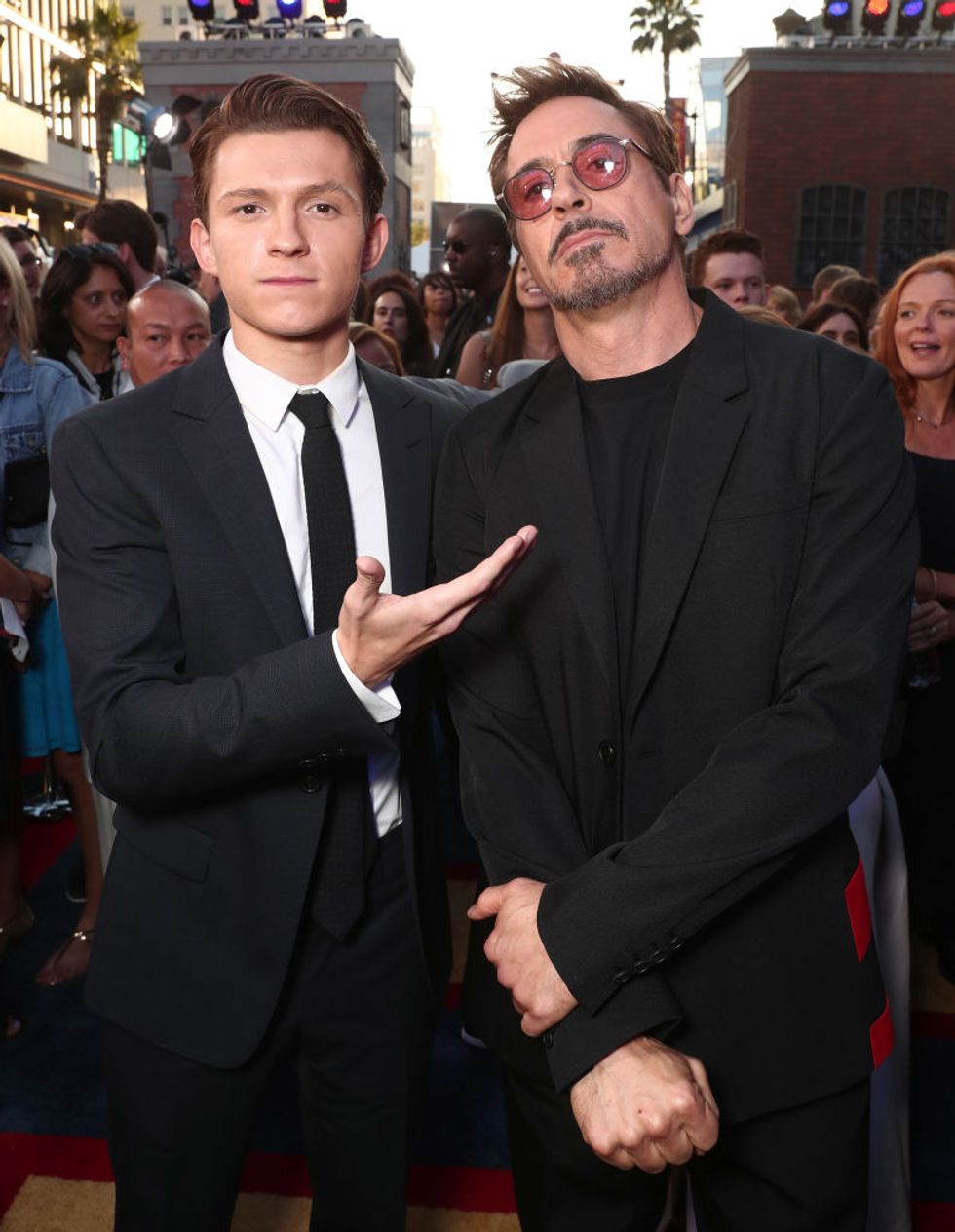 via: Getty Images
When the two met, Downey Jr. was an undisputed acting star - while Holland was relatively unknown. This may have meant that there was something of an unequal power balance between the pair.
And this may account for the blunder that Holland made.
Speaking exclusively to Seth Myers in a hilarious interview, Holland revealed the details of exactly what went down between the superhero duo.
As Downey Jr. and Holland live in separate countries, much of their communication is virtual.
Meaning, in order to keep their friendship alive, they have to rely on using their phones to stay in touch.
Thanks to the wonders of the modern world, you can almost feel as though you're in a room with someone.
Through using FaceTime, Holland and Downey Jr. were able to converse almost as naturally as if they were just hanging out, helping them stay close.
Holland revealed a pretty funny detail.
Rather than using his actual name, Downey Jr. is actually saved in Holland's phone as "The Godfather."
But the course of true friendship never did run smooth.
One night, Downey Jr. wanted to chat with his pal via FaceTime, and dropped him a few calls. The problem? Holland managed to miss them all.
You may be wondering how this happened.
Well, Holland offered a pretty simple explanation - sleep. "I think we were in London and he FaceTimed me at two in the morning and I didn't even check to see who it was,"
he claimed.
We can only imagine Downey Jr.'s reaction.
As a massive Hollywood star, he's probably used to getting his way - and not very keen on being ignored.
Holland quickly became aware of his error.
"I woke up and panicked," he admitted upon seeing the missed call from his new friend (and incredibly powerful star).
He quickly tried to put things right.
Holland attempted to return the call immediately and check all was still right with the pair's friendship.
But there was another spanner in the works.
Downey was then the one to become unavailable on the phone - no matter how hard Holland tried.
And Holland had a certain theory.
He thought that perhaps Downey Jr. wasn't replying as payback for Holland having ghosted him the night before.
But there was a simple explanation.
"He obviously didn't reply for ages because of the time difference in LA," Holland claimed.
But that didn't immediately occur to him.
Holland went on, "that was maybe the most stressful day of my life, where I thought my relationship with Downey was over."
He tried his best to get back into Downey's good books.
He'd contacted his pal numerous times - "I was like, 'Oh my God, I'm so sorry. I didn't mean to ghost you.'"
But soon enough, the pair were reconnected.
And it seems there were no hard feelings about the misunderstanding and crossed wires.
And fans of the Avengers can breathe a sigh of relief.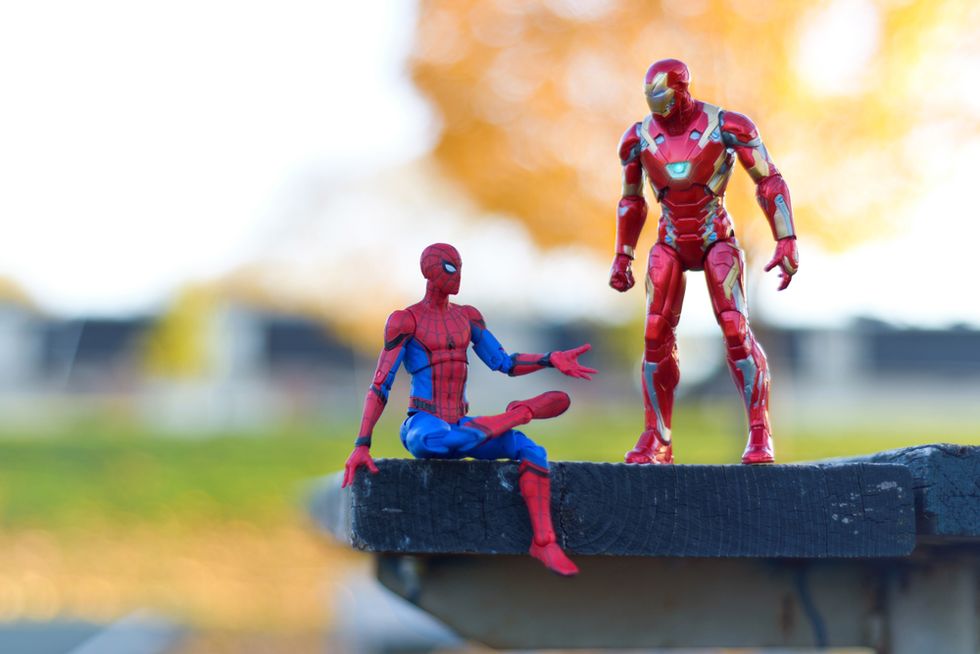 via: Shutterstock
Iron Man and Spider Man's friendship is saved - along with the world. Phew.
Here's the full interview.
And if you're only interested in Holland when he's talking about Downey Jr., we suggest skipping to the three-minute mark.