Tomi Lahren has proved time and again that she doesn't care what people think of her. She doesn't care if she says things so hateful and misinformed that most of the Internet piles on and proves her wrong. She doesn't care if she is wildly offensive and inappropriate. She gives no mind to the thousands upon thousands who are constantly trying to make her aware of the problematic language she uses and awful ideas of intolerance and hate she spreads.
Tomi Lahren just doesn't care.
On Tuesday, December 5, the Sports Illustrated Sportsperson of the Year show took place in Brooklyn.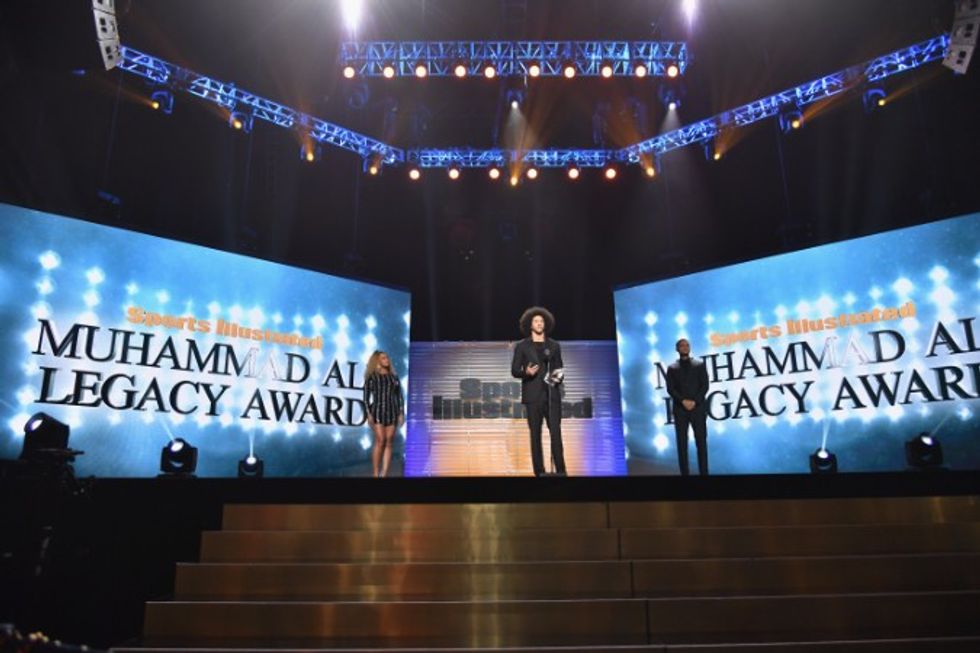 via: Getty Images
At the show, Colin Kaepernick was presented with a prestigious award: the Muhammad Ali Legacy Award.
The award honors athletes who demonstrate "dedication to the ideals of sportsmanship"
and those "whose career in athletics has directly or indirectly impacted the world."
To make matters even better, Beyoncé presented him with the award.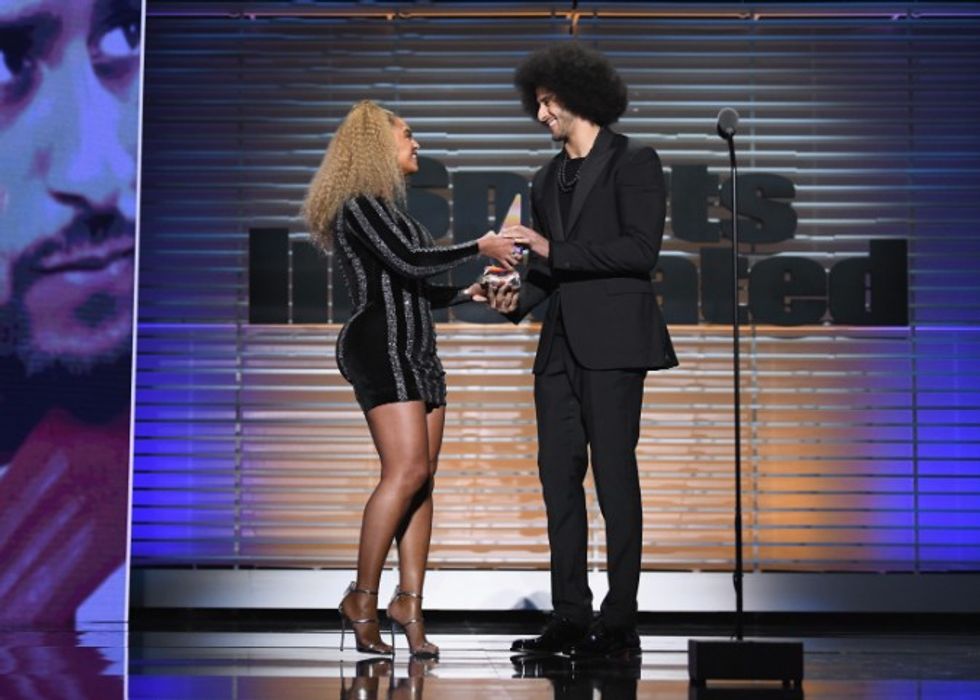 via: Getty Images
Yes, that's right. Queen Bey, Fiercest Woman on the Planet, Mother of Dragons, Leader of the Universe Beyoncé honored Colin Kaepernick with the award.
It was a beautiful moment.
When Beyoncé and Colin Kaepernick shared the stage, it was almost too much power and coolness to handle. They are both such influential voices in social activism and pop culture today.
Not everyone could handle the greatness that graced the stage that night. Among the people who were too overwhelmed was one Tomi Lahren.
Food for thought. https://t.co/2ita0blH0O

— Tomi Lahren (@Tomi Lahren)1511470434.0
Lahren, as you can see from her above tweet, isn't quite what you'd call a fan of Colin Kaepernick.
She's refused to understand what his protests actually stand for
, and she shared this weird, awful photoshopped image.
So Lahren wasn't too kind when she found out he won a Sports Illustrated award, and she was even more frustrated when she found out that Beyoncé was the one to present it to him:
Police-hating Beyoncé presents police and America-hating Kappy with a "legacy" award. This is how far we've fallen.… https://t.co/FJruj5VIv5

— Tomi Lahren (@Tomi Lahren)1512544115.0
She tweeted about "police-hating Beyoncé" and oh boy did that prove to be a terrible mistake. You just can't bash Beyoncé. You can't! She's objectively good. Let's see what Twitter had to say to Beyoncé-bashing Tomi Lahren...
Of course, people came at her with deliberate misspellings of her name:
Tammy, Toni, Tawny... They're never not funny. Trying to bash Beyoncé may be the most misguided thing Tomi Lahren has ever done.
And that's a hard list to top
.
Even though Lahren tried to bash Bey, she still spelled her name correctly.
@TomiLahren Glad you used the capital B and accent on the é. Nothing but respect for your President ❤

— Mister Preda (@Mister Preda)1512575281.0
Because you don't do Beyoncé wrong. How much do you want to bet that Tomi Lahren secretly dances to Beyoncé alone in her bedroom every night?
There's one thing that you can never ever forget when you try to come for Beyoncé.
You are lesser than she is. Especially you, Tomi Lahren.
This Twitter user believes she's cracked the code on the real reason for Lahren's hate:
@TomiLahren The Beyoncé jealousy is real. 😂 Perhaps because she is a beautiful, successful, talented woman and isn'… https://t.co/B83IkNMG4y

— Marcella L. Simonetta (@Marcella L. Simonetta)1512544288.0
Of course, Beyoncé has it all: a successful career, an entire hive of ride-or-die fans, and her very own health insurance. OH SNAP TRIXIE! What you got?
At the end of the day, there is no rivalry or comparison between Beyoncé and Tomi Lahren.
@TomiLahren https://t.co/oiANiTFoos

— 𝘾𝙖𝙧𝙡𝙤𝙨 𝘿𝙖𝙫𝙞𝙙 🪐 (@𝘾𝙖𝙧𝙡𝙤𝙨 𝘿𝙖𝙫𝙞𝙙 🪐)1512563185.0
We are a million percent confident that Tomi Lahren's half-hearted insult didn't even cause a blip on Beyoncé's radar. She was too busy ruling the world.