For reasons we cannot explain, 2018 is the year we as a nation decided to get really into the Tonya Harding/Nancy Kerrigan scandal again. The movie I, Tonya, a biographical (but ultimately fictional) story of Tonya Harding, came out in December 2017. And this Thursday Truth and Lies: The Tonya Harding Story will air on ABC. Maybe it's because it's the year of the Winter Olympics when everyone who has ignored professional figure skating for the last four years suddenly becomes well-versed in how to properly land a triple axel. Maybe it's that we all listened to too many true crime podcasts last year and a crime involving figure skaters getting professionally whacked in the knee just seems like kind of a nice break from all the murder.
Whatever the cause, Tonya Harding is a having a moment, and perhaps a moment of redemption that she may have deserved much earlier. It turns out the almost universally hated Harding actually once saved a woman's life and got basically no credit for it. 
First, let's review the story of the feuding figure skaters that captivated the world and dominated newspaper headlines in 1994.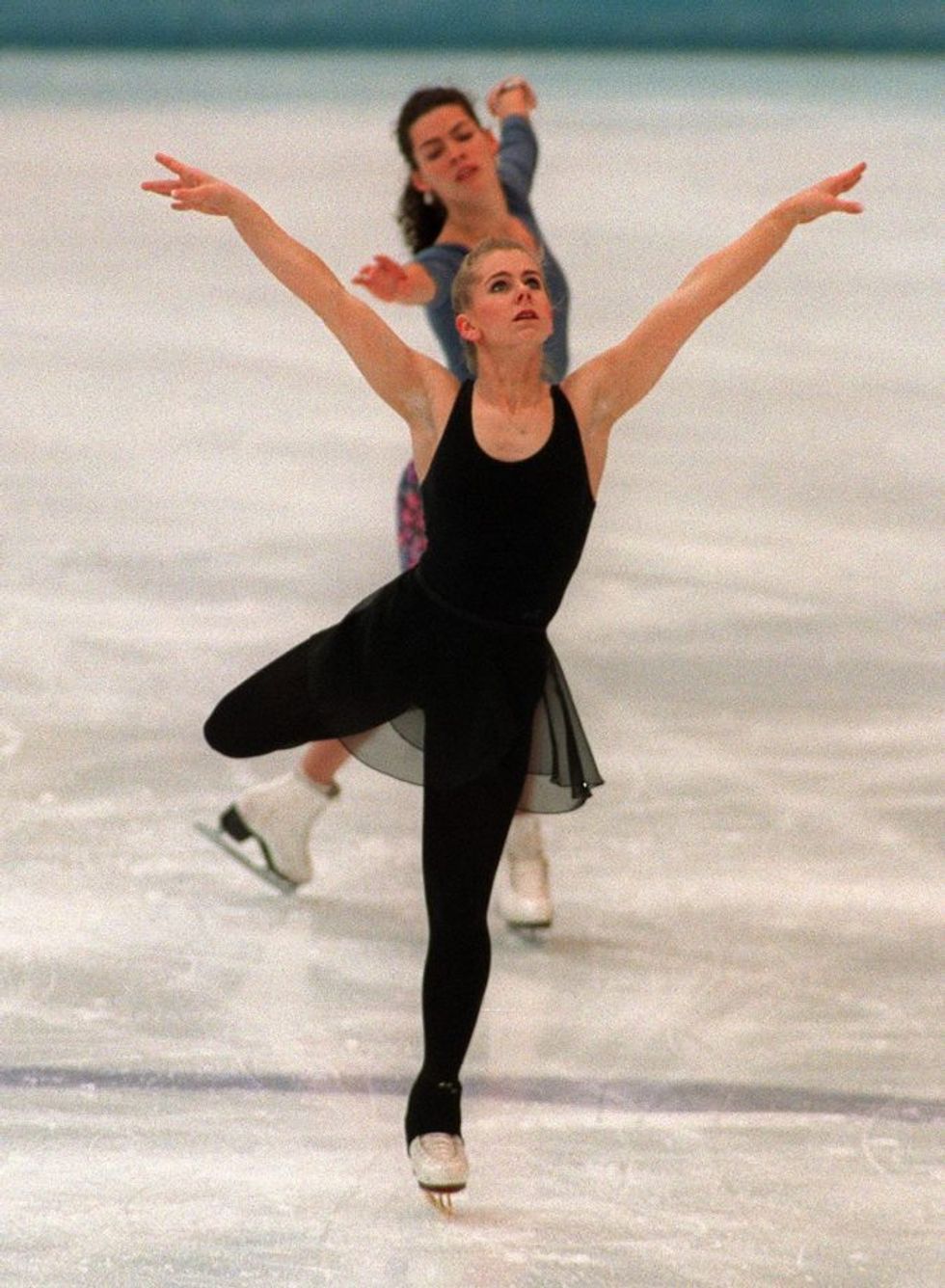 via: Getty Images
It's a tale of two skaters: Nancy Kerrigan and Tonya Harding, both young professional figures skaters who, in the early '90s, were at the top of their sport. In 1992, the both competed in the Winter Olympics where Nancy took home the Bronze medal and Tonya came in fourth.
Then in 1994, there was another Winter Olympics, for some reason.
The Olympics got all weird in the '90s when they decided they didn't want to do the Winter Olympics and Summer Olympics in the same year anymore, because presumably by August people were fatigued by putting effort into getting really into sports they only vaguely knew existed outside of the Games. (It was the only way to save curling).
So in 1994 Nancy and Tonya were competing again for a spot in the Olympic Games.
At
U.S. Figure Skating Championships in Detroit, the
Olympic qualifying competition before the games, Nancy Kerrigan was getting off the ice after a practice session when a man ran up to her and hit her in the upper thigh with a police baton, causing her to immediately fall down.
As it turned out, her leg was only bruised, but it set her training back.
It already would be insane if just anyone had done this, but it got even more insane when it turned out the man who hit Nancy was hired by Tonya Harding's ex-husband to take Kerrigan out of the competition.
Tonya denied any part in the attack, but for obvious reasons, basically nobody believed her. But amazingly, both Harding and Kerrigan made it onto the US Olympic team that year. They both competed, Nancy took home a Silver medal and Tonya, after a frustrating skate in which her laces malfunctioned, only got 8th place.
Eventually Harding pleaded guilty to conspiring to hinder prosecution of the attackers, but still denies that she had anything to do with the attack itself.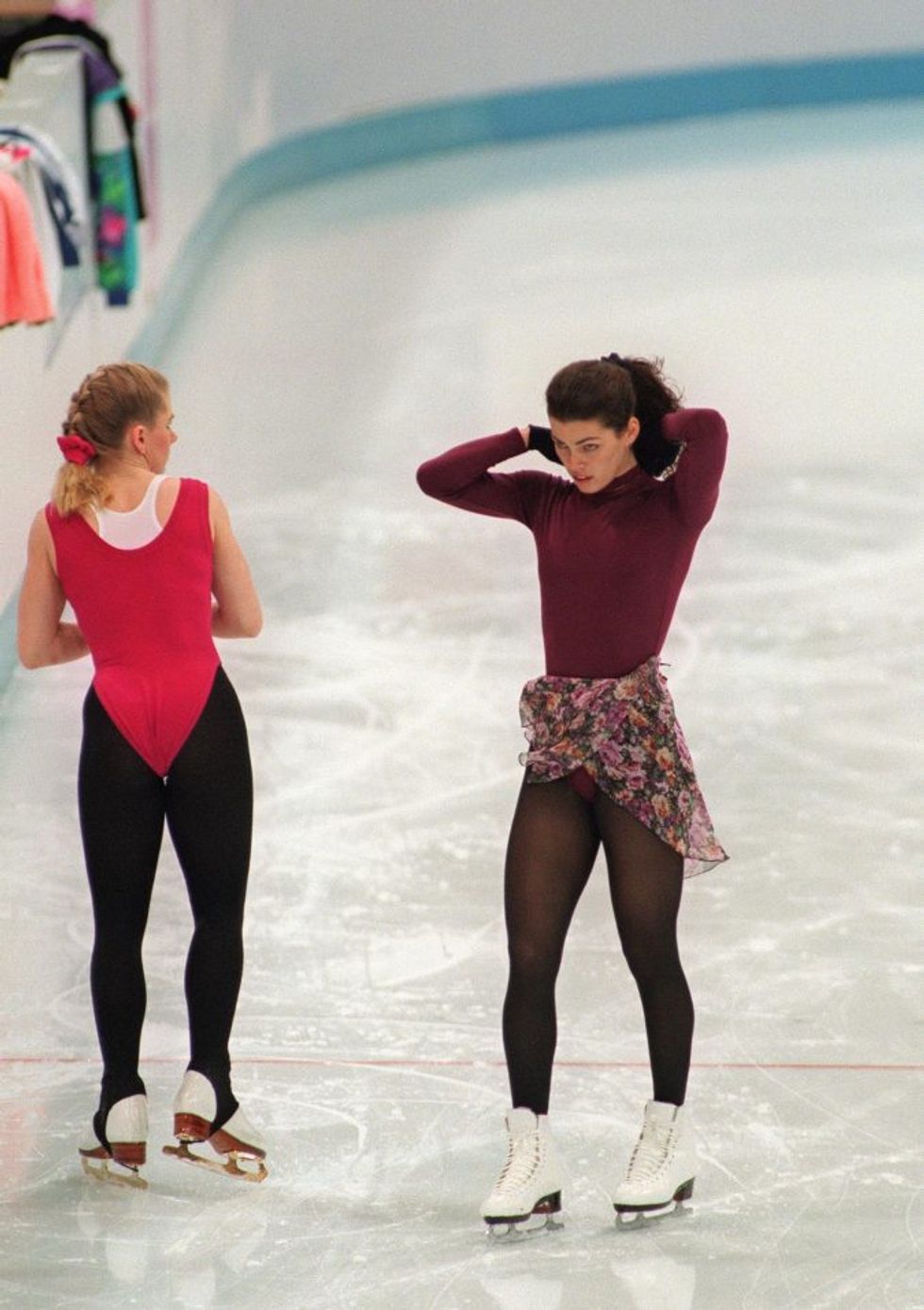 via: Getty Images
She was subsequently banned from competing in any more United States Figure Skating Association figure skating competitions or being a coach for the rest of her life. And possibly even worse, she became nationally vilified. She couldn't shake the public perception of her no matter what she did: even when two years later she literally saved a woman's life.
That's right, Tonya Harding saved a woman's life only two years after the infamous attack.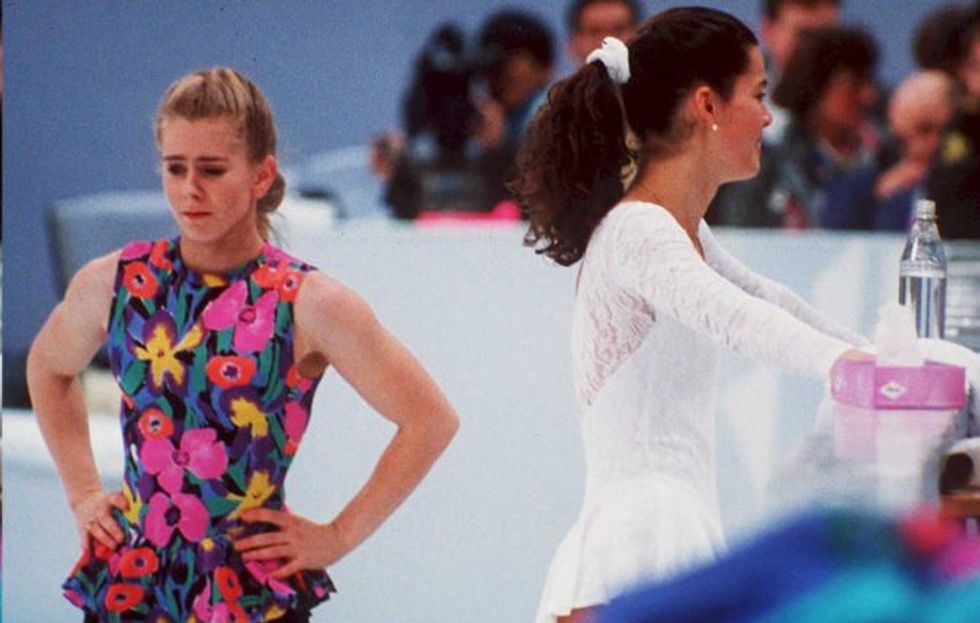 via: Getty Images
Tonya and her godmother stopped at a bar in Oregon to play some video poker in 1996, when suddenly a woman near them collapsed.
Harding called 911 on her cell phone and delivered mouth to mouth resuscitation to the woman.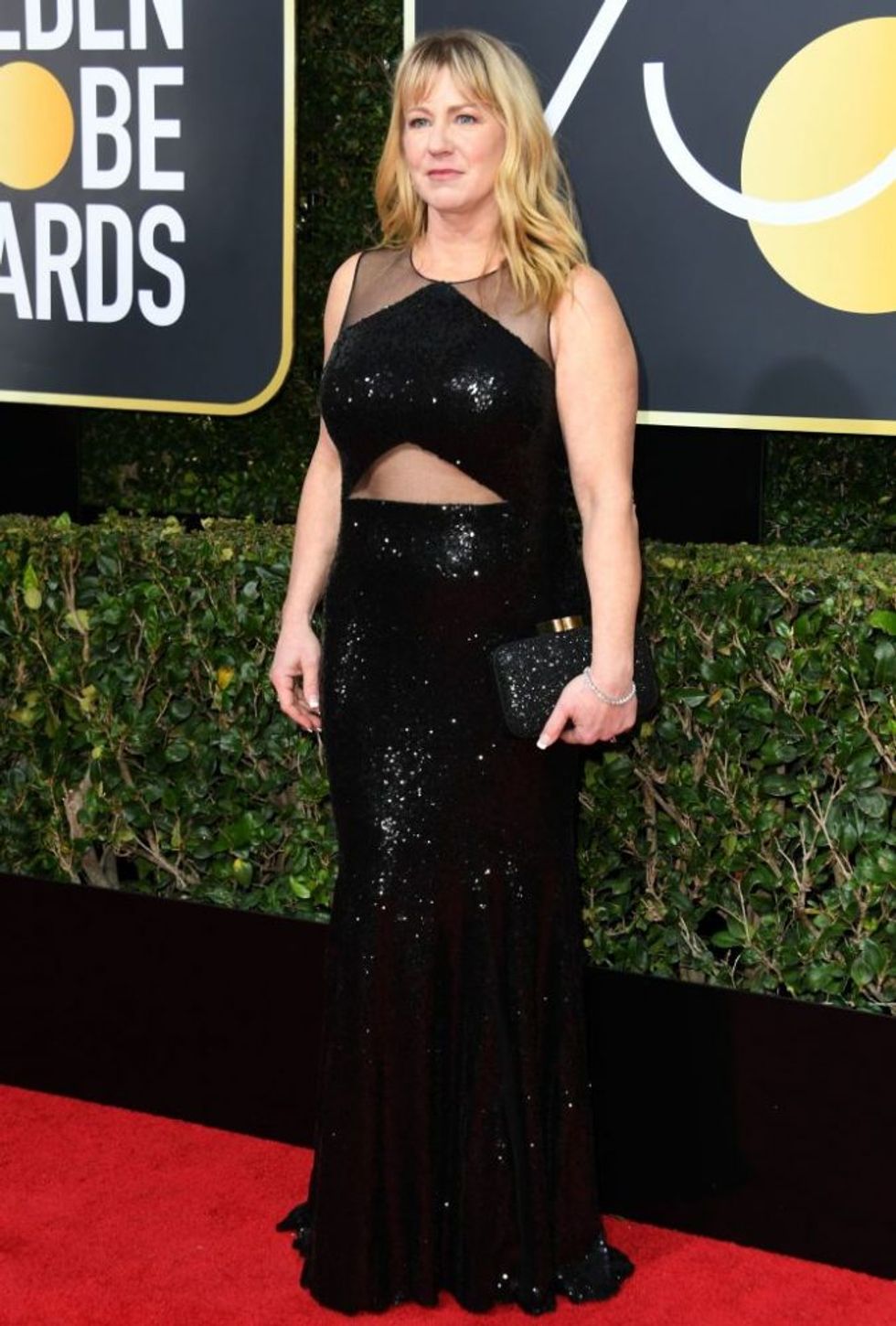 via: Getty Images
The woman was rushed to the hospital where she survived.
"It was very, very scary," Harding said. "I kept my calm and cool and knew what I was doing. I had to do this. I thank God that I was there. Nobody else in the bar knew what to do."
Maybe this will be the year Tonya gets redemption.
The media definitely made Tonya out to be a villain, but it's hard to say how much of that was true. Harding came from a troubling background, she was abused as a child and said she feared her ex-husband Gillooly, who arranged the attack Kerrigan. Harding still says she had nothing to do with the attack itself, and was never actually charged with the crime. It is entirely possible Harding never had anything to do with it.  
Either way, Harding was a hero the day she saved the woman in the bar, and history definitely doesn't remember her for it.
It's easy to remember Tonya as a villain, especially because her story is just so Lifetime Original Movie it feels like there's a chance that maybe Lifetime itself carried out the hit themselves (just kidding, Lifetime, we love you) but hopefully 2018: The Year of Tonya will clear things up for all of us.