Around 2012, residents of the Gay Village, a neighborhood in Toronto, Canada, began noticing that men were going missing. They were usually of Middle Eastern or South Asian descent, so the police brushed off complaints. The men had probably gone on vacation or moved – there was no need to look for them.
Then, on Jan. 18, Canadian police arrested 66-year-old Bruce McArthur for murder.

It was just as everyone had feared. There was a serial killer in Toronto, and he had probably killed many more than the two men he was arrested for murdering.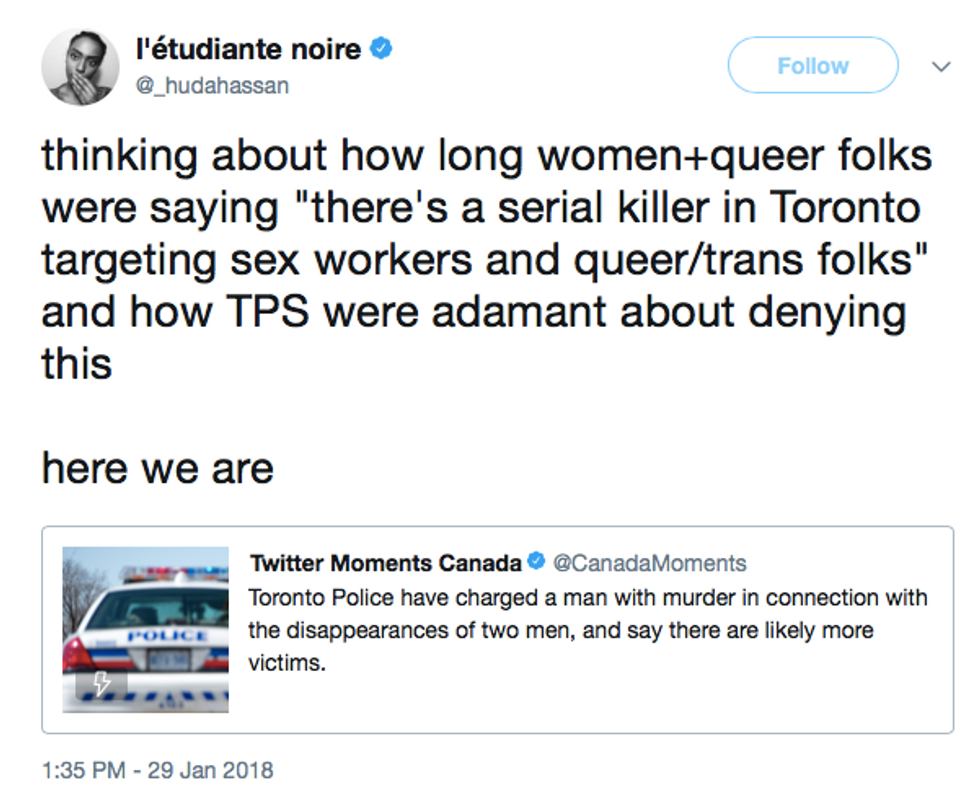 According to most reports, Bruce McArthur was an affable man and a well loved member of Toronto's gay community. "He was part of the neighbourhood,"
says
Steven Gleason, who works at a nightclub in a nearby area.
Updated #breaking story: Bruce McArthur now facing a total of five murder charges. "The City of Toronto has never s… https://t.co/5xdNhVVlsB

— Toronto Star (@Toronto Star)1517241705.0
Others concurred. Jocelyn Lemoine of Gatineau, who knew McArthur during the early aughts, was shocked by the news, and said he was a "jovial" person who never lost his temper. "We laughed together," he said.
Toronto police: Serial killer landscaper hid bodies all over city https://t.co/lQdGdeZa2J

— The Daily Beast (@The Daily Beast)1517294934.0
Karen Fraser, one of the many people whose yards McArthur worked on as a landscaper, said "He had wonderful clients and he was kind and generous to them." She further described him as a "cheerful, kind grandfather," and said he would make her laugh with anecdotes about demanding clients.
Serial Killer Who Worked As Gardener Buried Remains In Planters, Toronto Police Say https://t.co/Nj61lDIEJi

— NPR (@NPR)1517309646.0
Others who knew him more intimately, however, painted a different picture. "He was always opinionated," Gary Speedie, a former coworker, told
CNN
. "Never got any warm, friendly vibes from him. He seemed moody. Usually fairly happy, but sometimes quiet."

Even more alarming, however, were the reports from the men McArthur had sexual encounters with. They reported that they'd stopped seeing him after he became violent during sex. In fact, he was arrested in 2001 for assault after attacking a man with a metal pipe.

As a condition for avoiding jail time, he was told to stay away from the Gay Village and male prostitutes. But McArthur continued frequenting Gay Village, which is where Skandaraj Navaratnam, 40; Abdulbasir Faizi, 42; and Majeed Kayhan, 58; disappeared, starting in 2012.
Toronto police believe a killer who worked as a landscaper may have hidden his victims in backyards and planters ac… https://t.co/2R58xcLZM2

— The Associated Press (@The Associated Press)1517272265.0
Police in Toronto launched "
Project Houston
," an investigation into their disappearances, but nothing came of it, and by 2014, the case was closed. Then, in August 2017, police launched a new investigation into the murder of two other members of the gay community – Selim Esen, 44, and Andrew Kinsman, 49.

McArthur became a person of interest when they learned he'd had a sexual relationship with Kinsman. Once they found traces of blood in a maroon Dodge Caravan McArthur had sold to a dealer, they knew they were onto something.

They continued trailing McArthur until they saw a man enter his apartment on Jan. 18. Believing he was in imminent danger, they forcibly entered the apartment, and arrested McArthur. They found the man in restraints.
Toronto landscaper who appears to have targeted the LGBTQ community charged as a serial killer… https://t.co/LNqzeD1uzI

— Jezebel (@Jezebel)1517345086.0
Upon further investigation, police discovered the dismembered body parts of at least three people in one of the homes he landscaped. They'd been hidden in the planters.

"He's taken some steps to cover his tracks, and we have to uncover these victims," a police sergeant, Hank Idsinga,
explained
on Monday.
BREAKING: Toronto Police expect more victims of alleged serial killer Bruce to be discovered https://t.co/0mFB7LBsr4 https://t.co/qVQsri8Ps4

— Globalnews.ca (@Globalnews.ca)1517242867.0
"We do believe there are more," he added. "I have no idea how many more there are going to be. . . . The city of Toronto has never seen anything like this, so it's very tiring and draining for everyone involved."

McArthur is believed to have partly found victims via a gay fetish site called Recon, where he
advertised for
"submissive men of all ages." "It certainly encompasses more than the gay community," Sgt. Idsinga told reporters. "It encompasses the city of Toronto."
Toronto police believe they have arrested a serial killer. Bruce McArthur charged with 3 more murder counts for tot… https://t.co/ZZ1NJhQUxQ

— CBC News (@CBC News)1517247771.0
The gay community, however, has a more nuanced reaction. "We are validated in our concerns, but there's no joy to be had in that," Nicki Ward, a community activist, said to 
the Canadian Broadcasting Corp
. "Why weren't we listened to earlier? Perhaps some lives could have been saved if that was the case." Police believe the body count is only starting.