With every major movie release that comes with equal parts critical acclaim and audience love, there has to be a fly in the ointment, right? But no film has faced this more this year than Toy Story 4. The fourth part of the beloved franchise has received almost universally positive reviews online - but there always has to be someone to spoil the fun, right?
Well, as if often the case, the role of the fun police in this instance had to go to One Million Moms. The online group aren't known for being uber-tolerant at the best of times - but they've taken on a strange opponent in Toy Story 4. Their complaint seems both small-minded and incendiary - and it looks like the internet agrees.
It's strange to think that, before 1995, we lived in a world without Toy Story.
The very first Disney and Pixar collaboration came out in that year, and totally turned the world of children's movies upside down.
The movie was a huge hit.
And since then, we've had regular check-ins from the world of the toys. Toy Story 2 followed in 1999, and Toy Story 3 in 2010.
Many believed that Toy Story 3 would be the final film.
It came out in 2010 and received as much critical acclaim as the two previous smash hit movies.
Although it gave us this harrowing scene.
Seeing all of our favorite toys almost coming to a fiery, painful end was nearly too much for audiences to bear. Although (spoiler alert) everything turned out fine in the end.
Which is kind of obvious, really.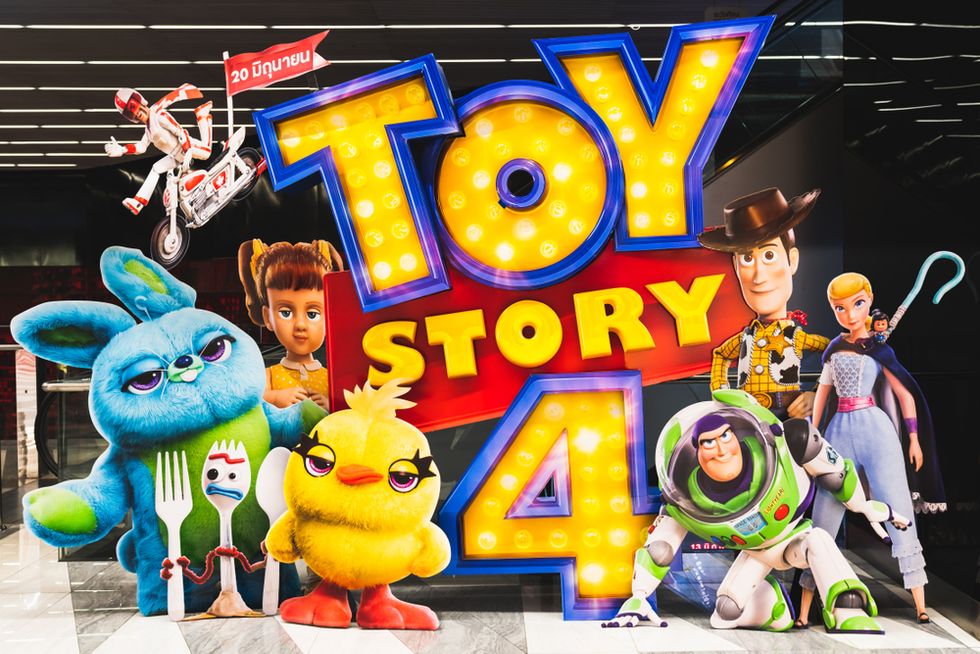 via: Shutterstock
If 
Toy Story 3 
had ended in tragedy, it seems unlikely that there would be another follow-up. But, this year, the much anticipated fourth installment from the
Toy Story
universe hit our screens.
Toy Story 4 hit theaters on June 21st.
It was the first time in nine years that fans had had fresh contact with Woody, Buzz, and their other favorite characters.
It also featured some brand new characters.
And one, in particular, truly struck a chord with fans: Forky.
Fans absolutely loved the latest movie.
me vs. the kids in the theatre after toy story 4 ended https://t.co/9sq6j1frbN

— madie ♡ (@madie ♡)1562704622.0
It had an almost universal appeal, because older fans of the '90s movies and newcomers to the franchise could both enjoy the feel-good fun.
And many particularly warmed to the newest character.
#Forky is a character who is convinced he's trash and keeps trying to throw himself away but his friends do their b… https://t.co/o4oBiCrGfi

— Mindy Joy (@Mindy Joy)1561137826.0
Forky struck a chord with a lot of listless adolescents. And as a bonus? Parents can get their kids some official 
Toy Story 4 
merch for free!
And that's not all.
In spite of initial doubts about the movie's success, it did exceptionally well in the box office, making a smashing $238 million in its opening weekend.
But not everyone has been so positive.
This week, one review, in particular, hit the headlines. It comes from well-known internet trolls, One Million Moms.
This time, they're getting their knickers in a twist for one very specific reason.
"At the start of the movie, when Woody's new owner Bonnie goes for her first day of kindergarten, in the background there is a quick scene where one child is dropped off by two moms. Later, the moms return to pick up their child who gives them a hug. The scene is subtle in order to to desensitize children. But it is obvious that the child has two mothers, and they are parenting together. Toy Story 4 is the last place parents would expect their children to be confronted with content regarding sexual orientation. Issues of this nature are being introduced too early and too soon. It is extremely common yet unnecessary."
Many were curious as to the scene that the post referred to.
prior to seeing toy story 4 id seen some article being like "toy story 4 lesbian scene has conservatives PISSED" an… https://t.co/MMqVdwMT7i

— gender master vodka (@gender master vodka)1562770190.0
And there was a high level of suspicion that the scene may not be as big a deal as One Million Moms made out.
Here's the scene in question.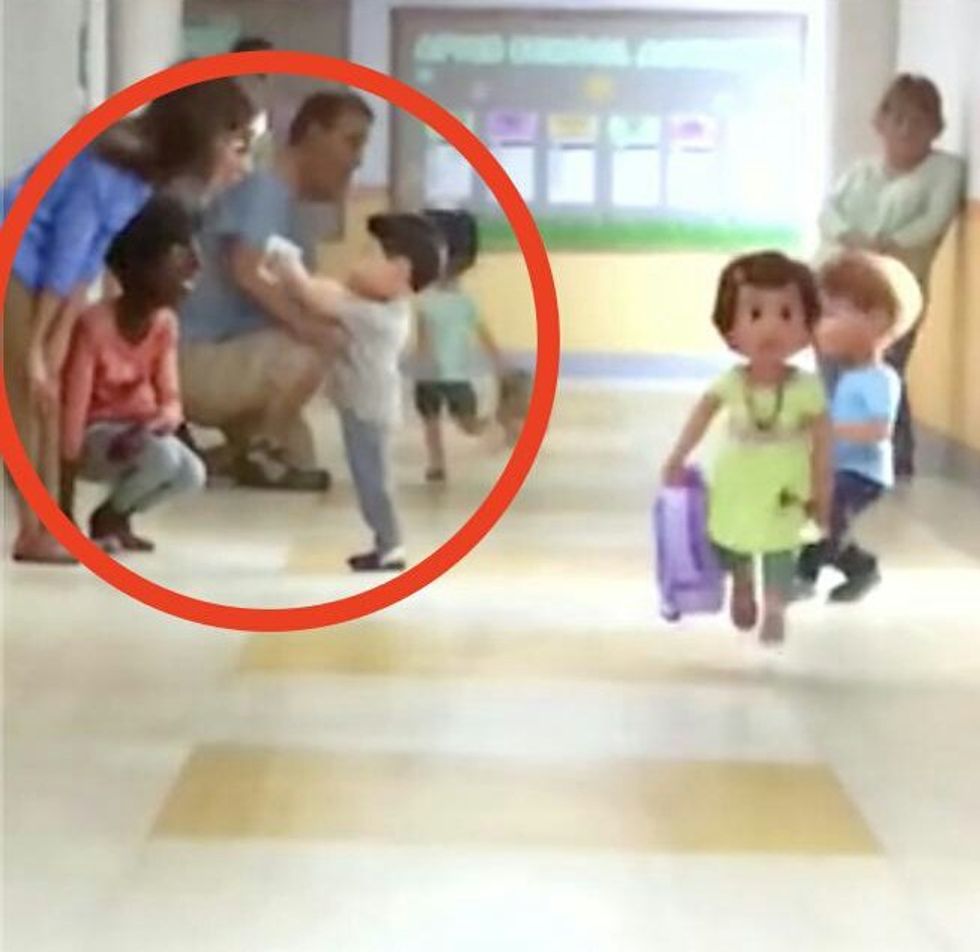 via: Twitter
We have to say, this seems like it would be pretty easy to miss. Plus, the two women are hardly making out on screen. They could even be sisters or friends for all we know - not that it wouldn't be totally okay if they weren't.
Some made this observation.
There may be an ulterior motive for the hate that One Million Moms are begetting for this scene - perhaps that these parents are clearly kind and affectionate with their kids?
This One Million Moms post has just generated backlash.
@PinkNews LGBTQ children never see themselves reflected in media. Inclusion of such characters is far too low.

— John Williams (@John Williams)1562761202.0
Many think that this (very small) instance of inclusion was undeniably positive and would serve as something incredibly helpful for young people concerned that they are "different."
Some pointed this out.
@PinkNews LOL, didn't even notice it. WHICH IS THE WAY IT SHOULD BE. IT'S NORMAL.

— sudokillall_ (@sudokillall_)1562762007.0
The scene was so minimal that it was basically "blink and you'll miss it" - and the fact that so many didn't even notice the scene proves how not-a-big-deal it was.
Another made this joke.
@PinkNews Brought to you by "We Haven't Seen the Film But We Hate It Anyway".

— Mike Slichenmyer📢 (@Mike Slichenmyer📢)1562764217.0
It does seem kind of unlikely that, had they watched the entire movie, this reviewer would be quite so irate about what amount to a couple of seconds of screentime.
While another excellent point was made.
This isn't the first instance of gay co-parenting in Disney movies by a long way - and Simba turned out absolutely fine!
Plus, you can hardly expect Toy Story to be too strict in its normative love stories.
Once you've had a nursery rhyme character share a kiss with an astronaut, you really do start to have to suspend your disbelief about who can and can't love who. In fact, maybe we could all take a lesson from Toy Story. But this scene isn't the only one Toy Story has come under (potentially unnecessary) fire for.