Toy Story is probably one of the biggest and most popular children's movies of all time, and just one of the reasons for it doing so well is the all-star cast. So, of course, the news that one of the most prominent stars of the show, Tim Allen, being replaced is not sitting well with fans.
Read on to see who will be taking his place...
Toy Story is a huge part of everyone's childhood.
via: IMDB
The movie franchise is truly a timeless classic and, to make it even better, it can be enjoyed by people of all ages.
The first Toy Story movie was released all the way back in 1995...
It followed the story of Woody - the cowboy doll - who was threatened by Buzz Lightyear - the astronaut doll - when his owner Andy brings him home and he becomes the best toy in the box.
It's an incredible concept...
And the movie revolves around the adventures of Andy's toy box when he isn't home.
The make-believe world of toys is hilariously believable...
via: IMDB
And the story of friendship makes it even better.
The Toy Story franchise now has a total of 4 movies...
via: IMDB
And each movie shows how true friendship never ends, no matter how much you grow up. It's a pretty adorable concept, right?
The fourth (and supposedly final) movie came last year...
And it truly tugged on the heartstrings of the world.
But things have recently got a whole lot better for die-hard fans, as a new spin-off has been announced.
But there's a little twist to this one because rather than it being a continuation of the original plotline, this movie will tell the story of the real Buzz Lightyear.
The upcoming movie, Lightyear will tell the story of the man behind the toy.
According to Disney/Pixar, it will tell the story of Lightyear's journey from being a "young test pilot that became the Space Ranger we all know him to be today."
But while some people expected Tim Allen, who has voiced the character since the first movie, to take on the role...
It was quickly announced that someone else would be voicing Buzz Lightyear.
Of course, the comments started pouring in along with the hashtag #NotMyBuzz...
They finally make a movie about #BuzzLightyear and Tim Allen goofy ass gets replaced??? https://t.co/5UhYyJUdfq

— Juni (@Juni)1607665640.0
You cannot make a #BuzzLightyear film without #TimAllen voicing Buzz. I'm sorry, you just can't. https://t.co/Hs15qcctMF

— Lost Boy Studios 🤘 (@Lost Boy Studios 🤘)1607686679.0
There's only one #BuzzLightyear and his name is Tim Allen @ofctimallen

— Evannitzschke (@Evannitzschke)1607675083.0
The superior Buzz Lightyear Origin story https://t.co/y5vIparaA5

— Michael Cook (@Michael Cook)1607651691.0
@toystory This is going to be a flop! #NotMyBuzz

— Michael🕆🇺🇸 (@Michael🕆🇺🇸)1607649483.0
people: black lives matter republicans: UHHH🤮 TRY AGAIN🤧SNOWFLAKE👺GOD U ALL ARE SO SENSITIVE😖😖 also republicans:… https://t.co/qw6uJrYGJ0

— Kiley Check (@Kiley Check)1607652424.0
@ofctimallen news of some spandex wearing super hero taking over as the voice of my favorite space ranger is not go… https://t.co/bO1Cy4VORg

— President Elect Joseph Blank (@President Elect Joseph Blank)1607651889.0
There's only one Buzz Lightyear, and that's Tim Allen.

— Steven (@Steven)1607648325.0
But not everyone was so upset when they found out who was going to be voicing the character...
Because it's going to be none other than Captain America himself, Chris Evans.
Upon announcing the role to his fans on his Instagram, he also explained how he does not view this change as a "replacement."
"Working with Pixar is a dream come true. I've been a massive fan of their films since the very beginning," he started. "My team could barely contain their excitement when they told me that Pixar had a pitch for me."
"All they said was 'Buzz Lightyear'."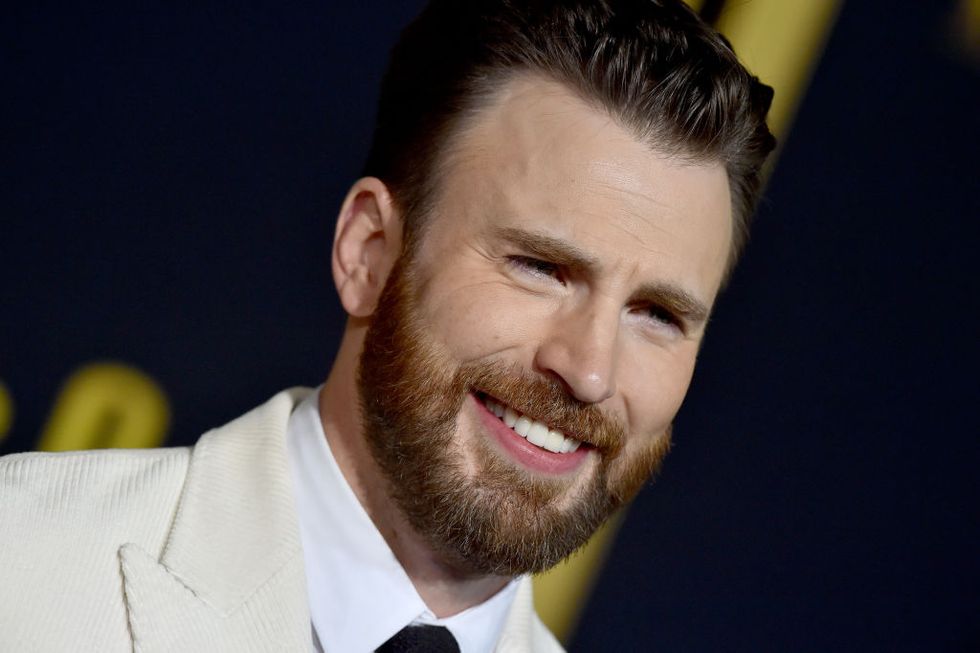 via: Getty
"I didn't know what that meant," he continued. "...Since Tim Allen is Buzz Lightyear, and no one could ever touch his performance. I needed to know how this character was different and why this story was worth telling. I can say 2 things with absolute confidence..."
He then clarified a few things:
"1. I didn't stop smiling through the ENTIRE pitch. Ear to ear. 2. Everyone can rest easy. And get very excited."
And he also added this to clam the nerves further:
"Trust me when I say that they REALLY know what they're doing over there. This one is gonna special, and it doesn't step on a single thing. I can't even put my excitement into words. I smile every time I think about it."
And on Twitter, he addressed the issue one more time for anyone that might have missed it:
And just to be clear, this isn't Buzz Lightyear the toy. This is the origin story of the human Buzz Lightyear that the toy is based on

— Chris Evans (@Chris Evans)1607649299.0
So the haters can just take a step back and enjoy themselves for one minute.
There we have it, ladies and gentlemen, Chris Evans will be voicing Buzz Lightyear in Lightyear.
The movie is rumored to be hitting our screens on June 17th 2022, so keep your eyes peeled.
Here's the first look at the "new" Buzz: