When it comes to horror movies, it can sometimes seem as though filmmakers are simply constantly trying to outdo one another. As soon as one movie launches, fans want more - more jump-scares, more gore, more deep-seated psychological torture. And there's one platform that constantly seems more than happy to oblige. Good old Netflix.
But their latest launch looks set to top anything that we've seen so far. Marianne's trailer was teased earlier today, and it's safe to say that horror fans have gone wild with anticipation. Want to hear more about the series that's being described as "scarier than The Conjuring?" Read on.
There's nothing like a good Netflix binge.
Say what you like about the streaming service, but there's no shortage of content on there, making it a perfect destination for your day off.
And it seems like there's one genre that continues to entice.
For some reason, we can't seem to get enough of horror. Something about the unpleasantness of being scared is oddly addictive.
It's a long-standing phenomenon.
Since the very first movies began being made, Hollywood seemed to understand that humans had an instinctive urge for the darker side of life.
There's seemingly no end to what can inspire fear.
And, although monsters and ghosts do continue to give us the heebie-jeebies, it seems more and more like psychological torment is what really gets us feeling creeped out.
No matter how bad it makes us feel...
It's almost as though we can't stop watching. What's wrong with us?
In recent years, one franchise has dominated the genre.
The Conjuring 
movies have been tormenting horror fans since 2013, with their haunted house tales
based on a true story
.
Fans have been waiting for the latest Conjuring installment for many months.
But, for those who are tired of waiting, Netflix has come up with an alternative to tide us over. And, based on initial reports, it looks pretty hardcore.
Here's what we know so far.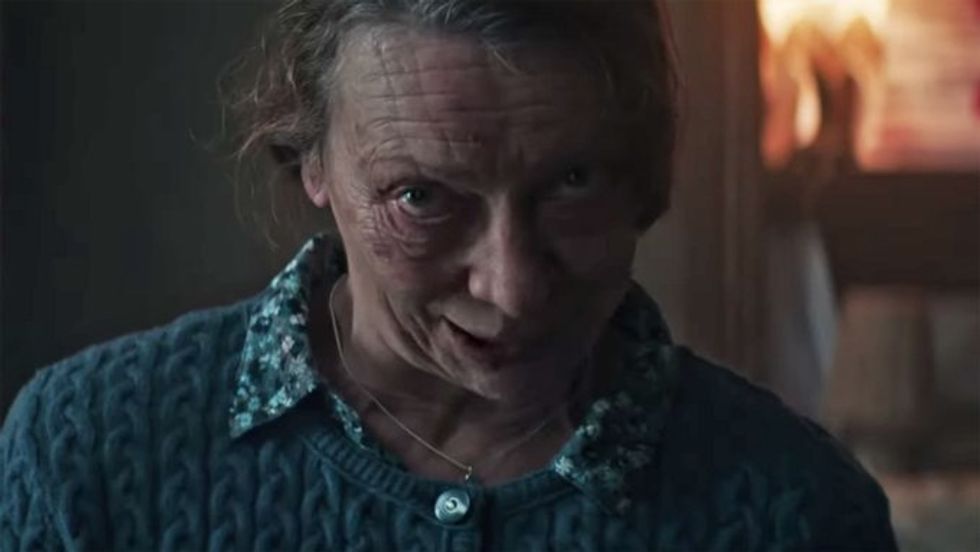 The latest horror release is called 
Marianne. 
Unlike 
The Conjuring, 
it'll be delivered as an eight-part series, rather than a film franchise.
It borrows from some conventional horror themes.
Our main character, a horror novelist called Emma, has been writing about frightening things to protect herself after a childhood trauma.
At the start of the series, she returns to her hometown.
And, upon her return, Emma realizes that the evil spirit she'd attempted to contain in her writing has broken through to the real world, creating abject horror.
The trailer suggests that Marianne contains some classic horror tropes.
The return to the old and creepy hometown, a place filled with bad memories, is always a recipe for a good horror storyline.
In fact, if the trailer is anything to go by, Marianne looks like an instant classic.
The vibe and atmosphere of the trailer is pure horror joy. But, on top of that, some of the plot that it gives away is pretty incredible stuff.
We already know that there's an exorcism on the horizon.
So fans of evil spirits and religious imagery have a lot to look forward to in Marianne.
There's some visceral, visual horror to look forward to, too.
One particularly jarring shot in the Marianne trailer shows an evil-spited-inhabited man with a horrific gaping mouth, plus some pleasingly gory cut-up bodies.
And there's one upcoming scene which looks to really stand out.
Seeing hanging bodies over creepy railings is always a horror fan's dream - so, on that front, Marianne doesn't disappoint. Yikes.
There's another cool aspect to the upcoming series.
Marianne is French-made, written by Samuel Bodin, and starring Victoire Du Bois as Emma, Lucie Boujenah, and Tiphaine Daviot.
The Marianne trailer dropped last night.

And horror fans have immediately jumped on it, praising Netflix for going for a more unconventionally frightening move.
People have compared it to other horror classics.

Which, considering that a large number of viewers
couldn't even make it through the whole movie
, is pretty high praise.
Fans are also thrilled to see another horror series.

The Haunting of Hill House 
was a smash hit, and though
season two is in the works
, fans of the scary television show have been left waiting a while now.
Here's the full trailer for your viewing (dis)pleasure.
And, if you want to see more of Netflix's original horror content, keep scrolling to learn about every parent's worst nightmare, Pihu.