Transgender teen Ashton Mota introduced President Joe Biden at the White House on Friday, marking the return of pride celebrations under his administrations.
Back in February, the House of Representatives voted to pass the Equality Act, a bill that would ban discrimination of an individual or group based on their sexual orientation and gender identity.
For sixteen-year-old Mota, the banning of this bill was an important step for the trans community.
Speaking proudly at Friday's event, Mota said: "My name is Ashton Mota, I use he/him pronouns, and I'm honored to be here with you all today. I am a sixteen-year-old Black, Afro-Latino high school student from Lowell, Massachusetts. I also happen to be transgender."
Revealing that he came out to his mom about being trans on his twelfth birthday, Mota spoke of being "scared" of what her reaction would be. "I didn't know how she would react," he said, "But she told me she loved me. That I was her child and that she would support me so I could be the person I was meant to be."
After exposing the ongoing slew of "headline after headline about bill after bill" that seeks to prevent transgender individuals from "joining a sports team, receiving healthcare, or even just using the bathroom," Mota described the Equality Act as "so important".
He then introduced President Biden to the podium, who joked about Mota "seeming awfully comfortable" speaking from his podium.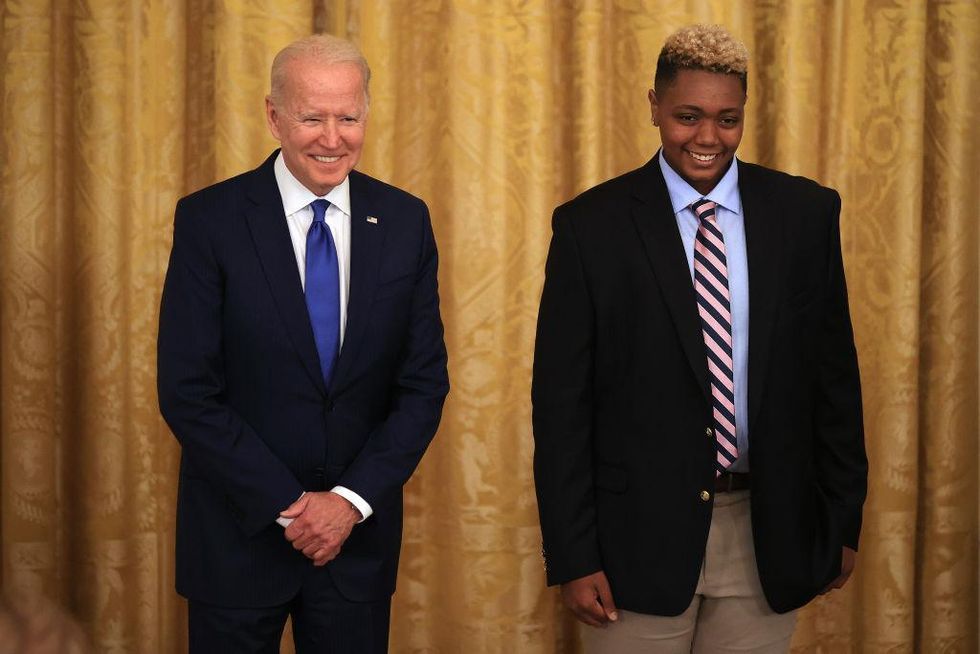 Biden went on to describe Mota's story, leadership, and mom as an "inspiration", before proudly declaring: "Pride is back at the White House."

He then described transgender people as some of the "bravest people in the world."
"It takes courage to be true to your authentic self and to face discrimination… It takes a toll."
Transportation Secretary Pete Buttigieg, who is openly gay, also spoke at the event and explained how his presence in the White House "proves how much change is possible in America".
"So many lives have been changed, saved by the sustained advocacy, the moral resolve, the political courage of countless LGBTQ-plus leaders and allies, some elected, some invisible, some long gone, some in this room right now," Buttigieg added.
Biden named Jessica Stern as the US Special Envoy to Advance the Human Rights of LGBTQI+ Persons – a position that had existed under President Obama, but not Donald Trump.
According to the White House, part of Stern's responsibilities will see her "leading implementation of the Presidential Memorandum on Advancing the Human Rights of LGBTQI+ Persons Around the World" and "bring together like-minded governments, civil society organizations, corporations, and international organizations to uphold dignity and equality for all."
What do you think of Joe Biden's heartwarming support given to the transgender community?