During what was a banner election day for Democrats around the United States, Danica Roem made history as the first openly transgender person elected and seated in a state legislature. Though Roem's campaign wasn't focused on gender identity or LGBTQ+ issues, her victory was only made sweeter by the fact that she defeated incumbent Republican and self-proclaimed "chief homophobe" Bob Marshall in the Virginia election. Marshall was far and away the most socially conservative legislator in Virginia; earlier this year, he proposed a "bathroom bill" that would have required people to use the restroom that matches the gender written on their birth certificates. When asked about her opponent after she'd ousted him, Roem's response was far classier than a bigot like Marshall deserved.
Danica Roem's campaign was focused on traffic issues, jobs, and schools in her northern Virginia county, but the election became about so much more.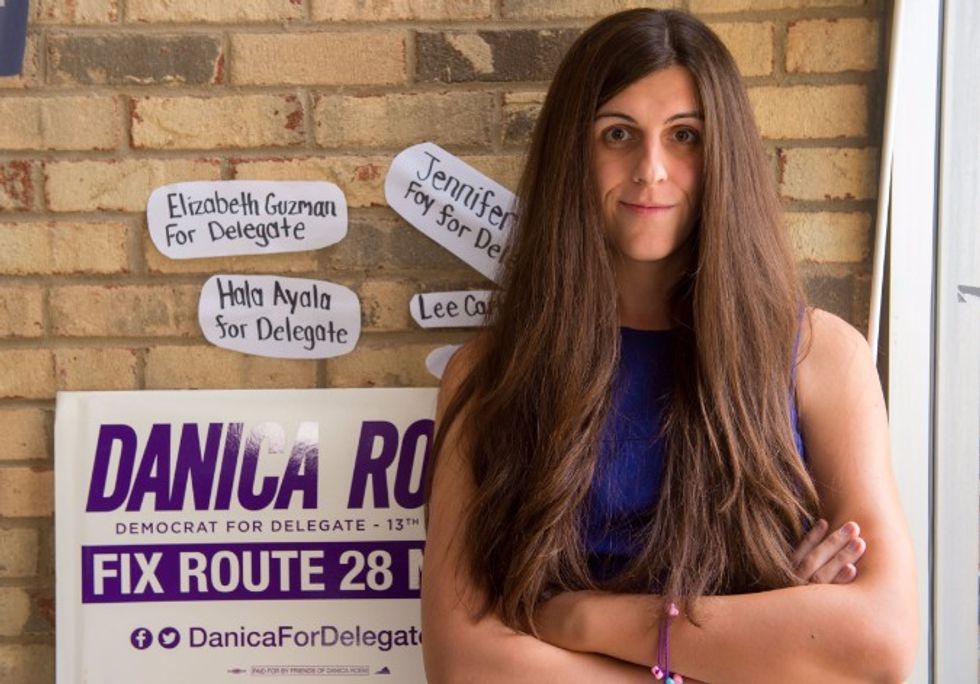 via: Getty Images
Her victory against incumbent Bob Marshall, who literally referred to himself proudly as Virginia's "
chief homophobe
," is indicative of a changing tide in American politics.
Not only did Roem make history with her victory, but she did it while ousting the guy who refused to debate her, referred to her with male pronouns, and introduced legislation that would discriminate against her. That's huge.
The man who wrote the anti-trans bathroom bill just lost the election to a trans woman. Let that sink in. https://t.co/KFEZXSYvMy

— Laura Bassett (@Laura Bassett)1510103228.0
As it became clear that Roem had won,
she said
, "Discrimination is a disqualifier. This is about the people of the 13th District disregarding fear tactics, disregarding phobias...where we celebrate you because of who you are, not despite it."
When Roem was asked to give a comment about her opponent, who disrespected her from day one, this is what she had to say:
"I don't attack my constituents. Bob is my constituent now," Roem said. Nicholas Trevino believed this was a graceful and classy response — which it absolutely was — but it was also something else.
It was a totally sick burn!
That's the most noble interpretation, sure. But I'd say calling someone you just beat in an election "my constituen… https://t.co/2bN2APXm5A

— Paul F. Tompkins (@Paul F. Tompkins)1510123061.0
As comedian Paul F. Tompkins pointed out, Roem's response is the most elegant, polite way she could have said, "I DESTROYED BOB MARSHALL." Roem, even in her first moments of victory, proved herself to be a truly professional politician. But don't worry. We see you, girl.