Taylor Swift has spent plenty of quality time with boyfriend Travis Kelce's parents.
She's been photographed at various Kansas City Chiefs games cheering on the NFL pro with his mom Donna and dad Ed.
Now, Travis has finally met Taylor's dad…but their interaction did not go as planned.
Though Travis Kelce had initially promised on his podcast New Heights that he wouldn't discuss his personal life, he shared some details about his trip to Argentina to see Taylor perform.
He confirmed that he was there for two nights, arriving Friday and leaving Sunday. He had a blast seeing his girlfriend take the stage on the Eras tour.
"I was blown away…it was an electric crowd, too," Travis shared. "And for everybody who went to one of those shows, Taylor was on record saying that it was one of her favorite places to play so hats off to you guys for showing the love."
He also opened up about his reaction to Taylor changing the lyrics to "Karma," making a nod to their romance.
At her Nov. 11 concert in Argentina, Taylor sang, "Karma is that guy on the Chiefs coming straight home to me. It referenced the NFL team he plays on, The Kansas City Chiefs.
In a viral clip from the moment Kelce heard the lyrics, the football player was seen putting his hands over his face in absolute shock, missing that Taylor's dad Scott had his hand up for a high five.
On the podcast, Travis' brother Jason pointed out the high five flub: "You left Scott hanging. Scott's over here looking for a high five."
"Yeah, Mr. Swift, I apologize, big guy. Man, I missed that," said Travis.
He added, "I never miss a high five, too. Big high five guy."
However, it appeared that the rest of Travis' time with Taylor's dad went smoothly.
Jason pointed out that Scott, who is a Philadelphia Eagles fan, was wearing a Chiefs lanyard.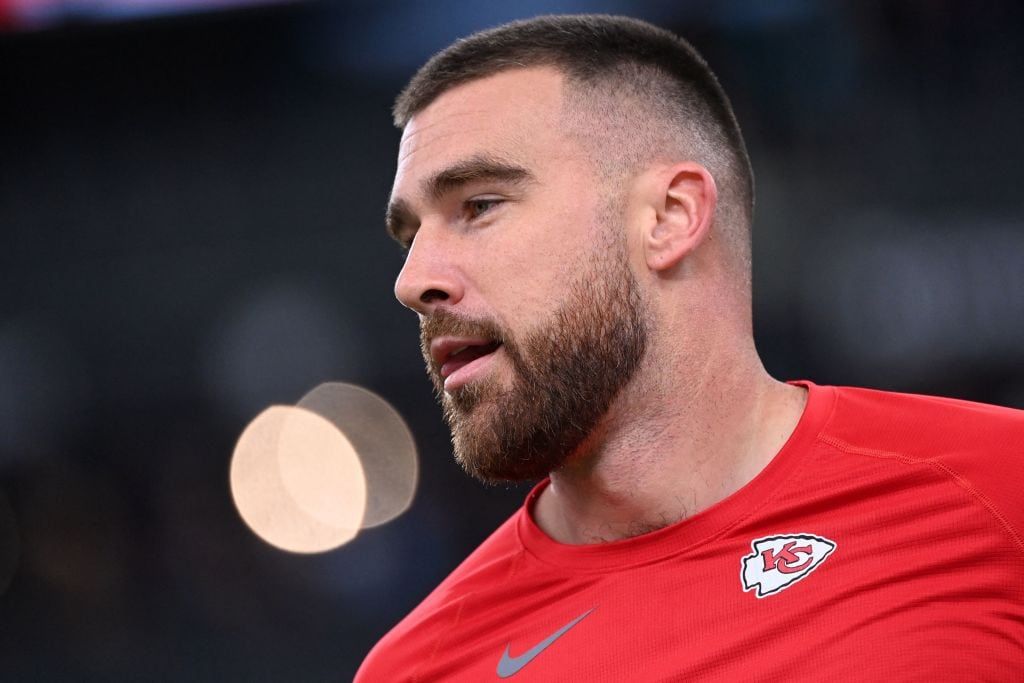 "Got him over here to the good side, baby," joked Travis.
Jason, who is a center on the Eagles, jokingly disapproved of Scott's choice.
"You're going to let this man's devilishly good looks and relationship with your daughter sway you from a lifetime of fandom, Scott?," Jason questioned.
Travis said he "might have persuaded him at dinner the night before, when I met him."
The Chiefs tight end said he and Taylor's dad, who used to play football, bonded over the sport.