Leave it to Donald Trump to admit to breaking the law in a tweet.
He's done almost everything else in tweets; he's spread unfounded conspiracy theories, spouted straight out lies, and invented words (covfefe!). It was only a matter of time before the president's habit of tweeting furiously at 3 in the morning caught up with him. And it might have caught up with him in a pretty epic fashion when he tweeted about Mike Flynn on the morning of Saturday, December 2.
When Donald Trump isn't shouting into several microphones, he's usually busy tweeting up a storm.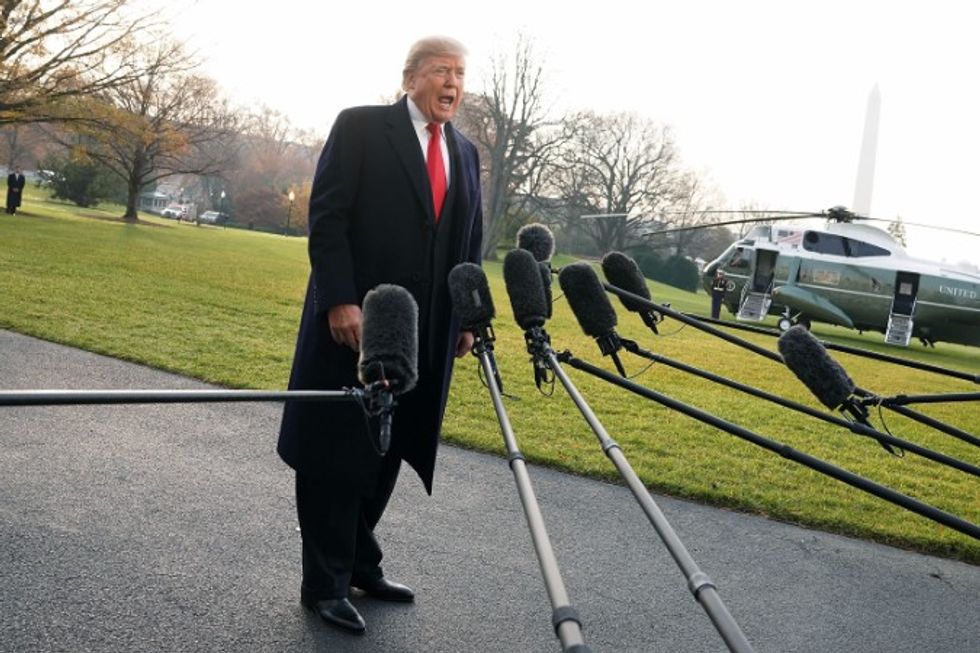 via: Getty Images
And wouldn't you know it? That's exactly what he was doing this weekend following a huge shakeup in Robert Mueller's Russia investigation.
On Friday, former National Security Advisor Michael Flynn pleaded guilty in federal court to making false statements to the FBI during the Mueller investigation.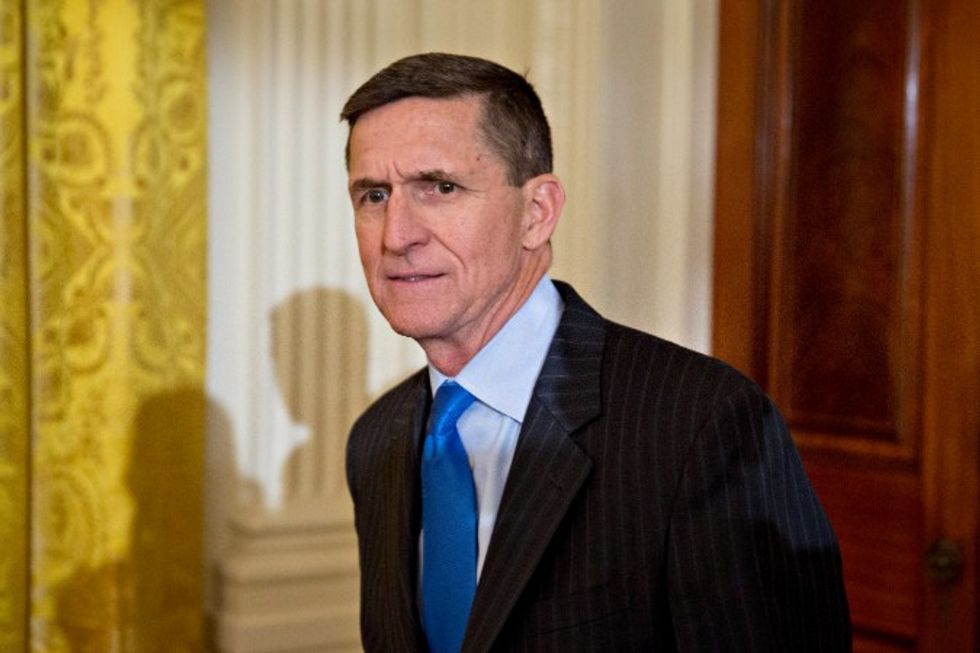 via: Getty Images
That's right —
he admitted to lying about his communications with Russia
. That's big news. According to a court document, Flynn contacted the Russians because he was urged to do so by two of Donald Trump's top transition officials.
One of those officials? Donald Trump's own son-in-law (and his senior advisor), Jared Kushner.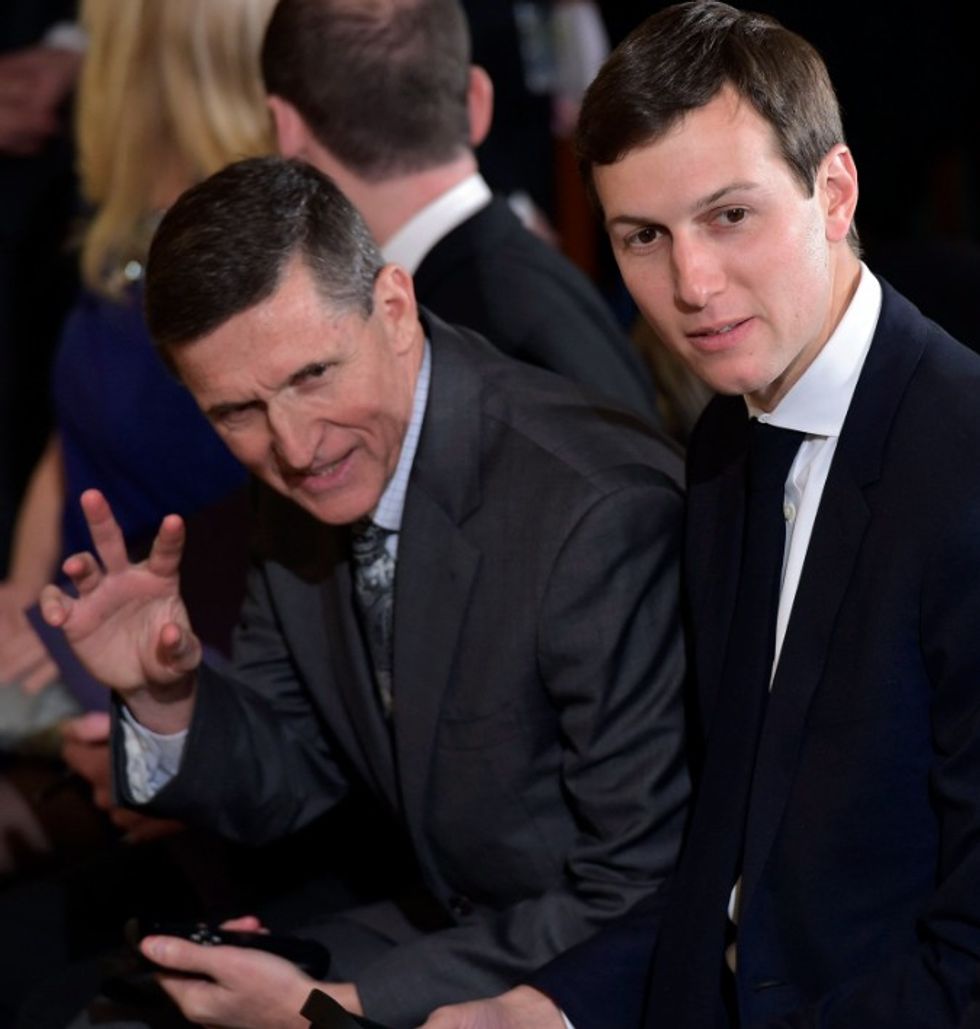 via: Getty Images
According to NBC News, Michael Flynn is the first senior White House official to be charged in the investigation into Russia's interference in the 2016 election. He's also the first to officially agree to cooperate.
Flynn, who of course was fired by Trump a couple weeks into his job, has agreed to cooperate with the authorities in the investigation.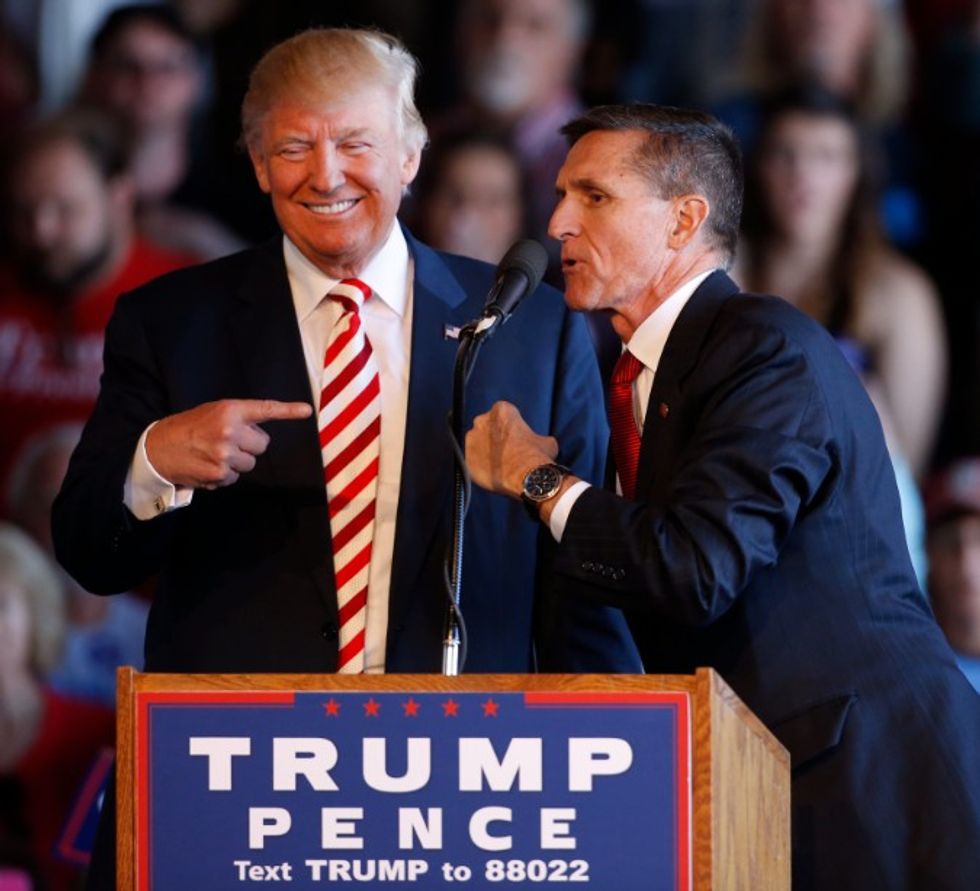 via: Getty Images
This could mean very bad things for Donald Trump and company, depending on how much Flynn was aware of. According to NBC News, "a source close to President Donald Trump said the developments regarding Flynn are 'very, very, very bad.'"
So naturally, in order to create a distraction, Donald Trump went to his old stand by: He blamed Hillary Clinton.
First,
the White House tried to distance itself from Flynn
, saying that he was a holdover from the Obama administration. But of course, Flynn was fired from Obama's administration, and Obama officials reportedly warned Trump not to hire Flynn. Then he tried to shift the story to talk about Hillary Clinton, which just doesn't work anymore. The woman isn't president. But Trump just couldn't help himself, and he sent out a truly damning tweet that may prove to be a giant mistake...
"I had to fire General Flynn because he lied to the Vice President and the FBI," Donald Trump tweeted Saturday morning.
Hold up. Let's take that again. Trump just said he fired Flynn because he lied to the FBI. That would mean that he knew that Flynn lied to the FBI when he fired him.
What does that translate to?
THIS IS OBSTRUCTION OF JUSTICE. @POTUS now admits he KNEW Michael Flynn lied to the FBI. Yet Trump tried to influen… https://t.co/Dj9YKriMvY

— Ted Lieu (@Ted Lieu)1512236258.0
Ah yes, obstruction of justice, a.k.a. something that's definitely super against the law. If Trump fired Flynn because he knew he lied to the FBI, that's a clear acknowledgment that Trump was aware of the lies and an attempt to remove Flynn from association with the White House.
Trump went back to Twitter (because he clearly hadn't learned his lesson) to claim that he never asked Comey to stop investigating Flynn when Comey was at the FBI.
But, if you'll recall,
in his Senate testimony
, Comey described how Trump said, "I hope you can see your way clear to letting this go, to letting [the Flynn investigation] go. He is a good guy. I hope you can let this go." Comey told Senator James Risch, "I took it as direction."
The next attempt at burying this bombshell tweet came in the form of Trump's lawyer taking the fall.
Trump has tweeted 36,500 times. To the best of my knowledge, yesterday's tweet -- the one adding evidence to his p… https://t.co/eAraiCBqGP

— Michael McFaul (@Michael McFaul)1512328936.0
The White House claimed that Trump's lawyer had drafted the tweet, but there are a few things wrong with this defense. First, Trump has pretty much tweeted all his own tweets, as far as we know. Second, even if the lawyer drafted the tweet, it was still presented as Trump's own words, and it still admitted that Trump knew Flynn lied to the FBI when he fired him. So either they're lying about the lawyer drafting the tweet, or Trump's lawyer is very bad at his job.
Comedian Kumail Nanjiani put this whole debacle into perspective for us:
It's hilarious! Or it will be hilarious...someday. When Donald Trump is in prison.