As the news of President Trump and First Lady, Melania, testing positive for the virus circulated this morning, a speech made by Trump just hours before has gone viral.
The irony is painful...
In what could be one of the most important months of the President's career...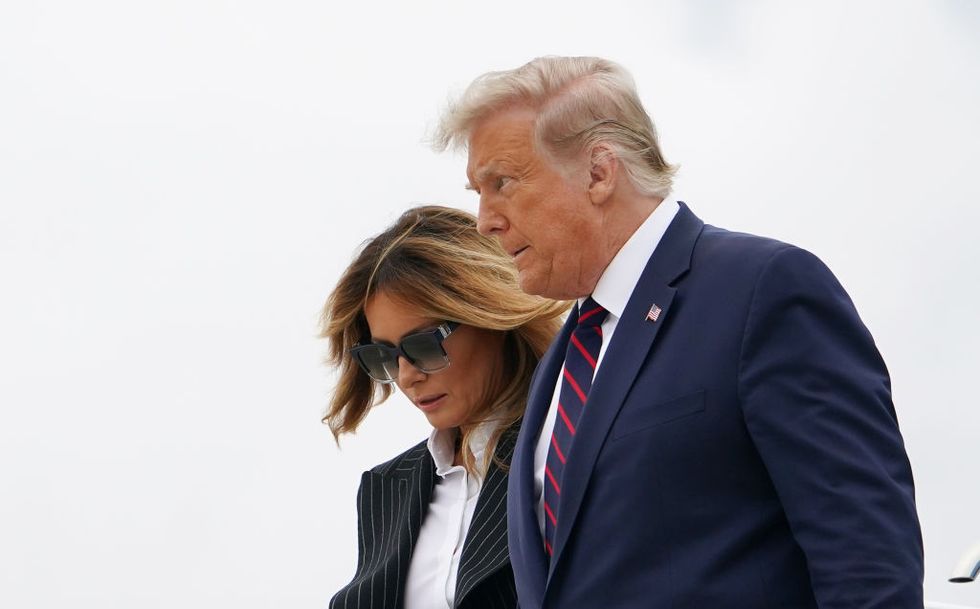 Both he and his wife have tested positive for coronavirus.
The worst part is...
Contradicting public health professionals, @realDonaldTrump has just told the Al Smith Dinner in recorded remarks t… https://t.co/WF7mVaLNpo

— Jeff Mason (@Jeff Mason)1601595233.0
Just hours before he and Melania tested positive for the virus, Trump gave a pretty optimistic speech about the pandemic. Keep scrolling to watch the video for yourself...
It was only a few days ago that Trump took part in the first presidential debate.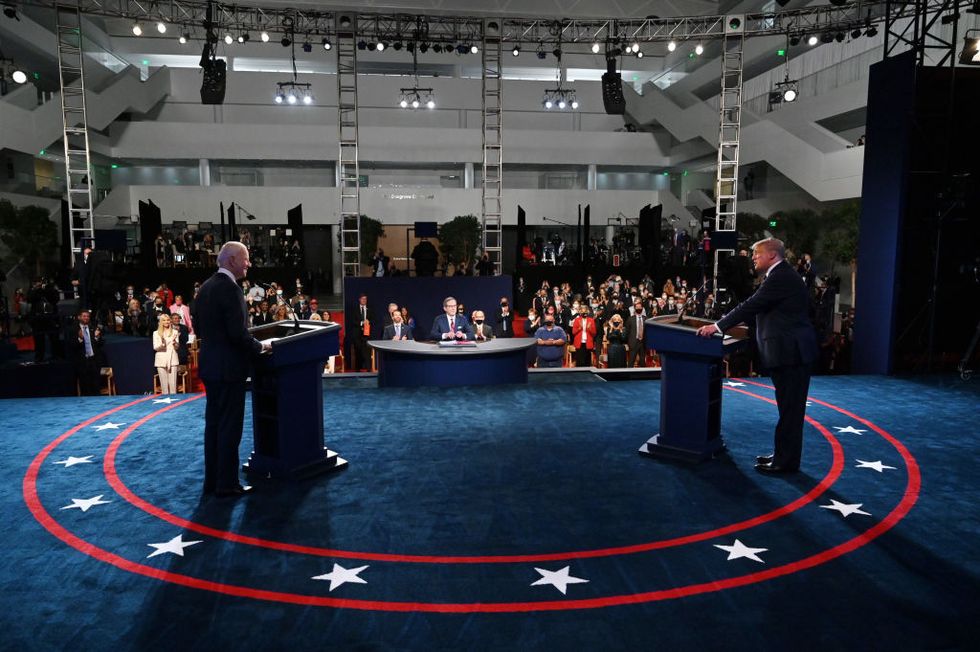 Trump V Biden was never going to be a civilized affair, but the scenes that unfolded last night were nothing short of
brutal.
Tensions between the candidates have been bubbling for some time now...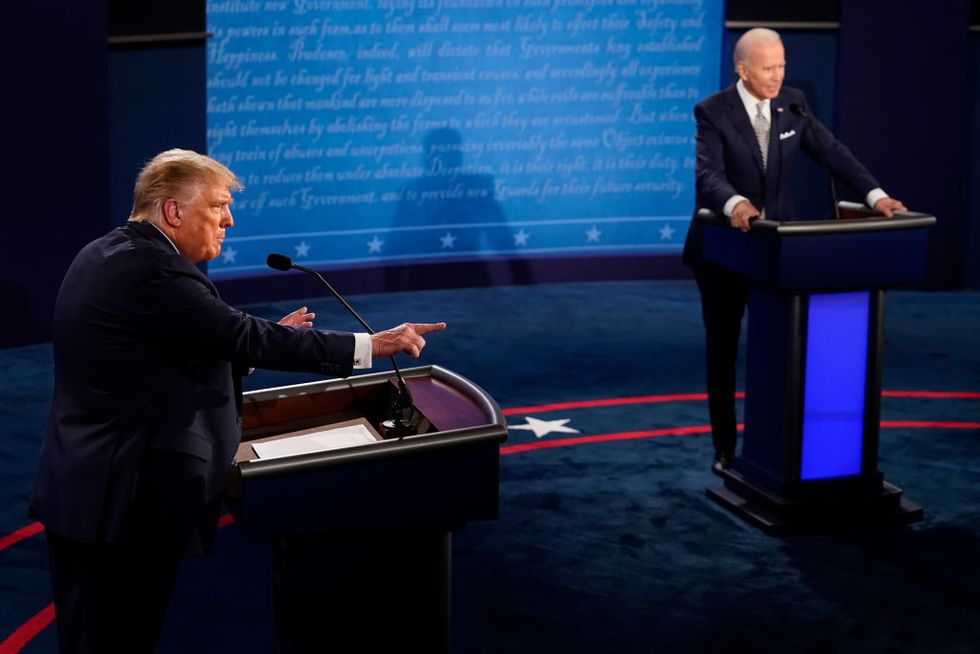 And, last night, it seemed that their mutual feelings of resentment finally reached a boiling point.
And, in a moment many weren't expecting...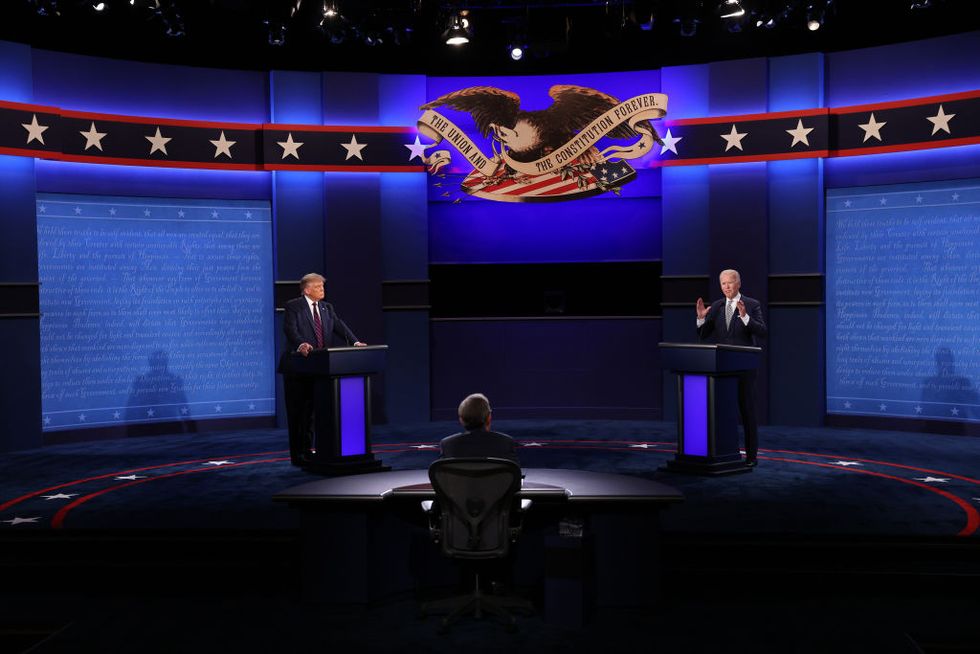 Biden suddenly lashed out at President Trump when he continued to speak over him.
While many have criticized Biden for his unprofessionalism...
@MSNBC Finally someone said to Trump what I've wanted to say to him for the last four years!

— Doremus Jessup (@Doremus Jessup)1601429358.0
Others have applauded the candidate, noting that he "said to Trump what they've been wanting to say for the last 4 years."
Now, there were many eye-opening moments from the ninety-minute debate.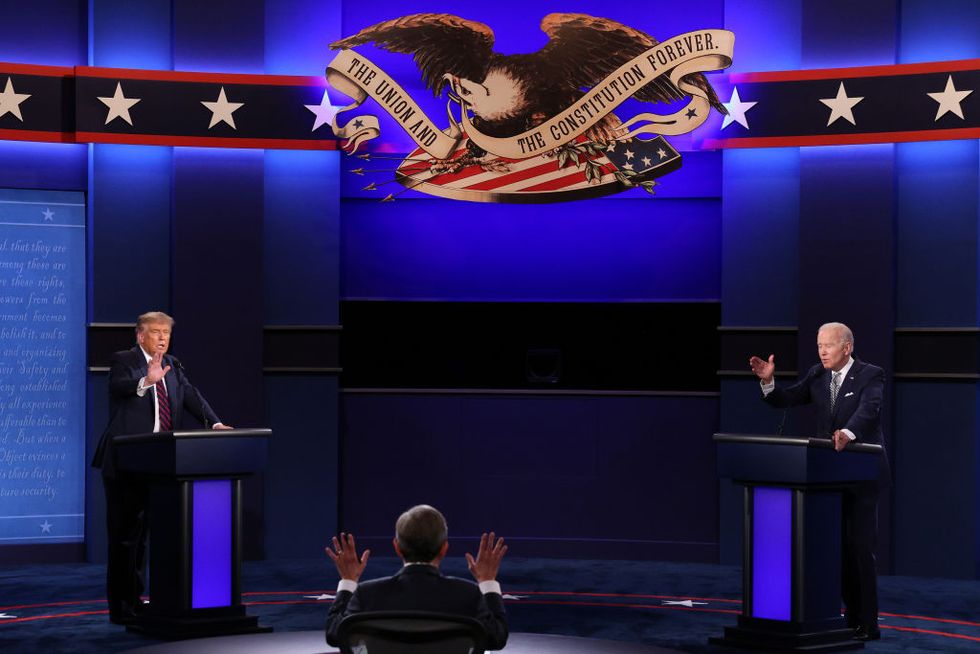 For example...
The President was grilled on the newly surfaced allegations regarding his income tax.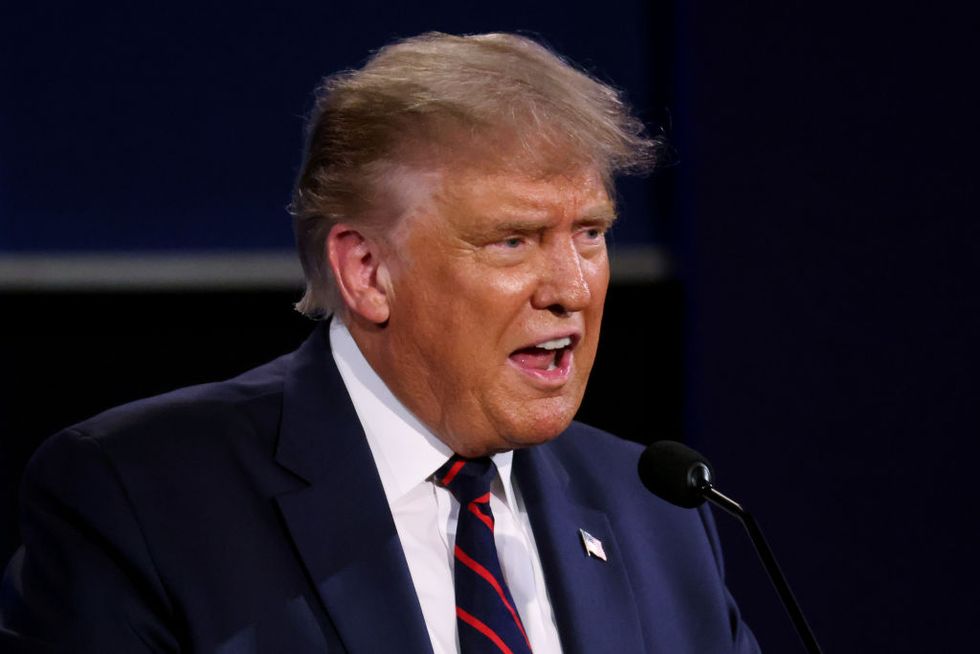 Asked if it was true that he paid just $750 in income tax in 2016, as reported by The New York Times last week, Trump said, without hesitation: "I paid millions of dollars in taxes, of income tax." Biden used this opportunity to ask for evidence of these tax payments, adding that Trump "takes advantage of the tax code."
Trump was also asked to condemn white supremacist groups...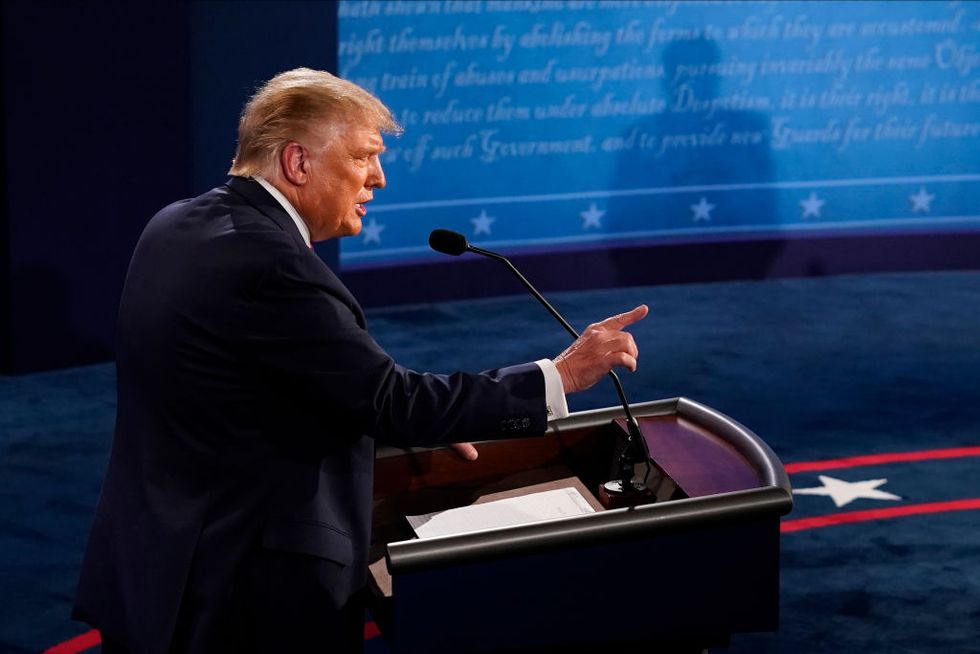 But instead chose to focus on the left. He said: "Sure I'm willing to do that, but almost everything I see is from the left-wing. I'm willing to do anything. I want to see peace." And, when asked to give this group of people a name, he responded with "Proud Boys." Proud Boys, a neo-Nazi organization, appeared to use Trump's "stand back, stand by" call in a new logo posted on Telegram shortly after the debate.
The President did provide some good news with regards to a coronavirus vaccine, however.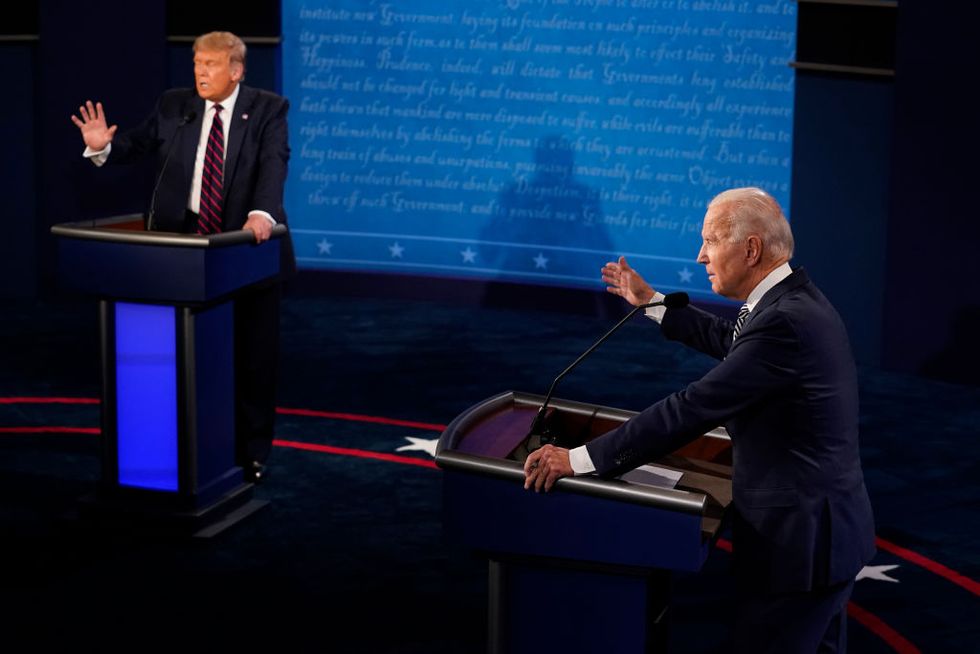 When Biden pointed out that 200,000 Americans have died during the pandemic as a result of the President's "lack of plan", Trump retaliated by insisting that "millions would have died if Biden was in charge." He then added that the US is "weeks away" from a vaccine, and his administration had done a "great job."
Biden's son, Hunter, was then dragged back into the firing line.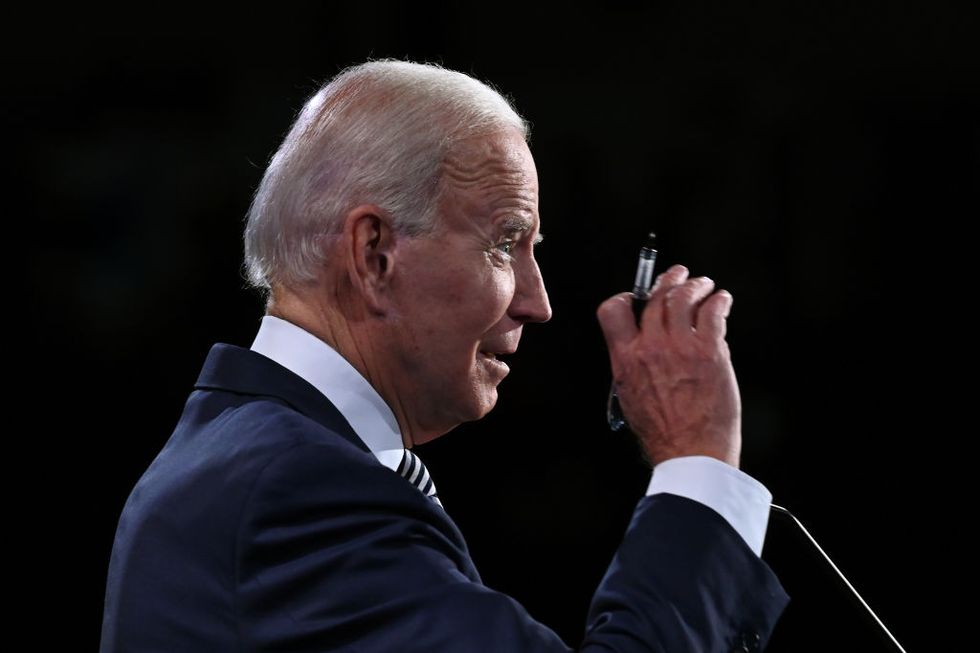 The President brought up Biden's son, claiming the mayor of Moscow's wife gave him millions of dollars and raising questions over his links with Ukraine. He also mentioned Hunter's drug problems.
Clearly, his words about Hunter hit a nerve with Biden.
Beau Biden was not a loser. https://t.co/hwzlZrjh75

— Joe Biden (@Joe Biden)1601432460.0
"His family we can talk about all night," Biden clapped back, adding that "it's hard to get any word in with this clown - excuse me, this person". The pair also clashed over Biden's now-deceased son, Beau, and his military service.
The insults continued to flow.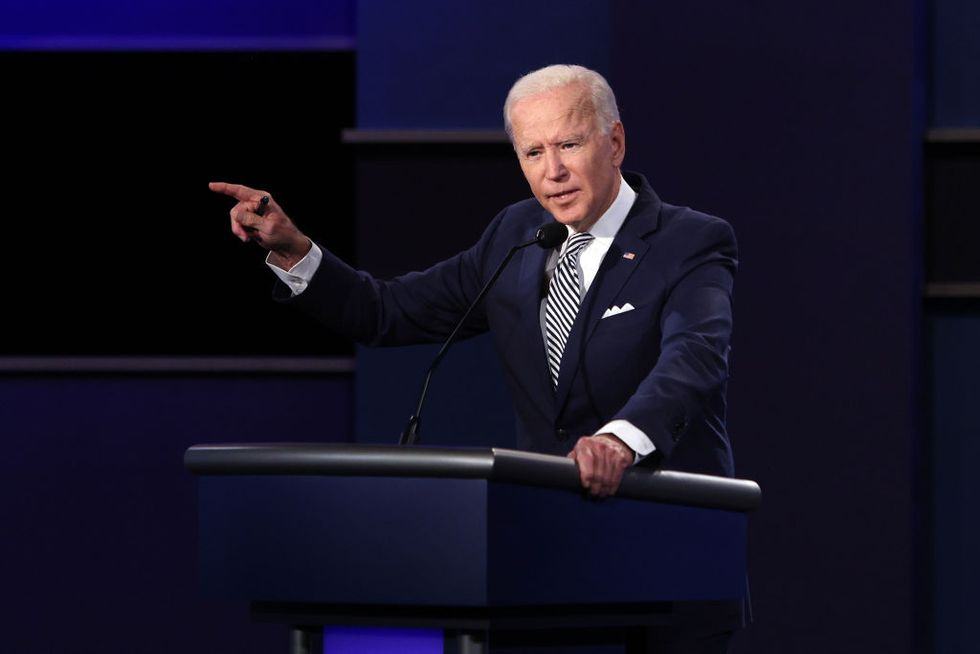 "Everything he's saying here is simply a lie, everybody knows he's a liar," Biden said during an exchange about healthcare. He also called Trump "the worst president this country has ever had."
And, of course, President Trump didn't take them quietly.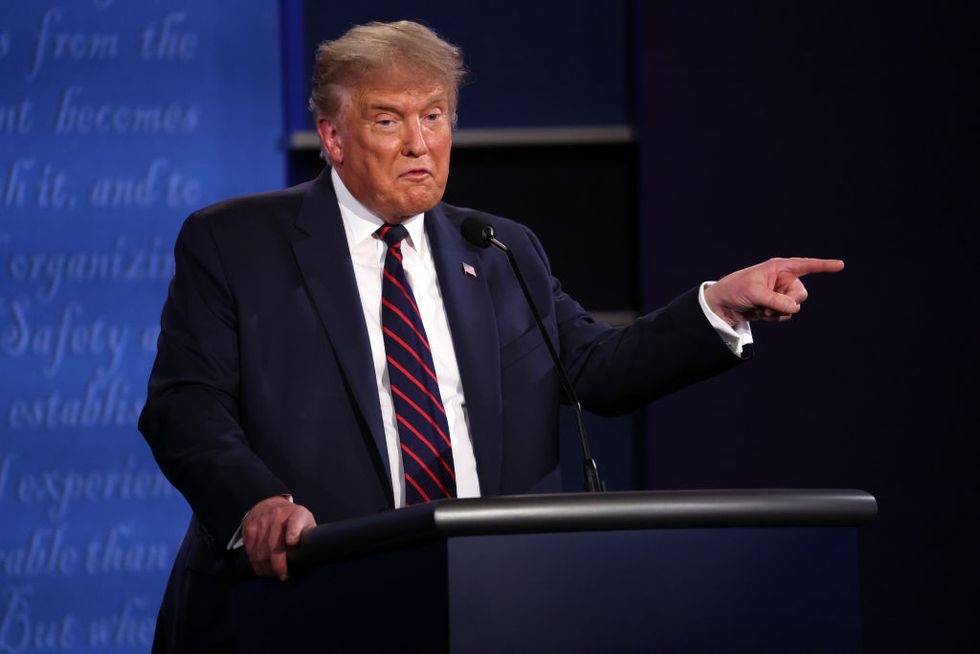 Not to be outdone, Trump got in plenty of digs as well, firing at his opponent: "There's nothing smart about you Joe. Forty-seven years, you've done nothing."
But, out of their many valiant attempts to slander one another...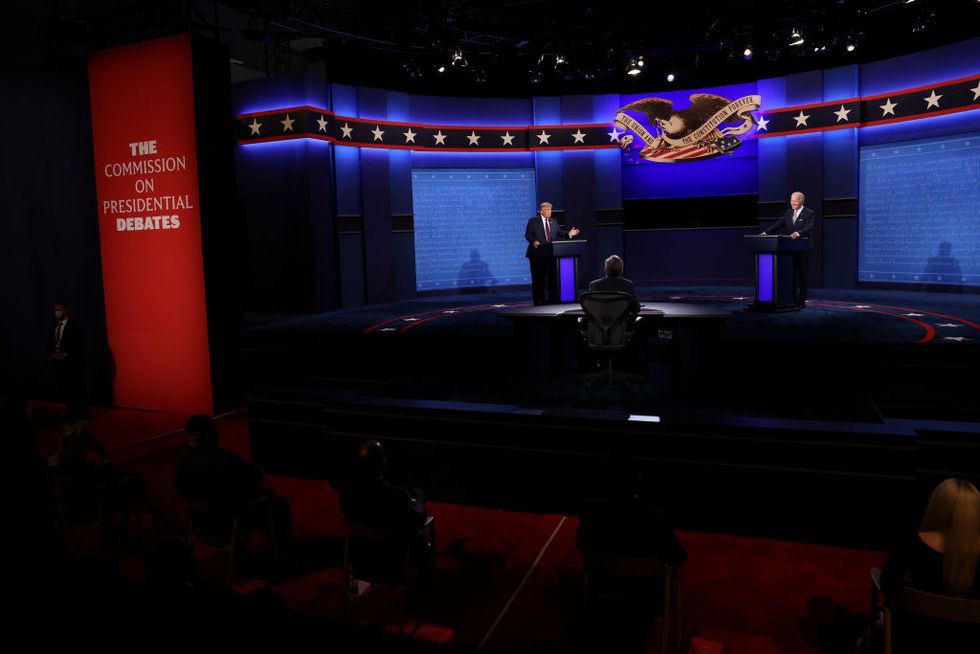 There was one moment that stood out amongst the rest.
Now, not everyone was too impressed...
@chrislhayes @NicolleDWallace Yes that made me cringe! So unprofessional...where was the question that @JoeBiden was going to like?

— Aleta Devaney (@Aleta Devaney)1601435113.0
With many finding the moment to be "unprofessional" on Biden's part.
However, on the other hand...
@kurtbardella @JoeBiden @realDonaldTrump I apologize. I don't know the question. Just hearing Joe say those words made my fukin night.

— CEH (@CEH)1601442062.0
People have found a whole new level of respect for Biden, and have even called his words the "highlight" of the evening.
Because, as you may have already heard...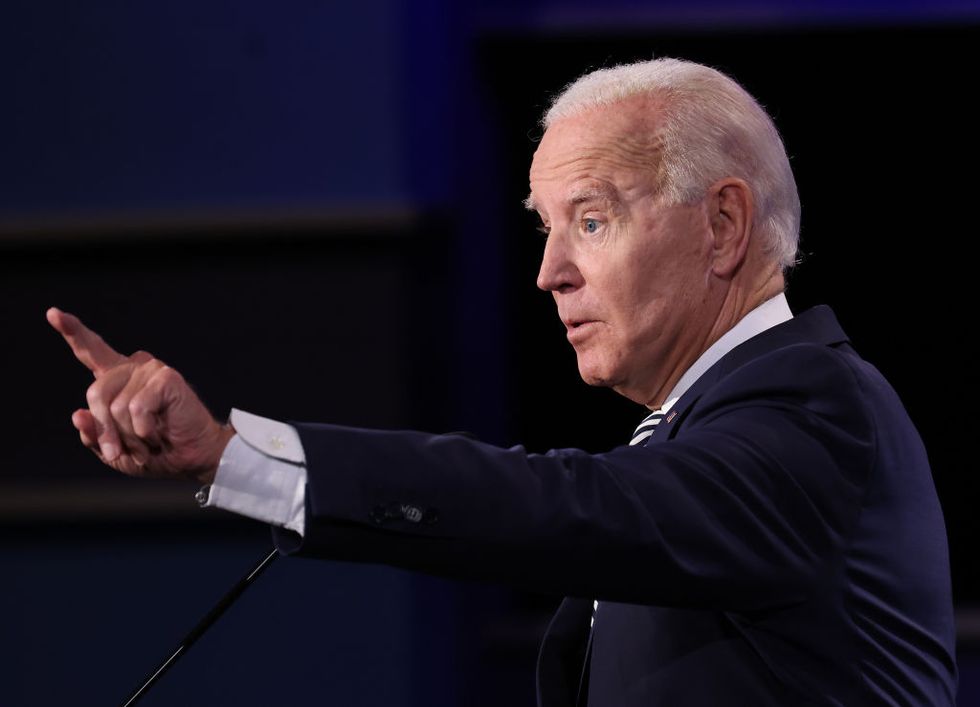 Biden actually told the president to "shut up."
Yep, it's something many dream of doing one day.
Will you shut up, man? - Joe Biden, speaking for nearly the entire world

— ▹ 𝚁𝚘𝚡𝚢 (@▹ 𝚁𝚘𝚡𝚢)1601451569.0
The moment came during the first segment of the debate on the topic of the Supreme Court.
The pair continued to talk over each other as Wallace tried - unsuccessfully - to keep them in line.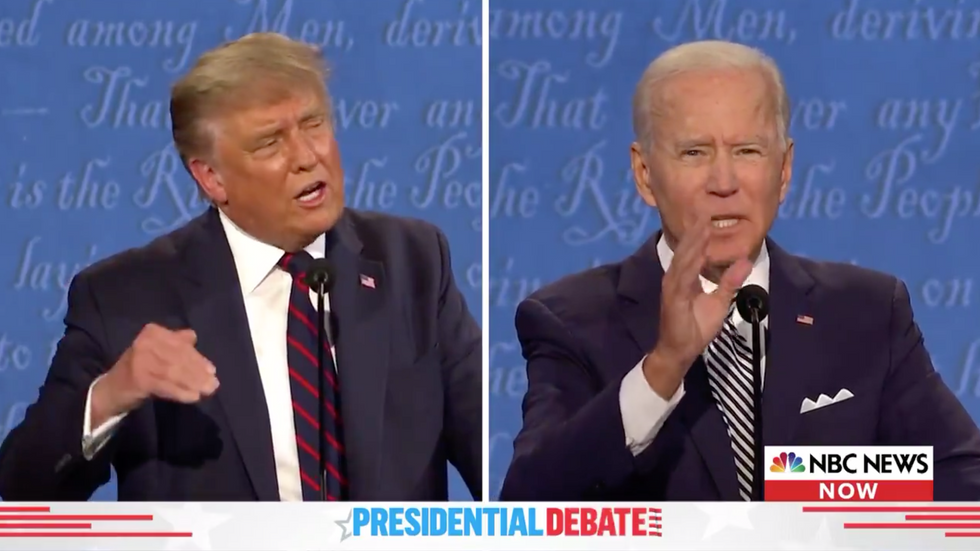 Wallace asked Biden if he was willing to tell the American people whether he supported either ending the Senate filibuster or adding more justices to the bench. Biden responded by saying he would not take a position on the issue and instead urged people to go out and vote.
But, as Biden was talking...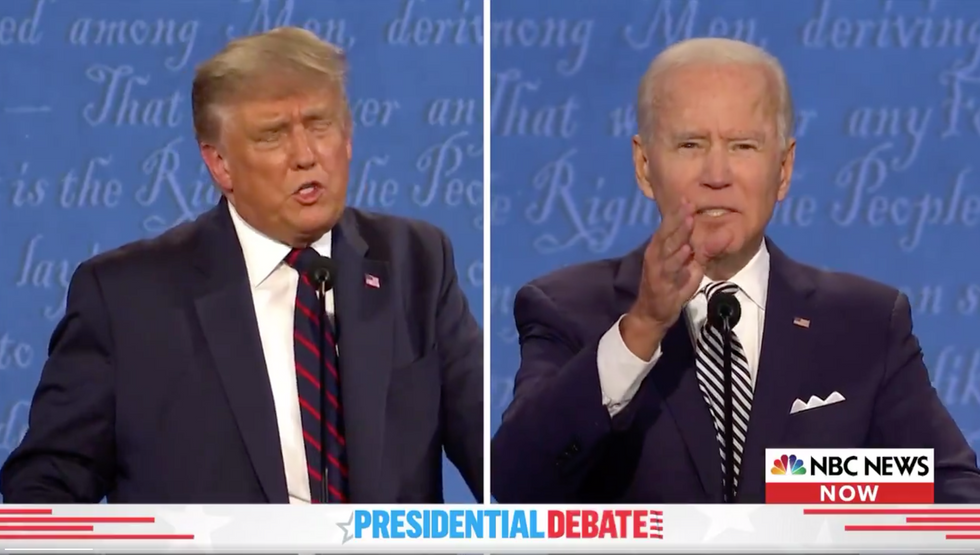 Trump repeatedly asked him, "Are you going to pack the court?" "He doesn't want to answer the question," Trump said. "I'm not going to answer the question," Biden responded. "Why won't he answer the question?" Trump said as he continued to talk over his opponent.
Biden, unable to complete his answer, then shut his eyes and said exasperatedly, "Would you shut up, man?"
"Would you shut up, man?" Joe Biden laments to President Trump, as the president interrupts him. "This is so unpres… https://t.co/wISJlfn5Xh

— MSNBC (@MSNBC)1601429111.0
He then followed up with, "This is so unpresidential," after which Wallace ended the segment. You can watch the shocking moment above.
But now, news of Trump's infection could put his future leadership in jeopardy.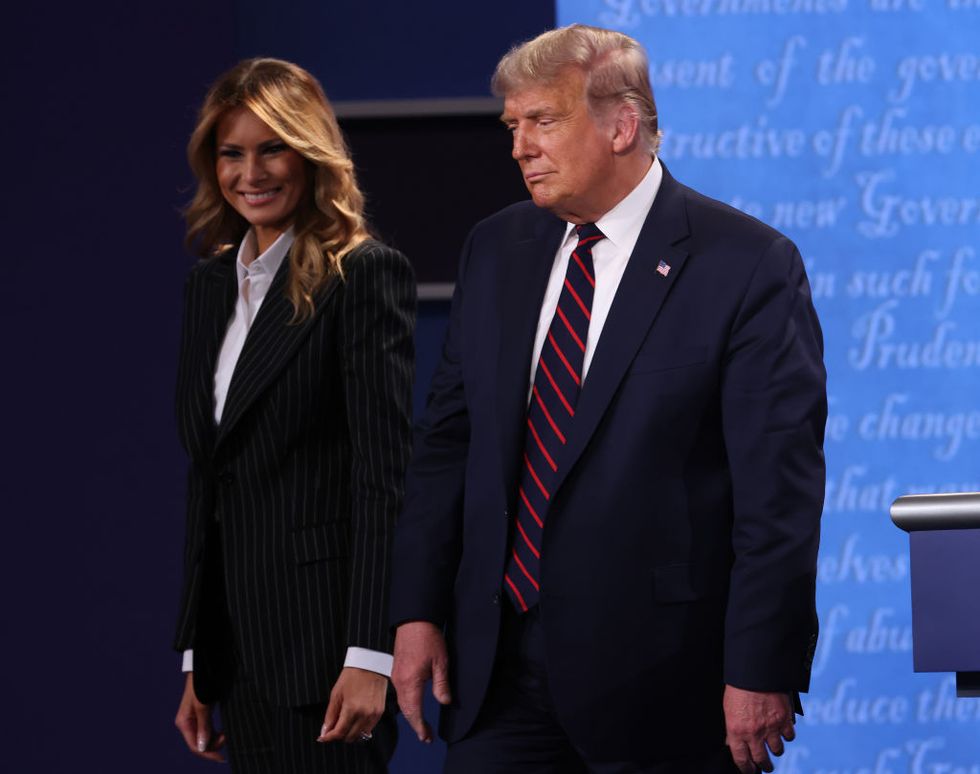 The virus has already killed 208,000 Americans and devastated the economy.
Since April, Trump has bragged about reducing the fatality rate by eighty-five percent...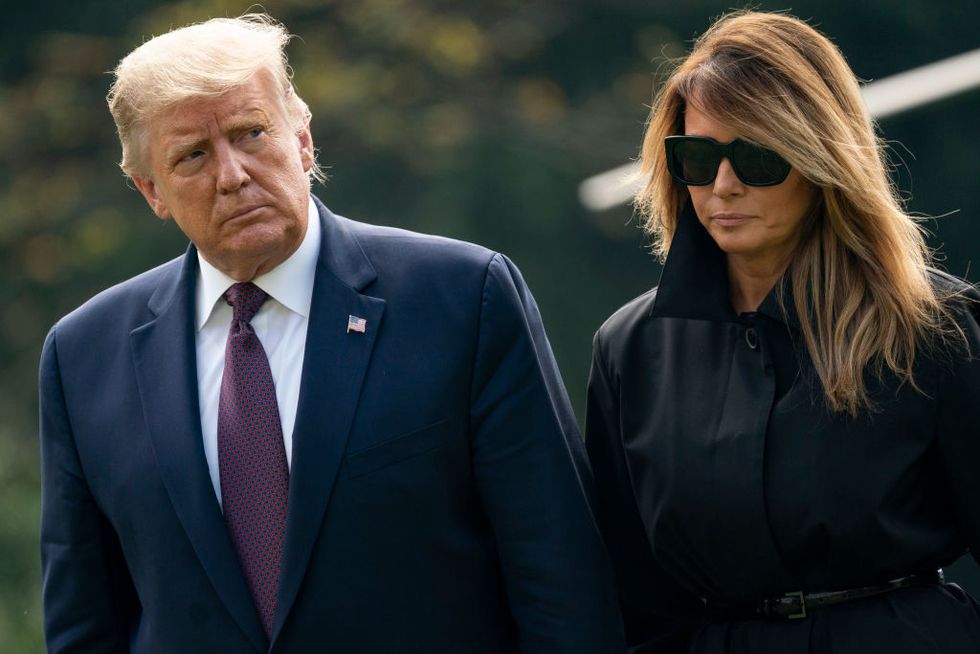 He went on to suggest a vaccine will be made by the end of the year, adding: "I just want to say that the end of the pandemic is in sight."
Just hours later, the President and the First Lady had tested positive for COVID-19. Some even came up with their own conspiracy theories on the breaking news...
@JuddPDeere45 @TrumpWarRoom @realDonaldTrump I would not be Surprised if Mr. Biden somehow gave Mr and Mrs. Trump t… https://t.co/0OeRiVDBC1

— mark jeron (@mark jeron)1601618745.0
Trump was tested after it was revealed that White House adviser, Hope Hicks tested positive for the virus, after coming in contact with the President when they were both in Minnesota.
He tweeted:
It's thought that the diagnosis could cause chaos in the White House, with Trump unable to continue on the campaign trail just a month until November's presidential poll.
A statement was released by the White House, physician Sean P. Conley, saying...
Memorandum from President @realDonaldTrump's Physician https://t.co/ujHUufQBln

— Judd Deere (@Judd Deere)1601615209.0
"The White House medical team and I will maintain a vigilant watch, and I appreciate the support provided by some of our country's greatest medical professionals and institutions. Rest assured I expect the President to continue carrying out his duties without disruption while recovering, and I will keep you updated on any further developments."
It's still not known if Trump or Melania have been experiencing any symptoms.
@JuddPDeere45 @PressSec @realDonaldTrump ✅ Bleach ✅ Disinfectant ✅ Heat ✅ After a while You got this Doc 😉👍🏼

— D ▵ ▿ I D (@D ▵ ▿ I D)1601615604.0
However, it has been pointed out that Trump will "have to withdraw from the campaign trail and stay isolated in the White House for an unknown period of time."
And if he does develop symptoms, "it could raise questions as to whether he should remain on the ballot at all."
@JuddPDeere45 @realDonaldTrump He can't do his duties while having Covid!!

— Sherri Jankowski (@Sherri Jankowski)1601615557.0
Trump is within the "high risk" category due to his age. Only time will tell as to whether they develop symptoms.
Here's the video that's got everyone talking.
We hope they both recover soon! Keep scrolling for more Trump news...