Whoever gave Donald Trump 280 characters...not to mention the presidency...needs to go away. For a long time. As the rest of America awakens from a turkey-induced coma, Trump has been nonstop rambling on Twitter, and it's not pretty. He's claimed that he was supposed to be TIME magazine's Person of the Year. He's all but endorsed child molester Roy Moore for the Alabama Senate seat, and he's repeatedly insulted CNN.
This morning, he took his beef with the news to a whole new level.
Somebody get Donald Trump away from that computer.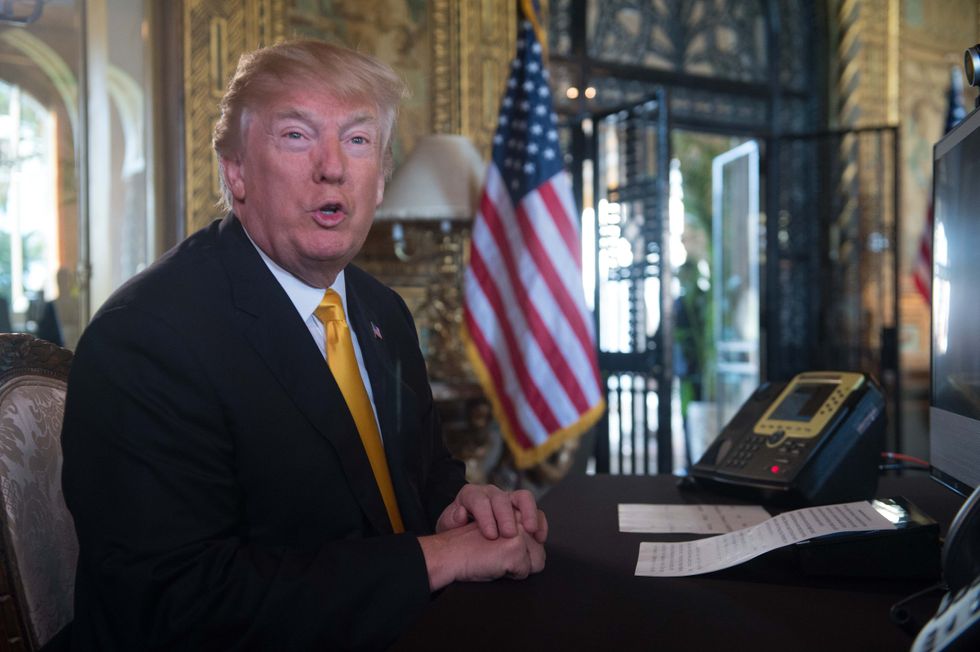 via: Getty Images
The president has been on a Twitter rampage for the past week or so. Not that he's ever 
not
on a Twitter rampage, but somehow this seems worse than usual.
If you'll recall, Trump sent out this gem on November 24:
According to him, TIME magazine called the White House to tell Trump that he was probably going to be named their Man of the Year if he agreed to an interview and a photo shoot, but the only reason he won't get the honor is that he passed.
TIME responded
, saying, "The President is incorrect about how we choose Person of the Year." In other words, "Ahem, Donald is lying."
While all of Twitter and America were still reeling from the ridiculousness, Trump kept tweeting, using a tactic we like to call "Distract by Numbers." If he's constantly firing off tweets, we can't have appropriately shocked reactions to every single one!
In this tweet, he rails against the Democratic nominee for the Alabama Senate seat, essentially telling the American people to vote for
Roy Moore, who is definitely a pedophile
. Cool cool.
But he wasn't done yet! He is never ever done.
If Donald Trump has a moment to breathe, he fills that empty air with vitriol about the election — which happened over a year ago and which he won. We can always count on Donald Trump to brag about how he cheated his way to the top.
Trump has been making googly eyes at Fox News ever since they abandoned ethics and essentially became state-run TV.
But when Trump sends praise to Fox News, you can bet that harsh words about CNN aren't far behind. He's like that guy in middle school you rejected when he asked you out so he decided to be super mean to you instead. It's sad, really. Trump's so obsessed with CNN, in fact, that he took to Twitter again Monday morning and sent a beyond bizarre challenge to the network...
Trump actually challenged CNN and other networks (not including Fox) to a contest to see which one is the most dishonest.
It's The Hunger Games only way more boring. While one of the networks would be given the "FAKE NEWS TROPHY," Trump made sure to reiterate that "They are all bad." These are the strange fantasies the President of the United States is thinking about.
The craziest part of the tweet is the bizarre condition that Fox News would be exempt from this contest.
Why?! Why does Fox News get a pass in this insane imaginary contest between news networks?! Is it because it wouldn't be fair if they competed? Because they are the kings, queens, and all other top-ranking positions of fake news?
Actually, probably.
@realDonaldTrump Already done in 2014 (I would hazard a guess it's worse now). Fox News is the winner of most lies: https://t.co/GCl1lSoIpG

— Michelle Zink (@Michelle Zink)1511793859.0
Author Michelle Zink pointed out that
Politifact
did 
a sort of contest like this back in 2014 and Fox News disseminated the most false information 
by far
.
CNN contributor Ana Navarro had an idea for another type of contest...
We should have a contest as to which of the US Presidents, plus his children, in-laws and staff, is the most dishon… https://t.co/dXRjTlriUj

— Ana Navarro-Cárdenas (@Ana Navarro-Cárdenas)1511792067.0
Somehow, though, I don't think this would be much of a contest. In fact, if you ask us, it seems like she's maybe referring to one specific president....
Mostly, reactions to Trump's insane contest pitch garnered reactions like this one:
He is our president. Our president. Our president is suggesting a Fake News Contest between respected news networks (not including Fox) instead of, you know, running the country. Happy Monday.