Timeless sitcom, Friends, celebrated its twenty-fifth-anniversary last week, and the number of tributes that flooded in was endless.
Millions of fans from all around the world have been sharing their favorite memories of the show, and even cast members were reminicing on some of the "best years of their lives."
We know what the main characters are up to nowadays, but what about other cast members and the kids of Friends?
The twins who played Ross and Rachel's baby daughter Emma are nearly eighteen-years-old now, and they have posted the most amazing behind-the-scenes photos on their Instagram accounts, so keep scrolling to have a look...
Friends is now twenty-five-years-old...
via: IMDB
That means we have been blessed with twenty-five-years of one of the world's most famous and successful sitcoms.
The show turned 5 relatively unknown actors into iconic stars overnight...
David Schwimmer, Courtney Cox, Jennifer Aniston, Matthew Perry, Matt Le Blanc, and Lisa Kudrow were all pretty much unknown in Hollywood until Friends came along and turned them into household names in the showbiz world.
Last week brought us non-stop tributes and memoirs from the show...
The millions of fans that Friends has around the world were reminiscing their favorite times from the show, and many decided that last week was the perfect time to re-watch all 10 seasons... because why not?
Cast members themselves made sure to mark the date...
It's no secret that the gang has stayed in touch since the show wrapped up in 2004...
actually friends in real life, which has sent fans completely wild...
The gang has moved on and worked on different and individual projects over the years...
Each cast member has gone on to star in different roles for various TV shows and movies, but what about the rest of the cast of Friends?
The show featured so many different actors and actresses...
And some of which starred on the show for the entire 10 years, such as James Michael Tyler who played the role of Central Perk boss Gunther.
Despite rarely speaking, Gunther was a huge part of the show...
Tyler is now happily married and has gone on to star in other small roles for American television. Speaking of his experience of Friends, he said in an
interview
: "It's humbling. It's bewildering in many ways. I've been re-watching the show and now I get it. I get why it has all these fans. When I watch it now I can remove myself from it." "
Friends
is comfort TV. You can kick back and laugh. It's feel-good TV."
Friends also became well known for its celebrity guests as well as its recurring characters...
A range of A-listers appeared in one-off episodes throughout its 10 seasons, including names such as Ben Stiller, George Clooney, Jean-Claude Van Damme, Robin Williams, Brad Pitt, and even Danny DeVito.
Bruce Willis starred in 3 episodes...
via: IMDB
He agreed to play a continuous role as Elizabeth's dad - a teenage girl who Ross was dating - after losing a personal bet with Matthew Perry and it has to be said, his role in the show was
rather brilliant.
As well as celebrities, Friends starred a lot of child actors too.
via: IMDB
The main star being Ben, Ross' first son with his ex-wife Carol. Ben's character was played by numerous baby actors until twin actors Dylan and Cole Sprouse took over the role in 2000-2002.
Dylan and Cole took it in turns to play Ben's character...
via: IMDB
Identical twins are usually cast to play child characters due to the high demand and pressures that come with acting, so each twin can alternate in playing the role.
The Sprouse twins went on to start successful careers in acting...
via: IMDB
The twins, who are now twenty-seven-years-old, have gone on to star in hit shows such as
The Suite Life of Zack and Cody.
The Sprouse twins aren't the only child success stories from Friends...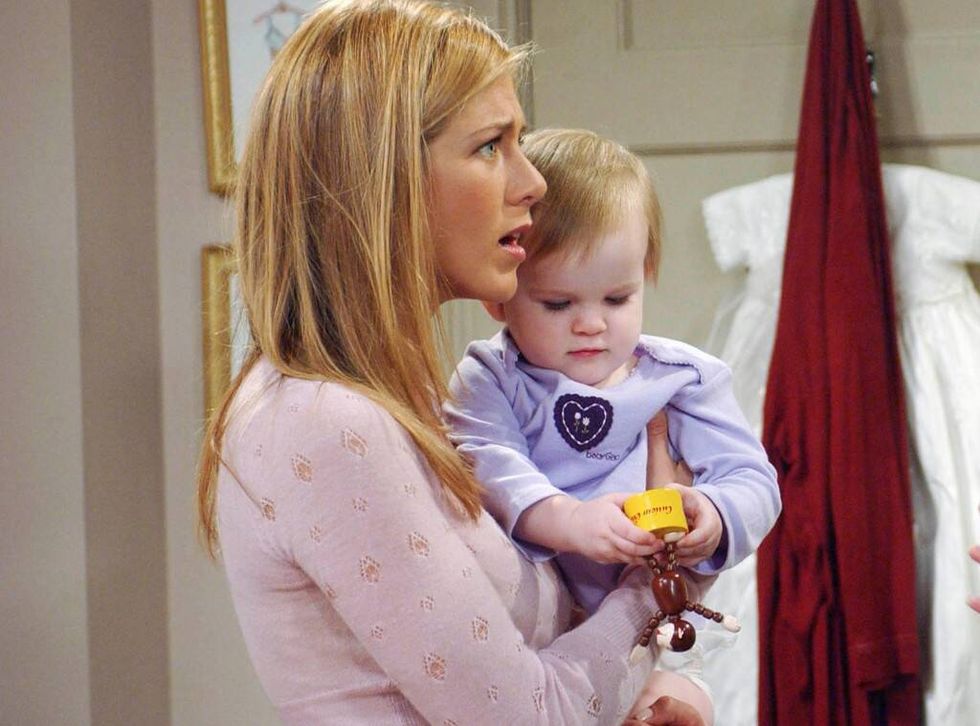 via: Getty Images
Remember in season 8 when Rachel falls pregnant with Ross' child? The baby who played their newborn daughter, Emma, was yet again a set of
identical twins.
Cali and Noelle Sheldon are now seventeen-years-old...
Us.
The twins have no recollection of their time spent on Friends ...
interview
, the twins said: "I don't remember anything about being on the show, but we've seen the pictures." Cali has gone on to share some of these pictures on her Instagram account and they are
truly remarkable...
The one where it all began...
Friends fans will recognize, this was during the filming of Emma's first birthday party during the episode in season 10: The One With the Cake.
The twins' onstage mom...
Bustle:
"Everyone was really, really nice to Noelle and Cali, and treated them like little princesses on the set."
The twins had no idea how big the show was...
"I grew up knowing that I was on Friends, but I didn't realize the extent of it until I was 10," Noelle said in an
interview
in 2015 when she was twelve-years-old.
Cali and Noelle haven't yet properly met their on-screen mom...
Friends - in which they binged the entire thing in twenty-four-hours. Even though the girls cannot remember a thing from filming on the show, it clearly kick-started their careers in acting early and it looks like they're both onto some pretty big things... and they will hopefully be one day reunited with their on-screen family!