Our dogs are our best friends – they lounge with us, play with us, and jump for joy when we dig out their leash. All-in-all, many of us couldn't imagine life without them.
One brave pup has been taking the internet by storm this week, and his story is truly wholesome.
Keep scrolling to take a look at this adorable pooch and to watch one of the sweetest videos you'll ever see…
These lovable and loyal companions make the perfect household pets, and it also helps that they're so damn cute.

Whether they're causing mischief, giving us those puppy eyes when they want a treat, or taking up the entire sofa, many of us couldn't live without our furry friends.

There's one thing it seems we can all agree on – our canine pals are too good for this world.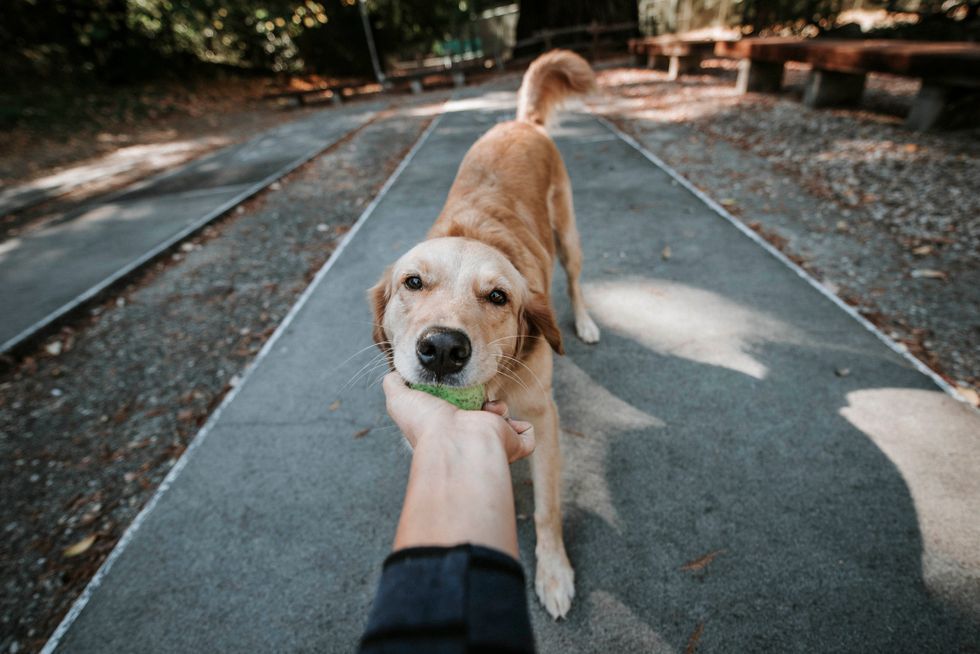 Because let's face it, dogs are the most loyal pet you can have.

From the thumping of paws as they excitedly run to greet you when you return home, to relaxing evenings with your pup sprawled out on the couch next to you, they really are our best buddies.

It's hard to imagine a life without having a pooch to come home to.

And his story is truly wholesome.

This adorable little pooch from Ohio has gained newfound fame on Instagram, where he takes his followers on his adventures with him.

He's faced quite a few challenges as a pup. His owners first came across Lt. Dan after searching for the Forest Gump-inspired name online. They both fell in love with the pup – who was 5 months old at the time.

Following several veterinary consultations, it was found that his back legs and tail were too severe to be corrected.

The tough decision was made to have his tail and legs amputated.

And he now uses a little wheelchair to get around. He is now also able to play with other pups and roll around on his back – something he couldn't do pre-surgery.

Speaking to Uniland, his owner, Laura Weber, explained: "Lt. Dan has the biggest personality! He is such an expressive dog who I swear almost always has a smile on his face. He has such excitement for everything in life and loves to show off." "He loves to play ball and frisbee outside and inside loves to play tug of war and wrestle with his dog siblings and friends. He also loves adventures, especially hiking and swimming!"

Including bowel issues and a sensitive GI tract, but you wouldn't know. This adorable pooch has an incredible zest for life!

"Lt. Dan has shown me that no matter what we should enjoy life! He brings a smile to my face everyday. Now matter how hard your day is how can you not smile and life when you come home to such a big joyful personality!" "Now not everything is easy with a handicapable pup, we went through months of recovery following his amputations, we have had to figure out the best process for diapering him and had to fine tune his dietary needs." "He also requires a special pup sitter when we go out of town, who understands and can accommodate his needs."

"He goes on adventures with us, he gets to snuggle on the couch and he sleeps in bed with us. You just have to be willing to take a chance on the special and different ones!"

He has been shortlisted in the annual Cadbury Bunny competition, in which 10 finalists compete to be crowned to be the face of the chocolate brand for 2020.

Ther public get a say on who wins! "I saw the Cadbury Bunny Contest online and just knew I had to enter him! I love his big personality and love to share it with others," Laura explained. "He brings joy to so many people and I just love that a dog can do that. We entered right before the deadline for the photo entry. We stayed up until midnight one night after work creating his entry picture."

They will also receive an impressive cash prize of $5,000 and a $10,000 donation given in their name to the American Society for the Prevention of Cruelty to Animals (ASPCA). "If Lt. Dan won we would be so excited! It would mean continuing to share the story of a pup who might not have survived if he hadn't been given a chance and now is thriving!"

You can vote for your winner here. Want more adorable dog content? Keep scrolling to watch the moment one clever pooch reports himself missing…