The world might be in disarray right now, but no matter how bad things get, the world's favorite superheroes are never really far behind.
Our friendly neighborhood Spider-Man has been putting smiles on children's faces by doing the most amazing thing.
Keep scrolling to find out more...
People are finding new ways to keep entertained.
Spending day after day stuck in quarantine, things can start to look pretty monotonous.
It feels like we've been stuck like this for years.
Me when someone asks what day it is https://t.co/1lhUh4eRUh

— John Robert Allman (@John Robert Allman)1585497596.0
And for kids that love to run around and keep busy, this is extra frustrating.
That's where Spider-Man comes in.
He's been spotted making his rounds in the UK, brightening up the days of kids and adults alike. Keep scrolling for the heartwarming videos...
Spider-Man is a classic superhero.
It's crazy to think he first appeared on the hero scene in 1962.
It's no lie that he's one of the most popular superheroes.
Which means he's had his fair share of origin stories told through a variety of actors.
He was brought to life by Danny Seagren in the '70s.
He was later played by Toby Maguire in the early 2000s. We had to include the most iconic dance of the century... So sorry.
The first reboot stared Andrew Garfield.
In this, we finally got to see Gwen Stacy, who was such an important character in the comics. Unpopular opinion... this version was the best.
But the fan favorite was the controversial British actor, Tom Holland.
Who has grown in popularity ever since, and will remain the face of Spider-Man for generations to come... Or until they cast someone else.
We could all use some superheroes right about now.
here's 15 seconds of behind the scenes moments from the og6 cast filming their final avengers movie together 🥺https://t.co/mzssZ2T8tI

— emily (@emily)1585518679.0
And while we all know the
real
superheroes are the doctors and nurses fighting to keep coronavirus at bay, sometimes it's nice to let fantasy take over.
Which is exactly what 2 men have done.
The martial arts instructors have been cheering kids up by roaming the streets in Spider-Man costumes.
The 2 heroes have been keeping spirits high.
Andrew Baldock has been entertaining the kids of Stockport and Lancashire in the U.K. for the past week, with his friend Jason Baird who is also a martial arts teacher.
The adoring children watch in awe.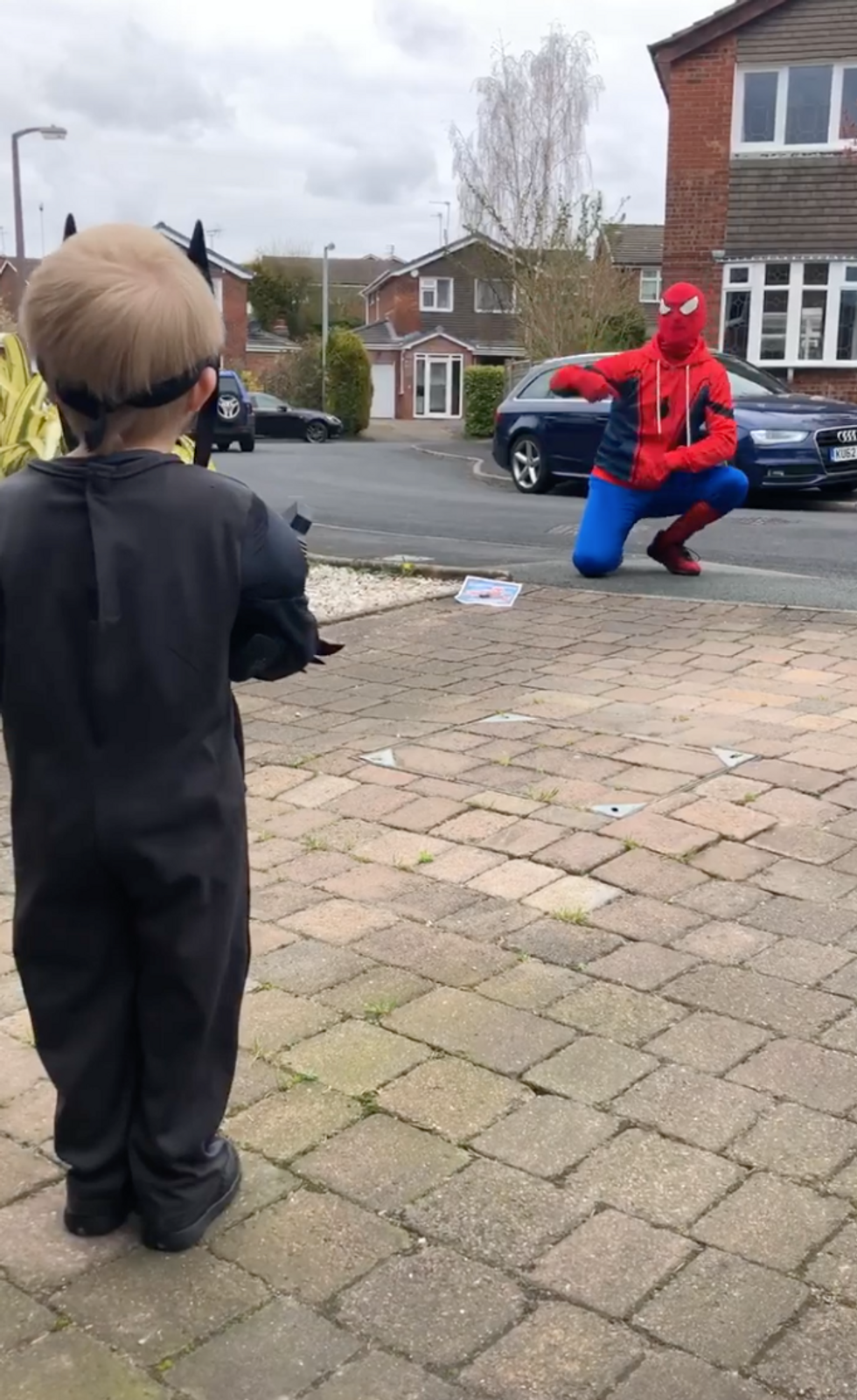 via: Facebook
As the pair were pictured making dramatic superhero poses on a variety of streets.
Parents were more than thankful to the guys, who have kids of their own.
Andrew, a dad-of-five, said: "This is a very difficult time for everyone so I just wanted to do something to put a smile on people's faces. The reaction I have got from kids when I go out has been incredible, they absolutely love it. If I can make someone happy, even if it's just for a moment, then it's worth going out."
They are keeping well away from residents.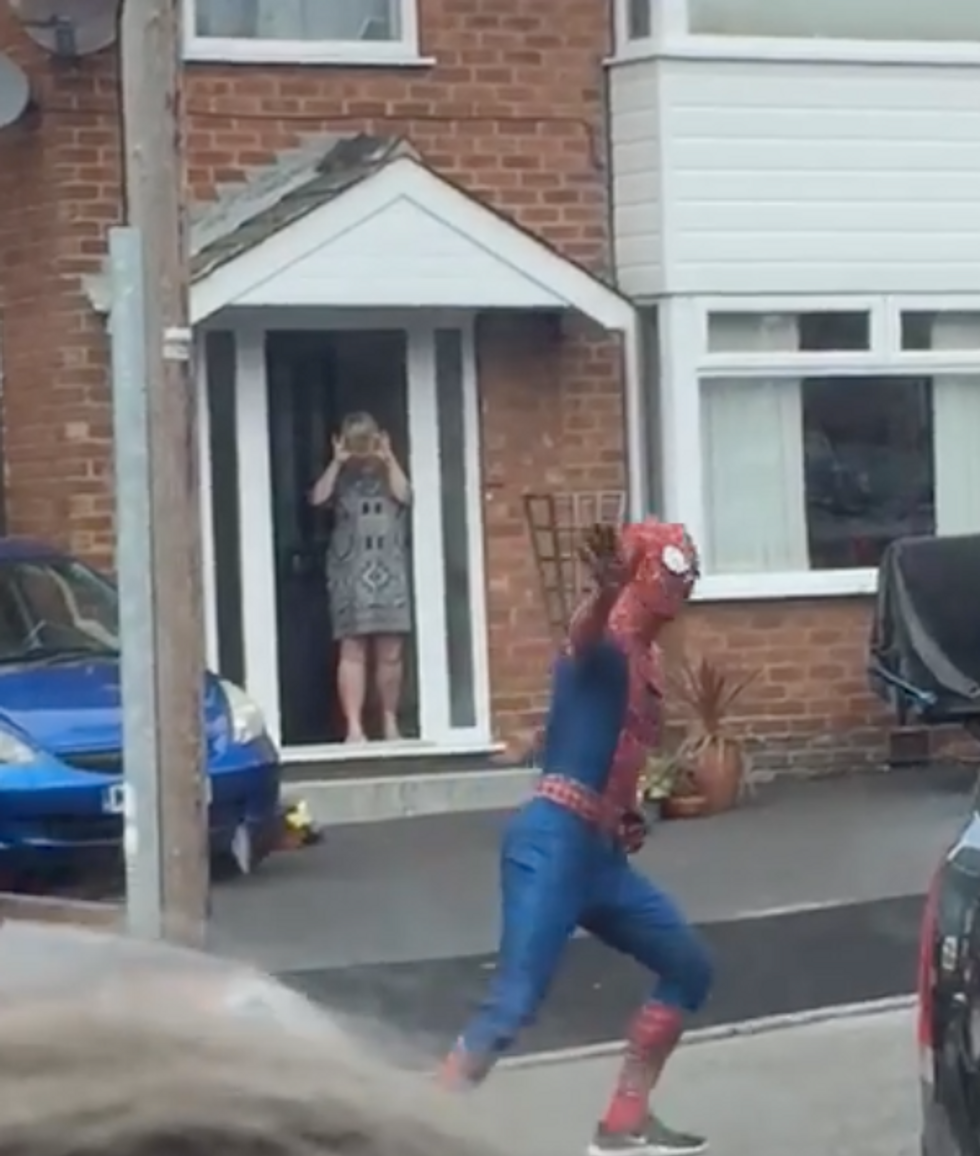 via: Facebook
Andrew explained that although they're out spreading joy, that's all they're spreading, as they are making sure to keep their distance from homes, and passersby.
He is fully aware that with great power comes great responsibility.
He said: "I fully understand there are rules in place at the moment and I'm making sure that none of them are broken when I go out."
Andrew came up with the idea after hosting a digital martial arts class.
He said: "Everyone enjoyed it so much that after the session I decided to go outside with it on to see what me neighbours thought. The reaction I got from local kids was amazing, they all absolutely loved it. Lots of parents took pictures of me entertaining their kids and posted them online and it all went a bit mad from there. People from all over Stockport are asking me to go and visit their street."
Andrew had his costume from his days working in retail.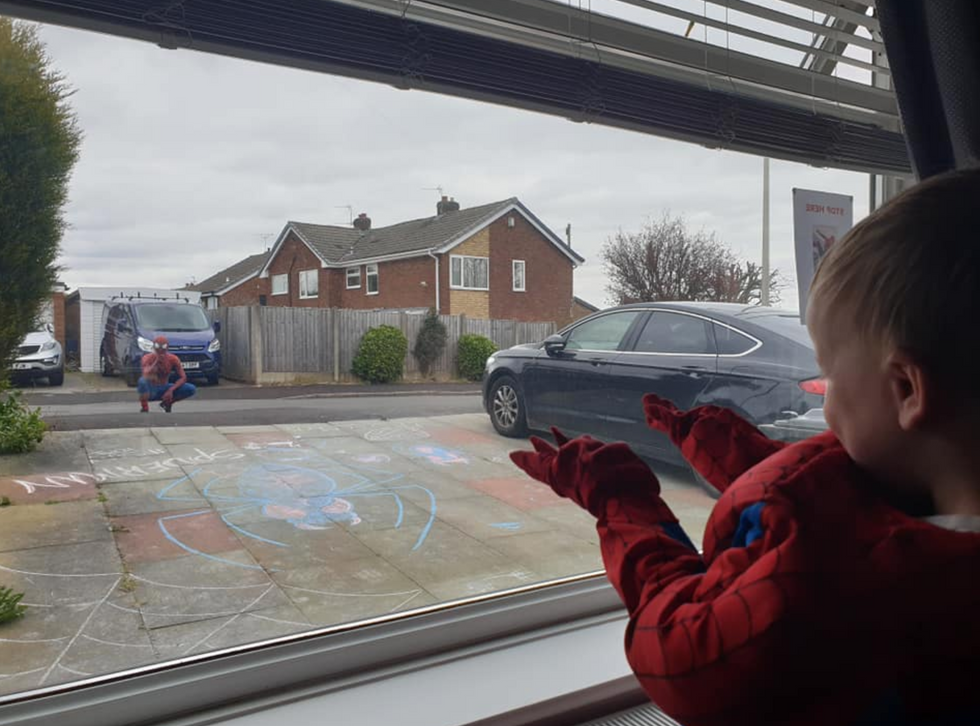 via: Facebook
He used to dress up and attend events. When Jason Baird found out what his friend was up to, he just had to join in.
He followed suit...
The dad of 2, Jason, set up the Facebook page: Stockport Spider-Men and the duo have been playing heroes ever since.
They already have a large fan base.
Andrew said: "We have hundreds of parents asking if we can go and visit their streets to pay their children a visit. We will do as much as we can, but obviously we do have to be careful about where we and how long we stay out for at a time like this."
Jason and Andrew are hoping their exploits will encourage more people to get their capes on.
Andrew said: "The superhero world is huge and there are plenty of other ones people can dress as. I'd love to see people around the country and maybe even around the world doing what Jason and I are. I think the world could do with a bit of fun at a time like this." The government is urging people to stay indoors and to avoid going within 6 feet of people if it's essential you go outside. Keep scrolling to find out what some of your favorite celebrities are doing to help amidst this pandemic...