Fans of the Fast and Furious franchise will be no strangers to the beef between stars, Tyrese Gibson and Dwayne Johnson.
After Johnson teamed up with Jason Statham for the much-anticipated Hobbs & Shaw spin-off, many of the original Fast & Furious cast saw it as something of a betrayal, including Gibson. But it now seems peace has finally fallen within the Fast & Furious family as Gibson and Johnson have put an end to their feud once and for all...
The Fast & Furious franchise is one of the most successful franchies in history.
After debuting in 2001, there have been a whopping 8 movies, with each and everyone being a huge blockbuster smash.
Vin Diesel is one of the stars almost synonymous with the franchise.
He's a verified Fast & Furious veteran, having appeared in the movies for almost twenty years. He plays the star of the show, Dominic Torretto.
Fast & Furious 9 is set to be released next year.
But another face who's almost synonymous with the series?
Dwayne Johnson. The star rose to fame as a professional wrestler, known as The Rock. At 6 foot 5 inches, we wouldn't fancy coming up against him in the ring.
Johnson is a total staple in the Fast & Furious movies.
He plays Luke Hobbs, an intimidating special agent and self-described "ice-cold can of whoop-ass."
But, behind the scenes ...
It seems as though all was not well on the set of the Fast & Furious movies. In fact, the tensions between stars Diesel and Johnson have been well documented over the years.
And there's one thing that seems to have really exacerbated them...
Since the Hobbs & Shaw spin-off was announced, many of the original Fast & Furious cast were reportedly left feeling a little bit abandoned by Johnson.
And the feud between Diesel and Johnson was only exacerbated by Tyrese Gibson.
The fellow Fast & Furious star just couldn't seem to keep his mouth shut on social media, repeatedly making jabs at Hobbs & Shaw - then regretting and deleting them.
This created a further feud within the cast between Gibson and Johnson.
Hobbs & Shaw, for delaying the 9th Fast & Furious movie.
Although Johnson hasn't helped matters.
The star of 
Hobbs & Shaw 
posted a now-deleted
Facebook video
saying, "candy asses" make his "blood boil." Many took this to be an implicit critique of Diesel.
But then it seemed that Diesel and Johnson may have put the past behind them.
First, though, he spoke of his role in Hobbs & Shaw
"You have officially made Hobbs & Shaw not only a massive, global success."
"We've just crossed $750 million dollars at the global box office - but also, you helped enable a build-out and an expansion of the Fast and Furious universe."
But then he made a surprising admission.
Johnson thanked all who worked on Hobbs & Shaw - and then turned his attentions to a surprising figure. "Lastly, but not least, I want to thank brother Vin for your support of Hobbs & Shaw."
"I saw your post, and I appreciate it."
Fast & Furious family."
"I'm grateful for that invite."
Fast & Furious world and help elevate the franchise in any way that I possibly could..."
But there was an even more exciting part.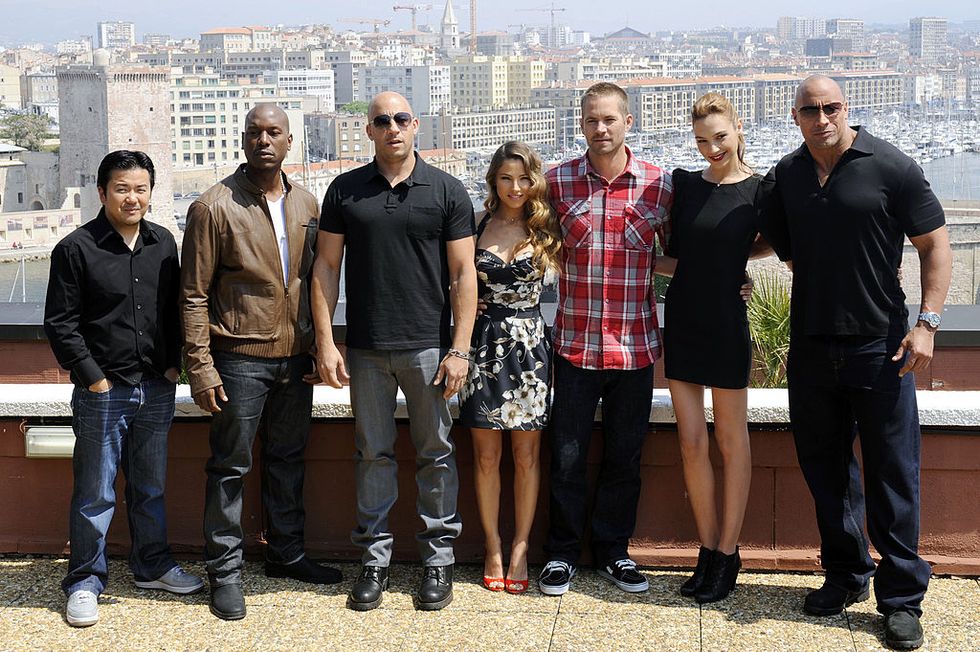 via: Getty Images
"We did it the right way, we did it the smart way, and again, brother, I appreciate your support. And, of course, all roads lead to one thing - I'll be seeing you soon, Toretto."
The bad blood within the Fast & Furious franchise seems to be passing even more...
Because it seems that Gibson and Johnson have also made peace.
Appearing on Stir Crazy With Josh Horowitz, forty-one-year-old Gibson shared the good news.
"Me and 'The Rock' peaced up, by the way," he said.
"We talked for, like, 4 hours about 3 weeks ago. It was great."
Time can help to heal anything.
The actor went on to explain his realizations, noting that the Fast & Furious franchise is about more than just the cast.
"What's interesting about the Fast & Furious is it's not about any of us individually. We're like the UN at this point. Everyone gets to go to the theater and say, 'He and she looks like me,'" he explained.
Fans have been sharing their delight that the feud has finally been ended.
And we have to agree with them... It's good to hear!
Feeling excited about the next Fast & Furious movie? Keep scrolling for the cast side-by-sides and an on-set video...