Ivanka Trump. First Daughter. Businesswoman. Author. Advisor to the President. Is there anything that this woman can't do?
Perhaps, keep out of conversations that she doesn't belong in? That's one thing.
Recently, a video of Ivanka Trump, along with other world leaders, engaging in an awkward conversation has sparked some interest online. The video managed to start its own meme movement which features Donald Trump's daughter photoshopped into historic scenes and let me tell you, these memes are actually incredible!
Keep scrolling to see a bunch of our favorite ones!
For those of you who aren't aware, this is Ivanka Trump.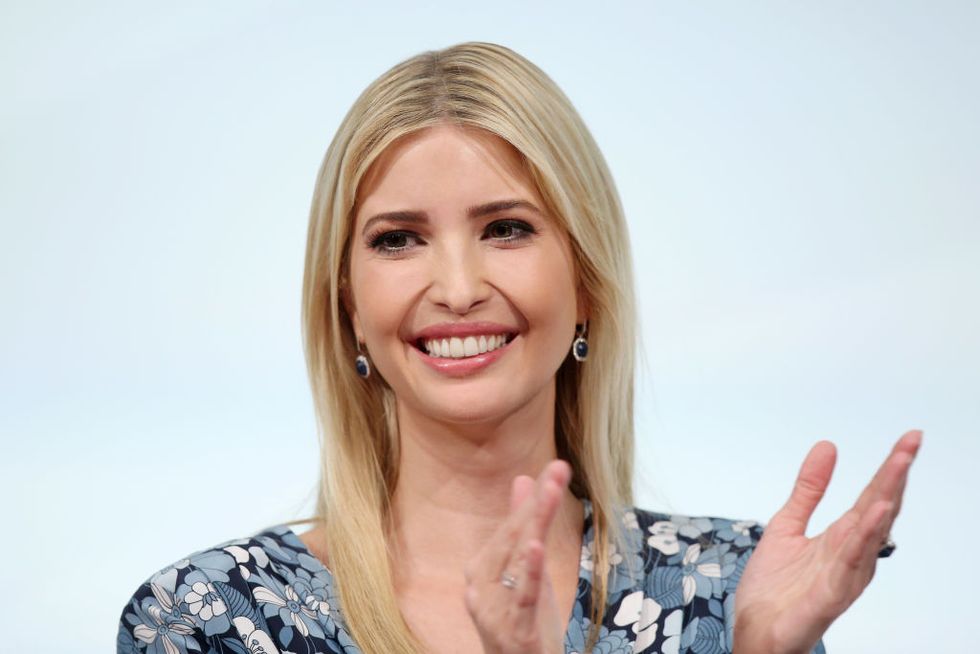 via: Getty Images
She's President Donald Trump's eldest daughter and, more importantly, his Senior Advisor.
The thirty-seven-year-old is known best for her constant attachment to her father.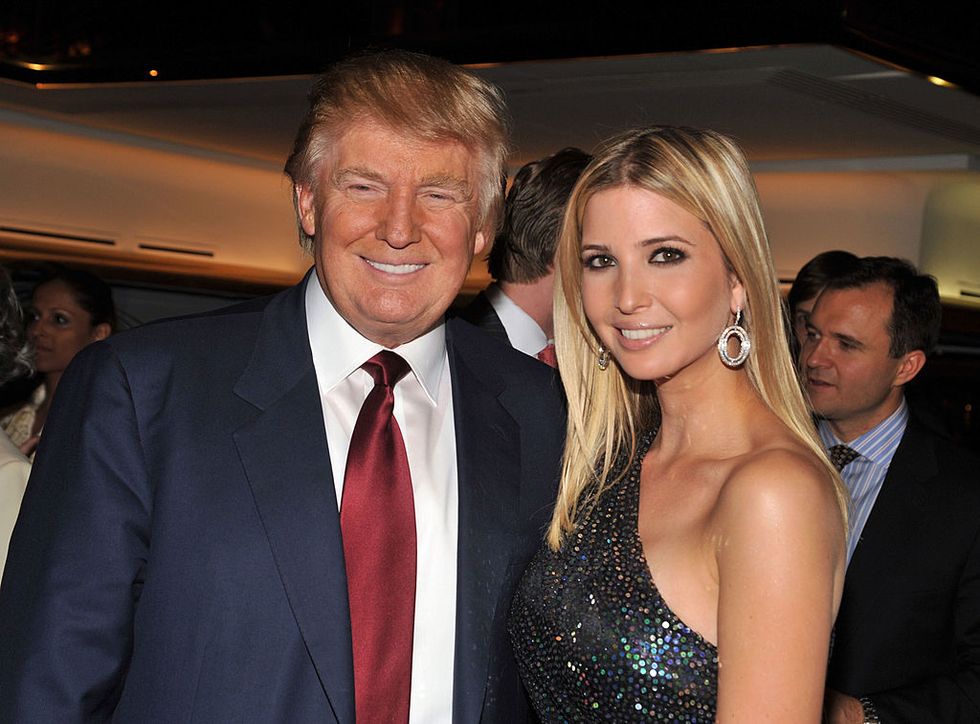 It seems as if Ivanka is likely to follow in her father's footsteps. Literally. Wherever he goes, she seems to be just a few steps behind him. But we're okay with it.
Despite her father's antics, Ivanka has managed to capture the hearts of the nation... Well most of them.
I can't quite put my finger on what it is. It might be her smile or her confident walk, but, whatever it is, she has managed to distance herself from her father's controversial antics, although I suppose she has "advised" him on these antics...
This time, though, Ivanka didn't hit the headlines for her smile, or her confident exterior...
She gained attention for a whole other reason altogether.
It hasn't been long since the G20 summit, which took place in Osaka, Japan.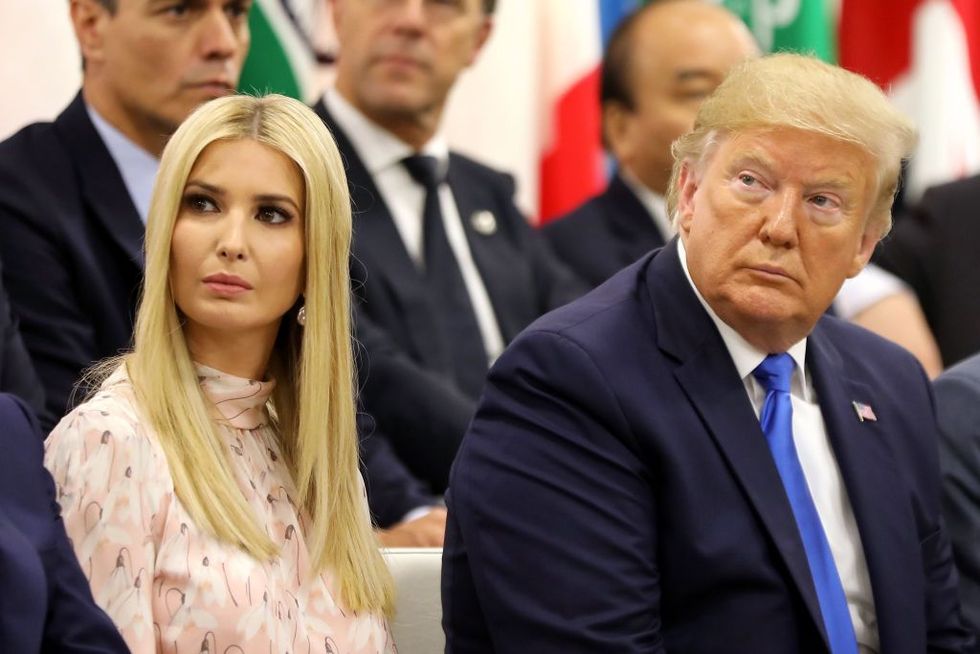 via: Getty Images
Ivanka and her father both attended the summit along with prominent leaders from all around the world. It was a chance for them all to discuss economic issues and recognize how the countries contribute to the global markets.
What happens at the G20 summit?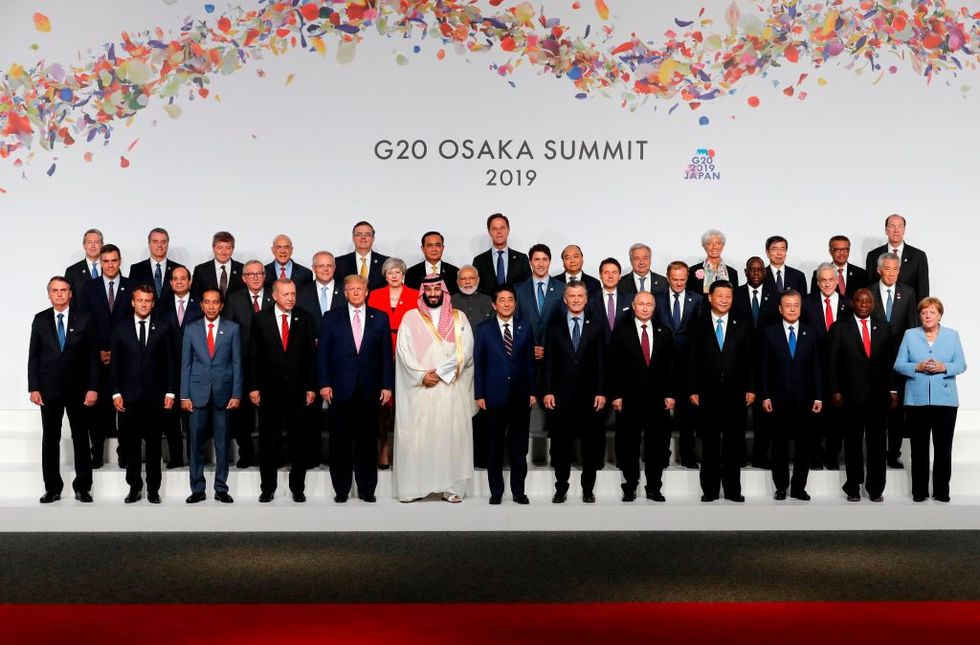 via: Getty Images
Typically, the top twenty leaders from the countries with the largest and fastest-growing economies join together in order to see how they impact the world on a financial level. At first, the G20 was mostly attended by finance ministers and bank governors, but that quickly changed after the financial crisis in 2008. It was a testing time, with banks collapsing and unemployment rates rising, so the organization turned into an emergency council for presidents and prime ministers instead.
According to the internet, it has now become a "take your kids to work" event.
A lot of people, including Whoopi Goldberg, have criticized Ivanka for sitting in for her father at the G20 summit meeting, after claims that she "tries to stay out of politics." She gave a speech advocating for equal pay for women, telling the audience that the world economy would get a boost of up to twenty-eight trillion dollars by 2025 if women were on an equal economic level.
Others have noted that she is "not qualified" to be a stand-in.
It may be shocking to some, but being someone's daughter actually isn't a career qualification. It hurts our diplo… https://t.co/15ngYDddP3

— Alexandria Ocasio-Cortez (@Alexandria Ocasio-Cortez)1561863520.0
Even Alexandria Ocasio-Cortez, a Congresswoman from New York, had her say expressing that "being someone's daughter actually isn't a career qualification." Harsh words there, Alexandria.
However, some have argued that being "Advisor to the President" grants you access to these kinds of events.
I don't really think that qualifies you to become his official stand-in at such an important global event, but I guess Ivanka just wanted to get in some practice just in case she decides to run for President, too. I mean, her father was unqualified, so she has a good shot too, I suppose. I'm sorry, I just had to get it out of my system.
She has also been widely criticized for her awkwardness in one particular conversation.
In a video released by the Élysée Palace — France's equivalent to the White House— you can see that it appears as though Ivanka Trump was being brushed aside as she tried to get involved. She uses elaborate hand gestures as she is speaking in the direction of Theresa May, still not managing to get the leaders' attention.
The video was shared by BBC journalist, Parham Ghobadi, and has since been viewed over eighteen million times!
Ivanka Trump appears to be trying to get involved in a talk among Macron, May, Trudeau and Lagarde (IMF head). The… https://t.co/ERAxgNMUN6

— Parham Ghobadi پرهام قبادی (@Parham Ghobadi پرهام قبادی)1561842039.0
And you'll never guess what. This video sparked the most incredible meme movement to ever grace our screens. People have been photoshopping Ivanka Trump into historic scenes (in which she
also
doesn't belong) as a response to her involvement in the G20 summit with the hashtag #UnwantedIvanka. Let's have a quick game of "Spot Ivanka"!
1. Walking on water.
Ivanka's walk is so iconic that she can even do it on water! Have you ever seen anything so mesmerizing? Just ignore the soldiers crossing the sea to their potential deaths...
2. Abraham who?
She was even there when Abraham Lincoln was assassinated!
3. "Wrong way, Ivanka!"
@morninggloria #unwantedivanka at Abby Road https://t.co/UVG5dt2u38

— Phil Herbert (@Phil Herbert)1561931332.0
I don't think she got the memo...
4. All The President's Men.
Of course, this one stars Ivanka Trump alongside co-stars, Robert Redford and Dustin Hoffman. Told you she was a very talented woman...
5. Ali vs Liston.
@morninggloria @jonfavs #unwantedivanka at Ali vs Liston https://t.co/MkOg2CkNkS

— Phil Herbert (@Phil Herbert)1561930837.0
Here's a shot of Ivanka showing support for her all-time favorite boxer, Muhammad Ali.
6. "She's got the mic again!"
@morninggloria Yalta https://t.co/cnFi4YxtPz

— Helen Kennedy (@Helen Kennedy)1561921090.0
I mean, if Ivanka wasn't present, I would refuse to believe that it even happened. Here she is, giving her (unwanted) opinion at the Yalta Conference in 1945.
7. New Heights.
@moira @RadioFreeTom This one is my favorite #UnwantedIvanka https://t.co/mcuvoV96pW

— *clever & forgettable name here* (@*clever & forgettable name here*)1561944883.0
This has to be one of
my
favorites from the entire collection, too.
8. Being Friends with Ivanka.
@morninggloria 'Cuz you know, she'll "be there for you"… even when she's not welcomed #unwantedivanka https://t.co/bPxhDh94Zh

— Hector Salazar (@Hector Salazar)1561939869.0
This one was cleverly captioned: "Cuz you know, she'll "be there for you"… even when she's not welcomed #unwantedivanka".
9. Because Ivanka also has a dream...
Here she is supporting the legend that is Martin Luther King. Look at how proud she looks!
10. The Scientific Revolution.
@IngaProgressive @morninggloria No idea she was so into science! #UnwantedIvanka https://t.co/TR7kAzJU1M

— Shannon *WEAR A MASK* (@Shannon *WEAR A MASK*)1561939312.0
We had no idea that Ivanka was so into science...
11. A fashion icon.
@IngaProgressive @morninggloria You can't look fab in a gas mask, duh! #UnwantedIvanka https://t.co/BCTa5bfR20

— Shannon *WEAR A MASK* (@Shannon *WEAR A MASK*)1561941687.0
"You can't look fab in a gas mask, duh!"
12. She's with you... in spirit.
I'll probably get nightmares if I look at this one for too long.
13. The moon landing (with Ivanka, of course!).
All the conspiracies surrounding the moon landing can all be put to rest now. Ivanka was there to witness the whole thing so we know it has to be true!
14. The crucifixion.
@HelenKennedy @morninggloria Ben, oh Her! https://t.co/Q4w1stEdTy

— KevinlyFather 🇺🇲🇨🇦🇲🇼🇸🇿 (@KevinlyFather 🇺🇲🇨🇦🇲🇼🇸🇿)1561961276.0
We couldn't possibly forget about this one. The bad photoshopping actually makes it funnier. What an iconic scene.