The Stars and Stripes are taking home the World Cup trophy - a result that will come as no surprise to anyone who has followed the tournament. The US Women's National Team has totally slain each and every opponent.
There can be no doubt in anyone's minds that these ladies are the worthy winners of this year's World Cup. The US National Women's team will go down in history as some of the best players in soccer history. We are living in a time of true soccer royalty.
Move over Beckham, make way for Alex Morgan.
To celebrate our team's victory, let's look back at some of the competition's highlights, the players, and the team's remarkable history.
Let's take a moment to bask in the glory that these soccer players have brought to the US, once again.
No one will be able to forget that 13-0 victory against Thailand.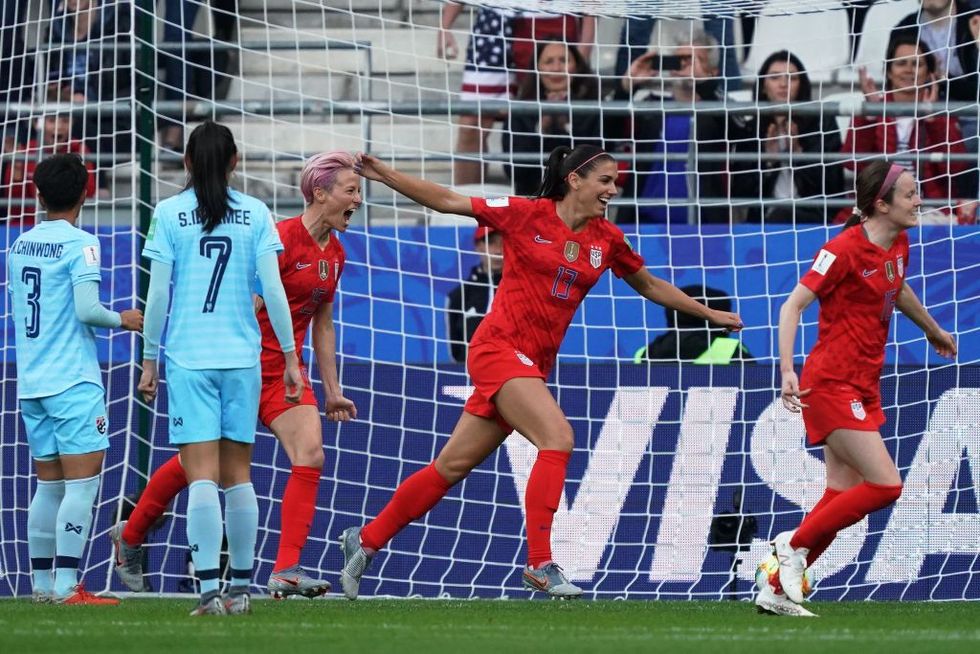 Least of all Thailand... What an incredible game of soccer that was. I've never seen anything like it. No team in the entire history of FIFA has ever scored that many goals in a single match. Screw the commentators and press that called out the performance as arrogant. Do you know what is arrogant? Calling out players at the top of their game giving a stellar performance that was unprecedented in soccer.
I doubt that there would have been accusations of arrogance if it had been a men's team.
But hey-ho to the glass ceiling - and way to go to the US National Women's team for cracking it. The team sure started the competition with a bang. No one stood a chance after that match.
Retired player, Abby Wambach, defended the USWNT 13-0 victory.
For all that have issue with many goals: for some players this is there first World Cup goal, and they should be ex… https://t.co/fBCaCao3Zd

— Abby Wambach (@Abby Wambach)1560288123.0
After the sh*tstorm that ensued on Twitter following the match, retired player, Abby Wambach, took to the social media site to defend the team and their right to celebrate. Wambach makes a valid point, these players are living out their dream. To score a goal at the World Cup is a phenomenal achievement. Do you think that my mom had her fourth kid and just shrugged like, "oh yeah, just had another one?" Each and every goal and personal achievement is significant and worth throwing your fist in the air for.
Frankly, the showmanship showed by the USWNT is something worth celebrating.
Let this photo of @tierna_davidson's complete display of happiness while celebrating Carli's goal and her first… https://t.co/NVShbzxOFV

— U.S. Soccer WNT (@U.S. Soccer WNT)1560806803.0
Take this fantastic snapshot of Tierna Davidson celebrating Carli's goal against Chile, her first assist of the tournament. The USWNT really put the T in Teamwork.
Tierna Davidson is a real asset to the team and, at only twenty years old, this is one player that has inspired a generation of young women.
Not only is Tierna a phenomenal soccer player, she is one ambitious lady. According to her
US Soccer
story, Tierna has aspirations to go into space. I have no doubt that we haven't heard the last of this rising star.
The player that truly captured my heart this World Cup, though, has got to be Alex Morgan.
Let's go get that fourth ⭐️!!! 🇺🇸🇺🇸🇺🇸🇺🇸 https://t.co/A1sd1MHygR

— U.S. Soccer WNT (@U.S. Soccer WNT)1562116962.0
Alex Morgan scored five of the thirteen goals against Thailand in the debut game and later broke another record, being the only soccer player to score in the cup on their birthday when scoring against England in the semifinals.
Off the pitch, Morgan continues to inspire young women to get involved in the sport.
In 2013, Morgan teamed up with publishing company, Simon & Schuster, writing a middle-grade book series, The Kicks, about four female soccer players and their adventures on and off the pitch. If you know a young girl who's a budding soccer player, this series would make the perfect gift. The series debuted at no. 7 on the New York Bestsellers list in 2013 and was turned into a live-action comedy series of the same name by Amazon Prime in 2015.
"Baby Horse."
Morgan made a name for herself early in her career for her unique running style and speed, leading to the USWNT nicknaming her "baby horse."
Alex Morgan along with teammate, Megan Rapinoe, are invested in leaving behind a legacy for future female soccer players.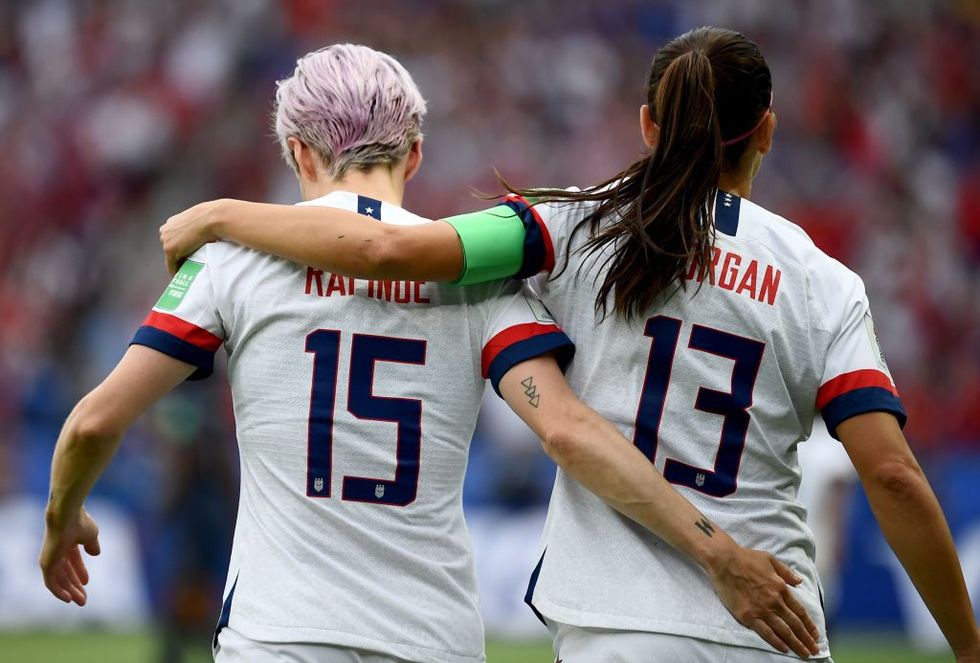 Both Rapinoe and Morgan were the first two US female soccer players to sign up for the "Common Goal" campaign, wherein players donate 1% of their income to charities supporting young soccer players.
Megan Rapinoe is an icon for women and the LGBT community - as well as a kick-ass soccer player.
WE READY 👊 @DrinkBODYARMOR https://t.co/7r2eatC26G

— Megan Rapinoe (@Megan Rapinoe)1562007682.0
Let's start by refreshing you on why Rapinoe is one of the best soccer players in the world... First off, she was the first soccer player, male or female, to score a "Goal Olympico" at the Olympic games in 2012.
What's a Goal Olimpico I hear you ask?
A Goal Olimpico is a fancy way of saying scoring a goal directly from a corner. This masterful shot is only possible if the shooter gives sufficient swerve to the kick and is incredibly difficult to pull off. Rapinoe achieved this phenomenal goal during an Olympic games match against Canada in 2012.
Rapinoe's precise cross 122 minutes into the 2011 FIFA Women's World Cup quarterfinals...
Megan Rapinoe turned heads internationally when she passed a precise cross to Abby Wambach in the 122nd minute of the quarterfinal 2011 World Cup match against Brazil. The goal not only equalized the game, leading to a penalty shoot-out that secured the US team's slot in the semis (and eventual victory) but the goal also broke records. The last-minute goal broke the record for the latest goal ever scored in a match, an achievement that did not go unrecognized, with the team being awarded ESPN's 2011 ESPY Award for Best Play of the Year.
Megan Rapinoe isn't afraid to stand up for what she believes in.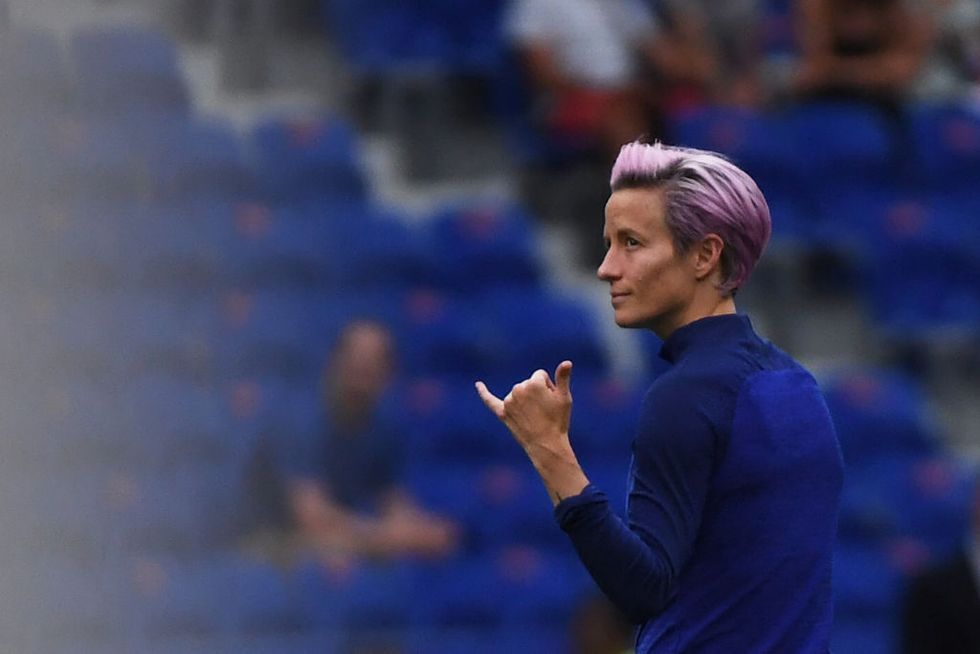 Rapinoe is passionate about supporting the rights of those in the LGBTQ+ community; she became an ambassador of 
Athlete Ally
, a nonprofit organization that focuses on ending homophobia and transphobia in sports in 2013. On July 2, 2012, Rapinoe came out as a lesbian to
Out Magazine, 
using her platform as a soccer star to encourage young gay people around the world to feel more comfortable being who they are. Rapinoe also works closely with other LGBTQ+ charities such as GLSEN. In 2012, she was awarded the board of directors Award by the Los Angeles Gay and Lesbian Center for bringing awareness to LGBT people in sports.
Rapinoe is a socially conscious sports figure.
She first got into soccer as a means to escape the drug-fuelled culture that was rampant in rural California. Idolizing her older brother, Brian, Rapinoe started playing soccer at the age of three. Sadly, Brian got caught up with drugs and was sent to a juvenile center at fifteen. After being in and out of the country's strict prison system, Brian accordingly straightened up his ways, inspired by his younger sister's success. Megan is passionate about helping those that fall into addiction and has worked closely with charities to encourage participation in sport in rural, low-income areas.
Megan Rapinoe isn't afraid of bringing politics onto the pitch.
Why US soccer star Megan Rapinoe doesn't sing the national anthem: https://t.co/bXHpmhcTmI https://t.co/nuYTcDy8qD

— ABC News (@ABC News)1560738417.0
During an International match in 2016, Rapinoe made headlines for kneeling during the national anthem. Rapinoe stated that she did so in solidarity with Colin Kaepernick, the quarterback who did so in protest against racism and police brutality in the US. On kneeling, Rapinoe explained to
American Soccer Now:
"It was a little nod to Kaepernick and everything that he's standing for right now...We need to have a more thoughtful, two-sided conversation about racial issues in this country....Being a gay American, I know what it means to look at the flag and not have it protect all of your liberties."
Rapinoe's latest political battle has caused controversy during this year's World Cup.
The press got wind of Rapinoe stating she would not go to The White House if the team were to win the World Cup (as is a tradition.) These comments were acknowledged by President Trump, who condemned the player's statement, dismissing her aggrievements with his administration.
Rapinoe has since explained her comments.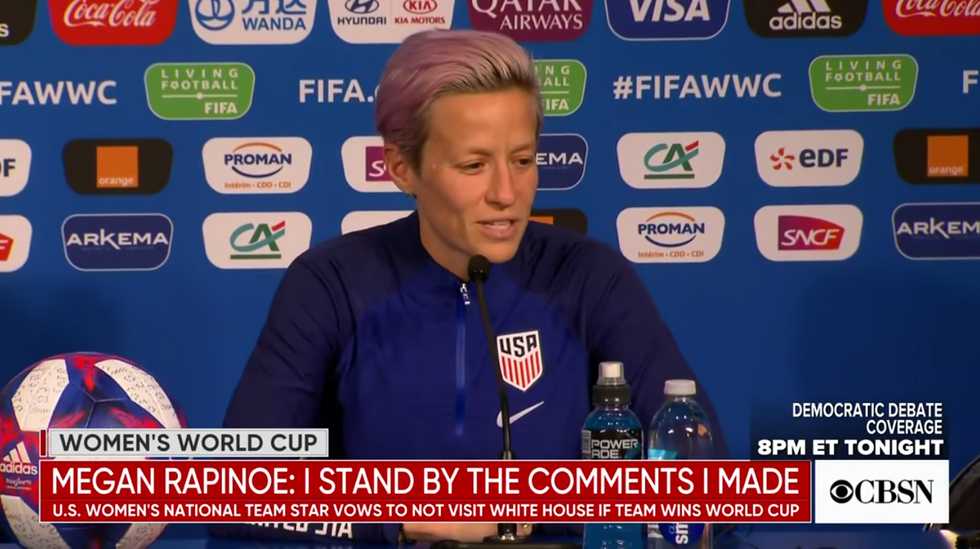 Addressing a press conference about her statement, Rapinoe
explained
 that she does not wish to go to the White House to celebrate the teams' victory under an administration that "doesn't fight for the same things [they] do."
The USWNT would be nothing without the guidance of coach, Jill Ellis.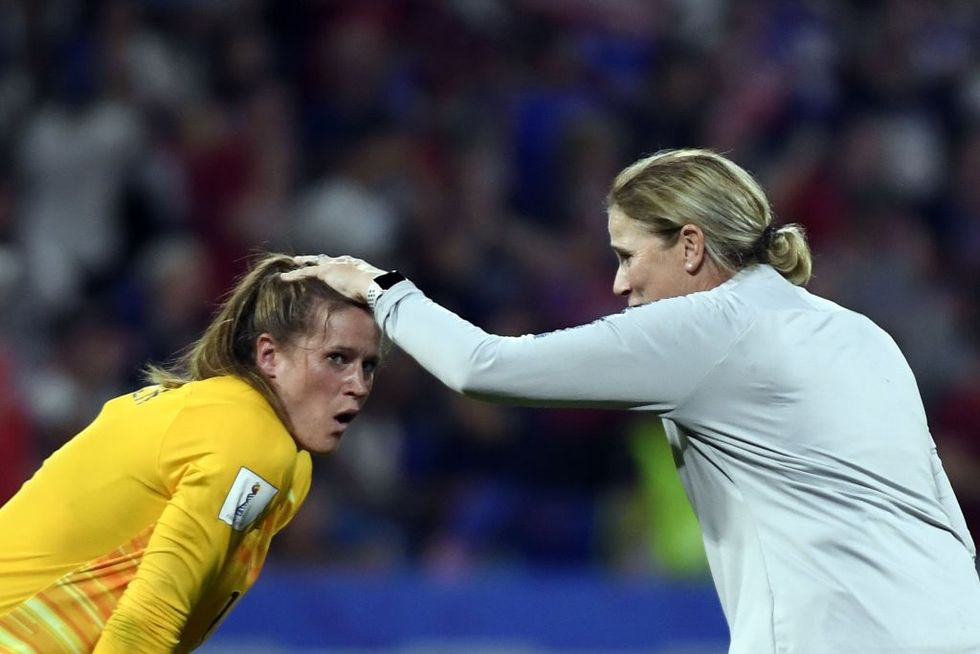 Ellis took over the USWNT officially in 2014, but had been the assistant coach since 2008 and the interim head coach from 2012 onwards. Originally from the UK, Ellis and her family left the seaside town of Portsmouth in 1981 for a brighter future in the states. It was only when moving to the US that Jill took up soccer, with women not being permitted to play the sport in the UK at that time. Gender inequality is an issue that still directly affects Ellis, who, despite being arguably one of, if not
the
, best soccer coach in the world, is paid significantly less than her male coach counterparts. Gregg Berhalter, the head coach of the men's US soccer team has refused to disclose his salary, but the fact that Ellis makes $34,000 less than Tab Rabos (who manages the men's U21s), we can assume that Ellis makes
significantly
less than Berhalter. Not that money really matters to Ellis, it's her passion for the sport that is most important.
With Jill Ellis at the sidelines, the USWNT is unstoppable.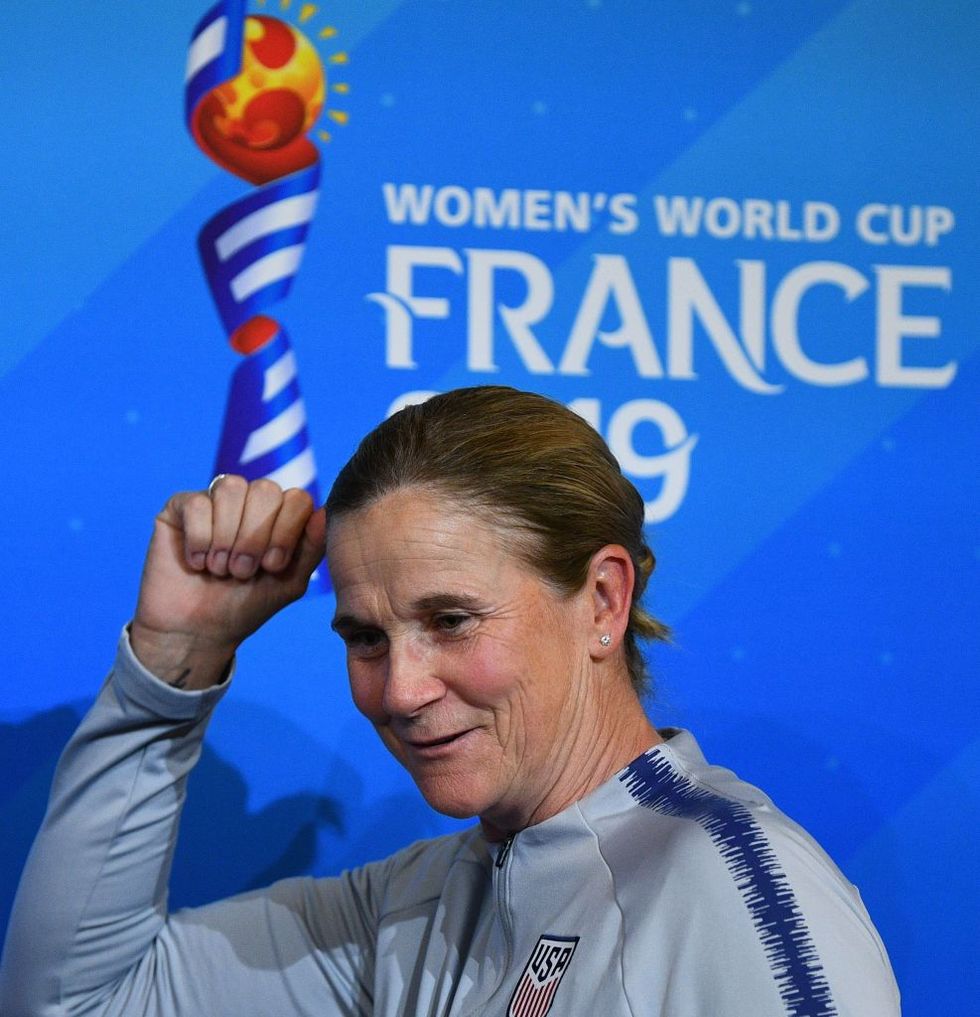 In 1994, Jill Ellis gave up her $40,000-a-year job as a technical writer with Northern Telecom to take an assistant coaching job at the University of Maryland, going down to a measly $6,000 a year. According to Jill, in an interview with
The Miami Herald,
 her mother, Margaret, "was horrified." But it's a good job that she went for it; she has sailed the USWNT team into victory once again. One of the chants audible at the final today echoed through the stadium. The US fans chanted "Equal pay, we won't wait." I'd say that Jill Ellis has waited long enough.
So congratulations to the USWNT, you truly are the greatest team in the world.
You've faced criticism for the sheer amount of goals that you scored, you've faced backlash for celebrating, you've even been goaded by the President of the United States on Twitter, but, through it all, you stood strong and resilient. You have inspired, not just the generations of young women in the united states, but all women, across every nation. It might only be a game, but your determination, dedication, and teamwork have meant that no-one can ever say that women can't play.