Had about enough of politics and negativity in the news? The anecdote for that is an adorable and tenacious kitten named Chloe that is going to steal your heart — you've been warned.
But first you need to know about an amazing woman named Hannah Shaw — a.k.a. Kitten Lady — who is exactly that, a lady that takes in and cares for needy kittens.
According to Love Meow, she was at a shelter to pick up two orphaned kittens when she spotted little Chloe, who couldn't use her hind legs. The suspected she was paralyzed from abuse.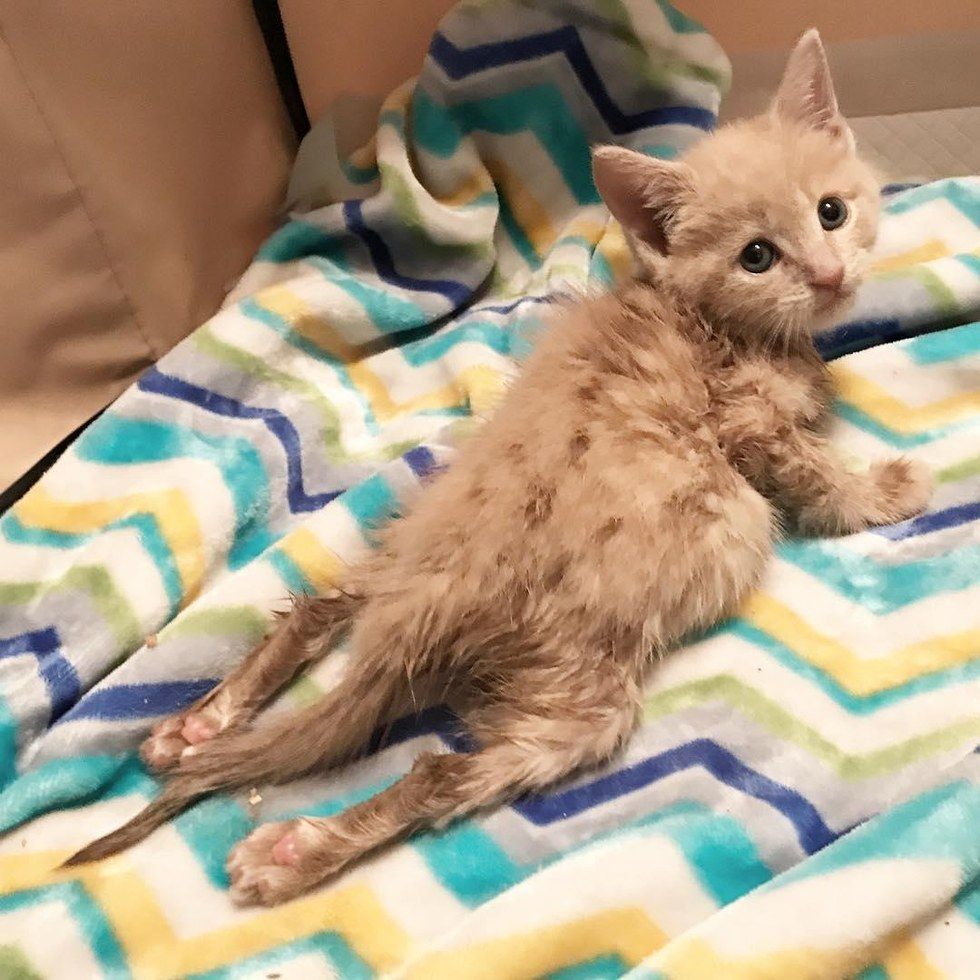 via: Kitten Lady
Naturally, she took her home, despite not knowing what her prognosis would be. But one thing she knew for sure was that, "no one will ever lay a cruel hand on her again. She will be loved, she will be fluffy and clean, and she will be given the best chance I can give her at regaining mobility."
It didn't take long for the kitten's personality to shine through, and soon she was cuddling and even moving around with her front legs.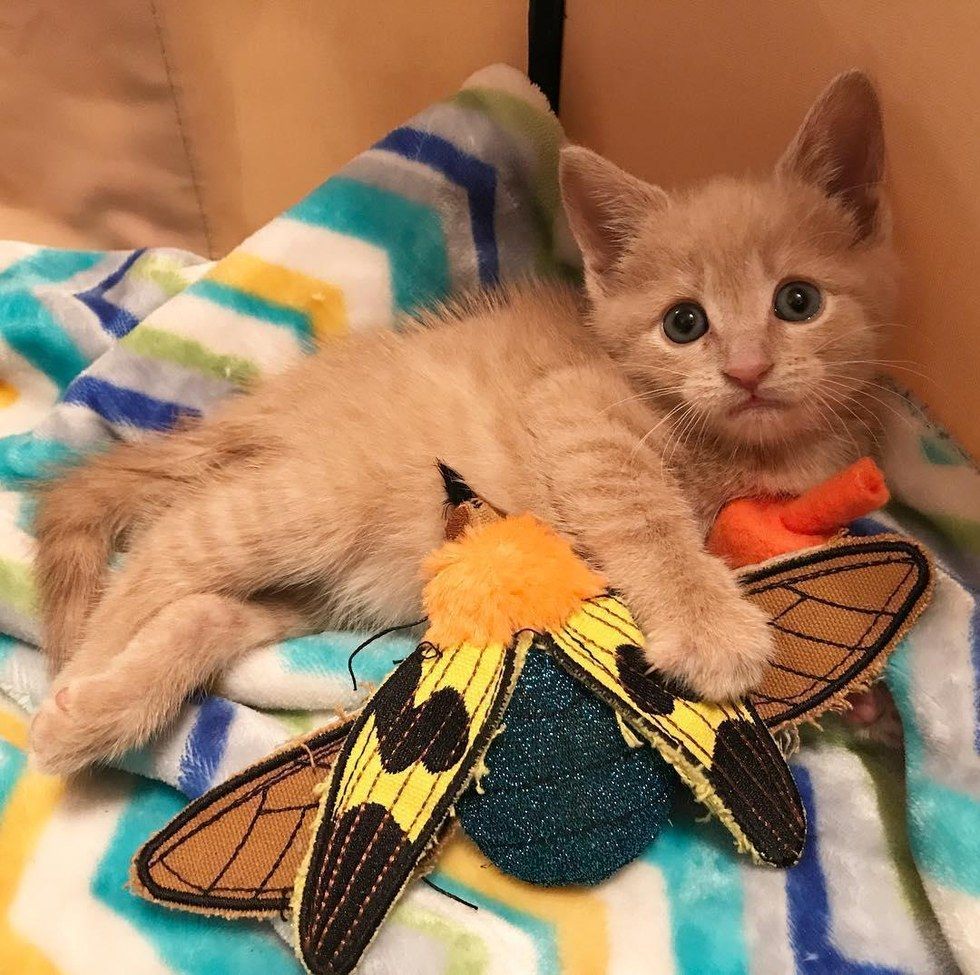 via: Kitten Lady
"She likes having her backside held up for her so she can walk around and explore using her front legs," Hannah said. But after a visit to the vet, it was determined that the little ball of fur had a broken back.
"She can't use her legs at all, and can only drag them behind her. But, she does have a deep pain reflex (she can pull her legs away if toes are pinched) which means she has feeling," Hannah explained.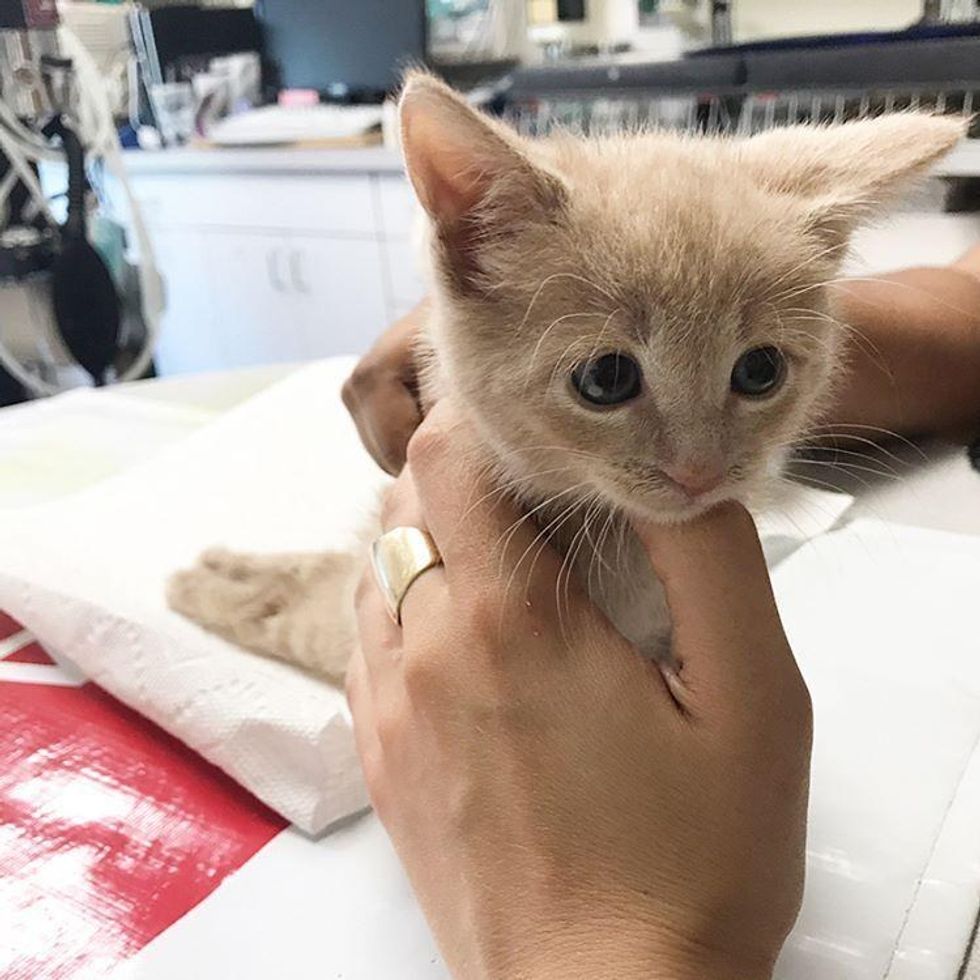 via: Kitten Lady
"Chloe is happy and in no pain at all, but she cannot feel or use the back half of her body, including her legs, tail, and bladder," she added. "The vets felt that her case is 'extreme' and her prognosis is not good — that she is unlikely to ever recover."
But look at that face? Could YOU give up on that face?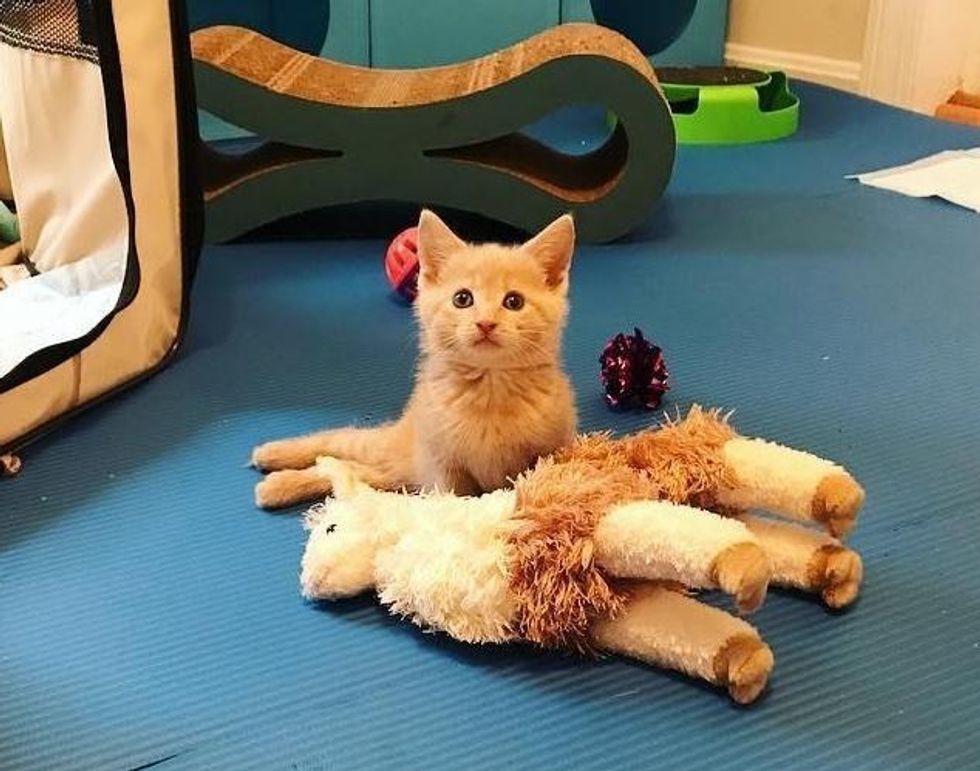 via: Kitten Lady
Chloe wasn't about to give up, and neither was Hannah. "I'm going to take it day by day," she said. "I'm not going to give up, I will try alternate therapies, I will work on creating a set-up that supports her mobility, and I will focus on the positives: she is happy, she is alive, she is loved."
Chloe doesn't know that she's disabled, and still tries to do all the things that other kittens can do.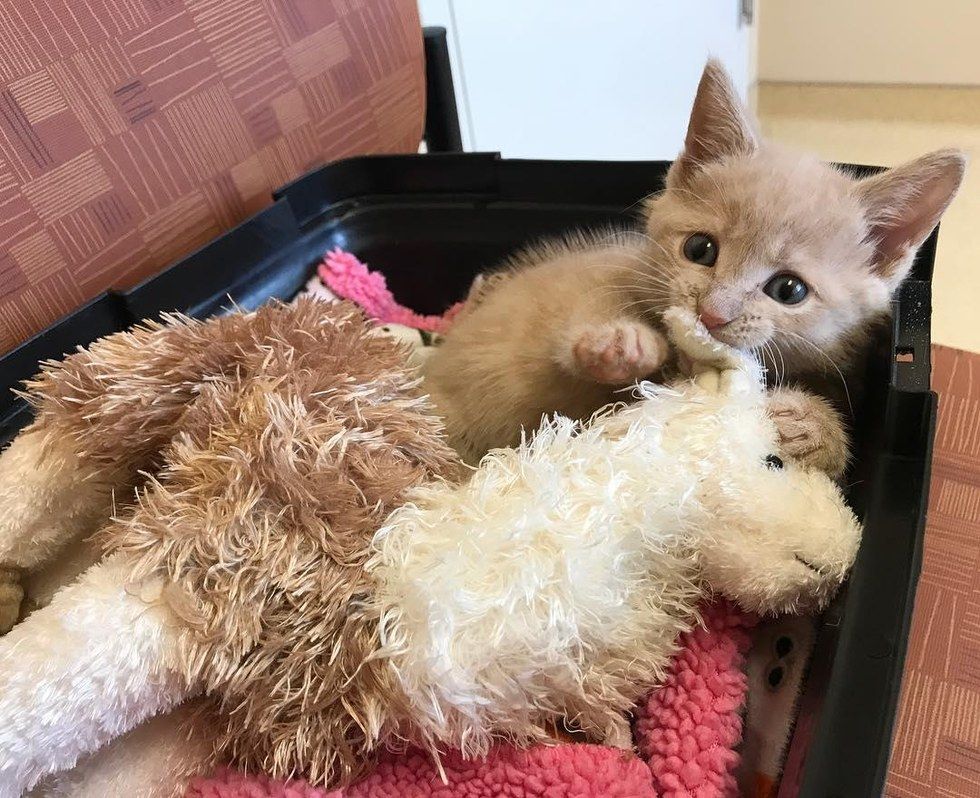 via: Kitten Lady
"I am sitting here sobbing with a huge smile on my face watching Chloe play for the first time," Hannah said.
"I spoke with an amazing woman, @triumphant_teagan, who suggested offering her a box to glide around in," she added.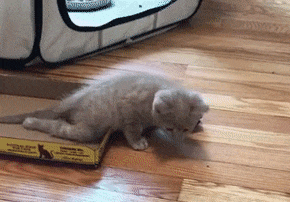 via: Kitten Lady
"She literally went straight to the box and started playing, and I haven't stopped crying," she continued. "Chloe is absolutely incredible." Hannah has consulted many doctors to find the best options to help Chloe recover, and she's receiving cold laser therapy, red light laser therapy, NSAIDs, PT, and medicine to help her bladder relax.
"Chloe is more than her paralysis," Hannah said. "She is a fun, funny, endlessly happy goofball who loves to cuddle alpacas, lick Andrew's beard (foster dad), and hunt tiny mouse toys."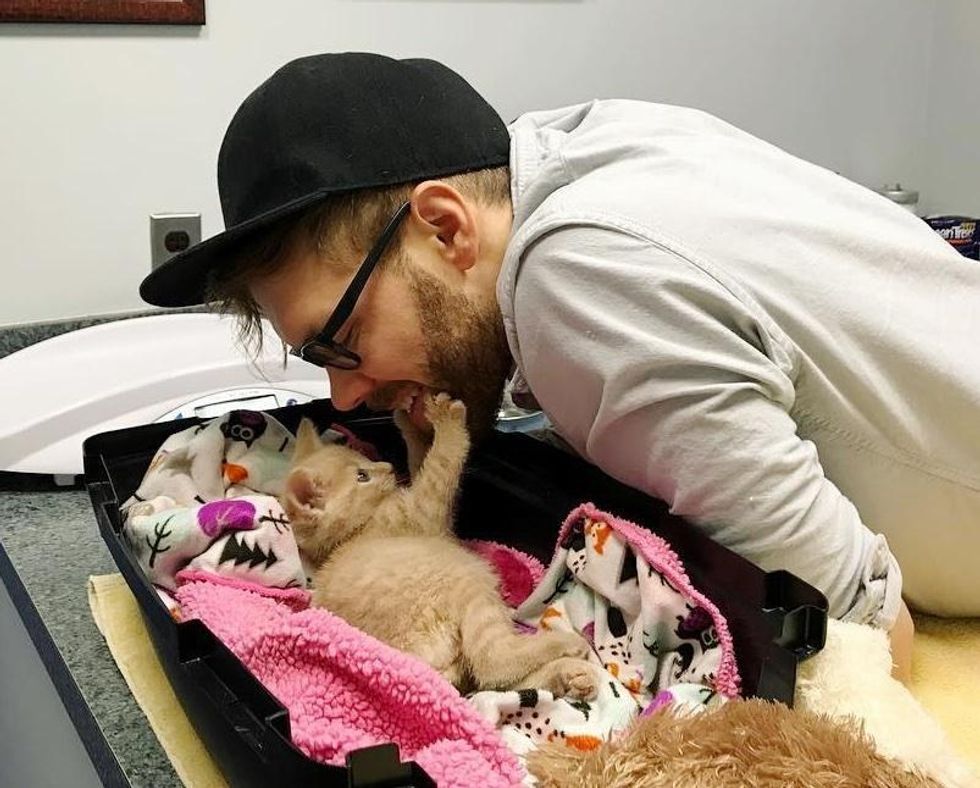 via: Kitten Lady
"Now that she is cleaned up, flea free, dewormed, and has a few days of healthy food and physical therapy, her personality is really shining through! It is so fun getting to know her awesome little spirit."
Chloe's neurologist suggested that she could practice on a grippy surface like a yoga mat, so Hannah lined the entire kitten room with them and now she zips all around!
"Chloe's first acupuncture experience exceeded our wildest expectations," Hannah said.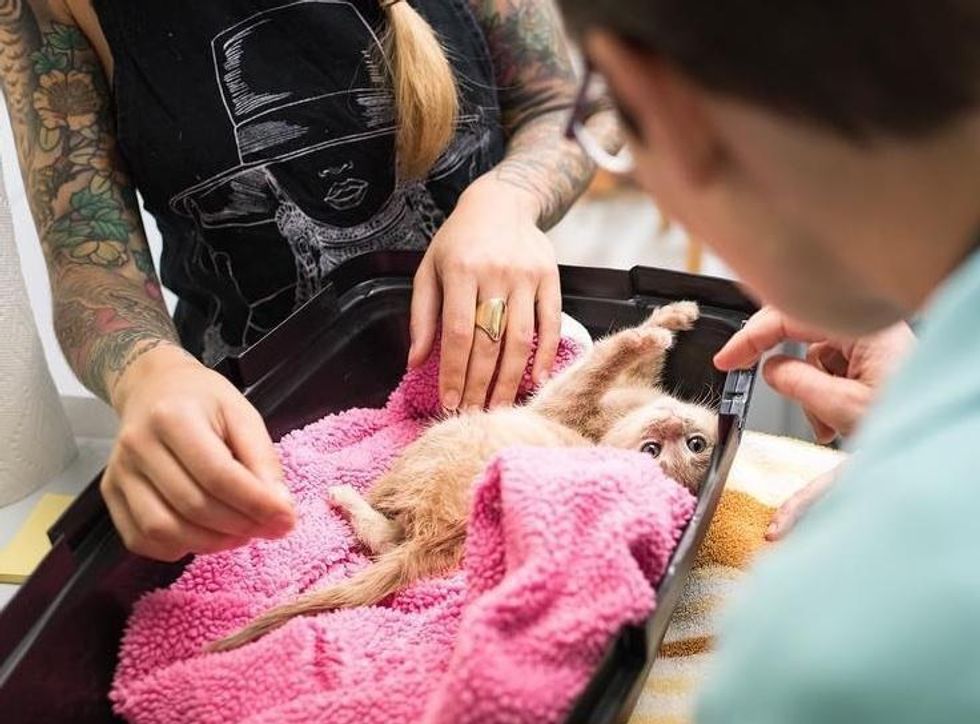 via: Kitten Lady
"She began to kick her legs, move her tail, and even stand up," she said. "This is incredible. This is just a very small victory on a long road, but we now are looking ahead with more optimism than ever."
She has also begun to regain partial use of her bladder, which doctors told Hannah would likely never happen for her entire life.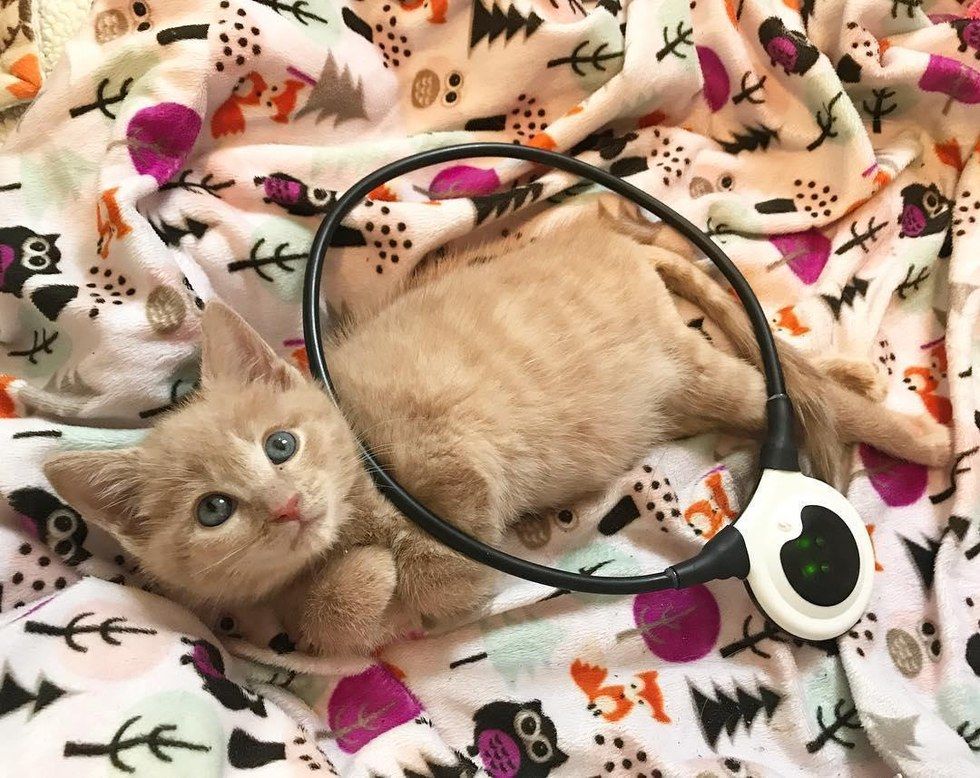 via: Kitten Lady
And as you can see, Chloe loves it when Hannah talks to her.
And if your heart hasn't exploded yet, check out how she plays.
"Chloe would like to dedicate her newfound knee mobility to everyone who told her she would never move her legs again," Hannah said.
"She's amazing and she ain't giving up." You can follow more of Chloe's journey on
Facebook
and
Instagram
.