Even if you don't pay too much attention to competitive gymnastics, you probably already know that Simone Biles is a badass. In the 2016 Olympics, Biles managed to take home the gold medal for all-around, vault, and floor. But the powerhouse is showing no signs of slowing down - just this week at the GK U.S. Classic in Louiseville Kentucky, not only did Biles win the all-around title (her fourth at this point) - but she did something that had the internet picking its jaw off the floor.
Biles attempted what's called a triple-twisting double back. That's two twists and three flips, all while remaining in a tucked position. And not only did she land it flawlessly - it's been revealed that this feat has never been successfully attempted in a gymnastics costume - ever.
Born 14th March 1997, Simone Biles is one of the most talented athletes of all time.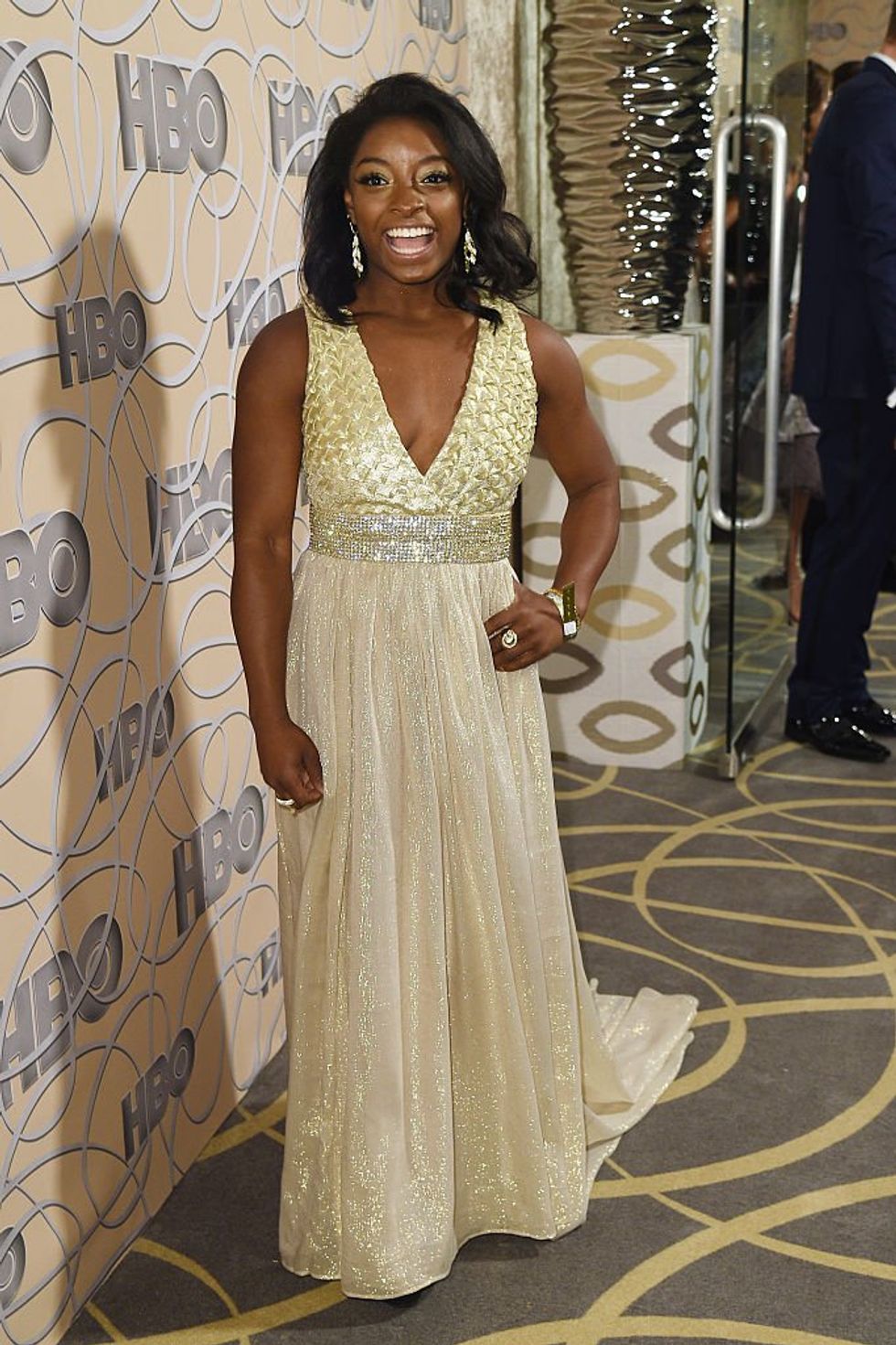 via: Getty Images
Biles had a childhood that was anything but easy, with two parents with addiction issues that left her and her siblings in and out of foster care. Finding her passion, though, she first started in competitive gymnastics at the age of six.
Biles first rose to worldwide prominence in the 2016 Olympics.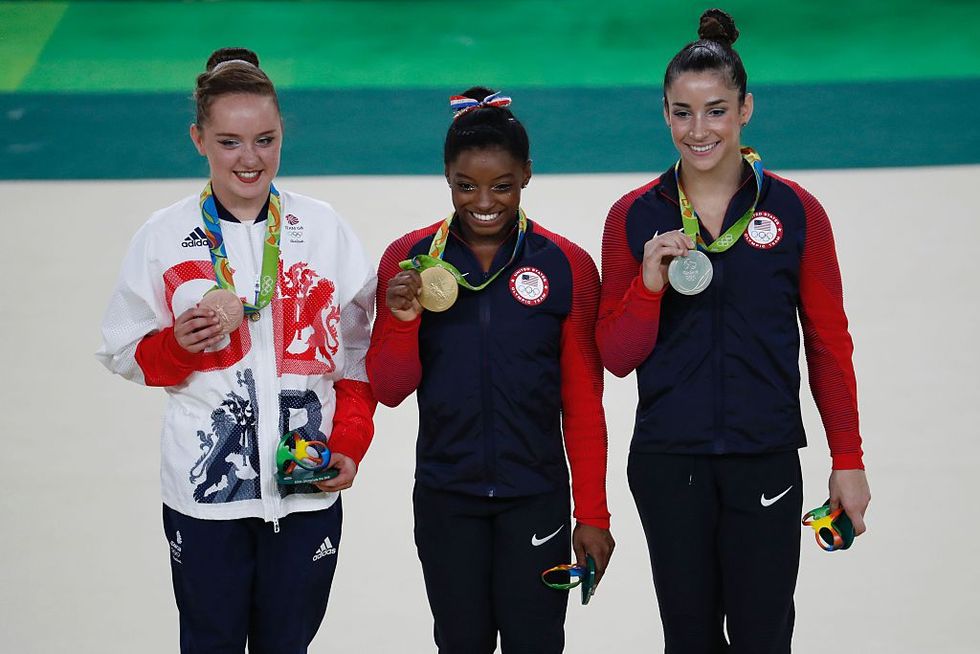 via: Getty Images
She was part of the U.S. Team known as the Final Five and ended up winning the individual all-round, vault, and floor gold medals - pretty incredible stuff.
Biles is also just an all-round queen.
We mean...
Even if you aren't into sports or fitness, you have to admit that this woman is incredibly inspiring.
And just to reel off a couple more achievements...
Biles is a four-time all-round World champion, four-time World floor exercise champion, and a five-time all-around USA champion. With a combined total of twenty-five Olympic and World Champion medals, Biles is the most decorated gymnast in the USA. Oh, and she's only twenty-two.
It's safe to say that you shouldn't be fooled by her spangly costumes.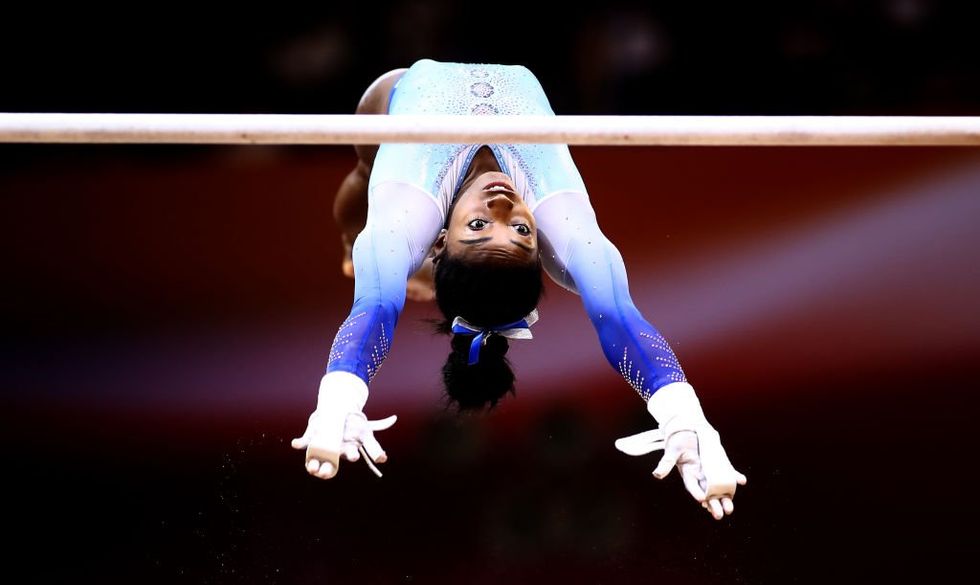 via: Getty Images
Biles is no fairy princess - in fact, she's probably one of the fittest and strongest athletes working today.
But, this weekend, she surpassed herself.
@olympicchannel @Simone_Biles @gymnastics It literally doesn't make sense https://t.co/mT5u2bff39

— Edward Miller MD (@Edward Miller MD)1563560637.0
Yet again.
Biles competed at the GK U.S. Classic this past weekend in Louisville, Kentucky - and, needless to say, the internet has gone wild for her performance.
Because what Biles achieved was beyond anything ever seen before.
@olympicchannel @Simone_Biles @gymnastics We now go live to @jvn https://t.co/fGglDkmtpx

— Stephanie Levy (@Stephanie Levy)1563557163.0
And the craziest part? She showed off a move that no competitive gymnast had successfully attempted before - 
during her warm-up.
Here are some of the mind-bending images from her routine.
@Simone_Biles We've come to expect it but it really is INCREDIBLE that Simone keeps getting better and better and c… https://t.co/gD31ITLu9N

— FloGymnastics (@FloGymnastics)1563673507.0
The move that she managed to pull off in her warm-up was called a triple double. It involves two flips and three twists while staying tucked. It's also known as a triple-twisting double back.
Take a look.
Practicing moves that you're the only person to do in history ✔️ @Simone_Biles is 💰 on the floor. #GKClassic https://t.co/kdFFuK77q4

— Team USA (@Team USA)1563554726.0
It's honestly unbelievable that a human body can perform such feats - especially when it looks as though she isn't even
trying
. But that's not all that Biles managed this weekend.
Biles ended up leaving the triple-double out of her final routine.
But she did include a different, brand new move. She's already famous for "The Biles" - a double layout with a half turn. But she added an extra front layout to her already signature move this weekend.
This meant that she performed not one, but two unseen feats, in a matter of hours.
And, thankfully, unlike many high-performing females, Biles didn't see the need to be humble about her achievements. Rightly so!
There are some huge Biles-fans out there.
My mom met @Simone_Biles's mom. https://t.co/GHNUjRiEZE

— Kayla (@Kayla)1563652952.0
Her mother watched on in the audience, showing a healing of the pair's troubled relationship.
But people pointed to Biles' athletic achievements above any tabloid gossip.
@olympicchannel @Simone_Biles @gymnastics Well.... there it is. As usual, she not only performs it, but performs i… https://t.co/H7eEO8C4P1

— BrookwoodMrKling (@BrookwoodMrKling)1563554329.0
Biles performed her final routine with so much power that she actually over-rotated and managed to land a few feet further forward than her mark.
Many are feeling emotional about Biles's achievements.
@olympicchannel @thegymterdotnet @Simone_Biles @gymnastics I can't handle it. We don't deserve her 😣

— Stefanie Shea (@Stefanie Shea)1563557774.0
Seeing a young, petite, African-American woman kick butt against the odds is enough to bring a tear to our eyes.
But it's not just what she does.
@jel_rionuevo @olympicchannel @gymnastics RIGHT! She totally could. I'm waiting for her to throw a triple back 😂

— GymNerd (@GymNerd)1563568967.0
It's also the fact that she seems to do it without even having to try. The effortless way that Biles performs her tricks makes her a real pleasure to watch.
Of course, Biles took home gold.
Simone doing what Simone does best - WINNING! Senior #GKClassic all-around champion! 🥇 Simone Biles - 60.000 🥈 Rile… https://t.co/khiisFK50k

— USA Gymnastics (@USA Gymnastics)1563670395.0
It almost goes without saying, right? But not only did Biles win, she also managed to beat her competition by two whole points.
And Biles fans have a lot to look forward to.
We live in the time of Simone Biles. https://t.co/Ml06RuQ3c1

— GymCastic (@GymCastic)1563667699.0
Because as the Tokyo Olympics approach, we can only imagine what Biles is going to pull out of the bag. But we can rest assured that she's got plenty more records to break.
Here's the video that has set the internet on fire.
"And she... oup!" 😲 A triple double on floor from @Simone_Biles. Although she doesn't plan to compete this weekend… https://t.co/A2IKK1ucS9

— Olympic Channel (@Olympic Channel)1563553125.0
You can even hear by the commentator's voice that this move was a shock to the audience.
We just can't wait to see what she does next.
And if this vid has whetted your appetite for more incredible gymnastics content, then keep scrolling for one of the best routines the internet has ever seen.