PSA: The spicy chicken nuggets are back.
Wendy's is America's fast food lifeline, and we have nothing but love and admiration for the place. It's been there for us in our darkest times with its deliciously deep fried burgers and chicken... and not to mention the famous Chocolate Frosty...
Like most other fast food chains, Wendy's menu changes yearly. Seeing different recipes come and go, it's safe to say that Wendy's always has a lot to offer.
The popular fast food chain took to Twitter recently to break some huge news, and the internet has gone wild. Read on to find out the details...
Wendy's has been around for years...
The fast food chain restaurant was founded in November 1969 in Columbus, Ohio. In December 2018, Wendy's became the world's third-largest hamburger chain following McDonald's and Burger King. But that's not all that the fast food joint sells...
The world is obsessed with chicken nuggets...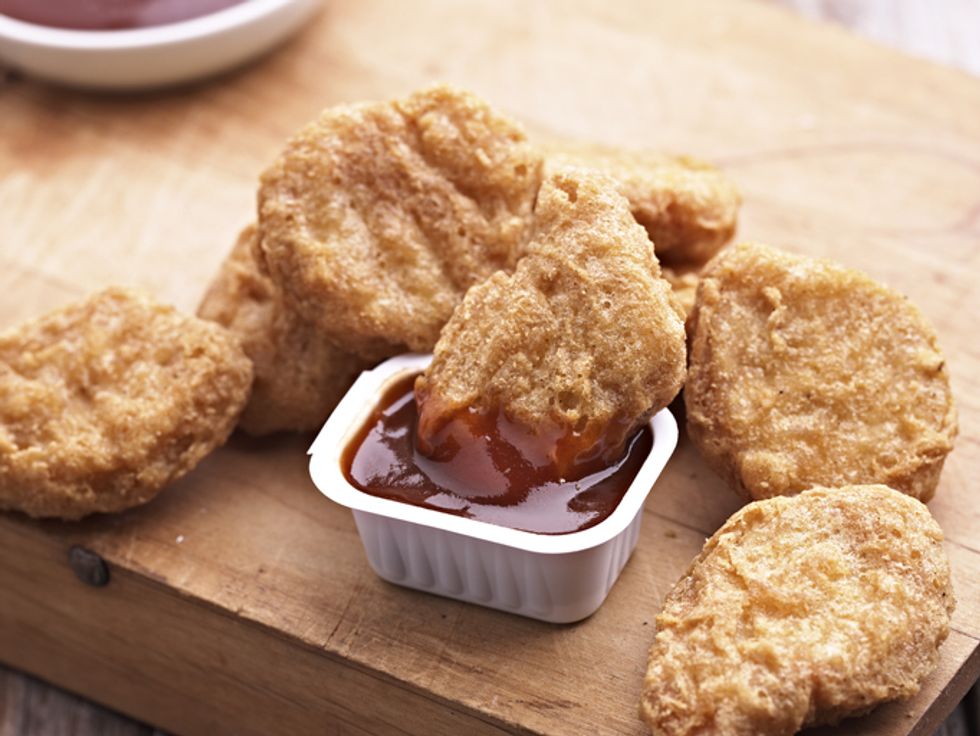 I can't quite put my finger on what it is, but there is something about chicken nuggets that just drives the world crazy. Perhaps it's because they're 
damn delicious
.
Wendy's have absolutely nailed the chicken nugget game.
Wendy's chicken nugget range was the one. And those spicy nuggs? To die for. So when Wendy's took the spicy chicken nuggets off the menu in 2017...
People were pretty torn up about it.
Despite the spicy chicken nuggets being a hit, they clearly weren't selling well enough to stay on the menu. So Wendy's discontinued them and people weren't happy, to say the least.
A few years of grieving later...
Y'all keep asking, so here's your chance. The people in charge say if you guys can get our tweet (this one right h… https://t.co/0pWSqFy5fX

— Wendy's (@Wendy's)1556999429.0
Wendy's is known for its hilarious Twitter account, and they took to Twitter in May to release the condition of bringing the spicy nuggs back after popular demand. 2 million Twitter likes and the nuggs will be brought back to us.
Simple
, right?
The people of the USA didn't hesitate...
So it turns out that us US folk will do pretty much anything for Wendy's spicy chicken nuggets, and a few feeble Twitter likes is a total walk in the park for us.
It only took a day and a half to get the 2 million likes...
THIS IS NOT A DRILL! Spicy Chicken Nuggets are coming back! Y'all are crazy! That took like a day and a half! WHA… https://t.co/JHQMHYCHAO

— Wendy's (@Wendy's)1557118733.0
The guys at Wendy's clearly didn't expect the tweet to go off the way it did, and they even said in a tweet: "We don't know when yet, gotta figure it out, but soon..."
The announcement of this news brought about tons of praise...
Even some famous faces popped up to show their support of the nugget return, including super-diva, 
Jeffree Starr
, who is known to love his fast food chains.
So, when will we be reunited with the nuggs?
Wendy's has clearly had a lot of organizing to do behind the scenes, and it took them over a month to announce the re-release of the infamous spicy nuggets... but the wait will be totally worth it.
Wendy's tweeted this slightly tweaked image of a constellation of stars yesterday.
The stars have aligned. https://t.co/jXx2Y9gMpn

— Wendy's (@Wendy's)1561404333.0
Instead of stars, it's the spicy chicken nuggets up there in the heavens. We 
knew
it!
They then confirmed the landing date...
@doodletdm Spicy Nuggets August 19th

— Wendy's (@Wendy's)1561415227.0
August 19th will welcome the return of Wendy's spicy chicken nuggets and what a wonderful day that will be.
Who'd have thought that some chicken nuggets could bring so much joy?
The internet hasn't held back in expressing its collective happiness over the return of the beloved spicy nuggs.
Wendy's is here for us...
People are keen to share their admiration and appreciation, and the Wendy's Twitter team are dishing out all the replies.
Even if that means encouraging blowing a week's wage...
Wendy's fully support us spending all of our hard-earned dollars on their spicy nuggs.
I know where all of my money will be going...
I can't be the only one willing to blow an entire week's paycheck on some chicken nuggets, right?
Some people are already getting impatient.
@DrowsyFN Because we didn't even have them. We are a national restaurant chain

— Wendy's (@Wendy's)1561404483.0
It seems that August is simply just too far away for some, and Wendy's have been laying it out on the table for those who are fueling their frustrations over Twitter.
Putting people in their place...
@Onl1neGama It means launching a product nationally takes time, and maybe just be happy they're finally coming back… https://t.co/vetXCc4MlO

— Wendy's (@Wendy's)1561404428.0
The Wendy's Twitter team deserves a gold medal in dealing with trolls...
Serving up all the sass...
Some people just don't understand how big food companies work, do they?
Hopefully, they'll stick around a little longer this time...
@Dtrent23 More than a day. For awhile. Hopefully long term if they sell well enough

— Wendy's (@Wendy's)1561405309.0
As Wendy's has explained numerous times over Twitter, the spicy nuggets will stick around on the menu for a much longer - maybe even
permanent
- period of time if they sell well.
With the Twitter hype...
One can only imagine that the spicy nuggs will fly off the shelves when they are re-released in August. All we can do now is patiently wait and count down every hour, minute, and second until we are reunited with our beloved chicken nuggets!