It's been a long year already, and it's not even February, folks! That's right. We're merely one-twelfth of the way through 2018. We've got 11 more of these to go, and I honestly don't know if we're going to make it.
The ups and downs and mostly downs of January have been almost too much for us to handle, you know, as a country. It shows real strength and resilience that we're even attempting to enter February with our heads held high.
As a reminder, here are the craziest things that have gone down in all of our lifetimes. It just so happens that they all occurred in one month. January 2018 is certainly one for the history books.
January 30 — Donald Trump delivers his first (and hopefully last!) State of the Union address.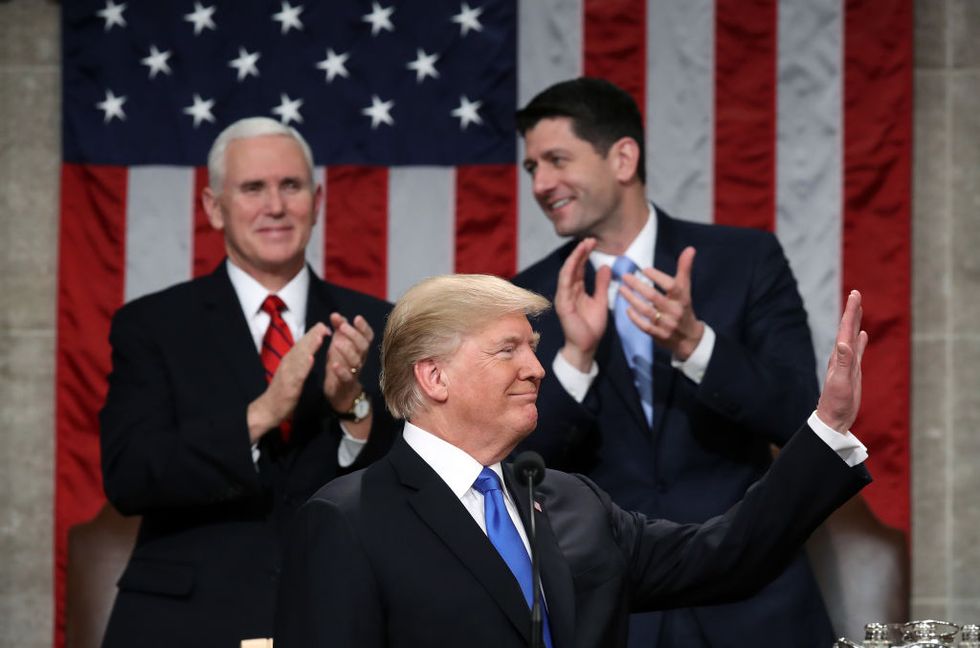 via: Getty Images
It may seem like eons ago that
Donald Trump seemed to clap into a microphone for 70 straight minutes
, but it was actually just last night! Boy how time flies when only evil monsters are having fun.

It seems disingenuous to write about all the things that happened in January when there are still around 15 hours left in the day. That's enough time for a declaration of war, a few celebrity deaths, and a sexist comment from Sarah Huckabee Sanders. (Oh wait,
that last one already happened this morning.
)
January 29 — Trump says he won't impose new sanctions on Russia even though literally almost every person has said he should.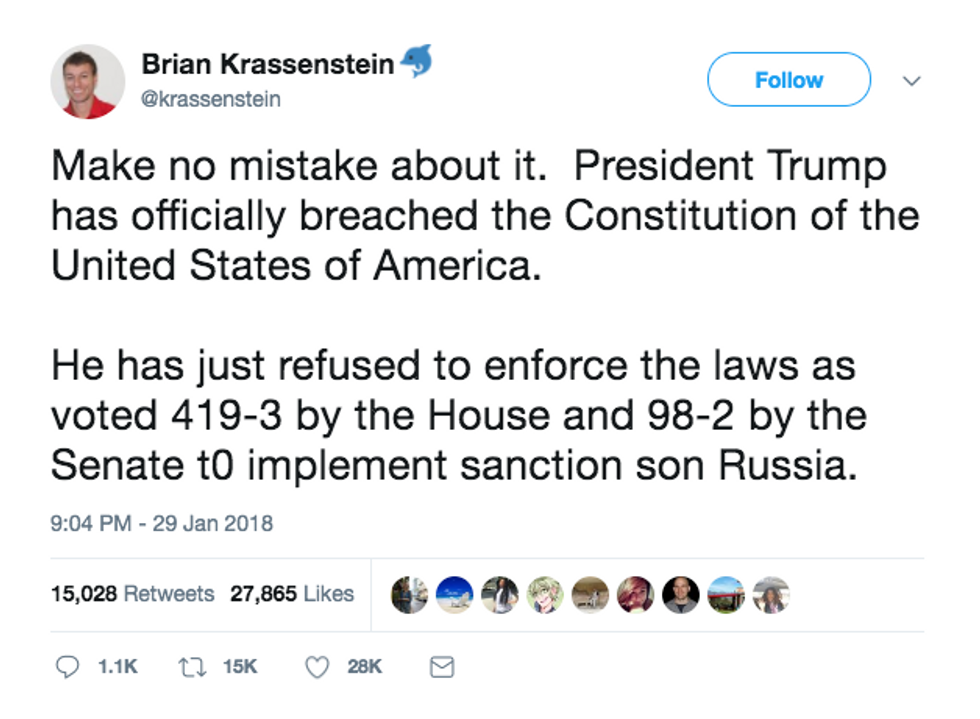 via: Twitter
This is a really bad thing, guys!!! The president has caused a constitutional crisis, but it's mostly flown under the radar because
we're so overwhelmed
with news that we simply cannot be outraged by all of it.

FBI Deputy Director Andrew McCabe also stepped down on this day. But truth be told, we were still reeling from
Donald Trump attacking Jay-Z
on the 28th and
Steve Wynn stepping down due to allegations of sexual assault
on the 27th.
January 25 — The New York Times reports that Donald Trump tried to fire special counsel Robert Mueller back in July.
Sean Hannity: The New York Times is trying to distract you. They say Trump tried to fire Mueller, but our sources a… https://t.co/0R2czMLspT

— Matt Fuller (@Matt Fuller)1516936984.0
The attempted firing of Robert Mueller consumed the news that day, and rightfully so, but we'd be remiss if we didn't also include that this is the day married Congressman Patrick Meehan from Pennslyvania announced his retirement after it was revealed that he had settled a sexual harassment case. His accuser was a former (much younger) aide of his who he thought of as his
"soul mate."
Whatta day! People, we're not even halfway through the month yet...
January 20 — The government shuts down.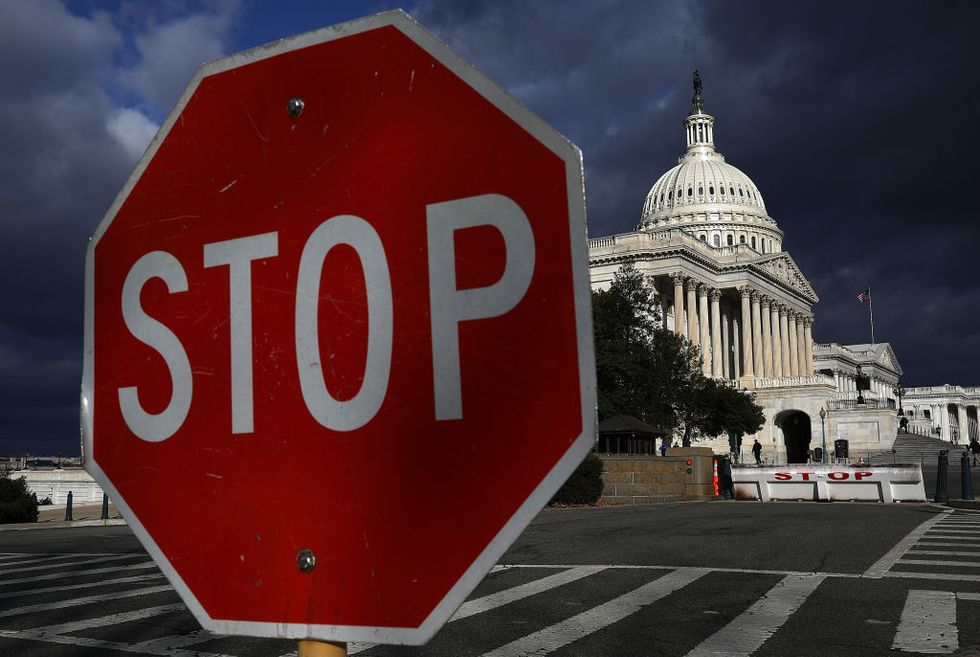 via: Getty Images
The government may have given up on January 20, but women didn't! That day, thousands upon thousands of women in cities all over the nation gathered for the second annual
Women's March
.

If you're keeping track, like
HuffPost
was, on this day it had been four months since Hurricane Maria devastated Puerto Rico, and still much of the island was without power.
January 19 — InTouch publishes an explosive interview with porn star Stormy Daniels in which she recounts horrific details of her alleged affair with Trump in 2006.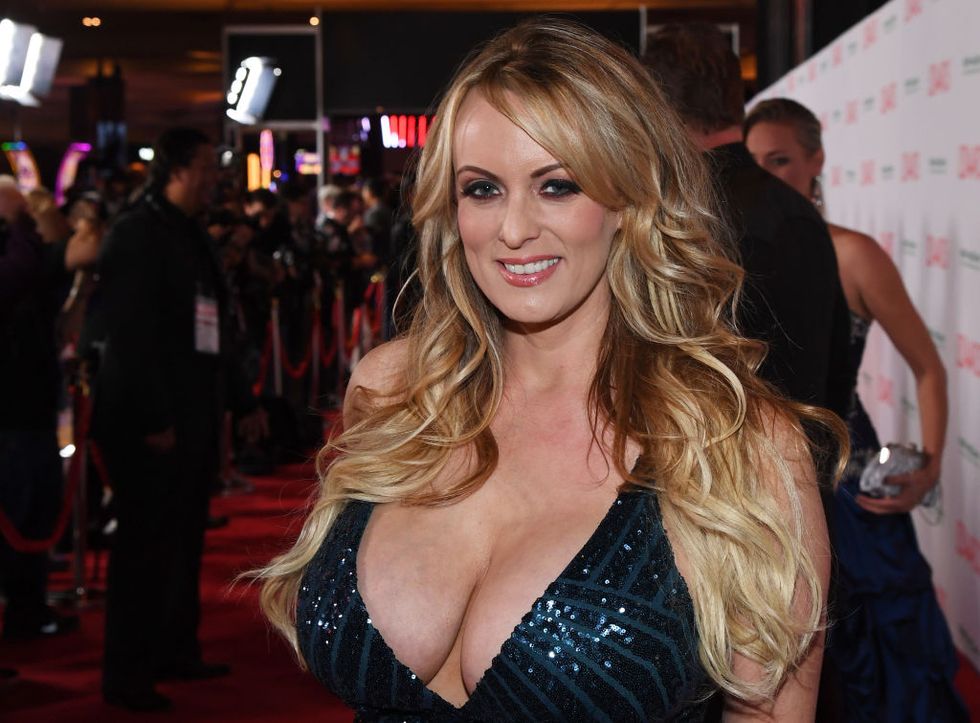 via: Getty Images
'Twas a doozy of an interview
, folks. If you'll recall, the story had been brewing for a few days before the interview dropped, including the fact that she had been
paid $130,000 in hush money
to keep quiet about their illicit relationship before the election.
January 16 — A doctor declares that Donald Trump is in extremely good health. Some do not concur.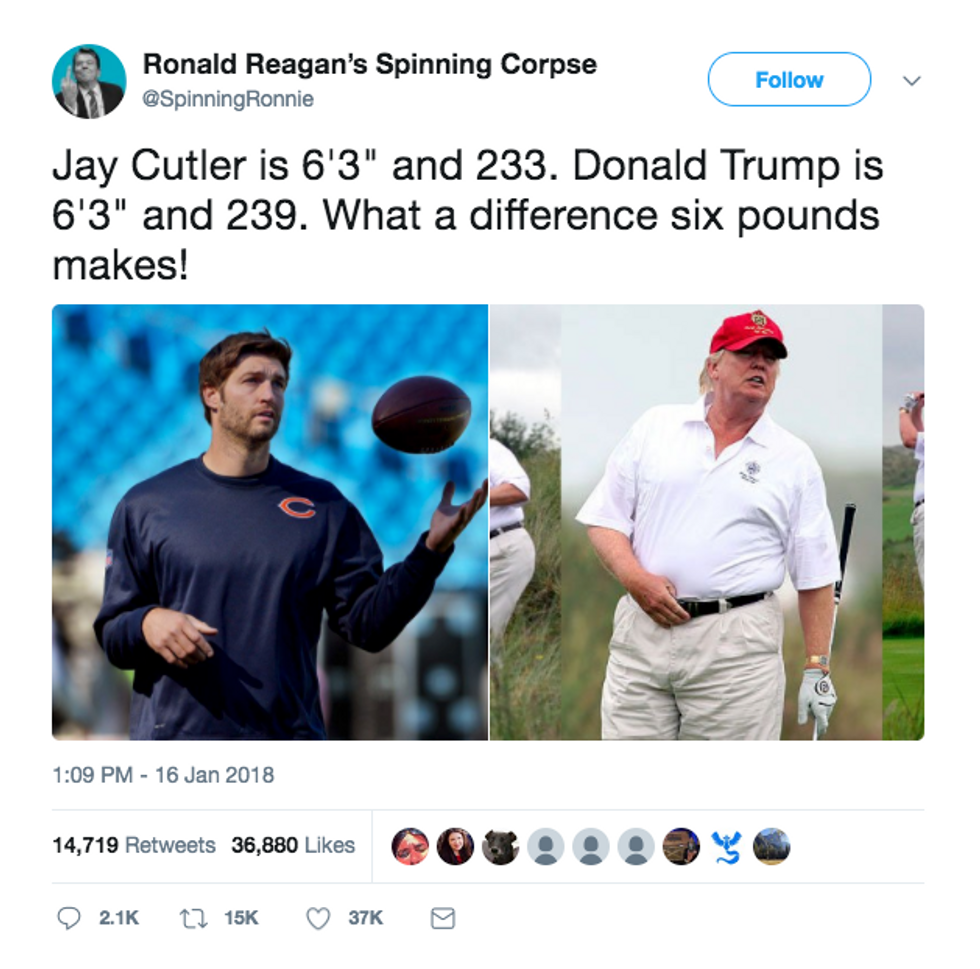 via: Getty Images
Trump's official height is 6'3" and his official weight is 239 pounds, but some took issue with this. Many pointed out that
guys with similar measurements look, well, very different from the president
. It became known as the "girther" movement.

While this was going on, people were still perplexed about Donald Trump's promised "Fake News Awards," which didn't end up really happening, and Steve Bannon testified before the House Intelligence Committee. But the best (and by best I mean worst) is yet to come...
January 13 — Hawaii sends a false "missile threat" alarm, causing a total panic.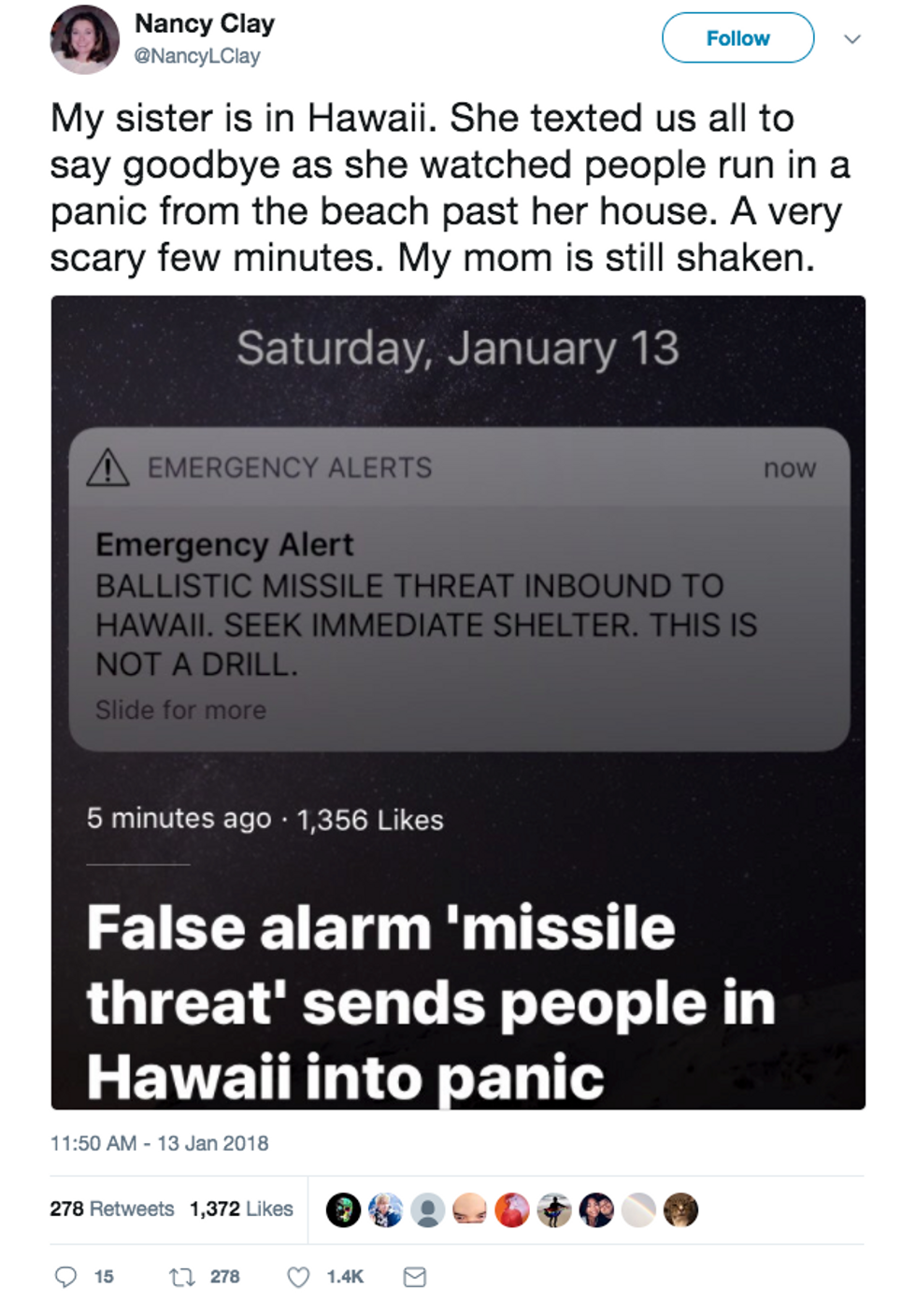 via: Getty Images
This is one time I was glad 
not 
to be in Hawaii. It took a whole
38 minutes
for them to send the "Just kidding, false alarm" follow-up message. Meanwhile, people were taking shelter and saying goodbye to their loved ones. Trump didn't even respond to the incident.
January 11 — The Washington Post reports that Trump called Haiti and African nations "sh*thole countries."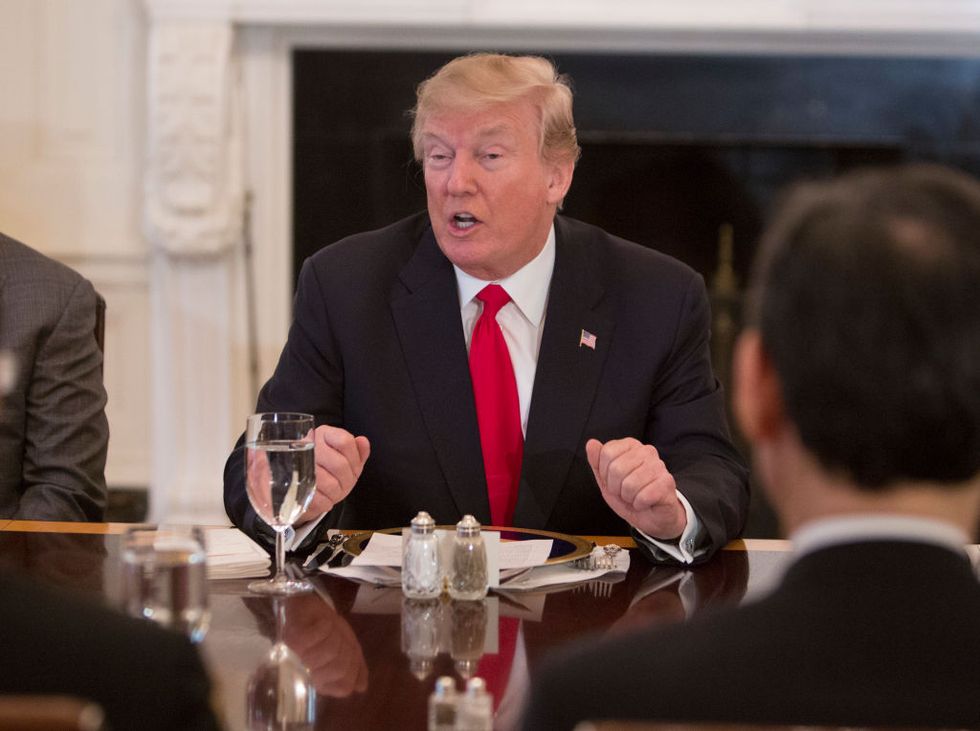 via: Getty Images
This sparked renewed discussion about Trump's obvious and terrible racism
. People from all over the world were, rightly, up in arms about his comment. Just a few days earlier, we thought we might soon be out of the weeds of a Trump presidency.

At the Golden Globes on January 7,
Oprah Winfrey gave a speech that brought the house down
, and there was immediate speculation that she might run for president. While that's
not actually happening
, it was refreshing to hear a competent person speak in full sentences with authority.
January 6 — Donald Trump calls himself a "very stable genius," and we just laaaaugh.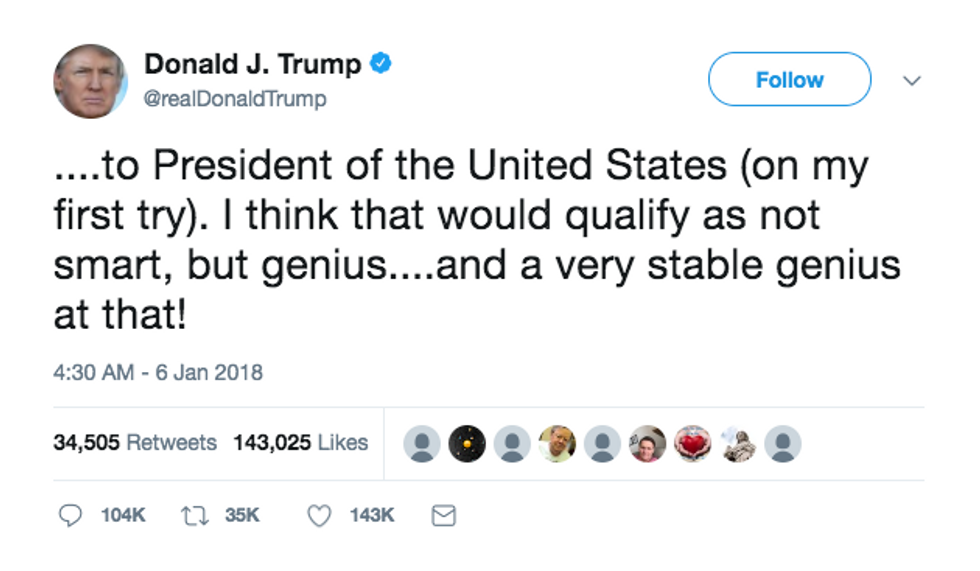 via: Twitter
This mini Twitter rant came on the heels of the release of the bombshell book 
Fire and Fury: Inside the Trump White House
, which purported to be a true account of Trump's first 100 days in the White House. If so, it's beyond concerning, since
many of the revelations in the book
would seem outlandish even if it was billed as fiction.
It's been less than a month
since Trump tried, unsuccessfully, to stop the dissemination of this wild tell-all by journalist Michael Wolff. Less than a month!
January 1 — California legalizes weed.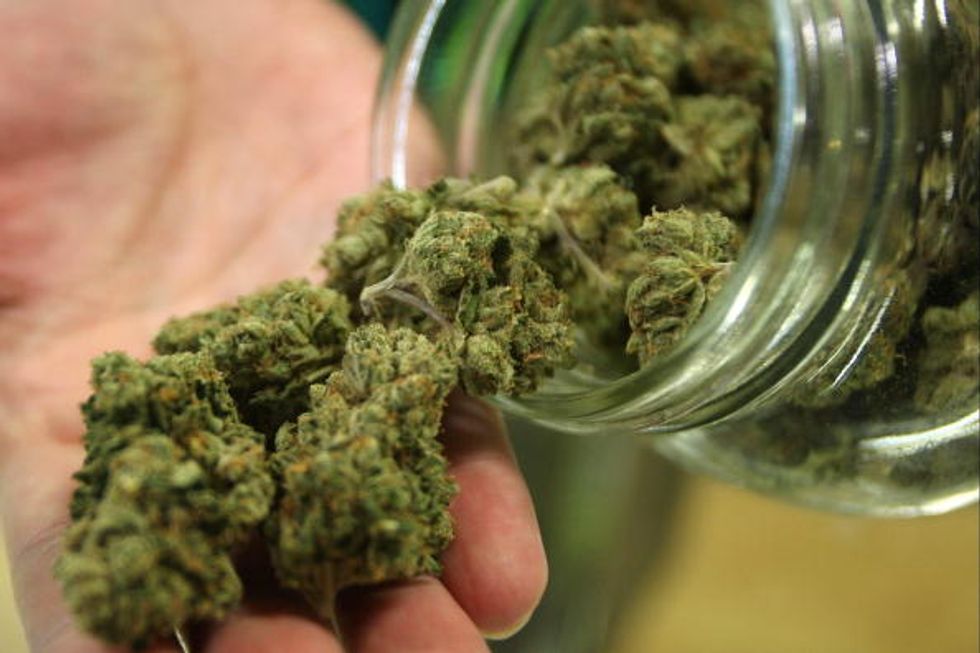 via: Getty Images
And boy oh boy, don't we need it after the month we've had. Between January 1 and "very stable genius," Al Franken resigned from the Senate due to allegations of sexual misconduct, Donald Trump threatened Kim Jong-un with a "bigger" and "more powerful" nuclear button, Doug Jones was sworn into the U.S. Senate after defeating Roy Moore, Senator Orrin Hatch announced that he would retire, and Donald Trump called Bannon "Sloppy Steve." This all happened in January. Now please excuse me while I go into hibernation for the rest of the year.