The White House has given a highly-anticipated update on the current condition of President Trump and FLOTUS, Melania Trump following their shock coronavirus diagnosis...
The world was shocked when, last night, President Trump announced that he and Melania had tested as positive for the deadly virus...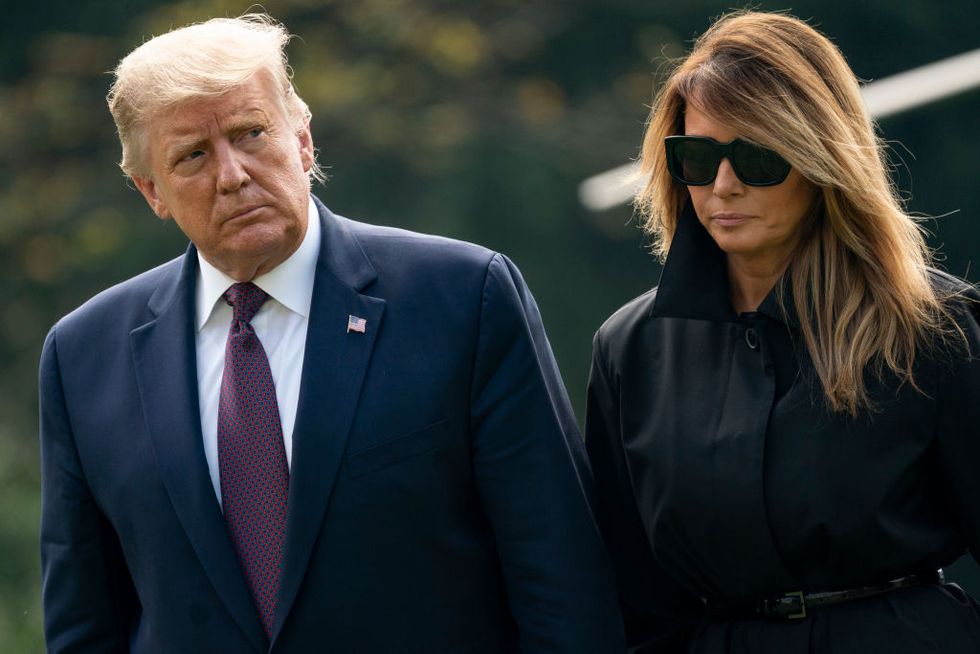 And, ever since his unexpected announcement, the President has remained relatively quiet on social media - a first for him, I know.
But now, the White House Chief of Staff has given a crucial update...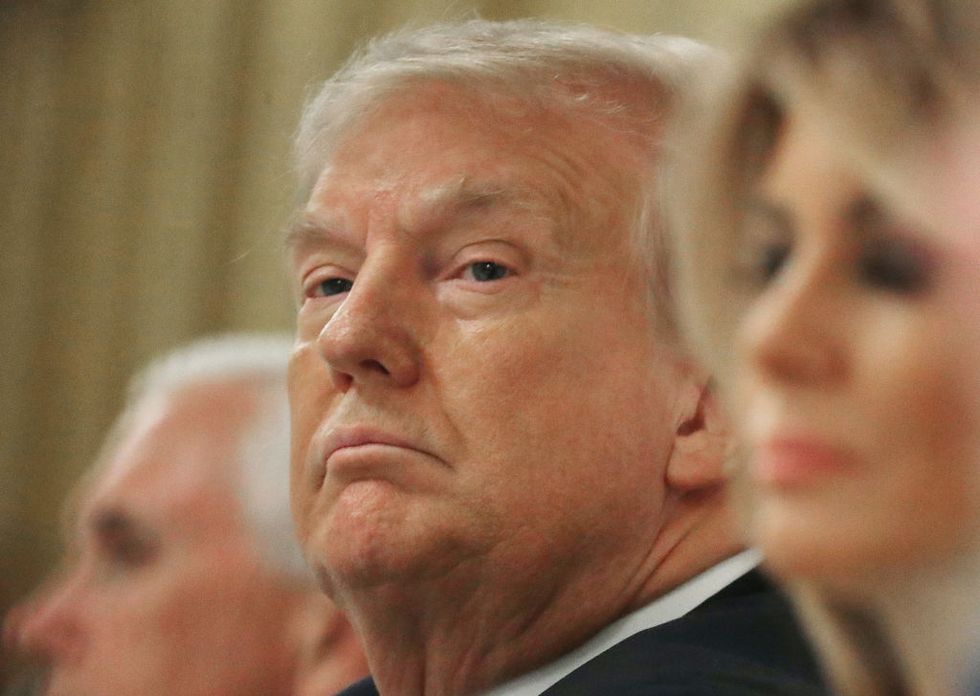 Keep reading to hear what he had to say.
Now, it was only a few days ago that Trump took part in the first presidential debate.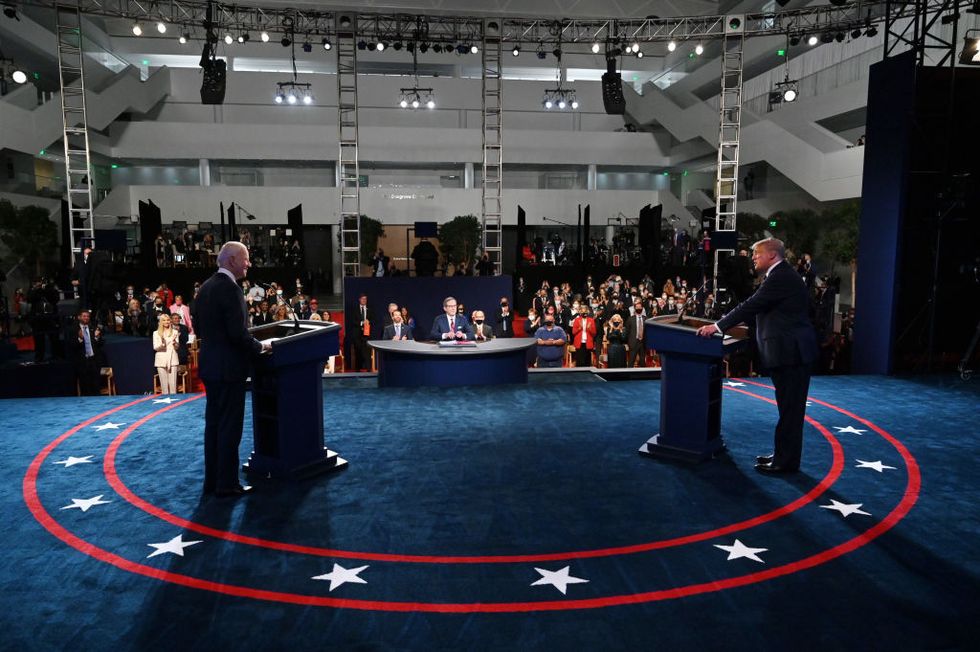 Trump V Biden was never going to be a civilized affair, but the scenes that unfolded last night were nothing short of
brutal.
Tensions between the candidates have been bubbling for some time now...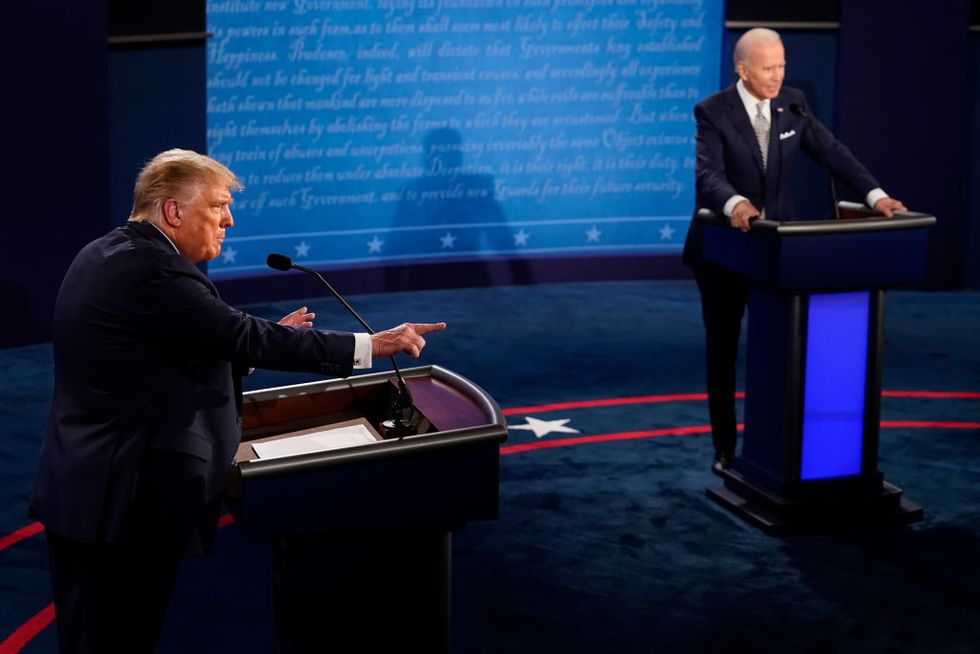 And, earlier this week, it seemed that their mutual feelings of resentment finally reached a boiling point.
There were many eye-opening moments from the ninety-minute debate.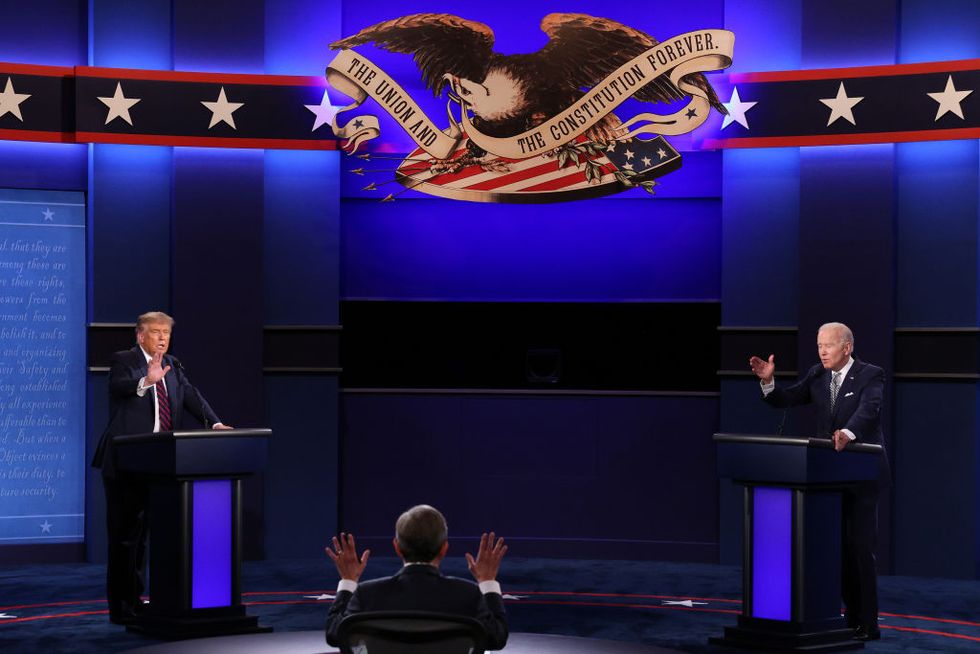 For example...
The president was grilled on the newly surfaced allegations regarding his income tax.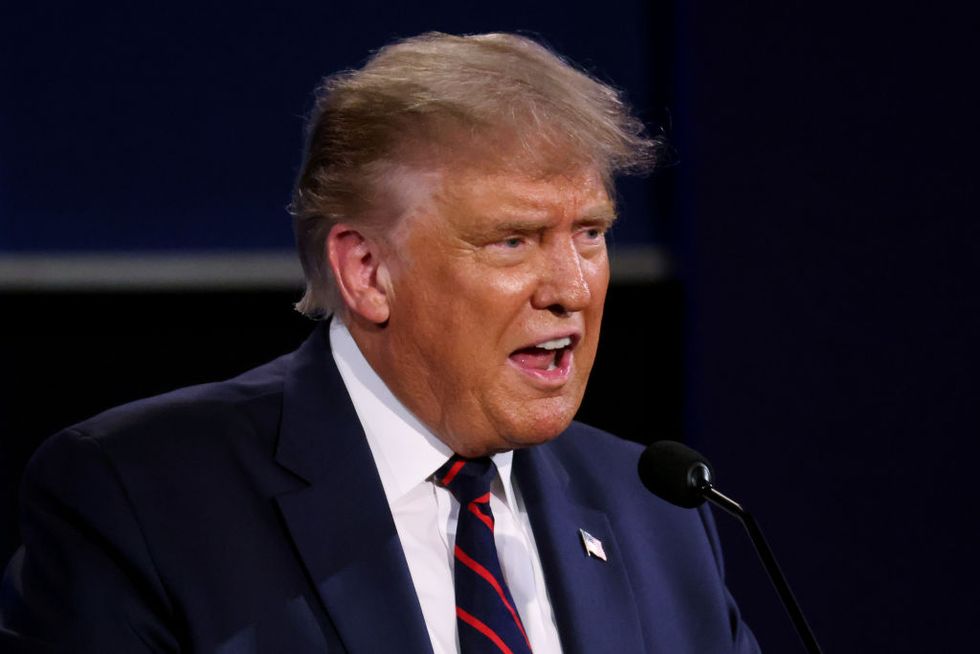 Asked if it was true that he paid just $750 in income tax in 2016, as reported by The New York Times last week, Trump said, without hesitation: "I paid millions of dollars in taxes, of income tax." Biden used this opportunity to ask for evidence of these tax payments, adding that Trump "takes advantage of the tax code."
Trump was also asked to condemn white supremacist groups...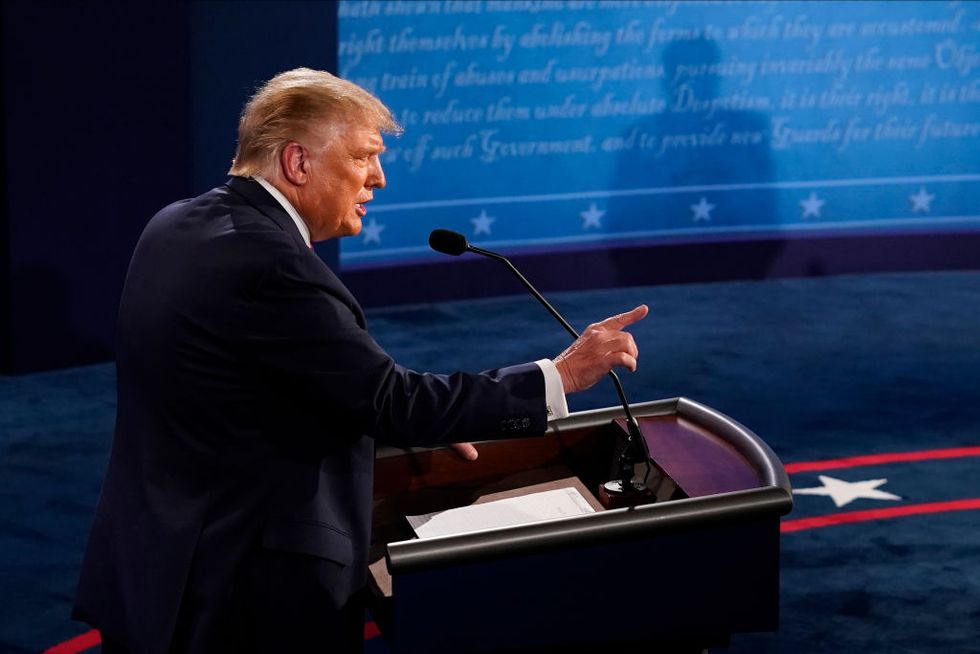 But instead chose to focus on the left. He said: "Sure I'm willing to do that, but almost everything I see is from the left-wing. I'm willing to do anything. I want to see peace." And, when asked to give this group of people a name, he responded with "Proud Boys." Proud Boys, a neo-Nazi organization, appeared to use Trump's "stand back, stand by" call in a new logo posted on Telegram shortly after the debate.
The president did provide some good news with regards to a coronavirus vaccine, however.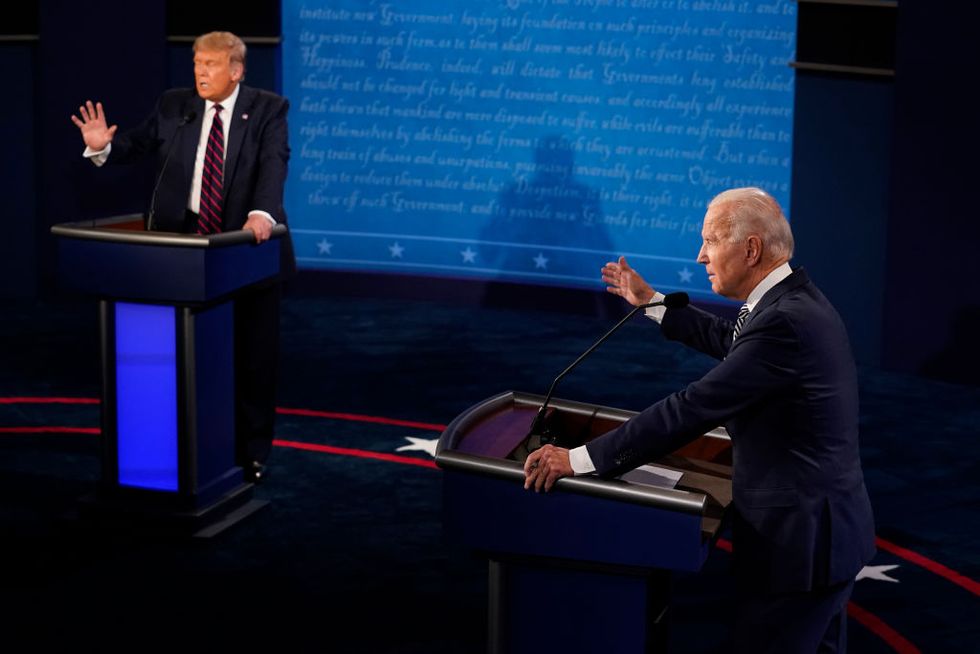 When Biden pointed out that 200,000 Americans have died during the pandemic as a result of the President's "lack of plan", Trump retaliated by insisting that "millions would have died if Biden was in charge." He then added that the US is "weeks away" from a vaccine, and his administration had done a "great job."
Biden's son, Hunter, was then dragged back into the firing line.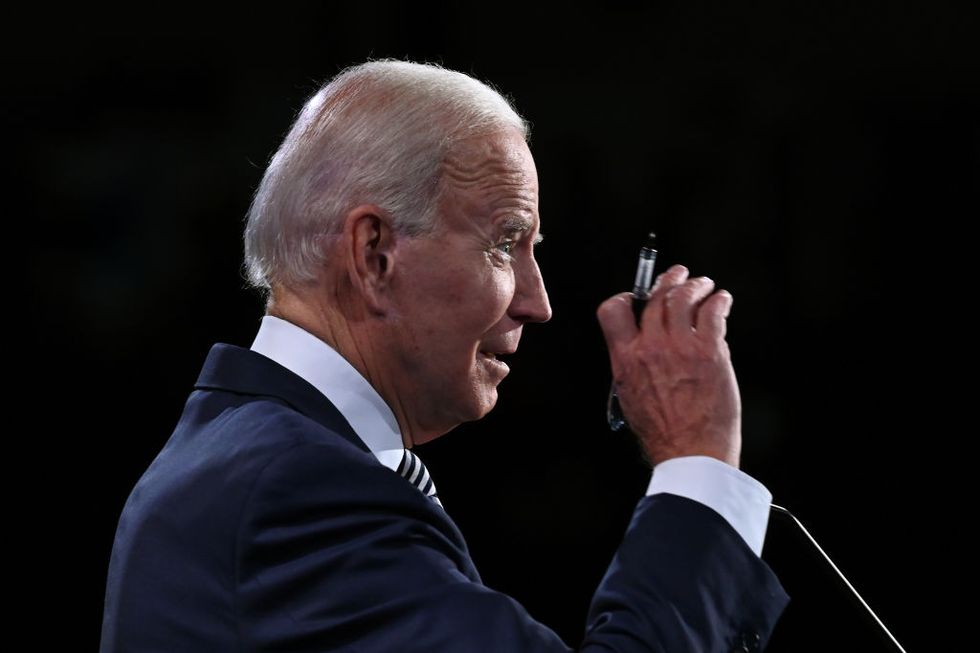 The President brought up Biden's son, claiming the mayor of Moscow's wife gave him millions of dollars and raising questions over his links with Ukraine. He also mentioned Hunter's drug problems.
Clearly, his words about Hunter hit a nerve with Biden.
Beau Biden was not a loser. https://t.co/hwzlZrjh75

— Joe Biden (@Joe Biden)1601432460.0
"His family we can talk about all night," Biden clapped back, adding that "it's hard to get any word in with this clown - excuse me, this person". The pair also clashed over Biden's now-deceased son, Beau, and his military service.
The insults continued to flow.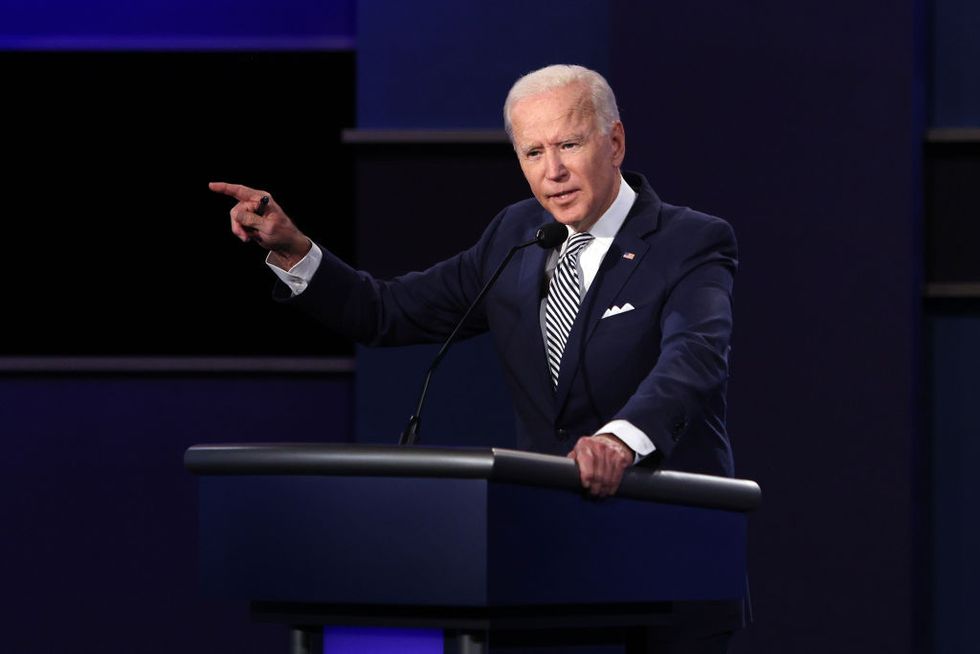 "Everything he's saying here is simply a lie, everybody knows he's a liar," Biden said during an exchange about healthcare. He also called Trump "the worst president this country has ever had."
And, of course, President Trump didn't take them quietly.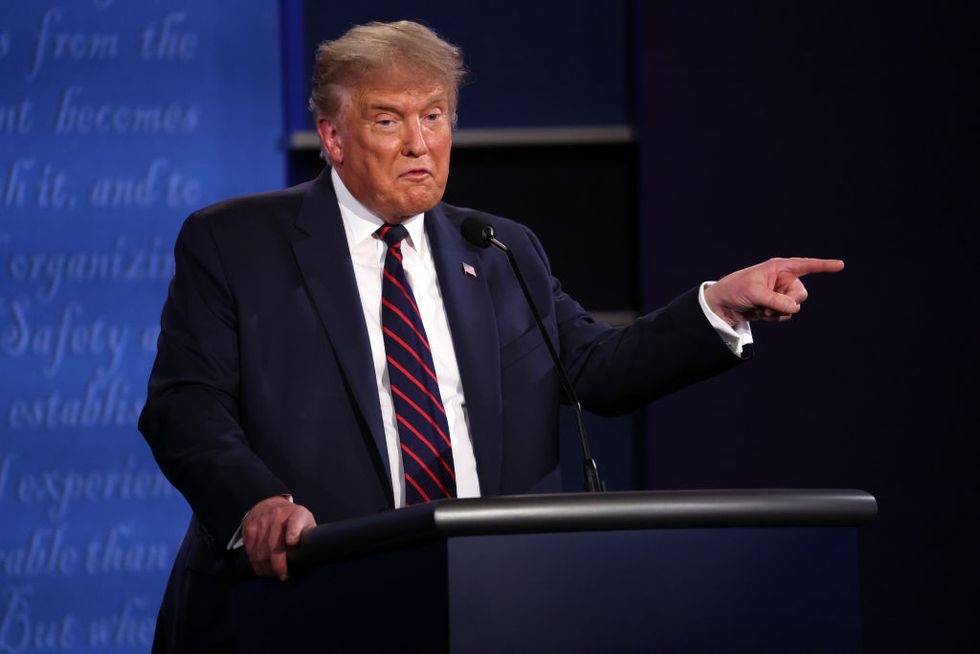 Not to be outdone, Trump got in plenty of digs as well, firing at his opponent: "There's nothing smart about you Joe. Forty-seven years, you've done nothing."
But, out of their many valiant attempts to slander one another...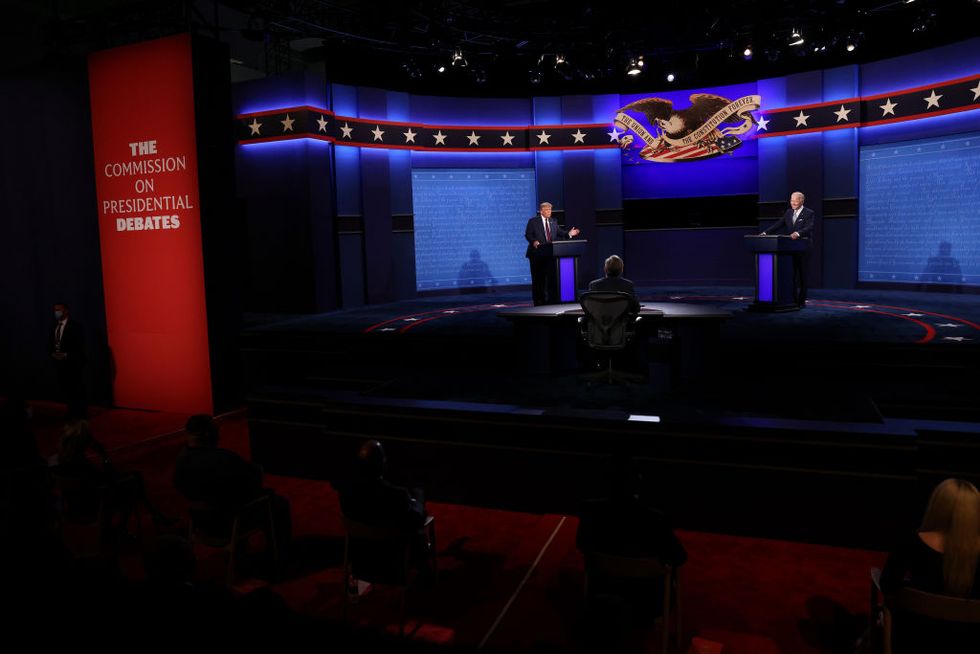 There was one moment that stood out amongst the rest.
After being constantly interrupted...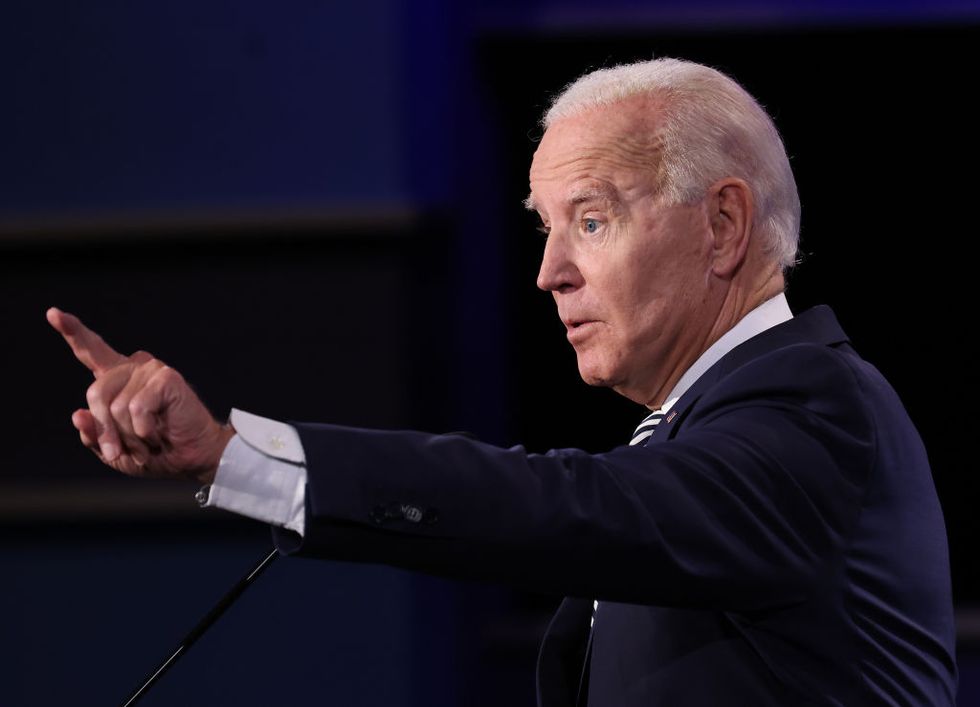 An exhausted Biden actually told the president to "shut up, man."
Yep, it's something many dream of doing one day.
Will you shut up, man? - Joe Biden, speaking for nearly the entire world

— ▹ 𝚁𝚘𝚡𝚢 (@▹ 𝚁𝚘𝚡𝚢)1601451569.0
The moment came during the first segment of the debate on the topic of the Supreme Court and people were
living
for it, to say the least.
But now, news has come in that could put Trump's future leadership in jeopardy.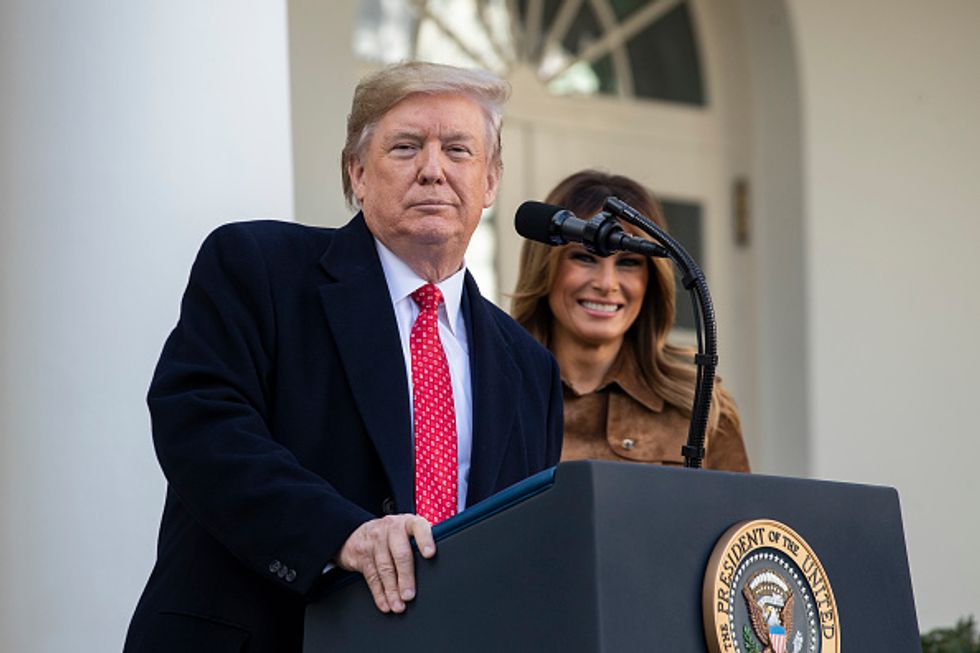 It has been confirmed that the President and his First Lady have been infected with the virus that has already killed 208,000 Americans and devastated the economy.
Trump tweeted this last night...
He didn't give any further details regarding his and Melania's symptoms.
They are now self-isolating...
@realDonaldTrump @FLOTUS We have your back President Trump!!! Get well soon 🇺🇸

— oregon4TRUMP (@oregon4TRUMP)1601614527.0
And floods of well-wishes for the President and First lady have been pouring in from all around the world.
@realDonaldTrump @FLOTUS Another First for President Trump. When he and the First Lady recover, it will take the s… https://t.co/pn6U89BPTr

— twk_5 (@twk_5)1601629709.0
@realDonaldTrump @FLOTUS Please don't drink bleach. 🙏🏼 Stay safe.

— sameera khan (@sameera khan)1601627257.0
But on the other hand, lots of angry and spiteful messages have been thrown at the pair following their diagnosis.
@realDonaldTrump @FLOTUS I just can't be sad. 200,000 Americans have died and he hasn't shed one tear. That's 67 9/… https://t.co/jY0xtfdE63

— Keller Keller (@Keller Keller)1601615591.0
@realDonaldTrump @FLOTUS Now it's "WE" will get through this together? Wasn't it "them" and "us", red and blue, jus… https://t.co/g14SaslUlA

— 𝓢𝓱𝓮𝓵𝓵𝔂 𝕨𝕖𝕒𝕣𝕤 𝕒 𝕞𝕒𝕤𝕜 😷 (@𝓢𝓱𝓮𝓵𝓵𝔂 𝕨𝕖𝕒𝕣𝕤 𝕒 𝕞𝕒𝕤𝕜 😷)1601625335.0
@realDonaldTrump @FLOTUS Lets go @TheSimpsons. Y'all aint never lied https://t.co/GcW1Gbbln1

— The Groomer D (@The Groomer D)1601615359.0
@TheRightMelissa @realDonaldTrump @FLOTUS I don't wish him death. But isn't it ironic that he's the one who tried t… https://t.co/X4VwLouACQ

— Lili 325 Balfour 🙏🐕🚴📈 👩‍🍳 (@Lili 325 Balfour 🙏🐕🚴📈 👩‍🍳)1601615616.0
@realDonaldTrump @FLOTUS Trump testing positive is yet another reminder of why Joe Biden has been conducting such a… https://t.co/nriKmXESUq

— MURRAY🧢🇺🇸 (@MURRAY🧢🇺🇸)1601615435.0
Even though the virus has a fairly steady survival rate...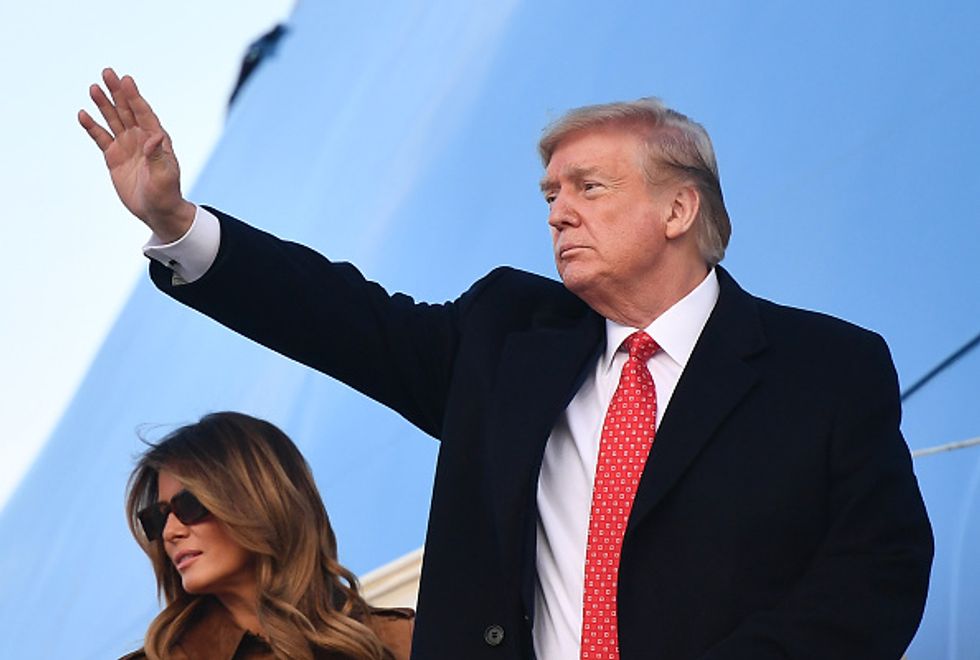 Seventy-four-year-old President Trump is
actually
in the high-risk category.
The statistics speak for themselves.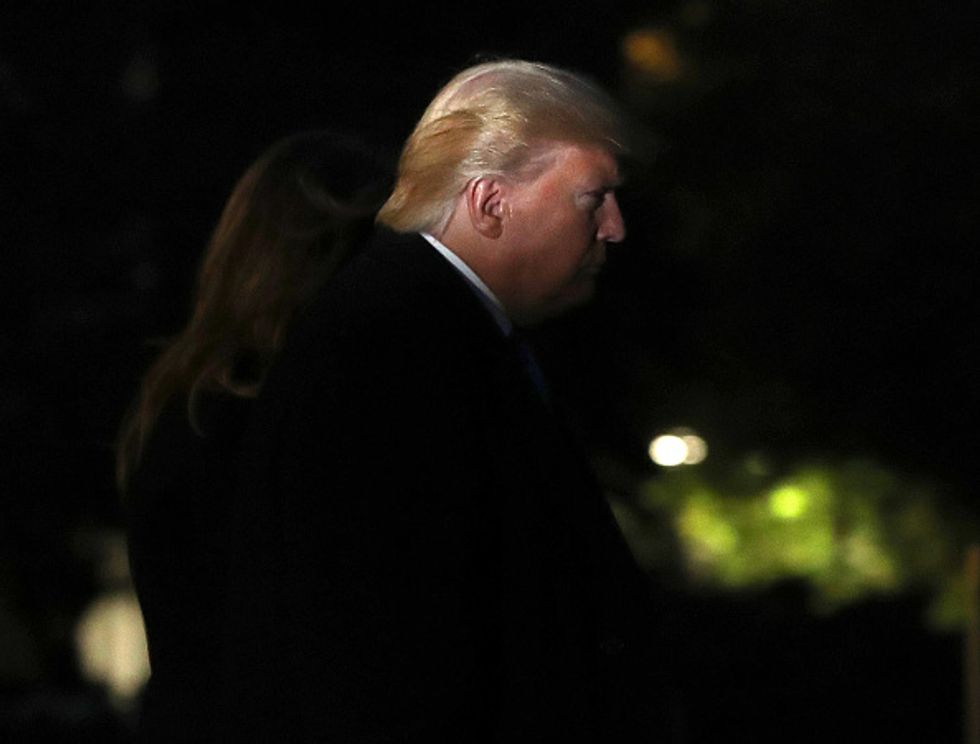 According to 
CDC
statistics, patients between the ages of sixty-five and seventy-four are 5 times more likely to be hospitalized with COVID-19 than someone aged eighteen to twenty-nine.
This means that patients of Trump's age have ninety times greater chance of death than others...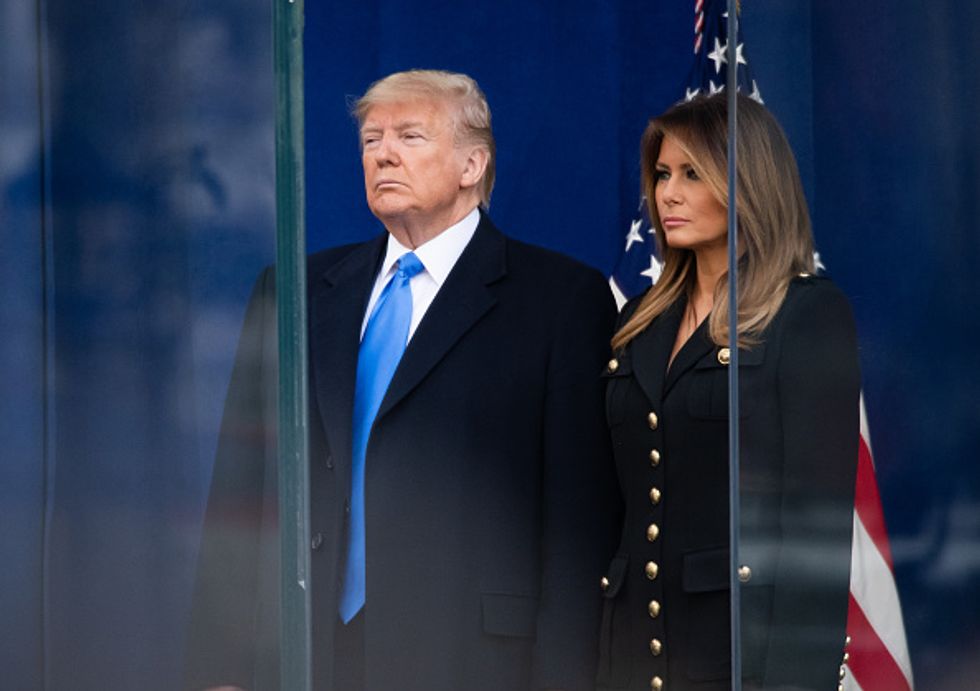 Which isn't
at all
good news for the President.
However, Melania put many minds to rest.
As too many Americans have done this year, @potus & I are quarantining at home after testing positive for COVID-19.… https://t.co/lwtgNuHAR1

— Melania Trump (@Melania Trump)1601616449.0
She tweeted this today: "As too many Americans have done this year, @potus & I are quarantining at home after testing positive for COVID-19. We are feeling good & I have postponed all upcoming engagements. Please be sure you are staying safe & we will all get through this together."
And now, the White House has spoken out.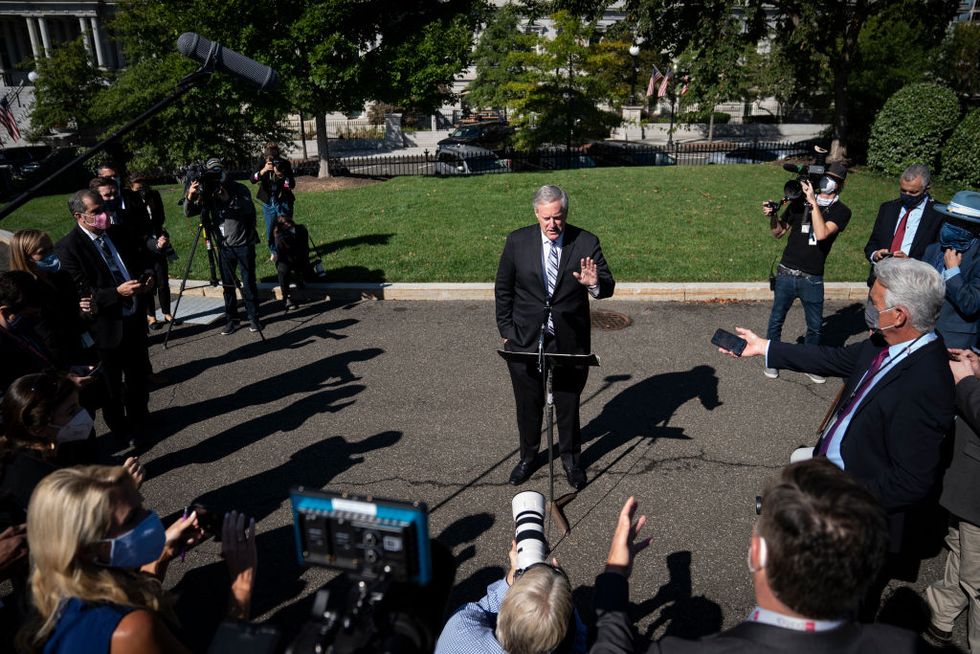 Mark Meadows, the White House Chief of Staff, spoke at a live press conference today where he stated that he is "optimistic the President will have a very quick and speedy recovery."
Meadows explained that the White House's core staff have all been tested for the virus...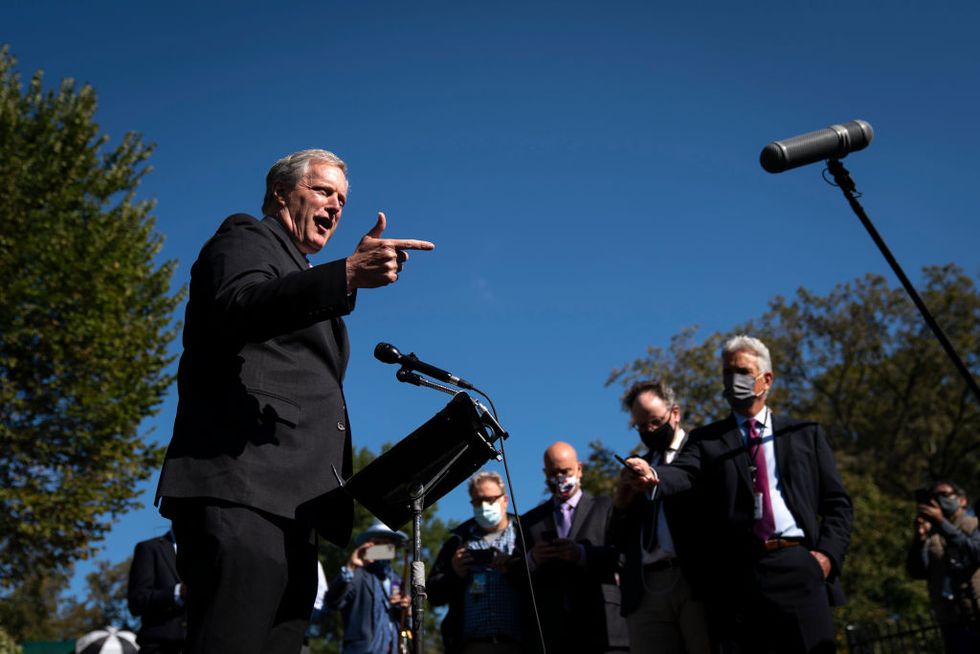 And said that the President is "energetic" and in "good spirits", adding that he is"staying committed to working very hard on behalf of the American people" Apparently, the first question Trump asked him this morning was "how's the economy doing?"
Meadows refused to comment on what treatment the Trumps are receiving.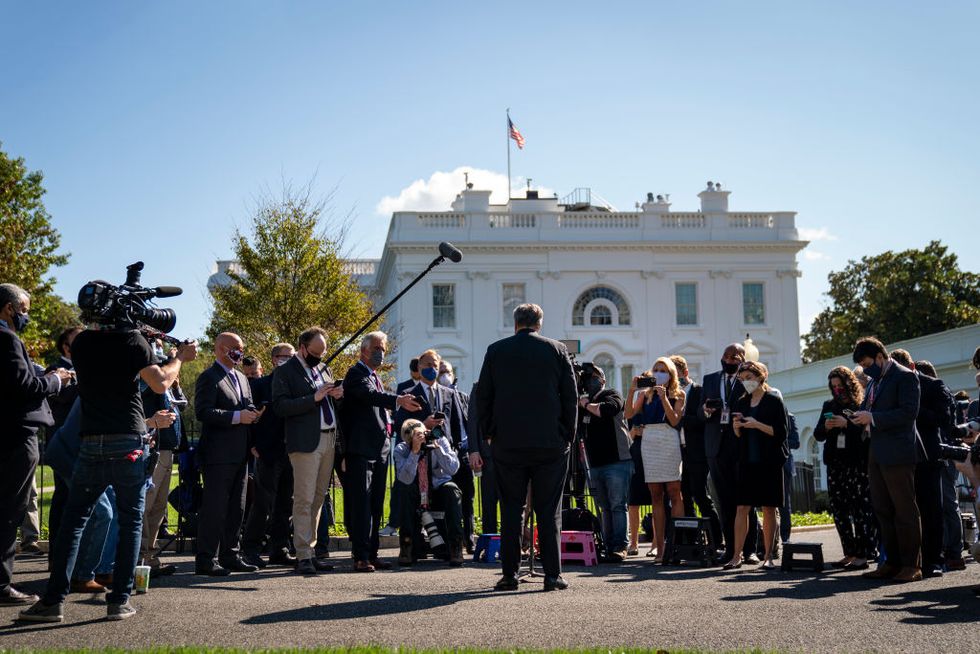 But he added that Americans "can rest assured that we have a president that is not only on the job" but "will remain on the job."
You can watch the full briefing here.
We wish the President and the First Lady a speedy recovery. For more, keep on reading to see the crowd booing Trump when he turned up for Ruth Bader Ginsburg's memorial...