Many of us have a bucket list. Perhaps you fancy taking a trip to Paris, or skydiving, or tasting an oyster before you die. But one elderly lady from Manchester, UK, had a slightly more unusual wish.
Josie Smith, aged ninety-three, from the northern British city, claimed that she'd been good all of her long life. And while she doesn't seem to have any regrets, there is one thing that Smith has missed out on. Luckily, some obliging police officers decided to help Smith out with one of her last wishes - being arrested.
The photos are pretty incredible and certainly (oddly) heartwarming - although some on Twitter have had their objections.
It's a universal truth that death is coming for us all.
And one way that people tend to manage this realization is by making sure that they live a life that's as fulfilled as possible.
Many of us create what's called a "bucket list."
The idea is that we make a definitive list of all the things that we want to do before we "kick the bucket," so to speak.
Many items on these lists tend to be pretty adventurous.
Skydiving is a popular entry on the stereotypical bucket list, thanks to the fear factor and intense thrill that the activity offers.
In fact, many bucket list options have a hint of flirtation with death.
Perhaps the feeling of a close brush with our mortality makes us feel more alive?
But not all bucket list items have to be so frightening.
In fact, the beauty of a bucket list is that there are no limits as to what it can contain - for example, walking the entire length of Manhattan for no real reason at all.
Really, the world is your oyster.
And one elderly woman from Manchester, UK, really thought outside the box when it came to her dying wish.
Josie Smith, aged ninety-three, has led a pretty full life.
But there's one area wherein she hasn't really excelled - in breaking the law. She claims to have been good all her life, which has led to one thing.
Some serious fomo.
It appears that Smith was worried about dying without having experienced a run in with the authorities - and so she decided to make a slightly odd request.
So Smith decided to reach out to her local police force.
They have since released
a statement
, saying, "A few weeks ago, a member of the community approached a GMP PCSO from the North Manchester division with a slightly unusual request. The woman mentioned that her 93-year-old grandmother had a request on her bucket list that she was hoping GMP would help her fulfil."
The statement went on.
"The request was for the grandmother to be 'arrested' and be taken to one of our police stations so she could experience what it was like to be on the wrong side of the law."
Here's the lady in question.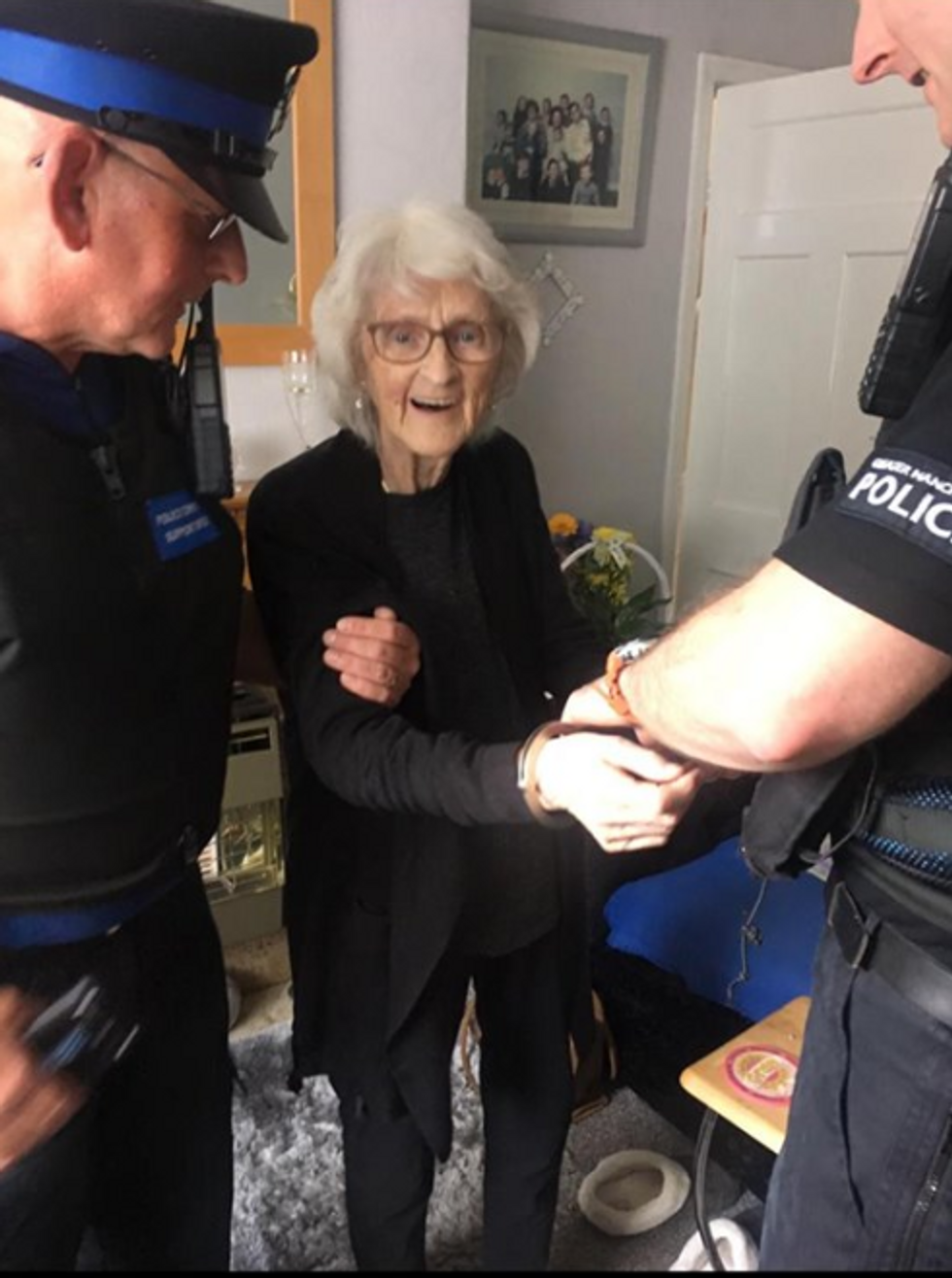 via: Twitter
According to granddaughter, Pam, "She is 93 years old and her health is failing, and she wanted to be arrested for something before it's too late."
The first picture is incredibly cute.
The look of pure joy on Smith's face is impossible to deny. Pam continued, "She has a heart of gold and thoroughly enjoyed it today. Thank you for granting her wishes."
But the images took a humorous turn.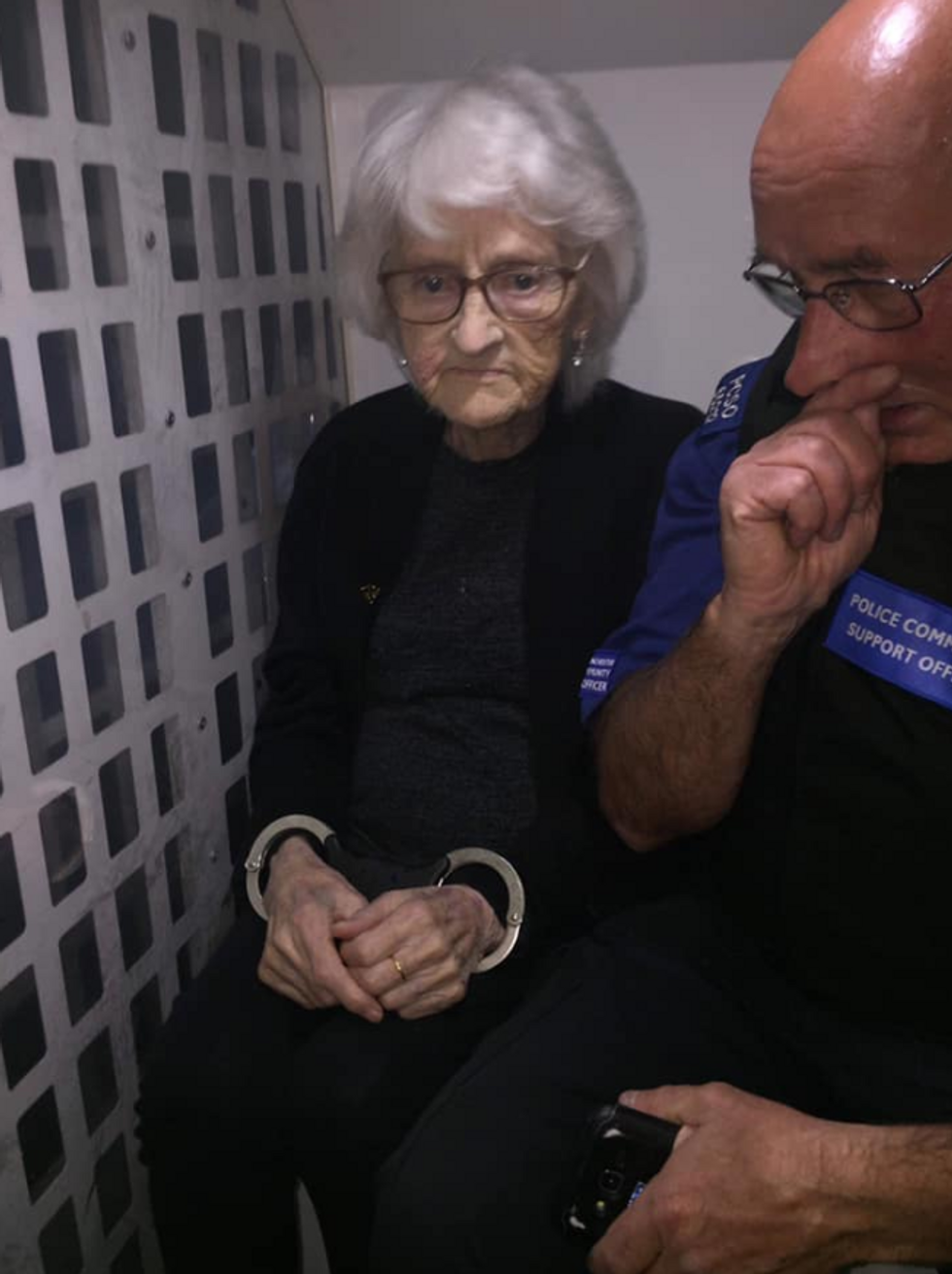 via: Twitter
The second in the series shows Smith looking less-than-thrilled with her whereabouts while riding in the back of a police car.
People thought that the contrast was pretty funny.
Although according to Cheif Inspector Denise Pye, Smith was having more fun than the photo suggests. "The focus of our PCSOs is heavily driven by our community and how we can support them … On this occasion, and for a short period of time, we were able to fulfil the wishes of an elderly lady, and give her a day to remember," she said.
Here's the final image from the series.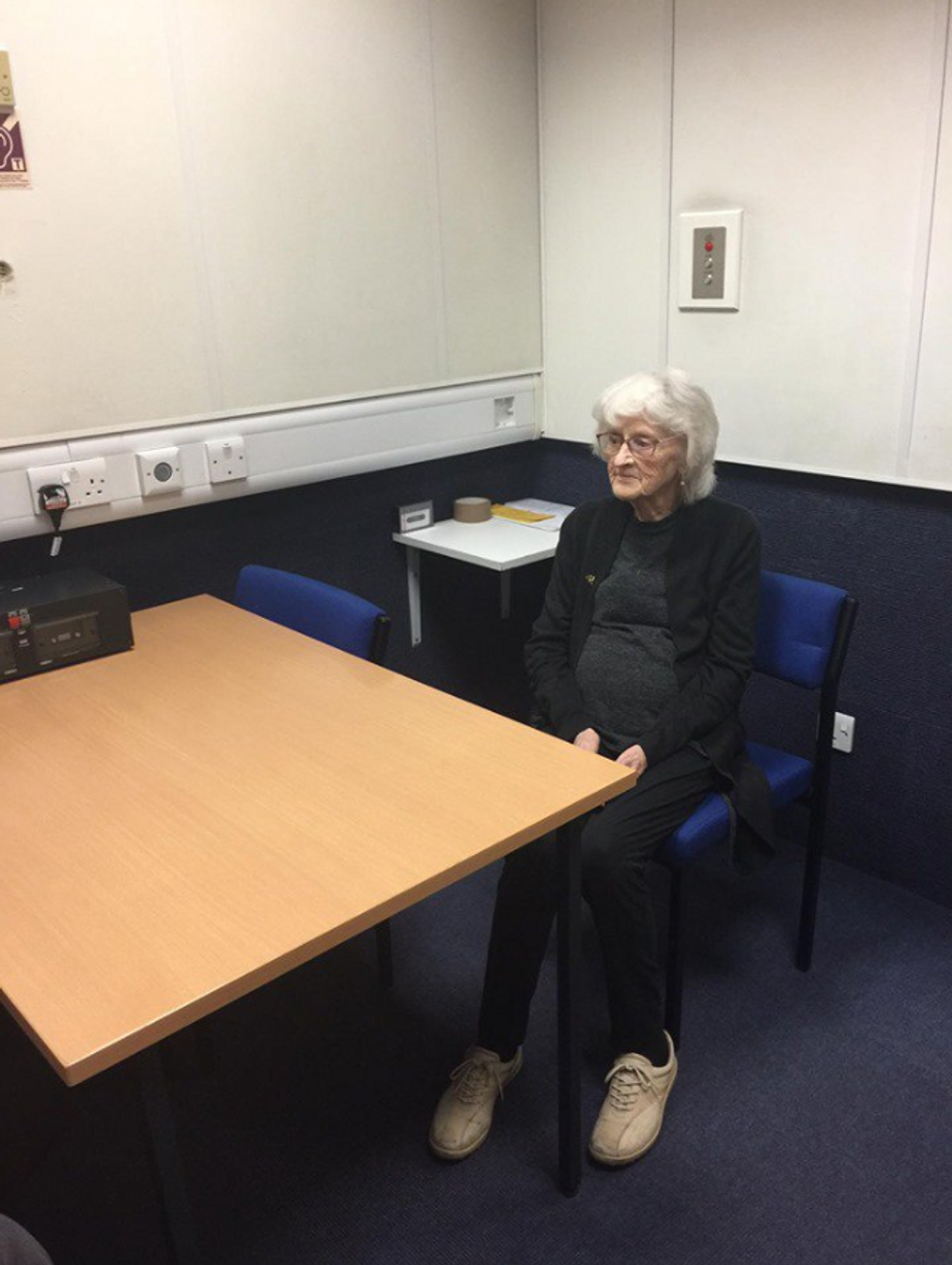 via: Twitter
Pam explained: "She is quite poorly and wanted to do something like this while she still has the strength to enjoy it. She's been good all her life (she says....) and wanted to have an experience to remember! She's a star."
Some suspected this sort of energy.
The change in mood between her initial laugh and then the realization of what being arrested is actually like is quite funny, we must admit.
Although, according to Pam, Smith actually had an excellent day.
And even had a relaxing reward after her self-induced "ordeal."
Greater Manchester Police even replied to the tweet:
@sterlingsop Hello, I'm glad our officers could help out, looks like she got the full experience! Give our best to… https://t.co/nYLhwXfFVN

— Greater Manchester Police (@Greater Manchester Police)1561462327.0
"We can reassure the rest of the community that while this was happening, officers from across the area were continuing with their duties to ensure this short visit had no impact whatsoever on the wider area. We want the community to feel reassured in our presence and comfortable in approaching any of our officers when they see us out and about. We're glad to see that we were able to make an elderly lady smile and tick one thing off her bucket list."
Although not everyone was so thrilled.
@sterlingsop @gmpolice https://t.co/HWvH91n812

— Juan S. Robles 🇩🇴 (@Juan S. Robles 🇩🇴)1561512958.0
Another Twitter-user wrote, "Damn white people are so bored in their privilege they just go to jail for fun..."
Though there's one thing that everyone can agree on.
This photoset is absolutely ingenious. We see strong meme-potential with this one!