Some say you never forget your first pet. But in this woman's case, her first pet was surrendered and then re-adopted for round two. BBC News shared the story of their separation and reunion. It's a truly moving tale. After all, what are the odds of finding your long-gone childhood pet as an adult?
Read up on the whole story, and see where this adorable pair is now. Plus, we've got multiple adoption stories here. It's hard to stop at one when they're all so heartwarming.
Animals have a way of making us smile almost effortlessly. You'll love these stories of found family from around the internet.
Nicole Grimes got her first puppy at age 10.
As a young child, she longed for a dog. So that year, her grandmother gifted her with Chloe—and adorable pomeranian-poodle mix.
The two were best friends.
"I was 10 years old and all I wanted was a puppy. She was wearing a pink bow when Nana gave her to me. We were best friends," Grimes shared with
BBC.
But it didn't last.
Nicole was devastated when she was forced to give Chloe away. She recalled the sad day that her family decided to put Chloe up for adoption.
Nicole's Dad made the decision.
"My dad got a new job working from home but Chloe was too yappy and he had to be on the phone all the time," Nicole said. "I remember my dad picked me up from school when I was 14 with the dog in the back seat. I knew we had to give her away."
And that was the last they saw of Chloe.
Or so you'd think. Because years later, Nicole made a startling discovery online.
She unknowingly spotted Chloe.
While on Facebook, Nicole spotted an 11-year-old pomeranian-poodle mix up for adoption—and thought the dog looked strangely familiar.
Nicole still didn't know it was HER Chloe.
But she did have a feeling. "When I found out they were both called Chloe it was really strange," Nicole said. "It just clicked when she was introduced to me as Chloe."
So Nicole reached out and met with Chloe.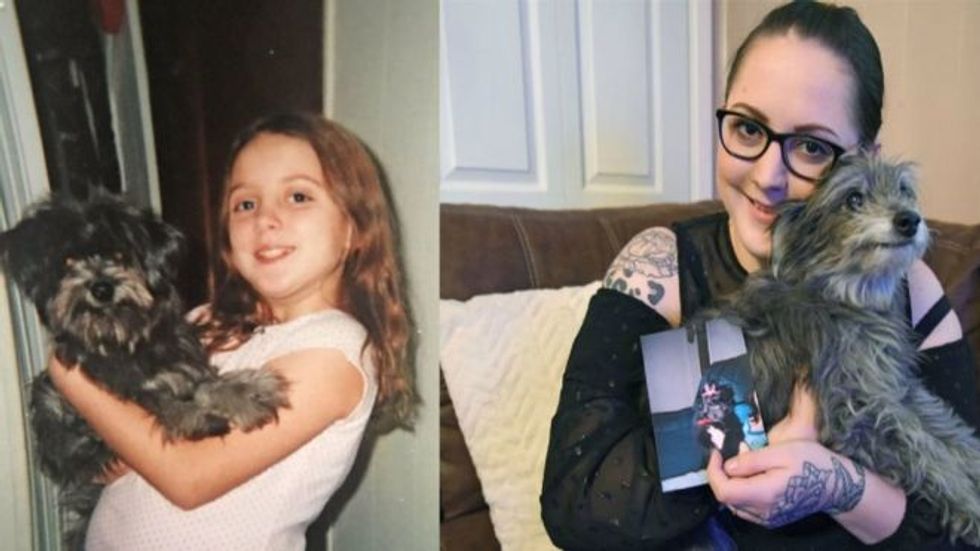 Her husband wasn't convinced.
To be fair, the odds of finding your childhood dog up for adoption is pretty low. "He thought I was crazy, so we went to check the microchip," Nicole said.
The microchip doesn't lie.
And when the couple checked Chloe's microchip, they found that she was indeed Nicole's childhood best friend. "We couldn't believe it. It's just crazy!" she exclaimed.
Now, Chloe is settling in nicely.
"She is a little smaller and has no teeth, but she still loves to run around," said Nicole of her dog's adjustment.
Chloe also brings back memories.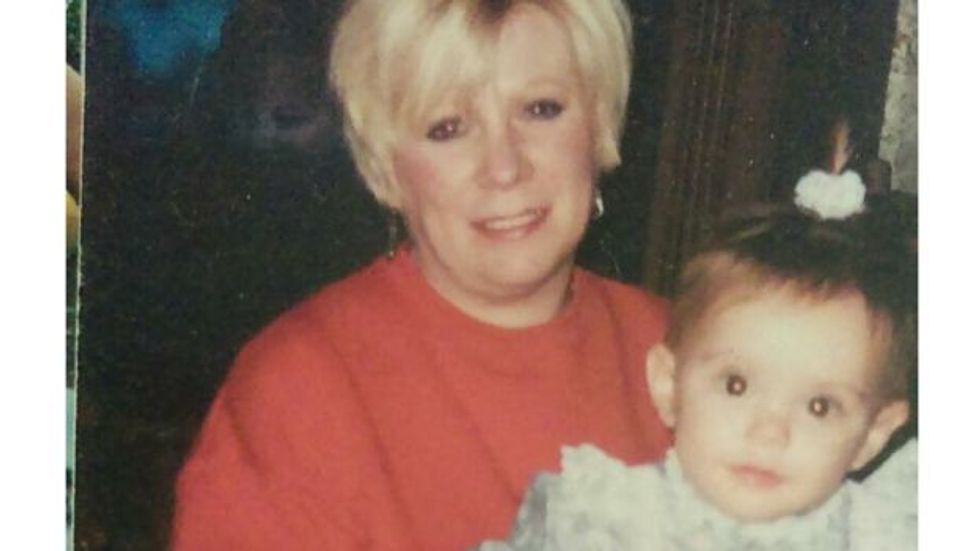 And Chloe has a new friend.
She has now also bonded with the next generation of Grimes—that is, Nicole's four-month-old daughter, Violet.
The two make for adorable playmates.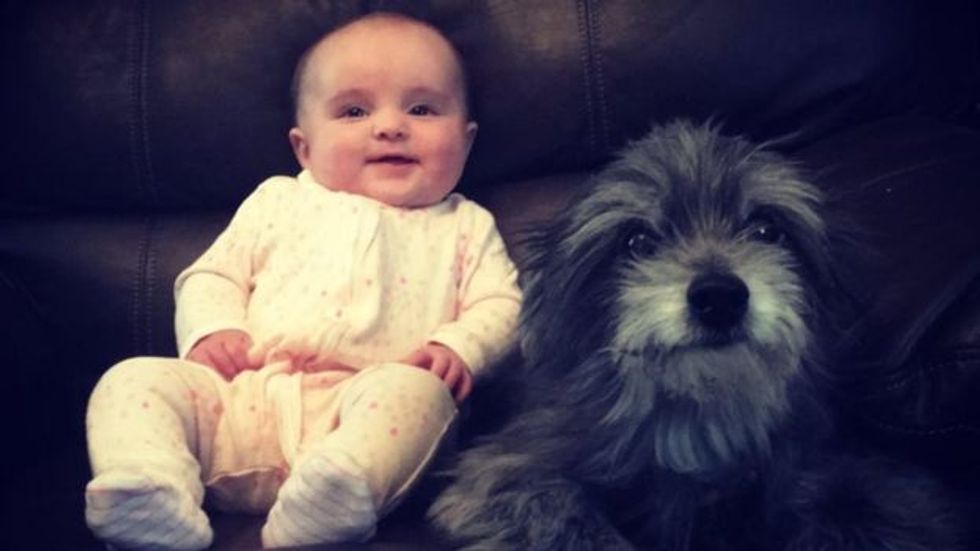 BBC
: "They love to play with each other. Chloe is very gentle with Violet and it warms my heart to see them together."
How amazing is their story?
To be reunited after so many years is such a gift for both Nicole and Chloe. And the beautiful animal adoption stories don't stop there!
This Redditor's first cat was a match made in heaven.
I was 18 and moving into my first (parent-funded) apartment while I was in college. I lived alone, and my mom suggested I adopt a cat so I wouldn't be lonely.
We went to the Norfolk SPCA (those guys are amazing) and were let into the Cat Room. There were cats EVERYWHERE, roaming around and playing. None wanted much attention from strange humans, so we slowly worked our way around the room. In a back corner, in a cage stacked three high at eye level to me, there was a fluffy three-year-old brindle and white female with a sign reading, "CAN BE SOMEWHAT UNPREDICTABLE."
-Anonymous Redditor
Sometimes, the cat chooses the owner.
She was gorgeous, and I didn't care about the sign. I asked if I could see that one, and the volunteer opened the cage for me. I moved closer, and slowly stuck the back of my hand out for her to sniff. She immediately put her whole face in my hand, then rubbed up my arm to sniff my face.
I stood as still as I could, trying not to breathe and scare her. She hesitantly reached her floofy paw out and leaned on my collarbone, and then nuzzled hard under my chin!
-Anonymous Redditor
The relationship took shelter workers by surprise.
I melted, and she let me pick her up. I placed her in a nearby cat tree, and the volunteer was shocked. She told me that an elderly woman had tried to pick her up too, but the cat bit her in response.
The decision was made for me. She had chosen me. We took her home the same day, and she has been my #1 BabyGirl ever since. We have been through [so much] together, and I would absolutely stab someone for her.
-Anonymous Redditor
Now, the cat and owner are doing great!
I named her Athena because she is really aggressive in her play. My Marine brother calls her the Combat Kitty. She nuzzles under my chin before bed every night. I am the only one allowed to pick her up - even when she is in combat mode. I even have her portrait tattooed on my shoulder!
I love all of my animals, but Athena is always my #1. She is my first love, my Familiar, my Companion.
-Anonymous Redditor
Some owners and dogs just have that connection.
2 years ago, after I purchased my house, I decided I was going to get a dog (I always knew I would) and started looking. I went to multiple dog rescue places and checked out all kinds of dogs. None really seemed to be connecting with me as much as I wished.
Fast forward to August of 2017, and I was scheduled to visit a couple of GSDs. Before I went to visit them, my co-worker told me of a family friend who was looking to adopt out their dog (Noni) as they were moving and they couldn't bring their dog with them. So I decided to take a quick run out and meet the dog after I did some research on the breed and had some questions answered regarding the family.
-
okimlom
The dog was a bit snappy with their co-worker.
The day came and when I arrived, the dog was very loud and let those at home know that a couple of strangers were on their property. Knowing her breed (Canaan) I knew it was more of a watch-dog than a guard dog, but still took precaution just in case. So I sat in the patio area on the ground, making myself as least threatening as possible while talking about the dog and the history of the dog with the people there (the real owners were away at the time, so she was being watched).
After being scared/cautious around me for about 5 minutes, she finally felt comfortable enough to check me out. So I sat there for a few scratching her chest which she loved. My co-worker who came with me sat down next to me and start petting her. She got a little irritated and kind of lunged at her. So I stopped (I thought she was just overloaded with the pets).
-
okimlom
Then, Noni made her decision.
After talking a little more, we took her down to the beach for a walk to see how she handled everything. At this point it was up in the air if she wanted me as her human, but I felt good from my POV about adopting her. After 30 mins, we came back and talked a little more. In the house I was playing with her for a bit, she gave me kisses and was jumping on me. At that point I knew she felt comfortable with me, but that didn't mean she adopted ME. What she did next was the tip off that she made the choice. We went to leave and she followed us by the door. While talking some more with the homeowners, she pinned me against the couch with her body and looked up at me. She was making it very apparent she didn't want me to leave. She made that choice, but I still needed to talk to the real owners, so that THEY feel comfortable with adopting her out to me. 3 Days later we met up at a local dog park. When I walked into the area, the other dogs came running up to me, while Noni waited on the outside but it was very obvious she wanted to come up to me. So the other dogs ran off and she came right up to me to say hello happy as can be.
-
okimlom
Both dog and owner have never looked back.
After about 30-45 mins of talking, the owners handed her and her stuff to me. It was my dog at that moment. They then left, which confused Noni, and she watched them leave whining. After 10 mins of letting her by herself, she came up to me and she was mine.
When I got home, I showed her to my family members. She was still a little nervous but felt safe with me around. My aunt walked up to me to get to her. Kairi (her name now) didn't like that and lunged at her as she lunged earlier. She was protecting me.
Through the past few months, I have worked with her anxiety to get it down. She's not nearly as bad as she was. She lives comfortably in our home. She does her job every day to watch over her domain. She cuddles with me every night, and she is my morning alarm clock. She's pretty much the dog version of me. She has moments where she wants to be around other people and dogs, but then she has moments where she wants to be left alone and to her own devices.
Best. Decision. Ever.
-
okimlom
Check out Penny's story.
This sweet Shepherd pup has been through a lot.
And now she looks happy as can be!
This Redditor wanted a husky.
It's the best ongoing experience I could have imagined. I'd been looking for a Siberian Husky breeder for months, all the huskies I'd ever been around were extremely well behaved although most of them had a problem about tearing things up.
Regardless of that fact, I decided I wanted one and set out looking, but everyone I came across was in the $750-$950 range.
-
GiantZombie
Turns out, the shelter was the answer all along.
So out of pure chance, my buddy (we'll call him Frank) was going to adopt a dog and he called me up and said "Hey GiantZombie, you wanna go to the animal shelter with me and help me pick out a dog?" naturally I thought "Eh, why the heck not?"
He comes to get me and we're talking about what he wants, sometime later we get there and go in and as we're walking through, he spots this white dog and he's trying to get it to come to him but it won't so much as turn around and look at him so he calls me over because I'm good with animals and this one is obviously very timid.
I kid you not, I step up to the cage gate and hardly got a word out before this dog stands up, turns around, and walks right up to where I'm at (still completely ignoring Frank)
. -
GiantZombie
The dog was about to be put down.
I immediately knew it was a husky so I look up at the paper on the gate and see that she's pure-bred, about half grown, and was found after a storm and the owners declined to come and get her when they were called. At this point, Frank is gone off somewhere else so I continue petting her and I look back up at the paper and see that she's scheduled to be euthanized the very next day.
I look back down and she's giving me the biggest, cutest, most unforgettable puppy-dog eyes I've ever seen and all I could think was "Screw this, she's still a pup and she's got until tomorrow. No, I've been looking for this dog for months, that's not happening".
-
GiantZombie
So this Redditor leapt into action.
I immediately start walking to the main desk in the building to tell the staff I wanted her and when I did the woman told me "I'm not sure you'd want that one, we've had some problems with it." I completely ignored her and slapped down the $150 adoption fee, the lady gave me a leash, walked me back to the cage, let me get her and watched in awe as this dog walked out of the building with no problems (I have no idea what she did to make the staff act as they did).
We go home, I introduce her to my mother's two small dogs and show her where everything is in the house. She took about 2 days to potty train and she was glued to me any time I was home.
-
GiantZombie
And now, everything is perfect.
Fast forward 2 years later, I'm sitting here with her head in my lap typing this. She doesn't tear things up, never had a problem with the other dogs, doesn't screw with the cat, follows along without question when we go for walks, goes outside to do her business, and has never EVER shown the slightest hint of aggression towards ANYONE. And it never ceases to amaze me that 24 hours after I first saw this absolute angel of a dog, she would have been dead had I not brought her home.
Moral of the story: Support your local shelter, adopt a pet, you never know what you'll get.
-
GiantZombie
Share this heartwarming story with animal lovers everywhere!