It's that time of year again - graduation season is well and truly on the horizon, and we are bracing ourselves for another influx of completed thesis photos.
In today's age, people love to broadcast their special moments online for their friends and family (and, sometimes, the world) to see.
Graduation is a time of happiness, celebration, and, most importantly, relief. Years of studying - or should we say, years of crying over deadlines and papers - have built up to this one huge moment. So, of course, students are always keen to share their accomplishments online.
But one Ph.D. student has taken her announcement to a hilarious new level. Clearly sick of the smiley, happy photos of her peers, this student chose to symbolize the struggles of her degree in the most perfect way...
We love to announce our big moments on social media.
Other than the memes, what else is social media here for? Sharing the important events in our lives with our loved ones is so important, and there's no easier way to do it than to share them online.
There's been a rise in "announcement" posts online.
Got a significant life-changing announcement to make? Rustle up the likes and shares with a dramatic Facebook or Twitter post. It's the only way to generate instant fuss and attention from family and friends.
And we now live in an era of "announcers".
And once your new addition has finally arrived...
And who said it has to be a baby?
Hold up. This "announcement" post doesn't have to be about a baby. Though there are some life achievements that could be compared to the pain of labor... kind of.
One P.h.D student announced her "painful" thesis completion in the most spectacular way.
Yes, I did a photo shoot with my thesis. Longest labor ever. #phdlife https://t.co/wpGdFPANd6

— Sarah Whelan Curtis (@Sarah Whelan Curtis)1559613737.0
Sarah Whelan Curtis, a P.h.D candidate at Emory University, was so relieved to finally finish her thesis that she incorporated the completion into a maternity shoot. Legendary.
Too precious.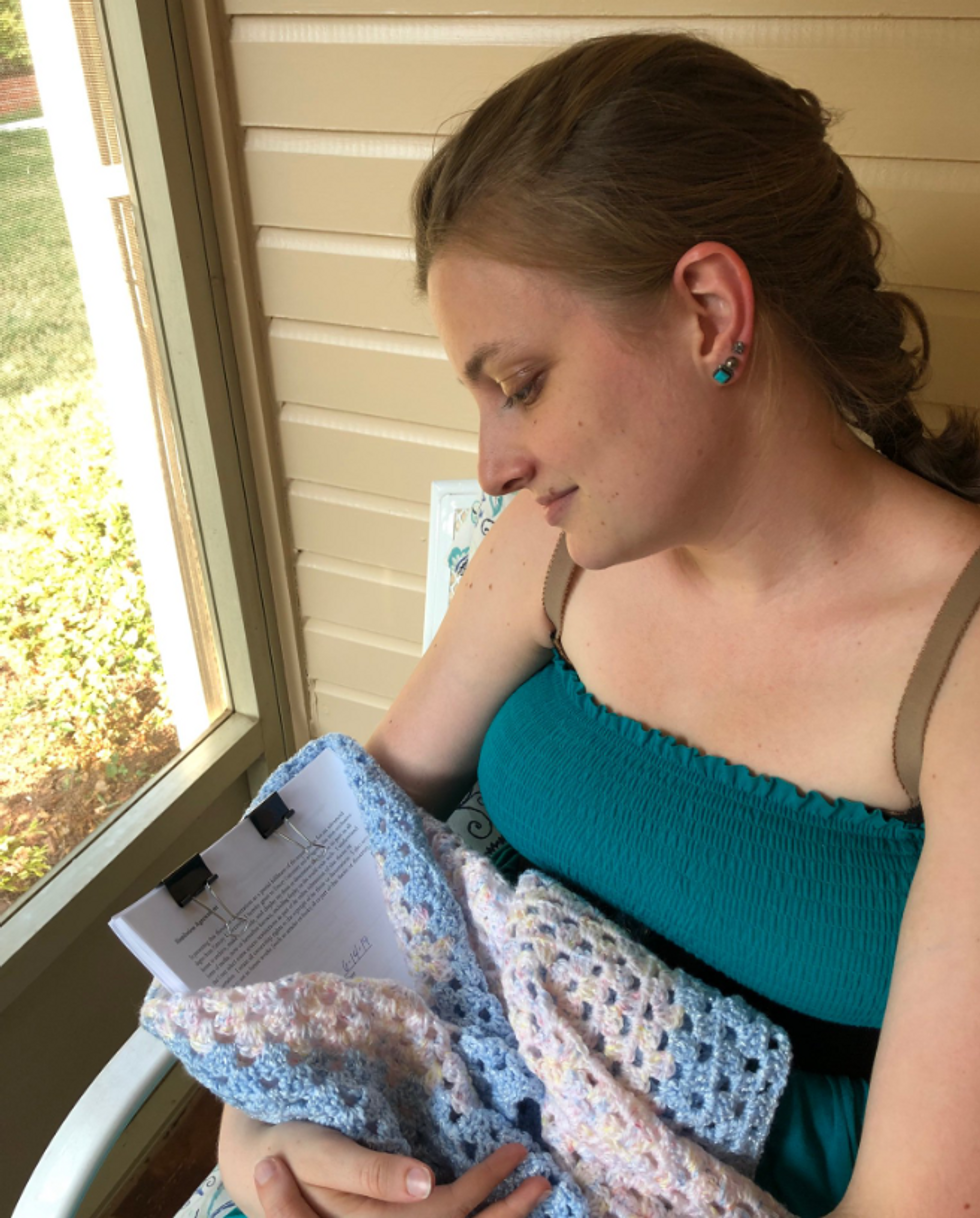 via: Twitter/sarahwcurtis
The first picture shows Sarah cradling her newly completed addition to the family, which she described as the "longest labor ever," fresh from the printer.
She was glowing.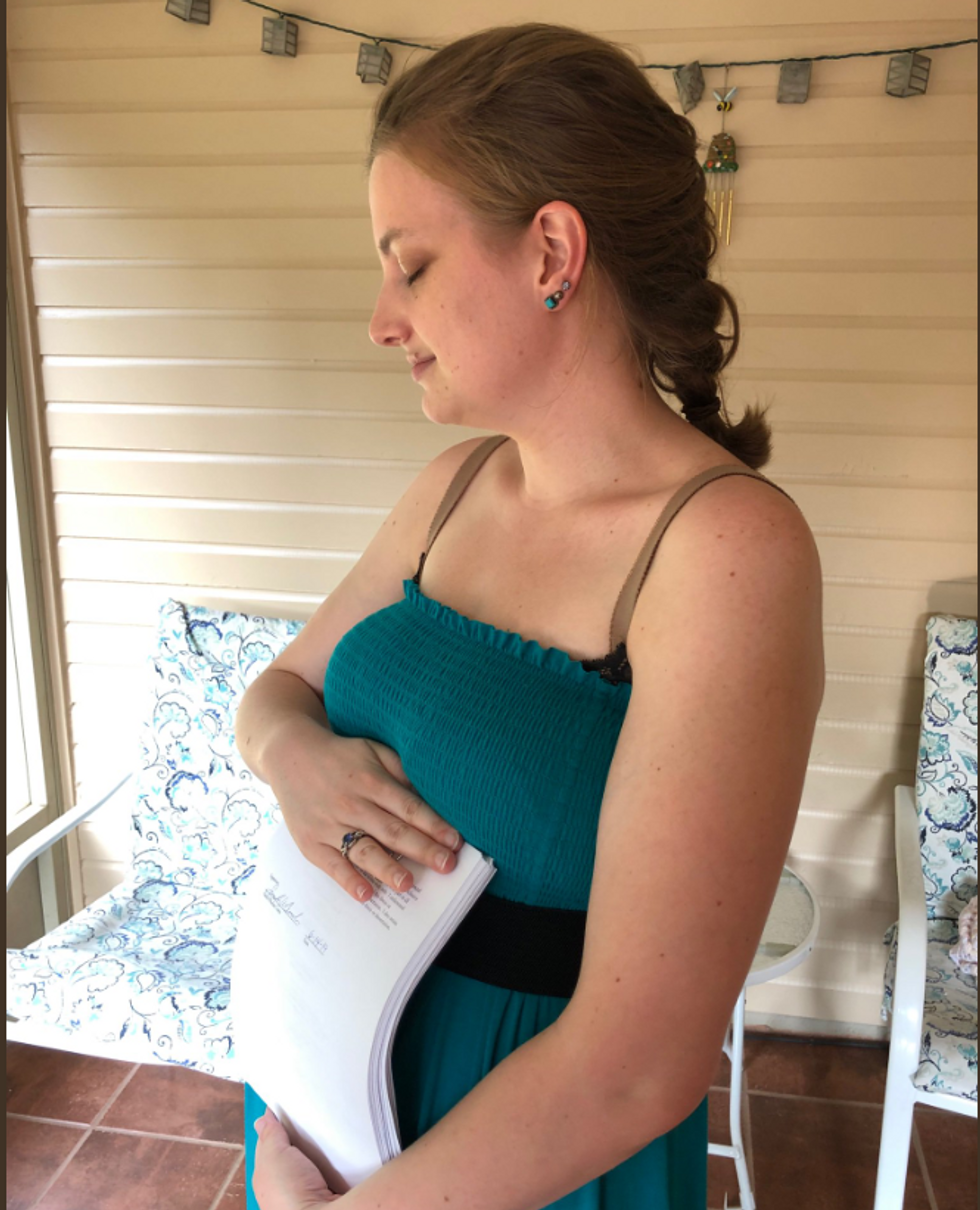 via: Twitter/sarahwcurtis
You
can
really see the love between a woman and her academic paper.
She's made sure to keep her little one nice and warm.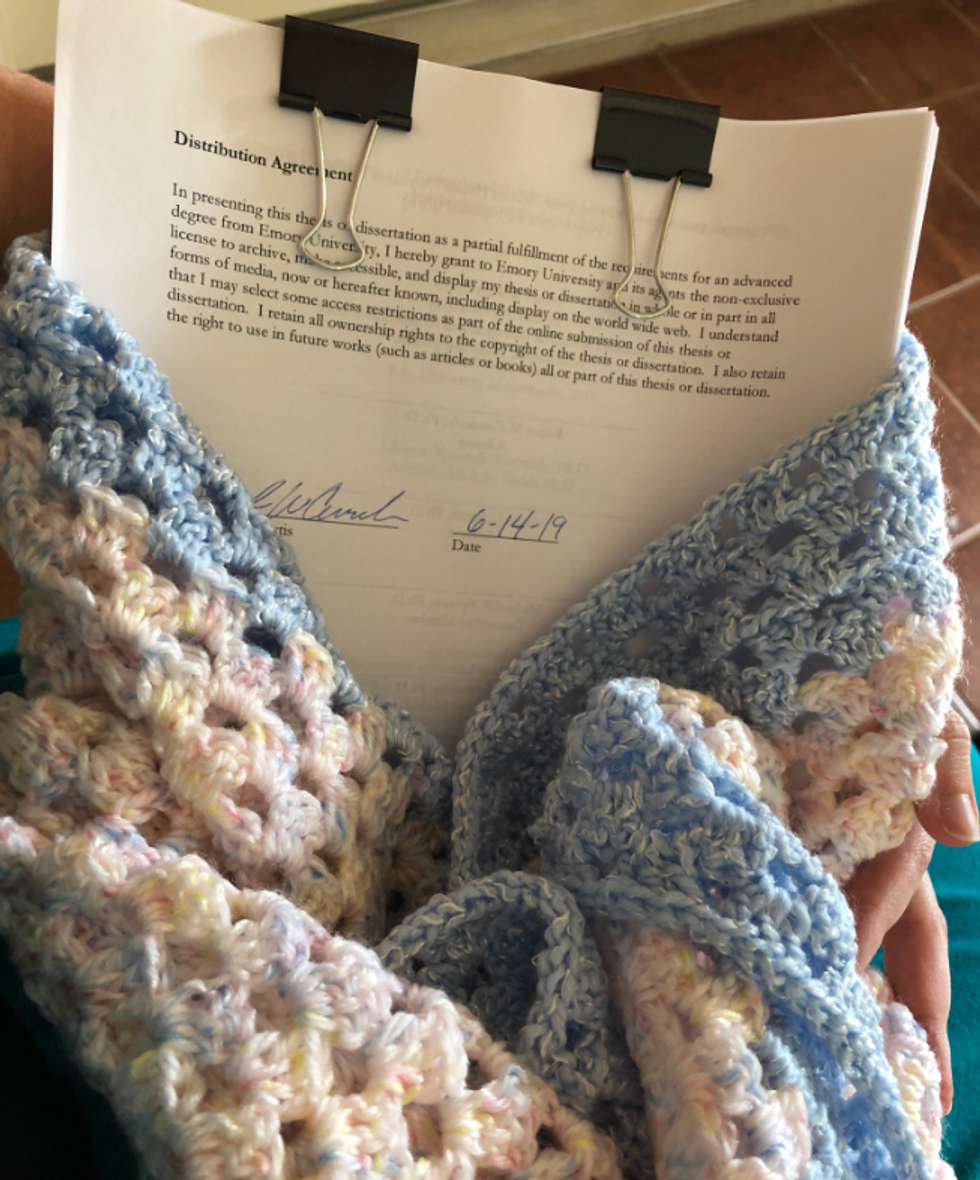 via: Twitter/sarahwcurtis
Academic literature isn't so scary when it's swaddled in a crochet blanket. Aww.
And Twitter responded accordingly.
@sarahwcurtis @IliAdibah OMG SIS SAME ENERGY https://t.co/38MubK9H2W

— Cocogoat Hunter (@Cocogoat Hunter)1559655790.0
This guy is clearly channeling the same maternal vibes as he delicately cradles his newly completed P.h.D thesis.
This woman even dressed her little one up.
When you've worked on something for years, you might as well make the final product look cute.
Though some people had words of warning...
@sarahwcurtis @KHayhoe Enjoy it while it's new. Mine is 35 years old and somewhat of a disappointment. I actually have no idea where it is.

— Mark Boslough (@Mark Boslough)1559690300.0
Apparently, these fresh bundles of joy don't always live up to their expectations. This guy even lost his. Not great parenting over there, Mark...
Some people are still stuck in their labor.
This unfortunate guy is still well and truly stuck in his birthing journey.
And this woman barely made it over the finish line.
@sarahwcurtis This is EVERYTHING!!!!! This was my hand in photo. As I couldn't bear the smiley normal photo as if… https://t.co/XvD0I2apbp

— Dr. Jennifer Cassidy (@Dr. Jennifer Cassidy)1559675971.0
Writing 130,000 words is no easy feat, and some people just can't face the cute photo shoot afterwards.
So what have we learnt from this story?
That P.h.Ds are tough. You will be stuck with them for years, you will cry, and you will go through an awful lot of pain. But the end result will be amazing. Congrats to all the new parents... er, I mean graduates... out there!