We all love a good tub of ice cream. Whether you're recovering from a breakup, binge-watching your favorite Netflix show, or simply fancy a sweet treat, ice cream is one of the first things that we reach for to meet our sugary needs.
But, it seems like one woman may have just ruined this for everyone after a video has surfaced of her licking a tub of ice cream, putting it back into the supermarket freezer.
Yes, really.
Well, she seems to have landed herself in some serious trouble after the ice cream brand in question has spoken out about the issue, and let's just say, they aren't happy.
Oh, and, of course, numerous grossed-out viewers have been responding to the video, and they're suitably disgusted.
Read on to see exactly what the woman did and what may happen to her now (spoiler alert - she could face quite the hefty punishment).
If you're a fellow ice cream fanatic, you may have heard of Blue Bell.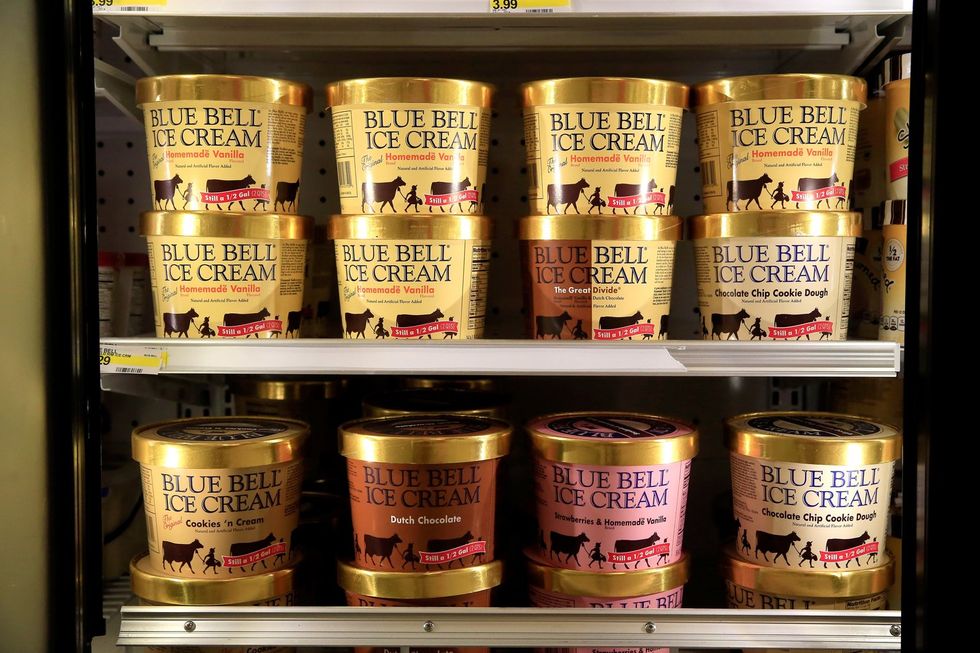 Founded in 1907, the
Texas-based creamery
has become widely popular with fans.
It's now sold in several supermarkets across the states.
thinking about it.
But, when one woman came across the Bluebell ice cream section in her supermarket, she did something, well, gross...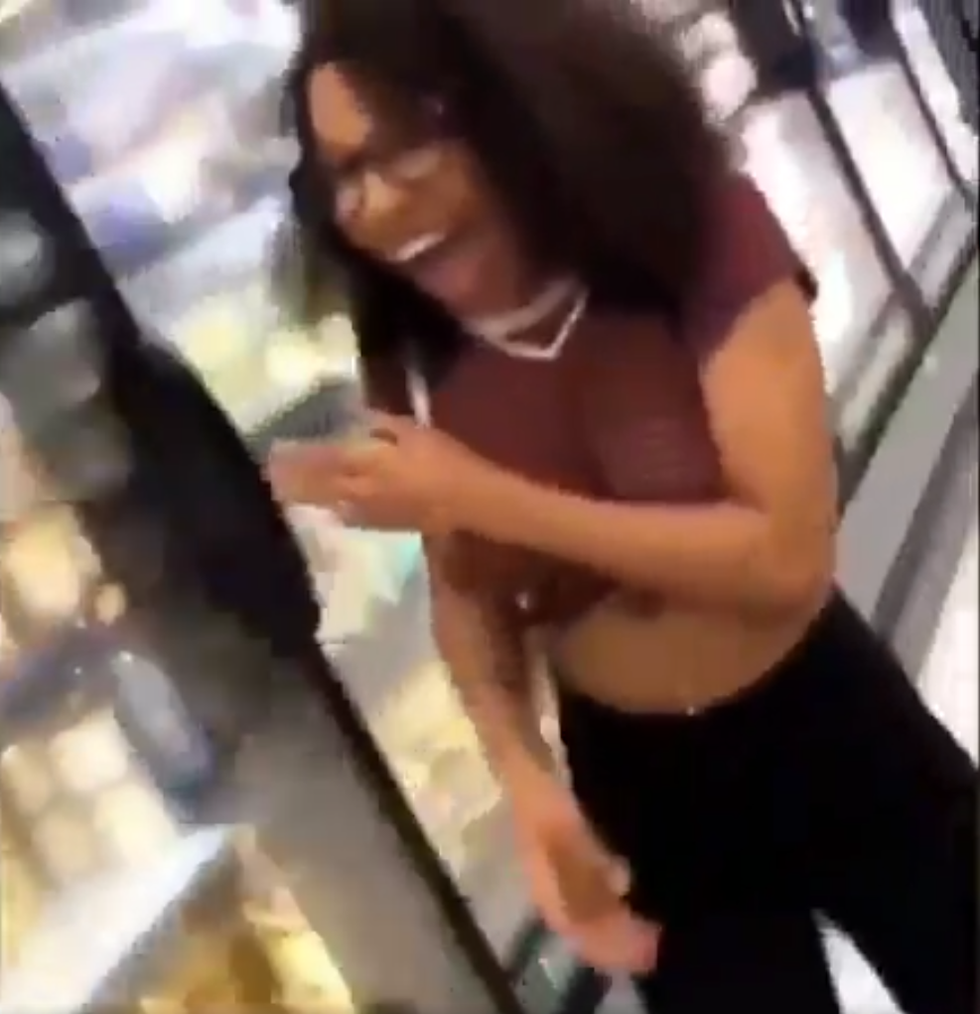 via: Twitter
People
couldn't
believe what she did.
In a clip posted to Twitter, the young woman can be seen licking a tub of the frozen dessert.
But it gets even worse... she puts the ice cream back in the freezer, while an off-camera voice can be heard saying "lick it" followed by "put it back, put it back." It seems like she got some friendly encouragement to pull the stunt.
The specific ice cream flavor in question?
Blue Bell's limited edition Tin Roof flavor: vanilla ice cream with a chocolate fudge swirl and roasted peanuts dipped in dark chocolate. We knew you wanted to know.
The disgusting video went viral online.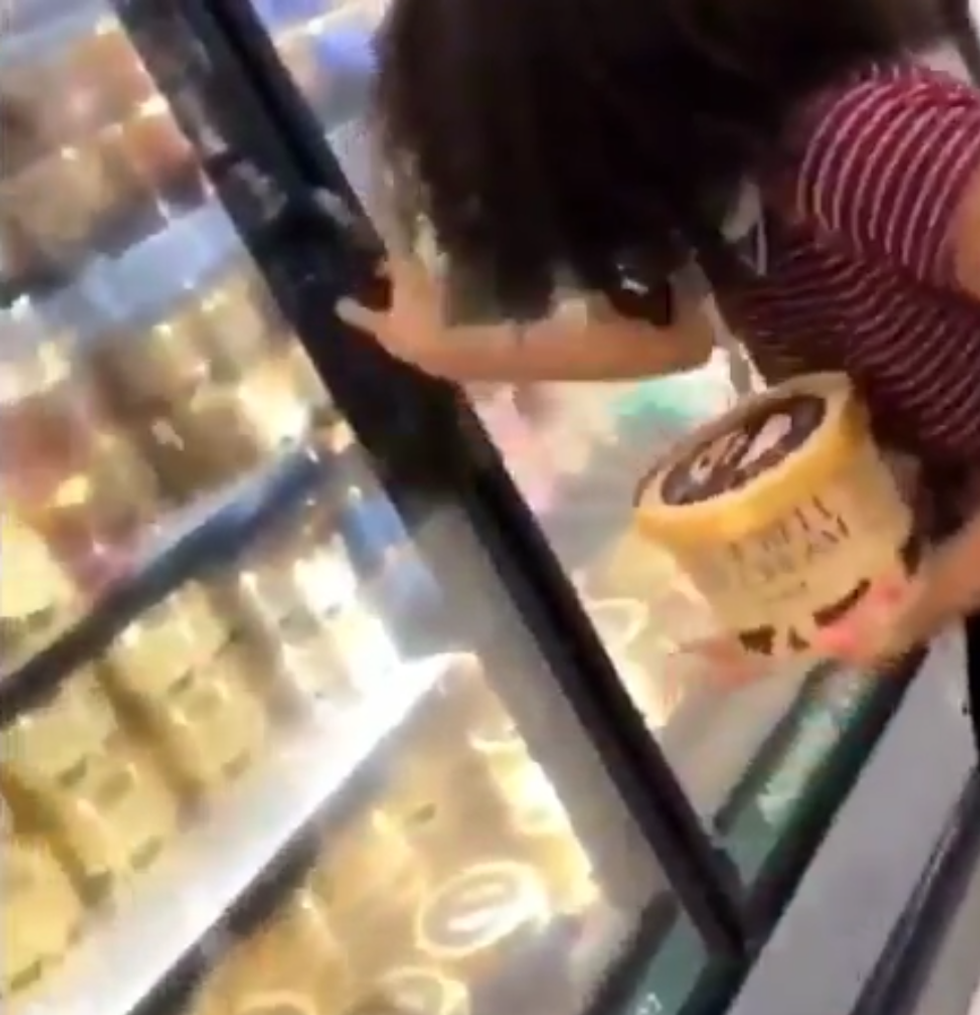 via: Twitter
Since being uploaded, it's
absolutely
snowballed - hitting over eleven million views. Read on to watch the full video - you won't believe how
nasty
it is...
And guess who has happened to see it?
Yes, you guessed it... Blue Bell ice cream.
After the video surfaced, fans raised their concerns to the brand.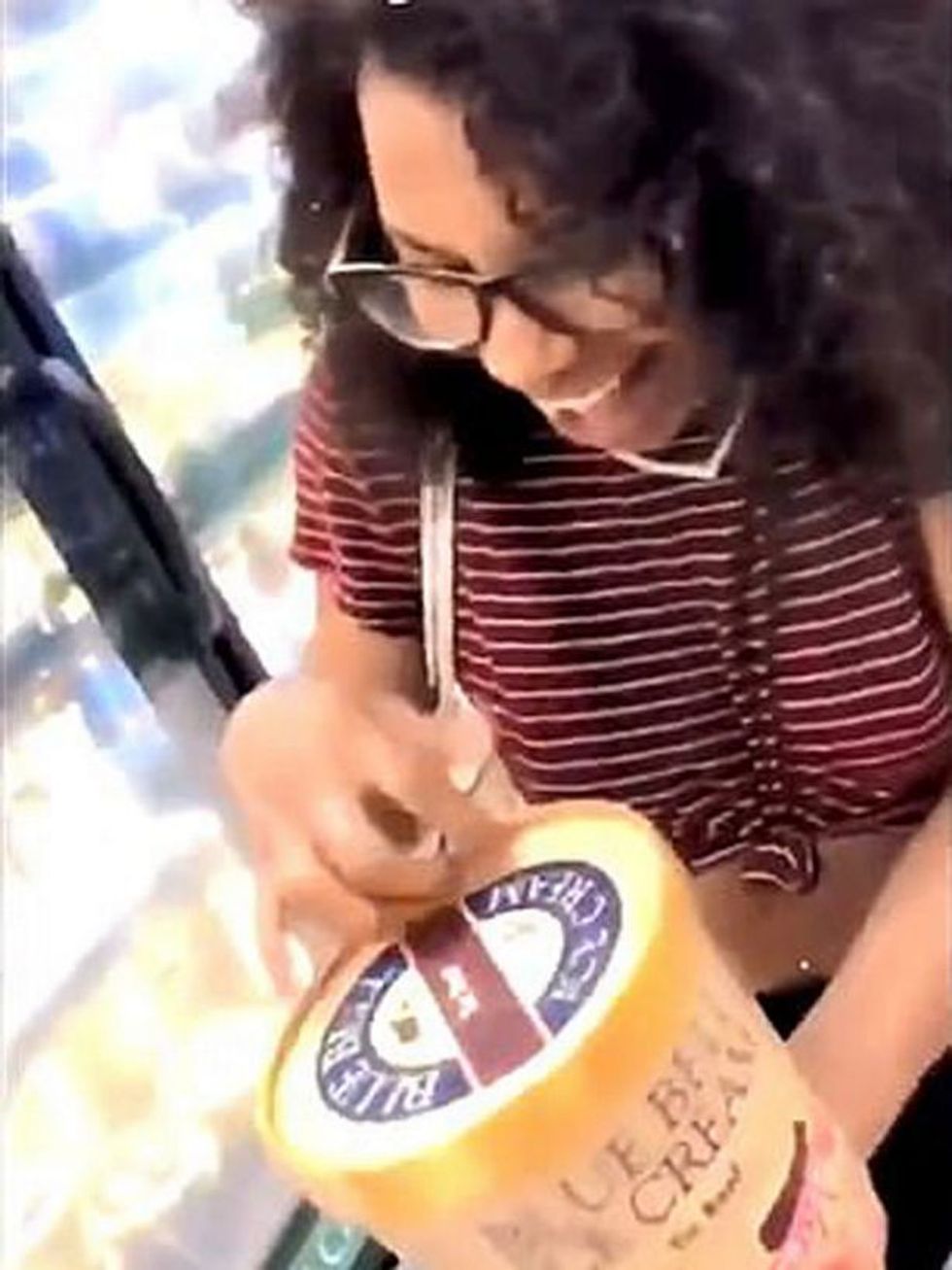 via: Twitter
People began tagging and tweeting the brand after seeing the video. And it seems like the company is certainly
not
amused by the woman's ice cream-related antics.
The dessert franchise is now taking drastic action against the woman.
@fortunefaded19 @BlindDensetsu Hello! We want to thank our consumers for alerting us to the recent food tampering i… https://t.co/kAWjAcPG7L

— Blue Bell Ice Cream (@Blue Bell Ice Cream)1562005366.0
It looks like the BlueBell is taking the "food tampering" case 
very
seriously, as the brand is said to be working with police to try to find the woman in question.
The brand also released a statement on its website.
"This type of incident will not be tolerated. Food safety is a top priority, and we work hard to provide a safe product and maintain the highest level of confidence from our consumers."
Here's the video in question.
Though we have no idea how this guy got hold of the footage, he certainly mirrored what people were thinking with his "psychopath" comment.
As of yet, we don't know which supermarket the clip was filmed in.
Police are still said to be looking into it, although, we're sure that Twitter is conducting an investigation of its own.
Since the video graced the platform, it's been met with outrage.
@BlindDensetsu I genuinely hope the whole internet gives her shit. This is disgusting.

— The Sassiest Semite (@The Sassiest Semite)1561837824.0
People were understandably furious.
Some people called for very drastic measures to be taken.
@BlindDensetsu do not pass go, straight to the electric chair

— Isaac (@Isaac)1561837070.0
Okay, the electric chair is
definitely
too far.
Meanwhile, others appeared to be lost for words.
One user simply posted this image.
But others were quick to notice something unusual about the video.
@BlindDensetsu w-where is the plastic seal

— slate (@slate)1561873226.0
People began questioning the brand about their packaging, urging them to create plastic seals to make their packaging more secure.
In fact, some people are going as far as boycotting the brand until they alter their packaging.
@ILoveBlueBell While I always knew something like this was possible, now that the video exists we are done buying B… https://t.co/TRbvEL6CNC

— Jason Kurth (@Jason Kurth)1562080259.0
People started turning on the brand, with this user claiming that they were "inviting idiots" to pull stunts like this.
But the dessert company was quick to reassure people.
@JasonKurth4 Hi, Jason! We will continue looking for ways to improve, including methods within our manufacturing pr… https://t.co/Mmmn2GjSpa

— Blue Bell Ice Cream (@Blue Bell Ice Cream)1562083890.0
According to the franchise, the containers of ice cream are flipped upside down during production and sent to a hardening room "where the ice cream freezes to the lid creating a natural seal." "The lids are frozen tightly to the carton. Any attempt at opening the product should be noticeable," the franchise added.
However, the joke may very well be over.
The police think that they have the original woman identified.
The authorities have gotten hold of footage from a Walmart store which shows a figure that appears to be the suspect.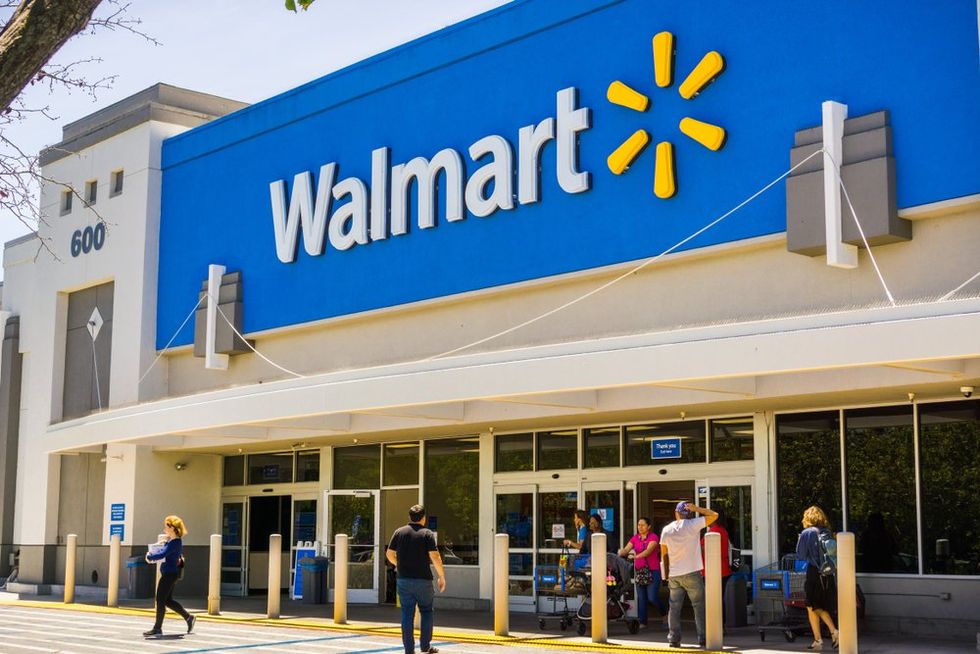 Although we still don't know who the woman is, police say that they think they have her identified after obtaining surveillance footage from a Walmart store in Lufkin.
And her prospects are not looking good...
Police confirmed that she could face a
second-degree felony charge
of tampering with a consumer product.
Turns out, that's quite a hefty punishment.
The charge carries a two twenty-year prison term and up to $10,000 in fines, according to the 
Texas state penal code
.
But it doesn't end there.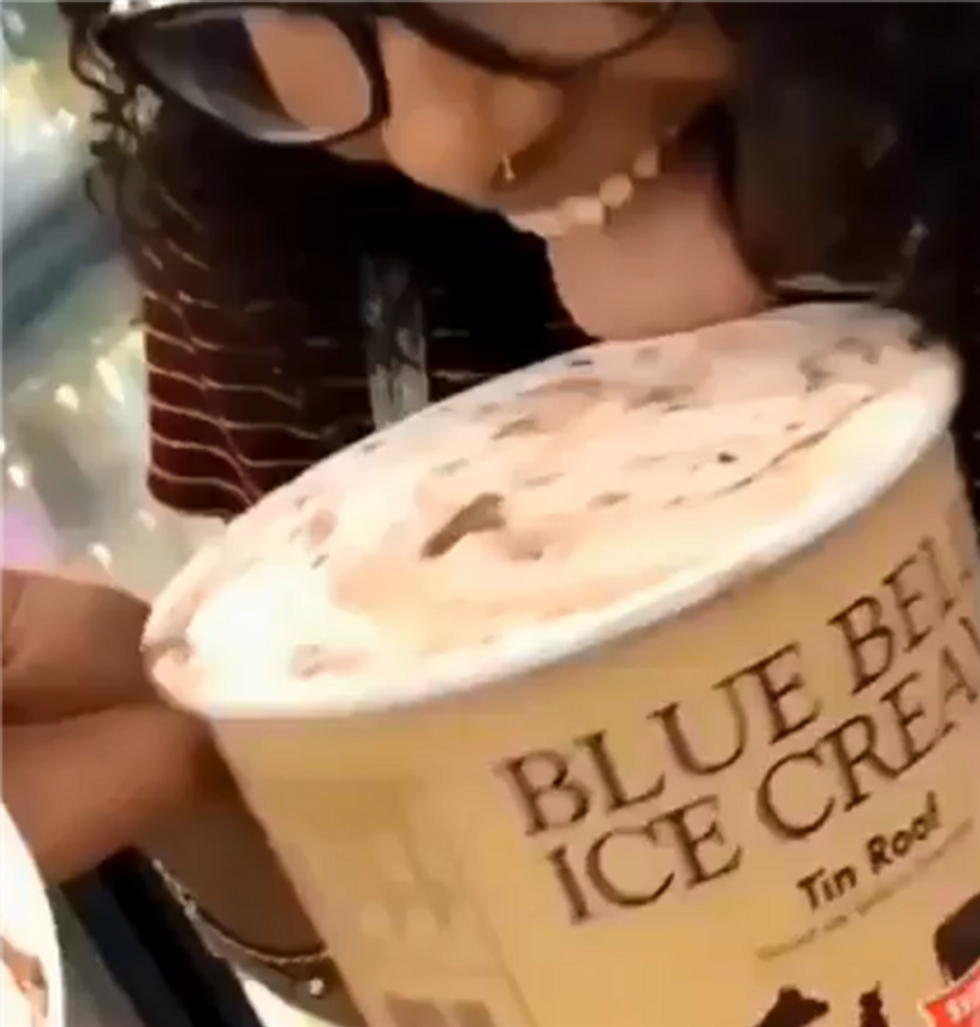 Investigators are also said to be liaising with the FDA, meaning additional federal charges
could
be made.
Here's the full statement.
Lufkin Police & Fire posted a lengthy update on Facebook on Wednesday. In the meantime, the "Tin Roof" Bluebell ice cream has been pulled from the shelves of the Lufkin Walmart store - so fans of the limited edition flavor will have to sit tight and wait for this to blow over before getting their ice cream fix again.