When Chastity Patterson's father died, she continued texting him every single day as a coping mechanism to deal with his death.
For 4 years, Chastity kept it up to relieve the pain of his death and to allow her to feel that she was still in touch with her father.
But recently, the unexpected happened... Chastity received a reply.
Keep scrolling to learn exactly what happened and to read the heartbreaking reply for yourself.
Chastity's father died in 2015.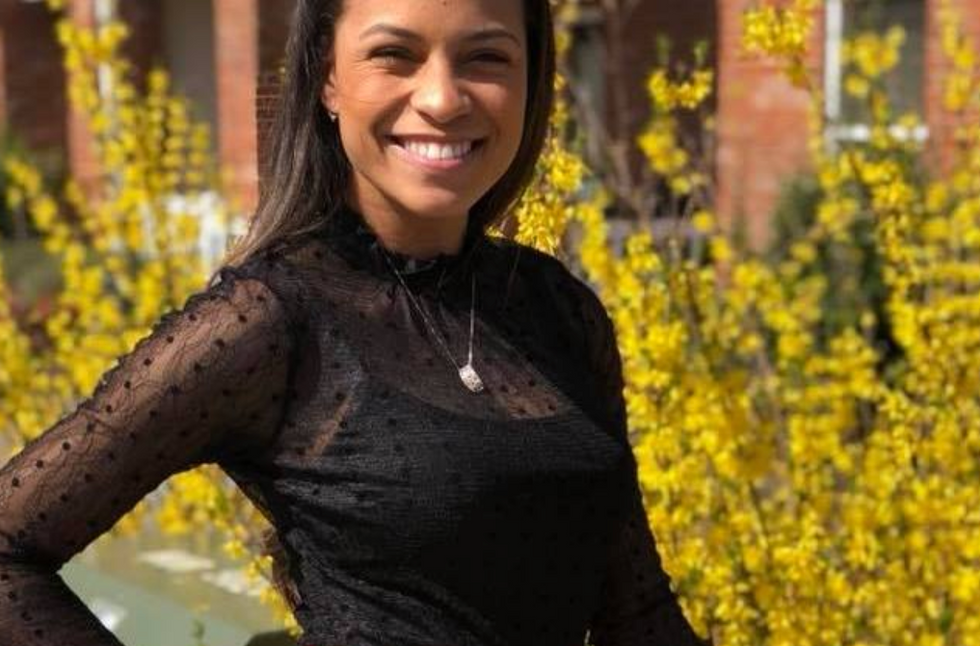 So this heartbreaking and heartwarming story begins, I guess, with the death of Chastity's father in 2015, 4 years ago.
Chastity texts him twice a day.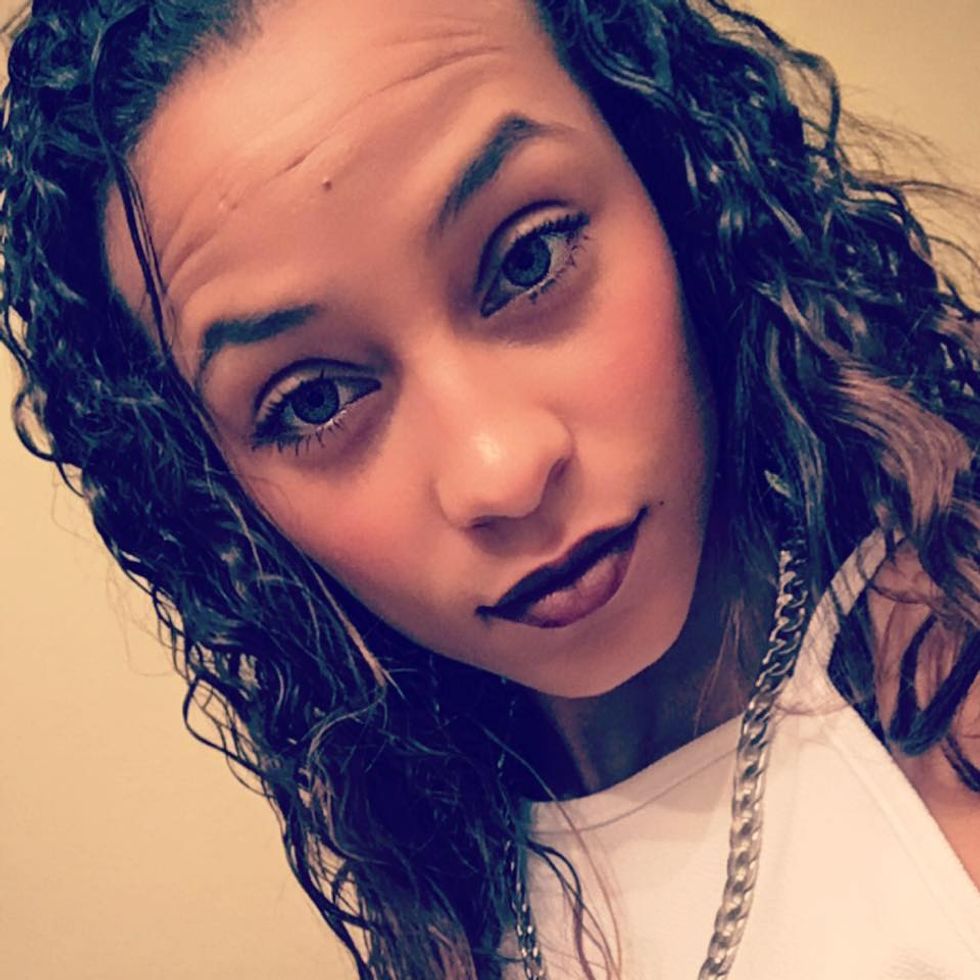 As a coping mechanism to deal with his passing, Chastity has been texting her father's number every day. Often numerous times a day.
On the eve of the 4th anniversary of his passing, she text as usual.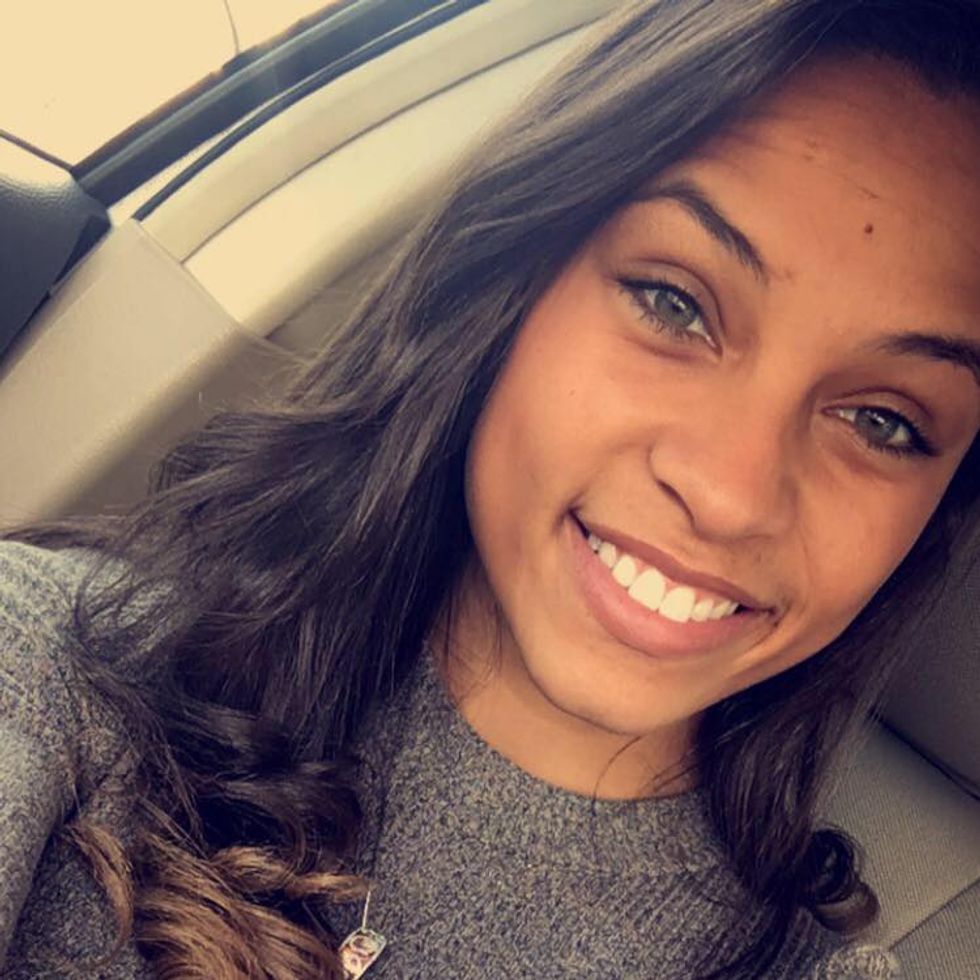 She sent him a large text explaining what she's been up to, as well as letting her dad know that tomorrow (the anniversary of his death) would be another tough day. But then she got a response...
Chastity posted the heartbreaking encounter on Facebook.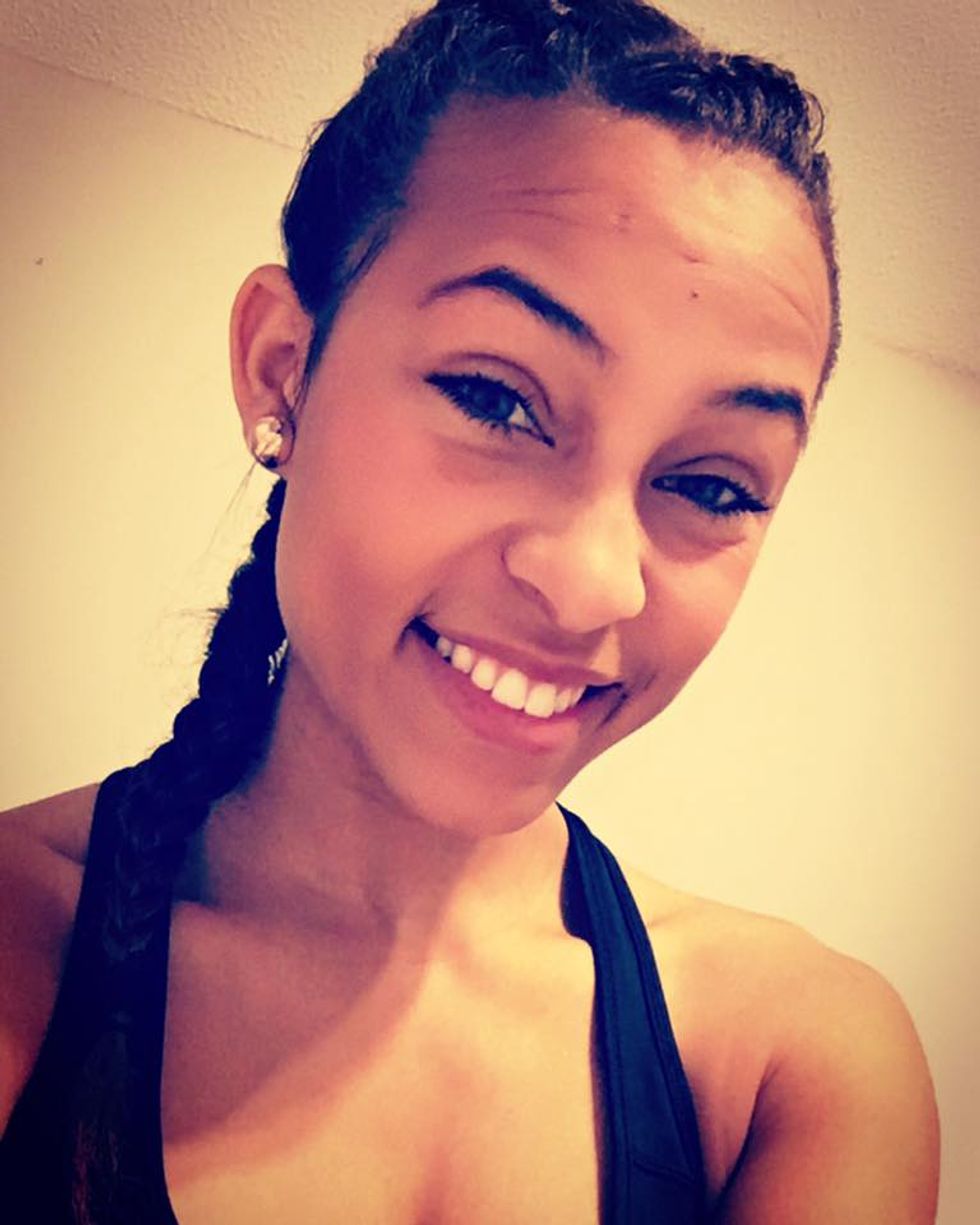 She captioned the post:
I text my dad everyday to let him know how my day goes, for the past Four years! Today was my sign that everything is okay and I can let him rest! ❤️
In the text to her father, Chastity wrote: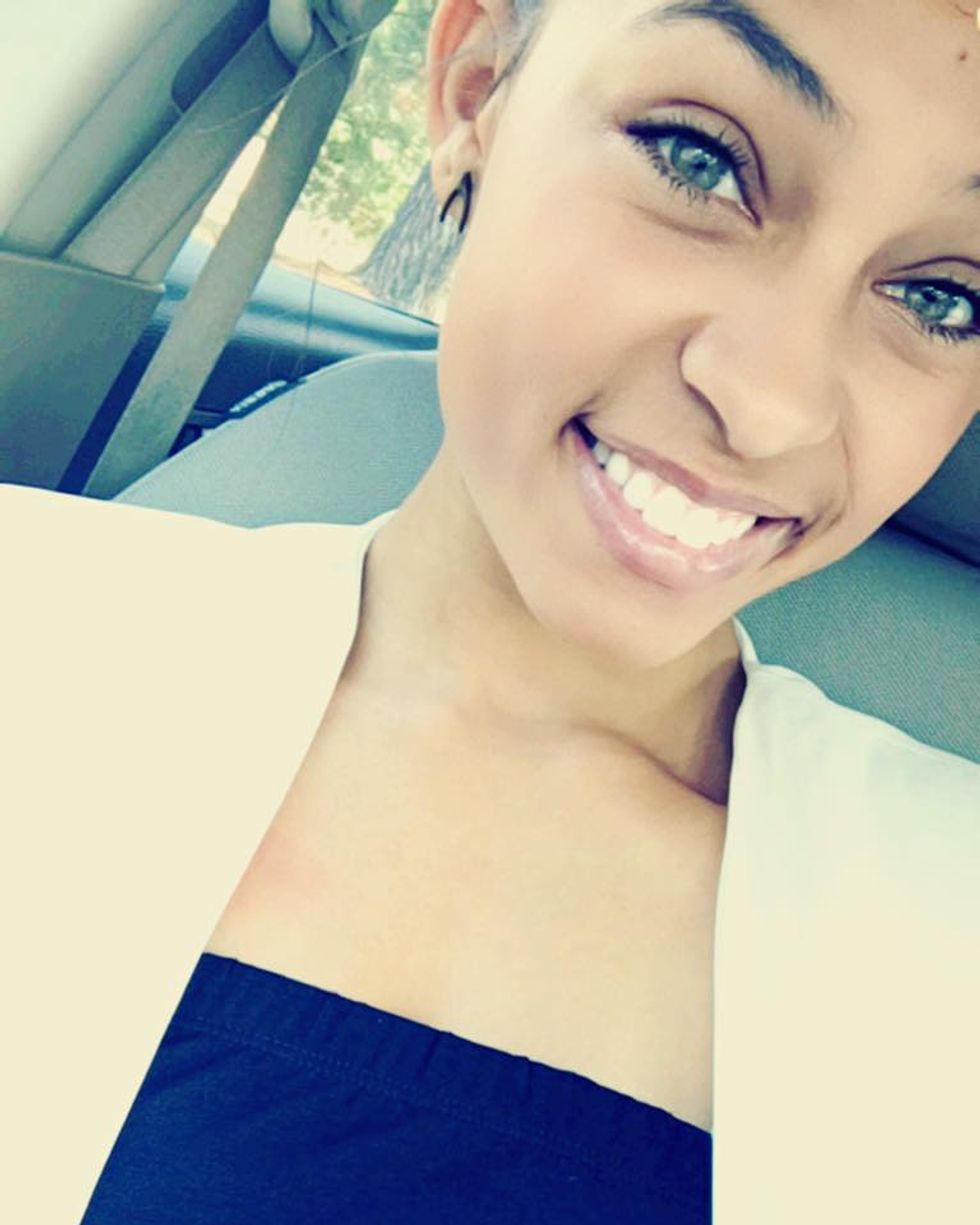 Hey Dad, it's ME. Tomorrow is going to be a tough day again! It's been four years since I lost you, and not a day goes by that I don't miss you. A lot has happened in that small time but I'm sure you know because I tell you all the time.
Chastity continued: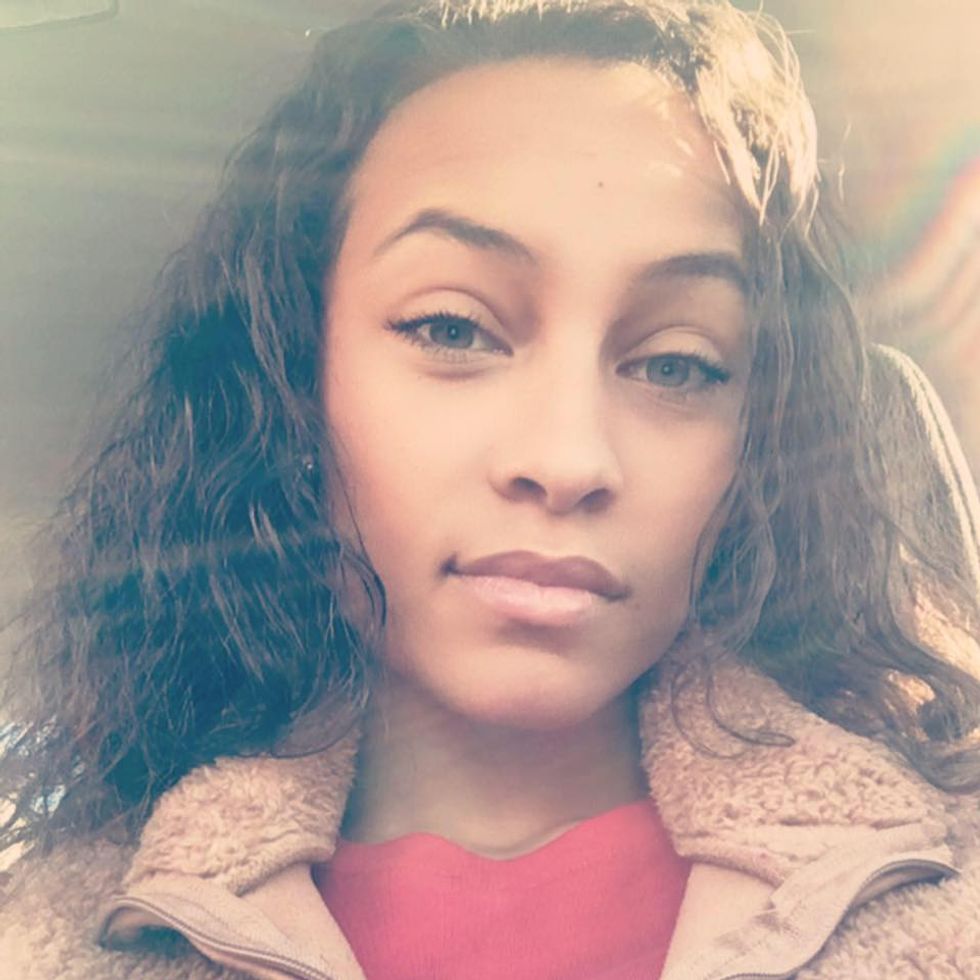 I beat cancer and I haven't gotten sick since you were here, like I promised I would take better care of myself. I finished college and graduated honors. Now I'm back and finishing up again. I fell in love and had my heartbroken. You would've killed him. But I picked my head up and became an even stronger woman.
She then explained how she overcame even more hardship.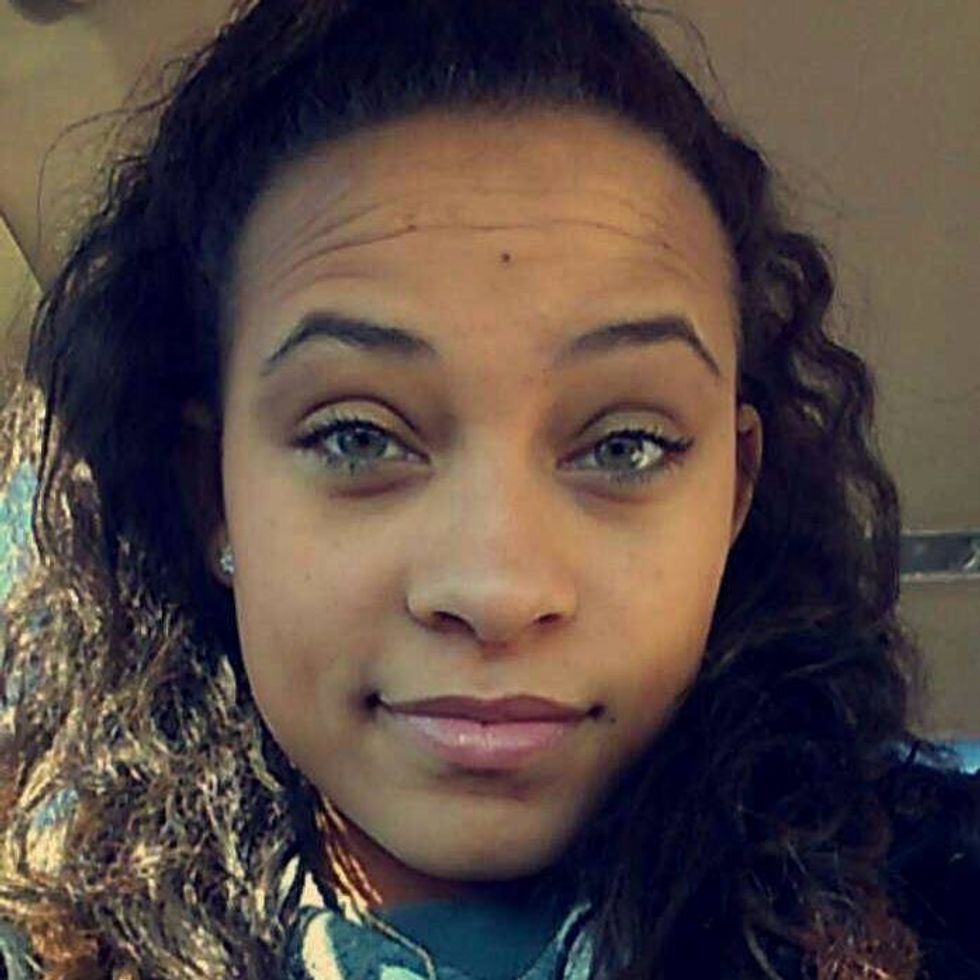 Chastity wrote that she had lost so many of her friends, and that she still drives 'momma' crazy, but that ultimately she is getting stronger every day. She concluded that she loves her dad and still misses him every single day.
You can read her message below.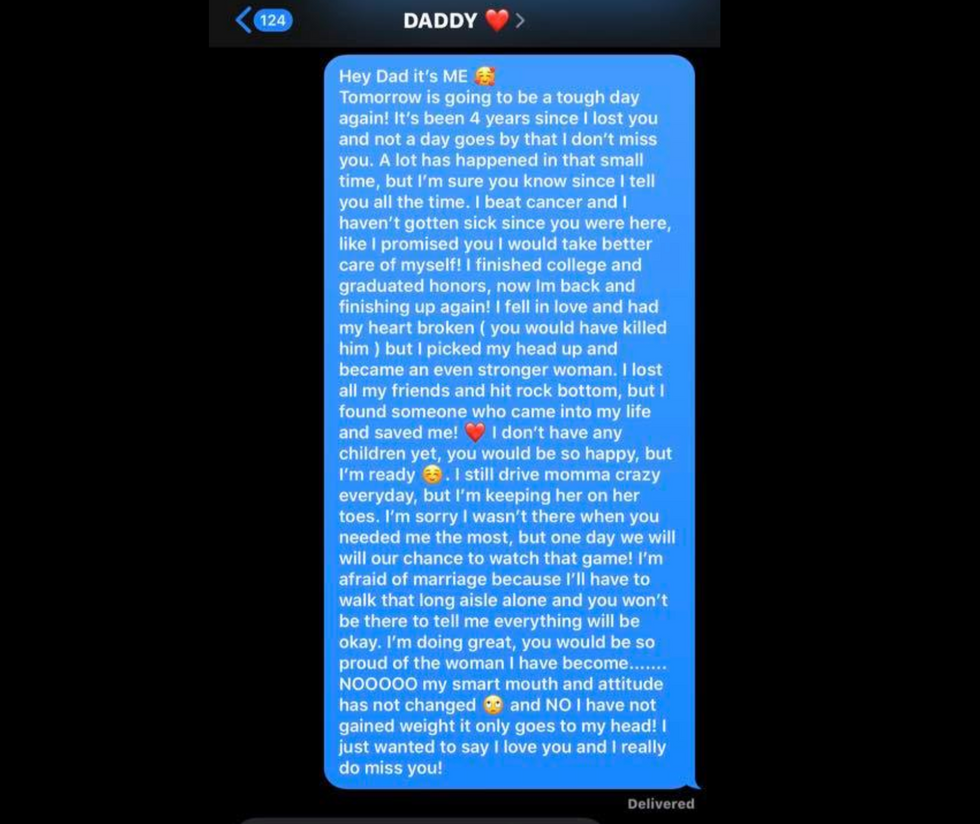 But shortly after sending the incredibly emotional message. Chastity received a response.
After 4 years of silence, a message 'from dad' appeared on her phone.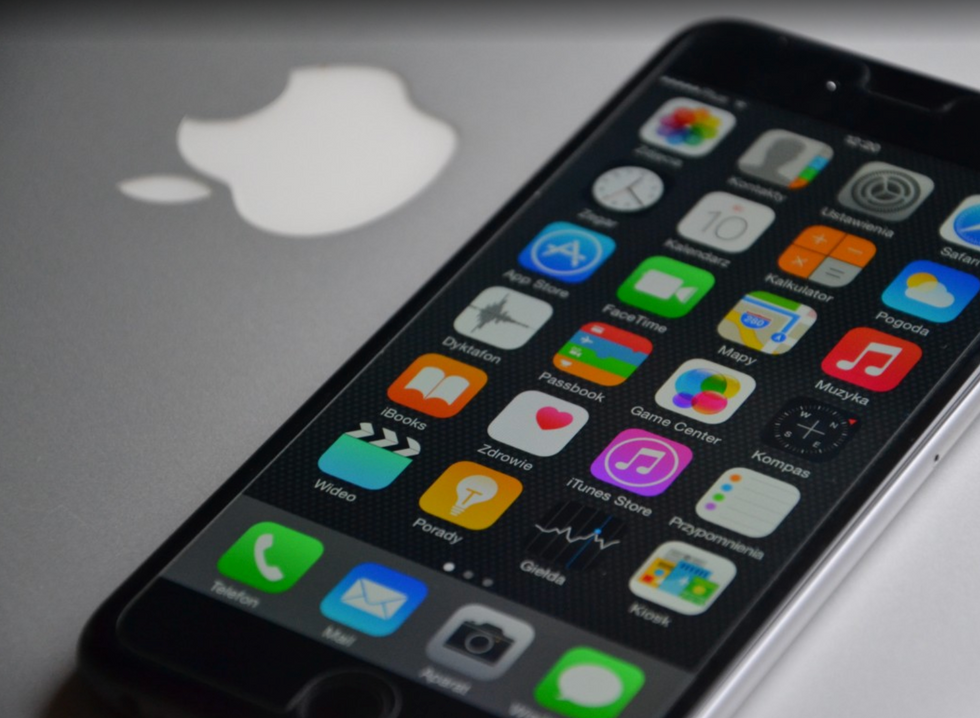 The message came from her father's number but was from a man named Brad, who had been receiving and reading Chastity's messages for years but didn't want to reply in case it broke her heart.
Brad wrote:
"Hi sweetheart, I am not your father, but I have been getting all your messages for the past four years. I look forward to your morning messages and your nightly updates."
He continued:
"My name is Brad and I lost my daughter in a car wreck August 2014 and your messages kept me alive. When you text me, I know it's a message from God." "I'm sorry you lost someone so close to you, but I have listened to you over the years and I have watched you grow and go through more than anyone."
Brad wanted to reply for years.
"I have wanted to text you back for years, but I didn't want to break your heart."

"You are an extraordinary woman and I wish my daughter would have become the woman you are, thank you for your everyday updates, you remind me that there is a God and it wasn't his fault that my little girl is gone."
Brad believes that God gave him this connection with Chastity.
He continued:
"He gave me you, my little angel and I knew this day was coming. Everything will be okay, you push yourself every day and shine the light God gave you. I'm sorry you have to go through this, but if it makes it any better, I am very proud of you."
He concluded that her father would be happy with her decisions.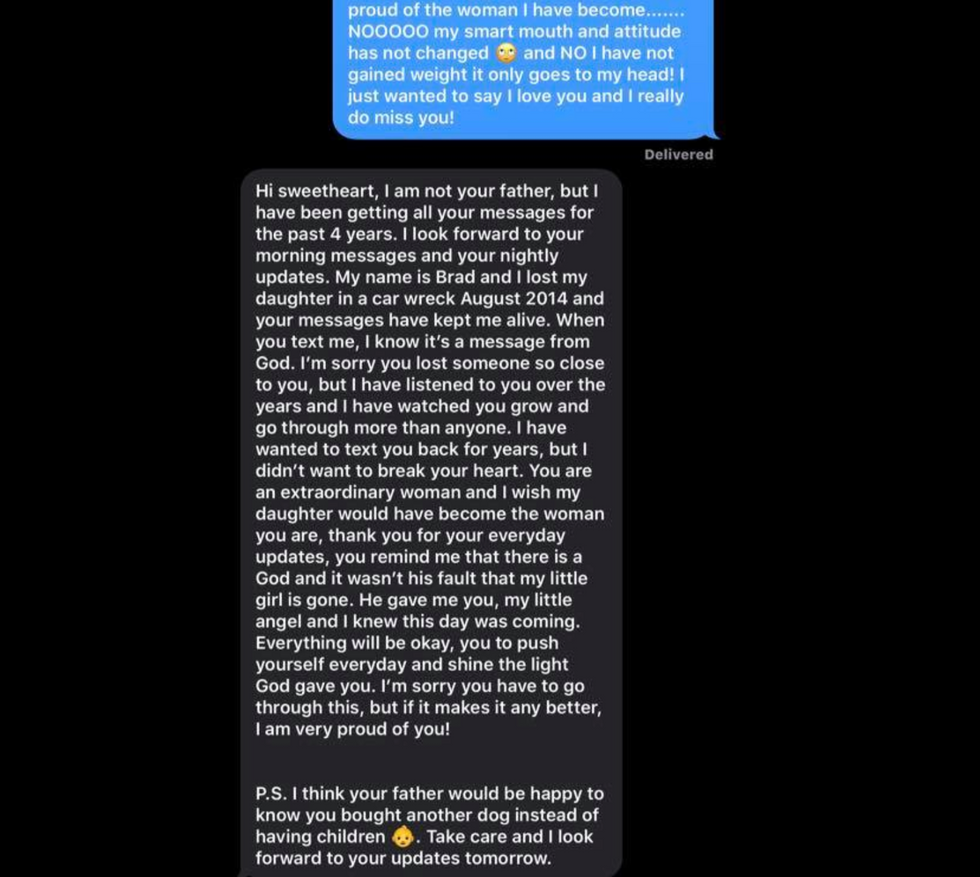 In his final message, Brad explained that her father would be very happy with who she is and that by deciding to get a dog instead of having children, well he'd be proud of that too.
Signing off, he wrote:
Take care and I look forward to your updates tomorrow.
So far the post has 140,000 likes.
The post has touched the hearts of people from every corner of the globe. It currently has 140,000 likes as well as 270k shares, and 18,000 comments.
Many people were choked up after reading the messages.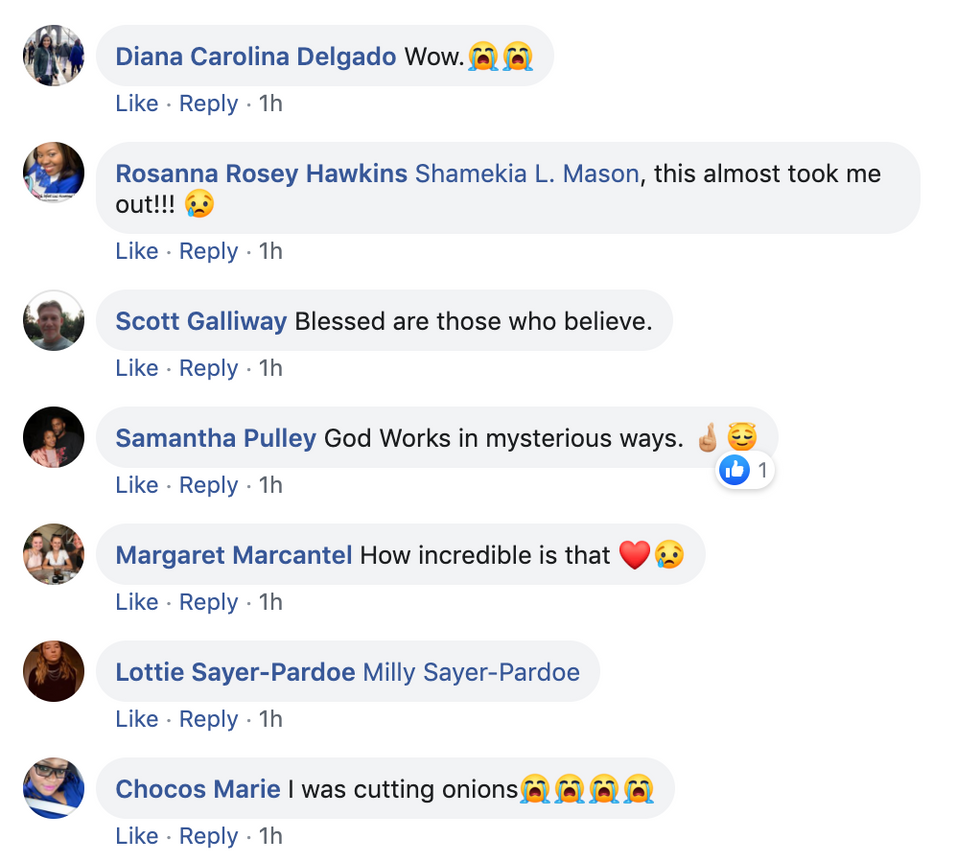 Countless people commented on the post letting Chastity know that the messages had led to tears falling from their eyes. One woman simply wrote: 'bawling.'
Chastity even apologized.

In a follow-up post, Chastity even apologized for making people cry. You don't need to apologize Chastity! We just hope you've found some closure.