The officers of the Gainesville Police Department don't just save lives during Hurricane Irma, they are also giving us life. Yaaaaaaas.
That's basically the effect these Florida hot cops are having on the women everywhere.
When three officers from the Gainesville Police Department posted a selfie on Facebook on Sunday, September 10, they had no idea they'd make every woman with eyeballs and Internet access thirsty as hell.
But that's exactly what they did. The now-viral Gainesville police selfie elicited amazing comments like this:

via: Facebook
A "hunkapotumus" sighting! Are you kidding, Jaime Lee Daniels?! Because it seems like you're not kidding.
The comments section of the photo is like reading a racy romance novel.

via: Facebook
Hurricane Irma was no joke, but its destruction apparently doesn't hold a candle to how these women were 
destroyed
by one snapshot of attractive police officers.
Get ready to blush:

via: Facebook
Shameless. These women are so hilariously shameless.
At least not every comment makes you want to crawl into a hole from embarrassment.

via: Facebook
"Thank you to these officers for their service and their dedication and their ripped bods and chiseled jaws."
The original post just said, "Officers Nordman, Hamill and Rengering...part of the night crew getting ready to do some work." But it went so viral that the Gainesville Police Department issued this update: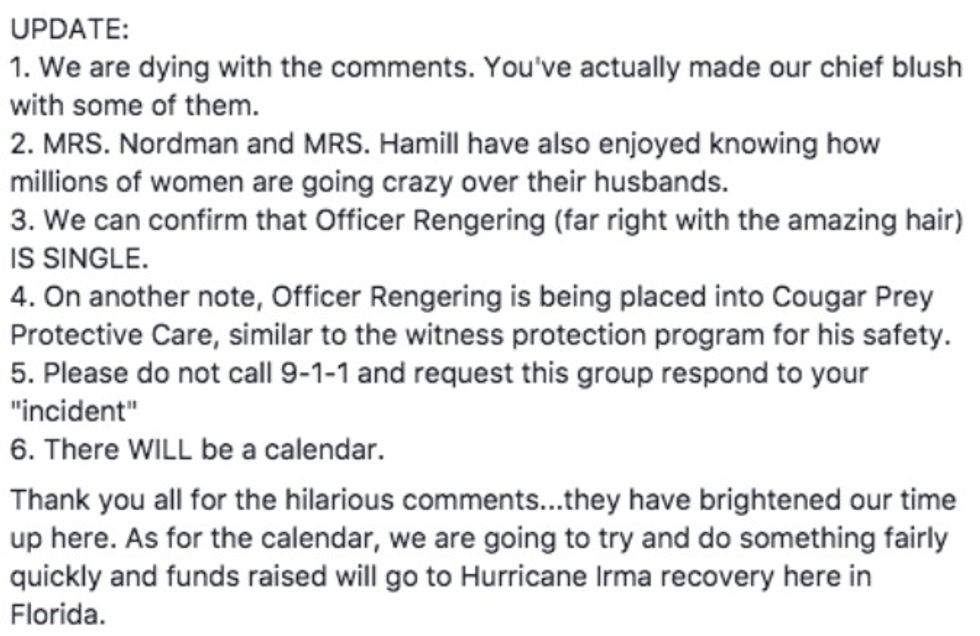 via: Facebook
Incredible. So, are you ready to see the photo that has women everywhere tripping over themselves to make inappropriate Facebook comments?
Here it is, folks:
Since it was posted on Sunday, September 10, it's garnered over 400,000 likes, over 228,000 shares, and more than 147,000 comments. That's insane.
But obviously, the GPD had to capitalize on its sudden claim to fame.
They started posting photos of other super cute officers in their department. The hotness just wouldn't quit.
And neither would the comments.

via: Facebook
People seriously questioned whether the Gainesville Police Department is an actual police department. Don't know about you, but we've never been in a workplace with that many highly attractive individuals.
The hits just kept on coming.
Instead of putting out the fires in the hearts (and crotches) of every woman in America, the GPD just kept stoking the flames.
Women in the comments continued to demonstrate their intense thirst.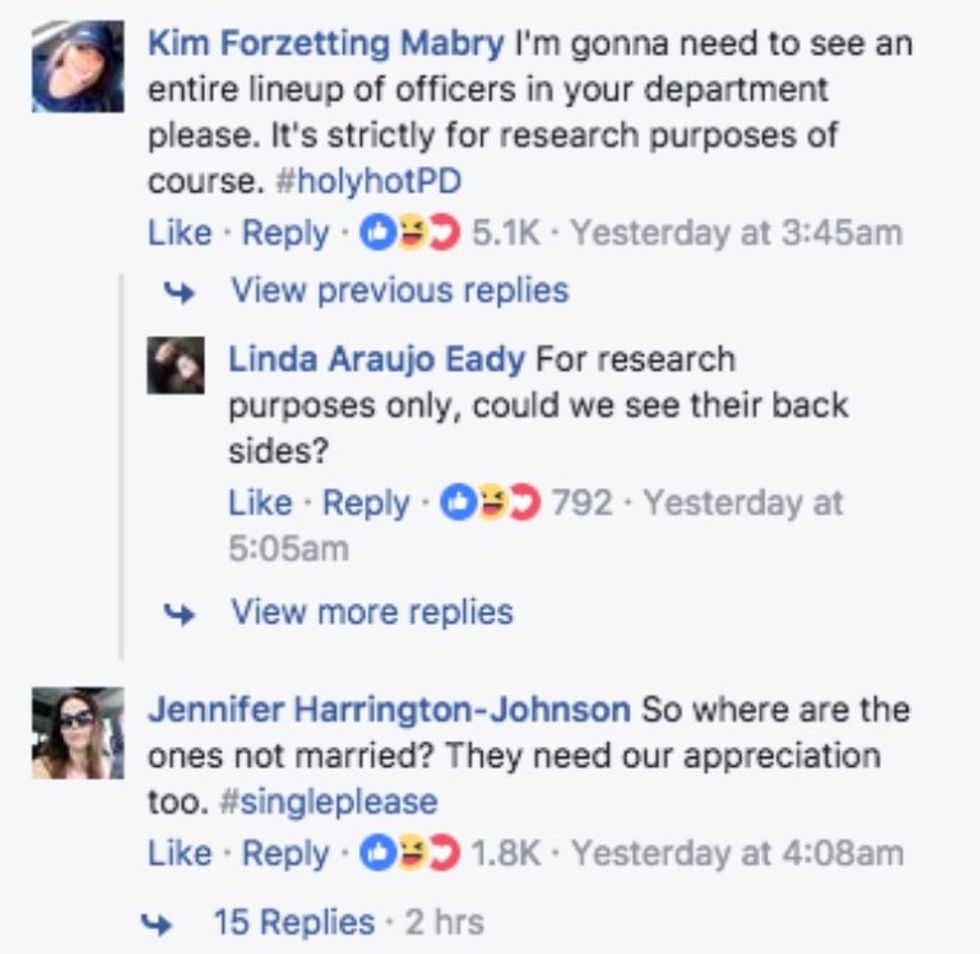 via: Facebook
Like, these women are 
parched
. Arid. Like the desert. But believe it or not, the GPD has 
even more
beautiful angel police officers, and they were only too happy to objectify them...
This photo was posted with the caption, "We love ya, Gainesville! These lovely ladies brought Detective Jones and Officer Gough snacks...and then heard a tree fall — back to work."
No way this innocent picture and caption could be twisted into a highly sexual offer, right?
Wrong.

via: Facebook
Relentless. These women were relentless. To be fair, the Gainesville Police Department does have some fairly attractive officers on staff. But the compliments weren't reserved only for the men...
Female and canine officers got some of the action as well!
Seriously, something fishy is going on in Gainesville, Florida. Even that golden retriever's got it going on.
Never stop being you (a.k.a. super beautiful), Gainesville Police Department.

via: Facebook
You guessed right, Dana. Hurricane Irma didn't stand a chance against the hurricane that is women on the Internet when they see cute men.