The news has just come in that WWE legend, Joseph Laurinaitis has sadly passed away.
Here's what we know so far...
He was only sixty-years-old.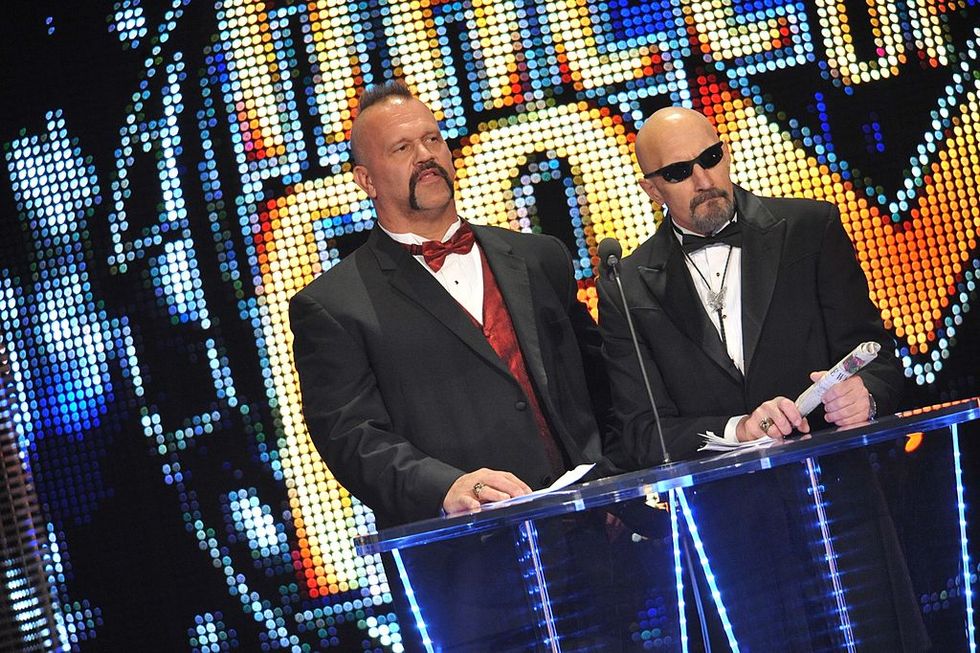 via: Getty
Laurinaitis, who rose to fame as the "Road Warrior Animal" in the "Road Warriors" tag team, died on Tuesday evening,
TMZ Sports
reported.
Law enforcement told the publication that his wife had called the police just before midnight...
The WWE legend was declared dead upon their arrival.
His death was officially confirmed today. The Road Warrior Animal Twitter page wrote:
"At this time, we would like to confirm the passing of
Joseph
Laurinaitis
aka Road Warrior Animal at the age of 60. The family is planning to release a statement later today. At this time we ask for you to keep everyone in your thoughts and prayers."
Fellow WWE icon, Hulk Hogan, also sent his heartfelt condolences.
Sad news today on the passing of @RWAnimal, as a child the L.O.D. was my favorite tag team. thoughts and prayers to… https://t.co/99Q6ghWgse

— Nathan Hupman (@Nathan Hupman)1600865685.0
"RIP Animal, love you, my brother," Hogan said in a statement Wednesday morning. "I know you and Hawk have a lot of unfinished business to take care of! God speed and blessings to your beautiful family, one love4Life."
A whole array of tributes followed...
R.I.P Joseph Laurinaitis Conocido en el Ring como Road warrior Animal #OhWhatARush https://t.co/ylPQ4ovHwa

— Quiobrera_Wrestling (@Quiobrera_Wrestling)1600865523.0
- WWE Hall of Famer - Tag-team Champion across the globe - Part of the legendary Road Warriors RIP, Joseph Laurina… https://t.co/neN7LhAVD7

— WWE on BT Sport (@WWE on BT Sport)1600865600.0
Sad news about Joseph Laurinaitis (Road Warrior Animal), an absolute legend in the wrestling world, and one part of… https://t.co/Qy4t5CjtQ8

— Vincent (@Vincent)1600864373.0
@ladbible loved the Legion of Doom.... #RIP

— 🔰🔴⚪️⚫️Archie®🔴⚪️⚫️🔰 (@🔰🔴⚪️⚫️Archie®🔴⚪️⚫️🔰)1600868534.0
I'm so sad to hear that Road Warrior Animal, Joseph Laurinaitis, has passed away at the age of 60. I'll always thin… https://t.co/0sf5UVjf3T

— Joel Gertner (@Joel Gertner)1600869222.0
Sad news to hear this morning Joseph Laurinaitis aka Road Warrior Animal has passed away.The Road Warriors/LOD capt… https://t.co/Qb4tAzlfuZ

— Drew Baydala (@Drew Baydala)1600865904.0
Sad morning... one of the greatest RIP Road Warrior Animal, Joseph Laurinaitis. My absolute favorite tag team of a… https://t.co/kRiqhLO2sx

— Reel Comics 👊💥 (@Reel Comics 👊💥)1600867856.0
One of the best to do it. Part of one of the best tag teams in wrestling history as well. Man 2020 has been terribl… https://t.co/fNViwufo76

— The Savier Of Sports (@The Savier Of Sports)1600867023.0
#RIPRWAnimal so sad to hear of the passing of the legendary wrestler 'Road Warrior Animal' Joseph Laurinaitis 😭 Pra… https://t.co/GfQg6M4GOI

— Diddy_Dave_Uk (@Diddy_Dave_Uk)1600865603.0
Laurinaitis' cause of death is yet to be confirmed...
Laurinaitis. 
To remember the other lives lost this year, keep scrolling...