The Harry Potter franchise hits deeper than your average book, or movie, it's morals and characters have shaped us all, and it comes at no surprise that amid the pandemic, several of us are re-watching the movies once again.
But what if I told you, you could get paid for doing what you're doing for free? Well, one company is offering this exclusive job opportunity to a limited number of superfans.
Keep scrolling to apply... you won't believe how much they're giving away, and it's not just money...
I'm pretty sure we've all binged watched the Harry Potter series... at least once
They're simply magical... Literally. And now thanks to one dream gig, the series has become even more miraculous...
As if that's possible.
Well, now you could get paid for doing the least amount of work imaginable... it really is magic.
The wizarding world of Harry Potter was first born in Edinburgh, Scotland.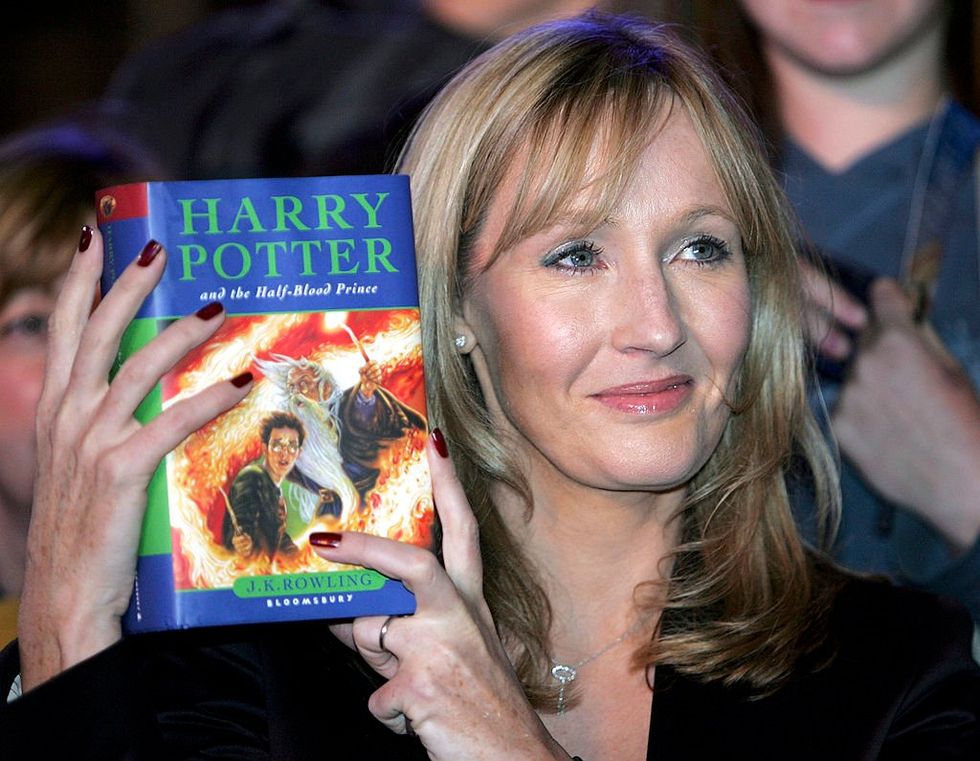 via: Getty
While sitting in a small coffee shop, the British author, J.K. Rowling brought to life something rather spectacular.
She created a whole new world...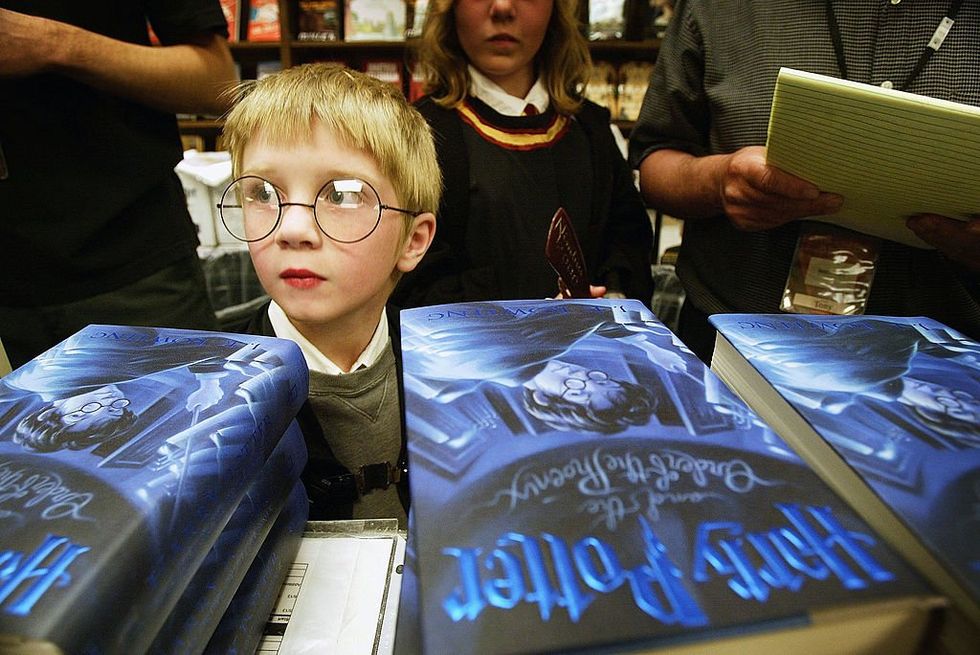 via: Getty
And
everyone
wanted to be a part of it.
And quite understandably so.
With dragons, moving photographs, giant snakes, pumpkin juice, and the flying-broomstick sport of Quidditch, millions of people all over the world have been keen to get involved with the Harry Potter way of life.
The world has become Harry Potter obsessed.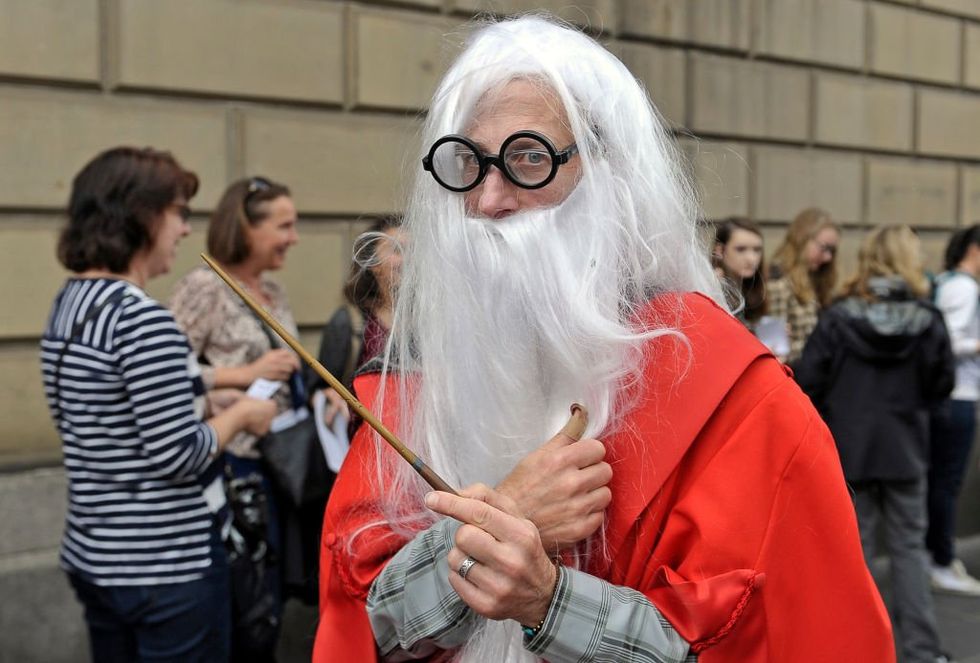 via: Getty
And we
all
believed that we were going to receive a letter from Hogwarts in the mail when we were eleven-years-old... No? Just me?
Spanning across 7 novels...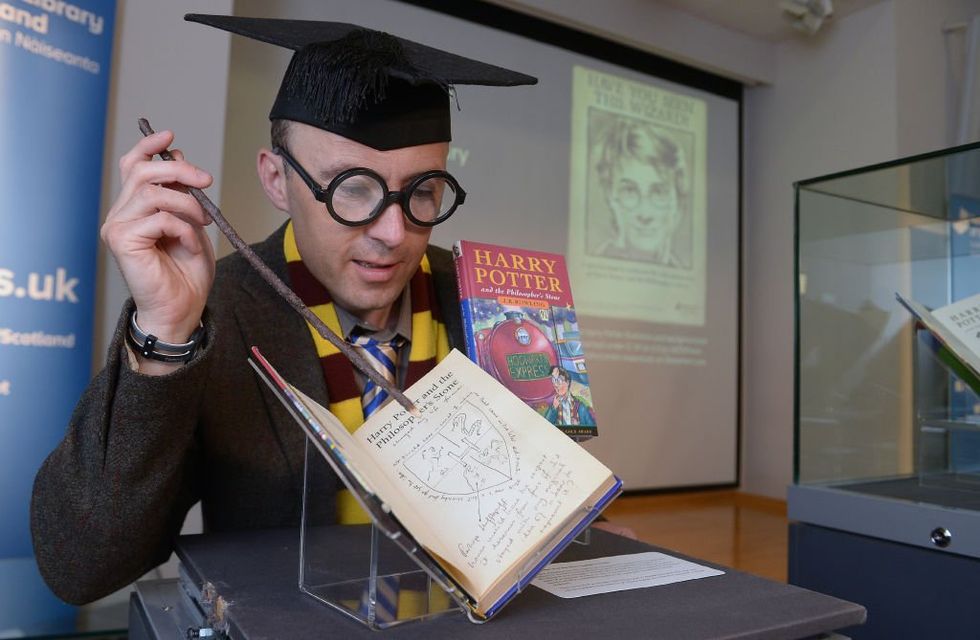 via: Getty
And 8 movie adaptations,
Harry Potter
has become a global phenomenon.
So, obviously...
When the final movie was released in 2011, Harry Potter fans far and wide were itching for more.
The magical franchise may have closed its doors...
But fans still enjoy binging their way through the movies.
We've even been treated to a reunion.
Draco Malfoy)
, Evanna Lynch (
Luna Lovegood)
, Bonnie Wright (
Ginnie Weasley)
, and Matthew Lewis (
Neville Longbottom)
along with the caption "Merry Christmas from us."
And it was recently announced that the world's biggest Harry Potter store would be opening...
And it's right here in the States!
It's in the heart of NYC.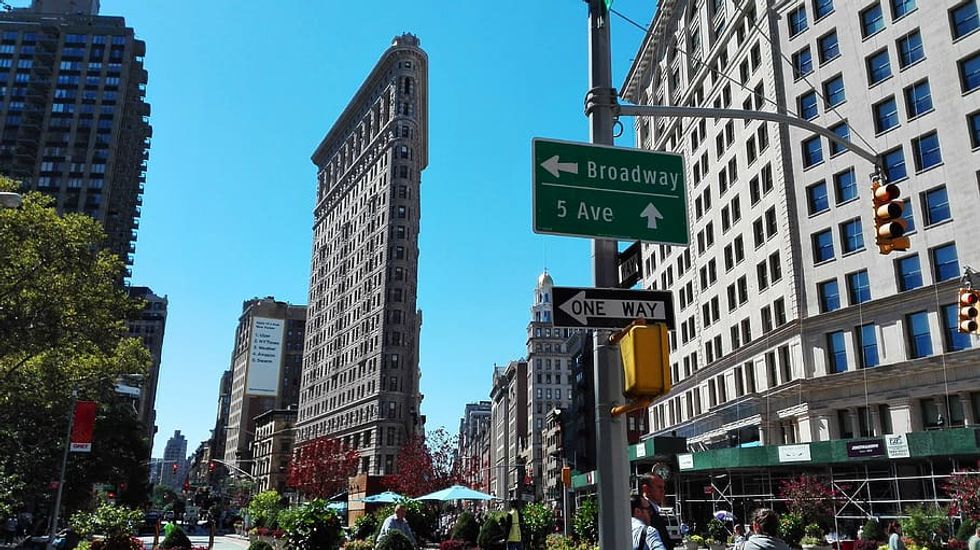 The store will host the 'the largest collection of 
Harry Potter
 and 
Fantastic Beasts
products in the world under one roof with everything from personalized robes and Bertie Bott's Every Flavor Beans to a brand-new range of house wands with a design exclusive to the New York location'. And it's going to be set right in the very heart of the Big Apple, located next to the iconic Flatiron building on Broadway.
Okay, so now we've established just how popular the magical franchise is...
It'll come as no surprise that during lockdown, people have been watching the smash-hit movies once again.
Although this time, you could get paid for it!
I'm about to binge watch all of Harry Potter for the second time this quarantine because I can. https://t.co/YwKSJ80Sjn

— Mark MacKillop (@Mark MacKillop)1586649510.0
Some exciting news has just landed that Harry Potter fans everywhere will be eager to get stuck into...
The franchise has millions upon millions of fans all over the world, which is what makes this such an exclusive opportunity.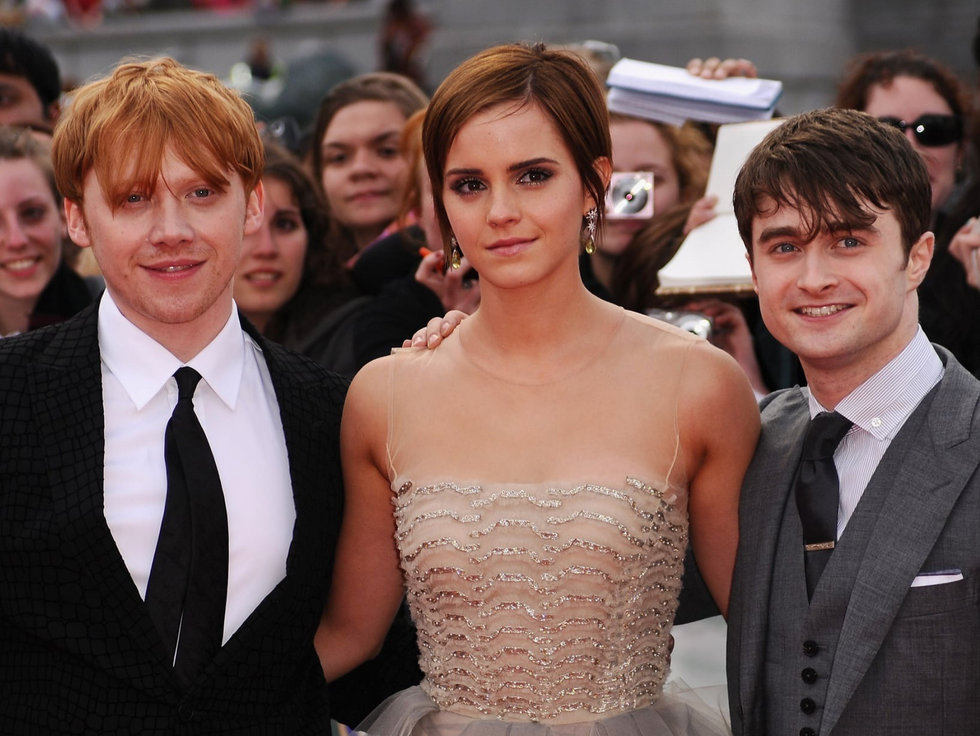 via: Twitter
It's no doubt you must be extremely excited if you are one of that legion of Potter fans, to learn that one company is offering $1,000... plus bonus perks...
On top of the 1,000 dollars, the successful candidates will receive a host of other treats...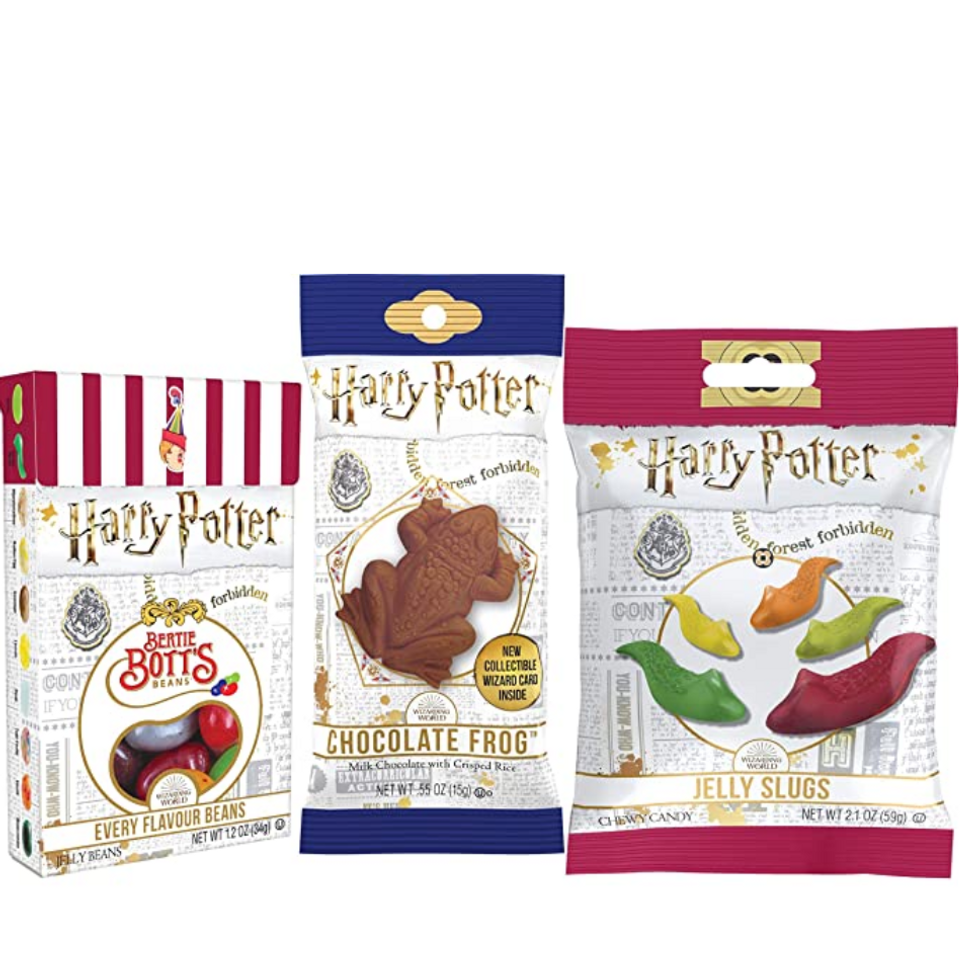 via: Amazon
Including; Harry Potter Butterbeer Caramel Corn (with containers), Harry Potter-themed candy, a Gryffindor snuggie, a Hogwarts alumni stainless steel tumbler, and a $100 Grubhub gift card.
All this to binge-watch the movies!
This means all of the Harry Potter movies, as well as the two spinoff Fantastic Beasts movies.
It really is exclusive, as only 5 people will be picked out for the challenge. 
just after any old superfan...
If you feel up to the task, here's the job description...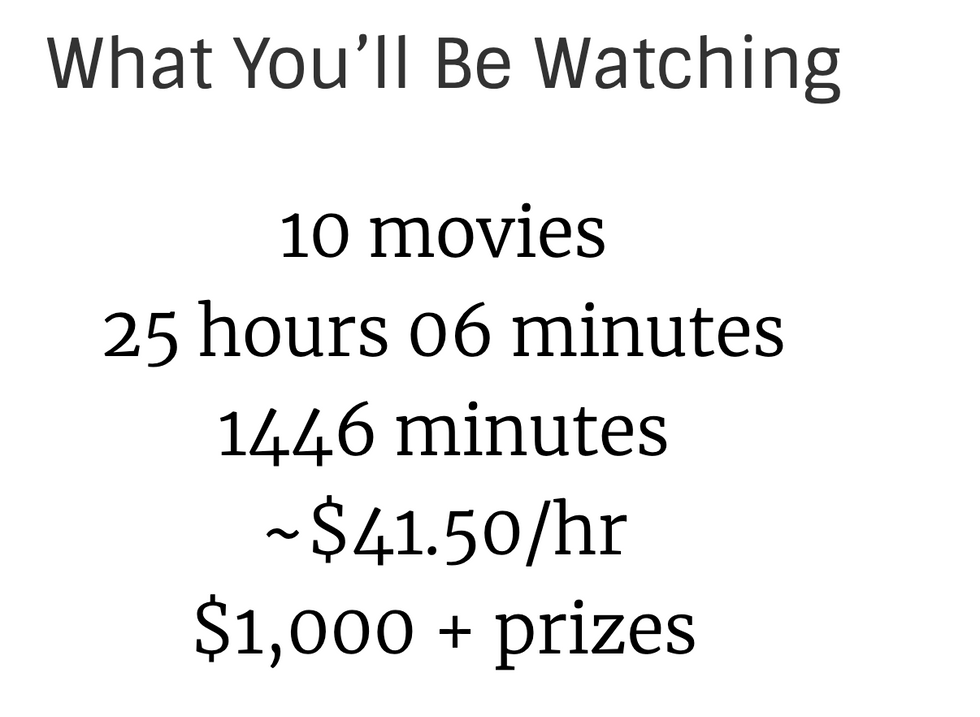 via: edsmart
"Will the real Harry Potter fans please stand up? "Here at EDsmart, we realize that most people could use a little magic right now, and we love Harry Potter. "Most of the Muggle world is struggling with self-isolation and not having a normal routine–like we're all living in the cupboard under the stairs at 4 Privet Drive, Little Whinging. "We realize that at this time, we can't all head to Diagon Alley to stock up on goods nor Hogwarts to be with our friends. "So, in light of all that's going on out there and in our homes, we've decided to pay up to five Muggles, Mudbloods and magic folk $1,000 each to watch every Harry Potter and Fantastic Beasts movie–the Ultimate Dream Job. "The right candidate will be chosen by the Sorting Hat."
Follow the link to get started...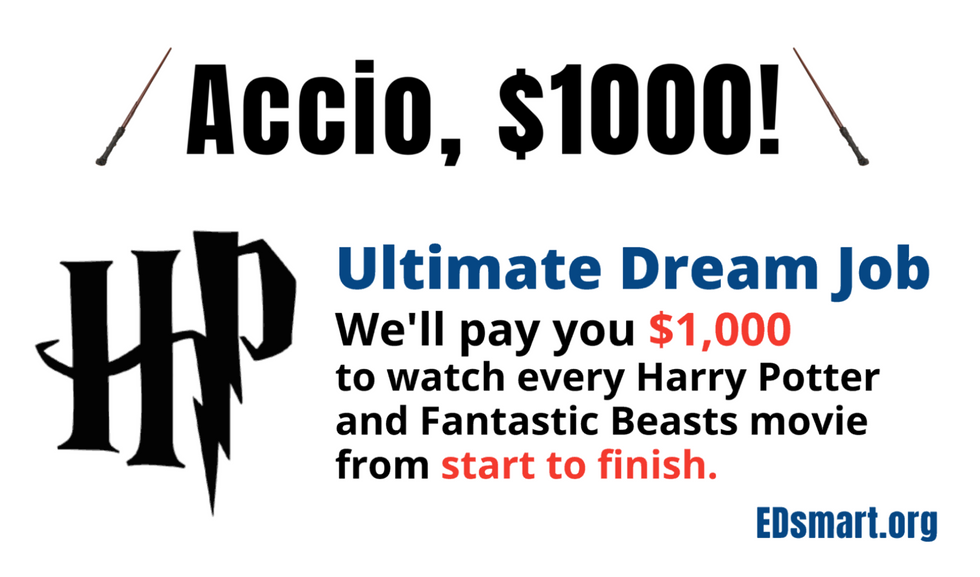 via: edsmart
The company notes that they are not only after a Harry Potter fan, but also an "active, outgoing social media personality". If that sounds like you, then follow the link to EDsmart's website, 
here
. Once you've done that, check out what Emma Watson is doing to make us love her even more... If that's possible.