As summer comes to a definite end, it's basically time to start getting excited for Christmas, right? Well, maybe it's a little bit early - but retailers are already tempting us with their innovative advent calendar options. Gone are the days when a small picture of something festive, or even a cheap chocolate would suffice. Now there's an advent calendar for every hobby - filled with anything from Lego to beauty products.
But the latest launch in the genre is perhaps our favorite yet. Disney have launched an advent calendar filled with incredibly cute, festive socks - and the internet can't resist.
It's hard to admit ...
But summer is definitely over. Say goodbye to hot weather, long evenings, outdoor activities, and sunshine!
But there is one silver lining.
The end of summer means we're that bit closer to Christmas. So that's something to look forward to, at least!
The problem is...
Christmas is still over three months away. That's a pretty hefty wait.
But there is one way to make the wait more exciting.
By getting a super cool advent calendar, of course. Having a little treat every day in anticipation of Christmas is some people's December staple.
In the past, advent calendars were pretty subdued affairs.
But, now, they
can be pretty extravagant
. In fact, they almost act as extensions of your Christmas gifts - not that we're complaining.
And the latest advent calendar launch?
Well, it comes from none other than movie-making empire, Disney - and offers customers a pretty unique daily treat.
And fans are pretty excited about the launch.
Disney fans are known to be pretty intense in their feelings - and reactions to this advent calendar have been no exception.
Because what's better than one Disney themed gift?
Why, twelve of course! And this calendar gives fans a treat for each of the twelve days leading up to Christmas, boosting excitement day by day.
The gifts in question?
Well, they're actually a surprisingly useful item - the much-maligned gift of socks. Who wouldn't want to boost their footwear collection with some adorable Disney classics?
They're themed around a whole bunch of Disney classics.
Some characters included within the range include 101 Dalmatians' Cruella de Vil, Bambi, Dumbo, Peter Pan's Tinkerbell, and The Aristocat's Marie.
Here's the calendar.
It's just as beautifully designed as you may have expected from Disney. Is anyone feeling tempted?
And here's the lot.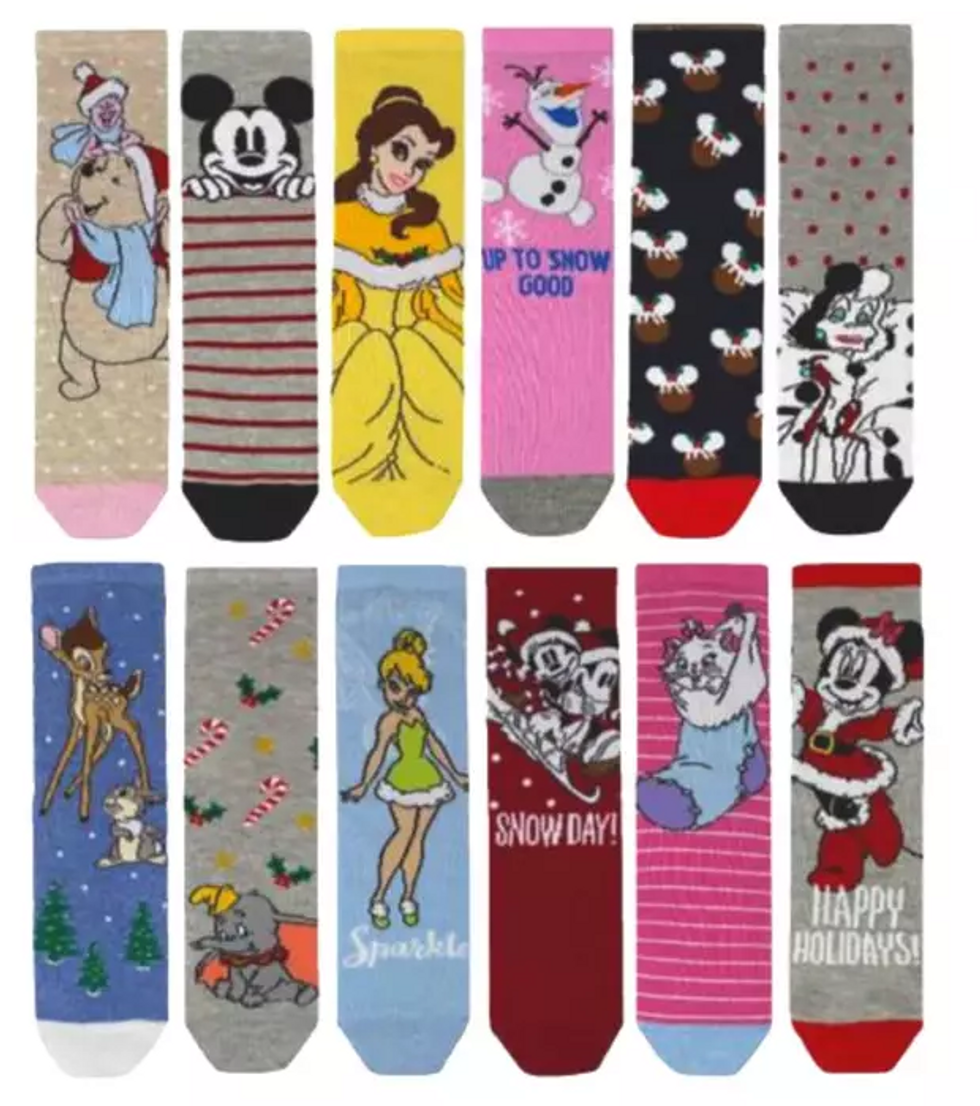 Now we've seen it, we're hovering over the buy now button. Those Tinkerbell ones are particularly adorable.
The calendar costs under forty dollars.
And while that sounds pricey, it works out at just over three dollars per pair of beautiful (and original) Disney socks - which doesn't seem like a bad deal at all.
But there is a downside.
Unfortunately, the retailer of this exclusive calendar is U.K. only. But if you're feeling super-keen, you may be able to track it down via a reseller online.
But for our international readers?
You may be in luck. Drugstore, Boots, is currently sold out of the calendar, but they promise to have it back in stock in the next two weeks - so marks your diaries. Interested in another most excellent Disney purchase? Scroll on for the blankets that have gone viral this week.