Sugary treats are one of the many pleasures of life. Those with a sweet tooth among us will know that there's something so irresistible everything cake, cookie, and chocolate-related.
But the latest release is one of the best we've seen yet, and it's for all the donut fanatics out there...
Keep scrolling to learn all about the new drop and where you can get your hands on it.
There's nothing better than gorging on a sweet treat from time to time.
Those with a sweet tooth will understand that sometimes you just have to let yourself indulge in some sugary goodness.
It's something many of us are unable to resist...
Dessert may not be the healthiest option but it tastes so good.
Whether you're a cake lover or a chocoholic... or both...
There are many options out there to give us that sweet fix.
And our love of all things sweet couldn't be truer during lockdown...
Many of us are indulging in sugary snacks, because, well, why not?
Let's be honest...
It's incredibly hard to resist the chocolate cupboard when you're stuck at home all the time. Healthy eating who?
From Krispy Kreme to the classic grocery store iced ring...
The choices are endless.
But of course, many of us have got some more time on our hands right now...
Admittedly, that seems like a bit too much effort, not to mention the fact that some of us aren't the best bakers.
But one device is set to solve the dilemma for us.
Yep, you can now buy an automatic mini donut factory for your house...
The latest in the growing catalog of cooking gadgets allows you to make those irresistibly fresh mini donuts right in your kitchen. We can't think of a better way to spend lockdown...
The device is made by kitchenware specialist "Nostalgia," known for creating devices with a retro twist.
thirty donuts per batch.
According to the product's description, the "dough dispensing mechanism creates the perfect sized mini donut."
"Stainless steel spatulas turn and delivers donuts to the dispensing chute; Includes drip tray to change oil after each use; Safety guard lids keeps hands away from hot oil; Automatic dough dispenser creates perfect orbital donuts; Conveyor pulls donut dough through heated oil; Flipping mechanism automatically flips donut for even cooking; Easy-view window to watch donuts cook; Finished donuts are dispensed from the donut slide into a convenient bin."
The factory comes complete with a measuring cup, doughnut bin, and "easy to clean" drainage pan...
This is a need, not a want.
Our mouths are watering just thinking about the donuts we could make...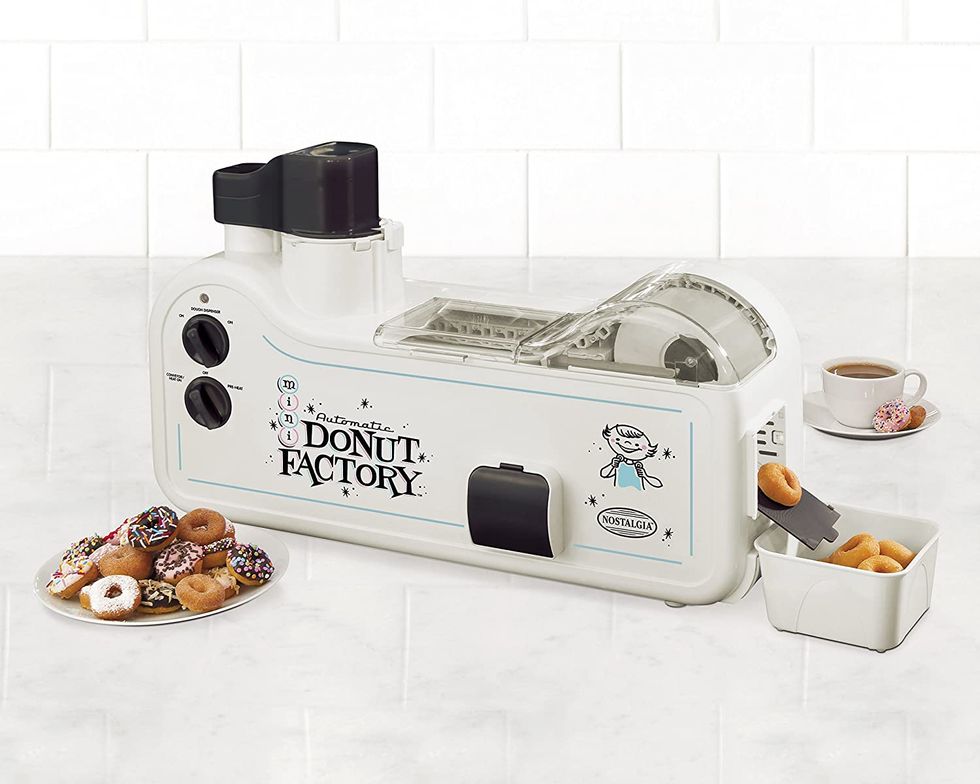 via: Amazon
The only downside? The device comes in at a hefty $99.99.
Where can you get your hands on your own?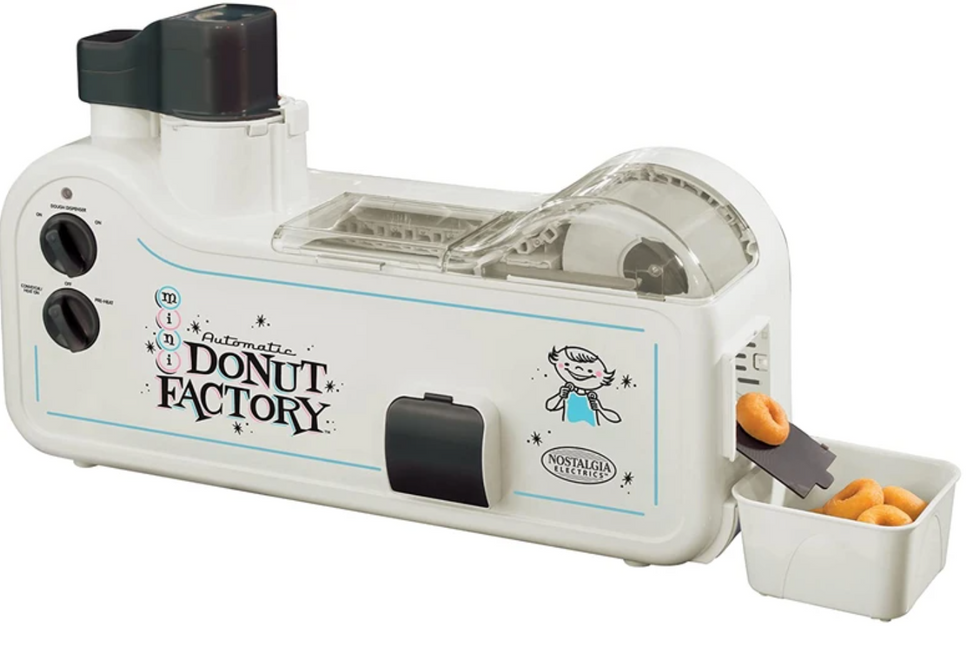 via: Amazon
The mini donut factory is available on
Amazon
. This isn't the only sugary treat taking the internet by storm. Keep scrolling to check out IHOP's new cereal pancakes…